5 Of The Weirdest Golfing Injuries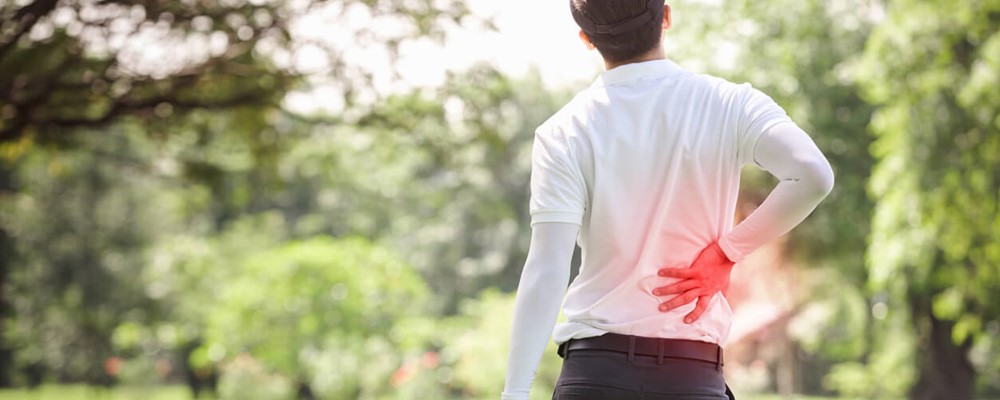 Golfing injuries are more common than people think. According to golfsupport, nearly 7 in 10 amateurs and 9 in 10 professionals will sustain a golfing injury at least once. These injuries can range from pulling something whilst picking up the ball, to something much more serious.
But there are some injuries you don't see coming, that are too weird to comprehend. We bring you 5 of the weirdest golfing injuries of all time…
1. Tiger Woods vs. the tree root
Does anyone remember when Tiger Woods popped out a joint, popped it right back in and carried on?
This golfing injury was certainly unexpected and happened to one of the world's best golfers. At the 2015 US Masters, Woods landed himself in the scruff and lined up an iron shot.
In trying to get the ball out, he smashed the iron into a tree root and popped out a joint in his right wrist. It looked painful, to say the least.  
Woods said of the incident: "I didn't know there was a tree root there. I drilled the club straight into it. It didn't move, but my body kept moving. There's a little joint that popped out, and I was able to somehow put it back in, which didn't feel very good.
"At least I got it back in; I could move my hand again. It's sore. I'm not going to be lifting any weights for a while."
But, in true Tiger style, he popped it right back in and showed us how it's done by shot a 1-over-par 73.
2. Bobby Cruickshank and gravity
If we told you a golf ball bounced off a rock in the water back onto the green and a club hit its striker's head all in the space of a minute, would you believe us?
Because that's exactly what happened to Bobby Cruickshank. This bizarre turn of events happened at the 1934 US Open on the 11th hole.
He was the tournament leader until he overhit his approach shot and his ball went flying into the creek. Strangely enough, the ball hit a rock on the water and rebounded onto the green.
In sheer elation, Cruickshank threw his club into the air and shouted "Thank you Lord!". But even if the Lord was on his side in that moment, the laws of gravity weren't.
After all, what comes up most come down. The club came down and hit him right on the head, knocking him to the floor.
He needed several stitches and was so stunned he scored a few bogeys in his last seven holes and finished tied for third. Still, that's pretty good given the circumstances.
3. Melissa Reid and the snake
When Melissa Reid was looking out for her competition, we doubt she thought to look by her feet.
At the Sanya Ladies Open in Hainan, China, in 2012, Reid was bitten by a snake on her right leg. She said: "I was going through a boggy patch of ground, and I felt something sharp on my leg, like a scratch."
You'd think that would stop you from playing. But no – Reid wanted to continue, so she was treated by doctors there and then. She recalled of the incident: 
"I had to take 20 tablets, all in one go, because they wouldn't let me take one at a time, and then they had to draw blood out of the bite which I was more terrified about. They wanted me to go straight to hospital and I said 'No, let me finish my round,' and I pitched to about six foot and made birdie. That was for the snake!"
And she did just that. She bagged a birdie, finished her round and showed the snake who was boss.
4. Lee Trevino's lightning strike injury
Trevino, who was also known as 'The Merry Mex', was a world-class golfer who won the US Open, PGA Championship and British Open twice each. He's also the only professional golfer to be struck by lightning during a tournament.
At the 1975 Western Open, Trevino was sat with Jerry Heard under an umbrella by the 13th hole, as play had been suspended due to a thunderstorm. Then, electricity struck them through metal spikes in their shoes, leaving them unconscious.
Trevino said: "It was a nice, warm feeling… The electricity stopped my heart. When I woke up, I was in pain. The doctor said if I hadn't had such a strong heart, I would be dead."
Sadly, Trevino's career was never quite the same in the years that followed. He won only 9 of his 29 PGA Tour wins and only 1 of his 6 majors after this freak accident. Still, he's considered one of golf's greatest ever players, so he won't lose too much sleep over these statistics.
Plus, he never lost his excellent sense of humour. Years later, he said: "I've been hit by lightning and been in the Marine Corps for four years…I've travelled the world and been about everywhere you can imagine. There's not anything I'm scared of, except my wife."
5. Daniela Holmqvist and the spider
During the season-opening Women's Australian Open at the Royal Canberra Golf Club, Swedish golfer Daniela Holmqvist was bitten by a spider. Not just any spider, but a Widow.
On the fourth hole, she felt a sharp pain on her ankle and batted the spider away. Then, she casually used a golf tee to squeeze out the venom and even finished her round under the close eye of medical staff.
She recalled: "It wasn't the prettiest thing I've ever done, but I had to get as much of it out of me as possible."
In the end, Holmqvist finished with a 74 and didn't qualify for the tournament. Still, she'll feel she did well to continue playing after this scary episode.
Specialist golf insurance from Ripe Golf
This article proves that just about anything can happen on the golf course. That's why you need to protect yourself with specialist golf insurance.
Ripe Golf's insurance means you'll be covered against injuries, and your golf equipment will be covered against damage, theft and loss.
Get an instant online quote today and see what we can do for you.