The 12 Best Caravan Holidays In Scotland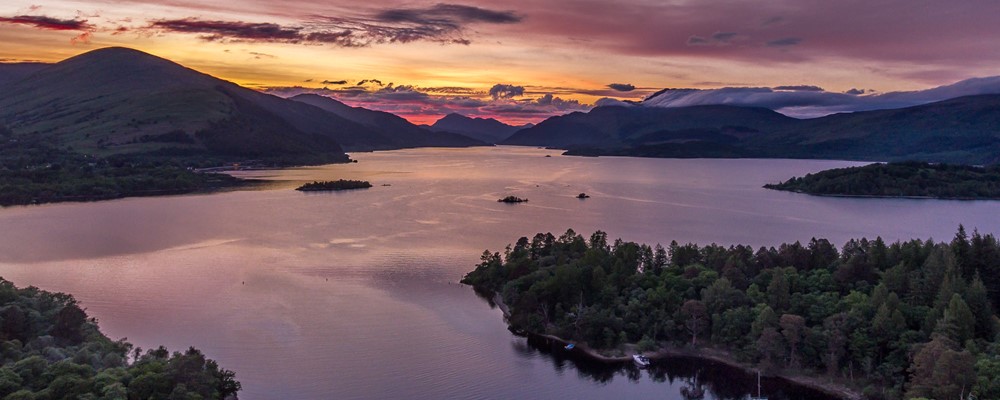 If you're looking for your next caravan holiday destination, there are few places as beautiful as Scotland. Here are the 12 best caravan holidays Scotland has to offer.
Please note: certain places mentioned in this article may close in future or be temporarily closed.
Contact number: 0330 123 4974
Email address: heretohelp@parkdean-resorts.com 
We start at this award-winning holiday park in the fishing village of Eyemouth, on the southeast coast of Scotland.
The park features an all-weather sports court, restaurant and entertainment complex. According to its website, it also offers super-fast WiFi and is pet friendly.
If you have young children, there's an outdoor playground and a swimming pool just a 3-minute walk from the park, which patrons can use for free.
Eyemouth itself provides breathtaking coastal scenery, which you can take in by walking along the Berwickshire Coastal Path. This route takes you from Eyemouth's famous fishing port all the way down to Berwick-upon-Tweed – the northernmost town in England. Technically, you can say you've been to two countries in one day!
On this path, you'll see the local golf course – one of many local amenities you can take advantage of. There are also shops, bars and restaurants within short walking distance of the park.
Should you wish to explore further afield, below are some suggestions:
Contact number: 01581 300267
Email address: enquiries@whitecairncaravans.co.uk 
Next, we head to southwest Scotland and Whitecairn Farm Caravan Park in Glenluce, Dumfries and Galloway.
As of July 2020, this park has an average 5-star rating on TripAdvisor, so it must be doing something right.
It offers a range of 2 and 3-bedroom caravans for hire, while fully serviced pitches are available for those visitors with touring caravans. There are even numerous lodges with hot tubs, as you'll see from checking out the Instagram snaps by clicking the icon above.
If you stay here, you'll get access to:
A heated indoor swimming pool
A trout fishing pond
A kids' play park if you're staying with the family
Outside of the park, you're spoilt for choice. You're right next to the village of Glenluce and only a short drive from the seaside town of Stranraer.
If you're a lover of beach walks, head down to Sandhead, where you can explore the stunning Sands of Luce Bay. This is a popular location for swimming, kayaking, paddle boarding and windsurfing.
Speaking of which, Whitecairn Farm Caravan Park is the ideal destination if you're an outdoors-y person. Glenluce lends itself perfectly to cycling and hill walking, as it's set in a valley.
Here are some other points of interest we recommend you visit during your stay:
Contact number: 01875 813333
Email address: enquiries@haven.com
This is widely considered to be one of the best Haven caravan parks in Scotland – and with good reason.
Although quite small, this park has everything you could want from a caravan holiday destination. It includes:
A heated indoor pool
A 9-hole golf course
A bowling alley
A fish and chip shop
Arcade amusements
Kart hire
In addition, there are practical facilities like a supermarket and launderette, if you find that you're running low on fresh clothes or are out of milk!
If all of this doesn't sway you, the park's location surely will. Not only is it right next to the beach, it's close to so many idyllic towns and cities. Edinburgh is a half hour drive away and North Berwick, Musselburgh and Portobello are even closer.
Edinburgh speaks for itself, but here are some other tourist attractions within close proximity of Seton Sands which you should check out:
Contact number: 01583 431665
Email address: hello@carradalebay.com
Situated on a beach along the Kintyre Peninsula, this spot takes a little longer to get to than others on this list.
But, based on its geography, facilities and reviews, the extra drive is well worth it. You'll even see some of Loch Lomond en route!
When you arrive in the fishing village of Carradale, you'll become acquainted with the breathtaking panoramic sea views and countryside that surround it.
You'll have a whole host of activities to choose from, including coastal walks, mountain biking and even horse riding.
Whatever you choose to do during your stay, you can do so at your own pace. Carradale Bay is described as a retreat from the hustle and bustle of major towns and cities, with several TripAdvisor reviewers commenting on how peaceful it is.
However, if you want to venture outside of the locality, why not visit one of the surrounding islands? Arran, Islay and Jura are all accessible by ferry – and the latter is perfect if you like your whisky.
Here are some other options:
Contact number: 01796 472007
Email address: info@faskally.co.uk
Located in Pitlochry in the heart of Scotland, this park is considered one of the country's best value caravan holiday destinations.
Whatever you want from a caravan holiday, Faskally Caravan Park has plenty of facilities to help you unwind. These include:
A bar and restaurant
A heated indoor swimming pool
A jacuzzi, sauna and steam room
An indoor games area with pool tables and other amusements
A children's playground
Pitlochry itself offers lots of fun activities, from the conventional to the adventurous.
Walking, cycling and fishing spots are all within walking distance, as are riding stables if you're into horse riding.
If you're more of a thrill seeker, head to Pitlochry Boating Station. Here, you can hire kayaks, stand up paddle boards and pedaloes and explore Perthshire from the water.
Of course, Pitlochry hasn't won multiple Scotland in Bloom awards on the strength of its sporting activities alone. Its pretty high street (a 5-minute drive from Faskally) is awash with small, independent shops and restaurants offering a wide range of cuisines, from Turkish, Indian and Italian to traditional Scottish food.
There's so much more to see beyond the close vicinity of Faskally, such as:
Contact number: 01301 704224
Where better to go on a caravan holiday in Scotland than to one of the country's most iconic landmarks?
Loch Lomond Holiday Park is situated within 13 acres of the Loch Lomond and Trossachs National Park, offering stunning panoramic views across the 'Bonnie Banks'.
Whether you're holidaying with friends, a partner or your family, this park has something for you. There's a private jetty, children's play park and residents' lounge and games room, one of which is bound to appeal. You'll also have access to toilet and shower blocks, a shop and a launderette.
But, of course, you don't come to a place like this just to stay in the park most of the time. Here, you won't need to – in terms of things to do in and around Loch Lomond, the possibilities are seemingly endless.  
You may want to go fishing in Loch Lomond and The Trossachs National Park, take a stroll round Balloch Castle and Country Park, or enjoy some hearty food at The Balloch House.
If you like an adrenaline rush, Loch Lomond is popular for watersports like sailing, windsurfing, kayaking, water skiing and wakeboarding. However, you may want to experience the loch at a more leisurely pace on one of the numerous cruises on offer.
However you choose to spend your holiday in Loch Lomond, you won't be disappointed.
Why not also visit these places while you're there:
Contact number: 01259 762802
Email address: enquiries@thewoodscaravanpark.co.uk  
This centrally located park is easy to get to by car. Come off the M80 at Stirling Services, head up the A91 and within a few miles, you're there.
Upon arrival, you'll be greeted with views of the Ochil Hills and will be able to explore the beauty of Central Scotland.
On-site, you have:
A bar and restaurant called The Woodsman, open seven days a week
A children's play area
A dog walking area
A small shop and gas station
A laundry and drying area
Two modern award-winning heated toilet blocks (yes, really)
The Woods also has 97 large hardstanding pitches which accommodate caravan, awning and car.
Off-site, Scotland is your oyster. This park is so central that you're less than an hour's drive from Glasgow, Edinburgh and Perth. However, if you want a little more peace and quiet and don't want to travel too far, you've got plenty of choice.
Stirling is less than 10 miles away – here, you can visit Stirling Castle and The National Wallace Monument.
Dunfermline is close by, too. This is home to Dunfermline Abbey, Pittencrieff Park and The Andrew Carnegie Birthplace Museum.
If you can see most of the above during your stay, you've done well. And if all the exploring tires you out, you couldn't wish for a more relaxing environment to return to.
Here are some other recommendations:
Contact number: 01292 265141
Craig Tara is one of the UK's largest holiday parks and has won countless awards, such as AA Holiday Centre of the Year and the David Bellamy Gold Award for Conservation. So, if you want a tried and tested caravan holiday destination, this is it.
Another Haven-owned park, Craig Tara is ideally suited to families due to its facilities. It's impossible to list all or even most of them, but here's a selection:
Multi-level pool complex
Waterslides and flume
Adventure trails
Crazy golf
Burger King and Papa John's Pizza
Football coaching for ages to 5 to 8
Kart hire
You get the picture – there are a lot of options. However, a word of caution – charges apply for some of these activities, so make sure you're aware of this before you travel. You can read the full list of activities by clicking the link in the header above.
For the adults, there's a 9-hole golf course, an on-site bar and an entertainment venue.
When you're not preoccupied with these activities, we recommend going for a walk around Ayr, which is just a 10-minute drive down the A719. Take a stroll along the long sandy beach, which looks out on the Firth of Clyde and the beautiful Isle of Arran.
Culture vultures should head down to Alloway, where you'll find The Robert Burns Birthplace Museum. Given that it's only 3 miles from Craig Tara, you'd be remiss not to visit the home of arguably the greatest Scottish poet who ever lived.
Once you've ticked all of this off, what else is there to do? These are our picks:
Contact number: 01382 532837
Email address: enquiries@tayview.co.uk
We now head to Angus in eastern Scotland and to Tayview Caravan Park in the small coastal town of Monifieth.
This beach-front park's on-site facilities include a beach, restaurant and motorhome point. These are within short walking distance:
Indoor and outdoor swimming pools
A bar
A main line railway station
A regular bus service to Broughty Ferry and Dundee
Monifieth itself is a must-see. One of seven towns in Angus, it has all the classic features of somewhere in this region.
Firstly, it's famous for its golf and hosts two stunning courses, one of which is an Open qualifying course.
It's also steeped in history. Monifieth dates back to the 9th century and houses such landmarks as St Rule's Parish Church and Ardestie Earth House, which is believed to have been built in the first two centuries AD.
Beyond Monifieth, you have a selection of scenic towns to choose from:
Dundee is a 20-minute drive away if you like your museums. Take your pick from V&A (Scotland's first design museum), Broughty Castle Museum and The McManus Art Gallery & Museum.
So, too, is Arbroath. This seaside town is famous for its smoked haddock (affectionately known as Arbroath Smokies), picturesque beach and dramatic cliffs. While here, you can take a walk along the Arbroath to Auchmithie Coastal Path and visit Arbroath Abbey. And don't forget to buy some smokies for tea!
Here are some other tourist attractions near Tayview:
Contact number: 01445 712152
Email address: info@sandscaravanandcamping.co.uk
Talk about a holiday destination with a view. Positioned on the beautiful west coast of the Highlands, Sands Caravan & Camping offers unrivalled views of the Isle of Skye and Outer Hebrides.
We'll come on to talk more about the surrounding area, but first a little bit about the park itself. It's got:
A covered indoor cooking and eating area
Picnic tables
A games and TV room
A play area
A dog walking area
Bikes and kayaks for hire
A grocery shop
If you're bringing a touring caravan, you can pitch wherever you like – there are 250 pitches at Sands. You might want a sheltered spot amongst the sand dunes, or perhaps a top space with views across the Minch. You'll have plenty of electricity, too, as there are 120 hook-up points spread round the site.
After you've set up shop and become acquainted with the site, you should head out into the village of Gairloch. This traditional crofting and fishing village is 3 miles from Sands and situated along the shores of Loch Gairloch in Wester Ross.
One of its chief attractions is Big Sand (no prizes for guessing what this is). Here, you can explore rocky coastline and look out onto Raasay, Skye and the Western Isles. Judging by its reviews, Gairloch Museum is worth a visit, too.
If you're planning on taking longer journeys, the fishing village of Ullapool should be part of your itinerary. From here, you can go on a cruise to the Summer Isles, which is home to whales, dolphins, seals and many more sea creatures.
While you're staying at Sands, pay these places a visit if you have time:
Contact number: 01862 811 676
Undoubtedly the most Scottish sounding park in this article, Grannie's Heilan' Hame is another archetypal beachside location.
Owned by Parkdean Resorts, this park provides all kinds of activities for adults and children:
A heated indoor swimming pool
A spa bath and sauna
A fish and chip shop
An amusement arcade
Crazy golf
A beach
And these are just a selection – you can get a full rundown by watching the video above.
If all this isn't enough, you've got the historic cathedral town of Dornoch on your doorstep. Dornoch Cathedral and Dornoch Beach are among the town's most popular landmarks, but this article gives you more detail of what there is to see. (Spoiler – there's a lot.)
But what else is there to see in the county of Sutherland? Well, there's Dunrobin Castle, which is the most northerly of Scotland's great houses and the largest in the Northern Highlands with 189 rooms. There's also Loch Fleet, where you can wander through pinewoods and along sand dunes. You may even see otters, seals and ospreys along the way.
Both these landmarks are less than a 20-minute drive from Grannie's, so should be top of your list if you venture away from the park.
These hotspots should be on your list as well:
Contact number: 01250 878123
Email address: headoffice@woodleisure.co.uk
Not every holiday has to be action parked. Sometimes, it's nice just to 'get away from it all' – and Deeside Holiday Park is perfect for that.
Located in the Southern valley of the River Dee, this tranquil retreat was recognised as Scotland's 'Best Holiday Park' at the 2019 SOLA Awards. Based on its facilities, you can see why. It has:
Luxury hot tub lodges
An indoor playroom and TV room
A play park
A duck pond
A BBQ area
Whilst you have the above to choose from, it's only right that you explore more of Deeside. One of this area's most notable landmarks is Balmoral Castle, where the Royal Family has holidayed for centuries.
Its river, the aforementioned River Dee, flows along some of the finest countryside in Scotland. The villages of Ballater and Braemar are well worth a visit, as is Cairngorms National Park. This natural playground contains some incredible walking and cycling routes, and houses some of the world's most rare and endangered species.
Where else should you go when you come to Deeside? Here are some other recommendations – the first place might sound familiar:
Touring caravan insurance from Ripe Caravans
Don't forget – if you're taking your touring caravan on holiday, specialist touring caravan insurance is essential.
This protects your touring caravan if its contents are stolen, or if it suffers accidental or malicious damage. At Ripe Caravans, we provide tailored insurance which is easy to buy, jargon-free, and excellent value. Create your own policy in just a few minutes by getting a quote today.