The Best Places To Kayak In North West England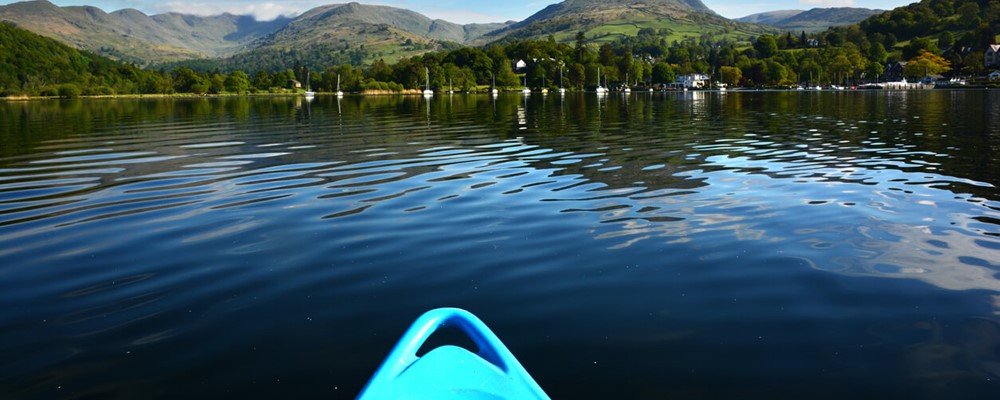 North West England is one of the most picturesque places in the UK. It has lakes, rivers, and stunning coastlines. So, it no surprise that it's such a big hit with paddlers – with the Lake District being the most common location in which to kayak.
However, there are less-known kayaking locations that will excite even the most seasoned kayakers. As a company based in Greater Manchester, we're a little biased!
Here are the best places to kayak in North West England…
Lakes
View this post on Instagram
When you think of Rochdale, you probably don't think of kayaking. But if you live in the Greater Manchester area, Hollingworth Lake in Littleborough is a great option for kayakers.
This 130-acre reservoir is perfect for a fun day out. It features beautiful scenery, lovely cafes along the lake, and a picnic area.
Hollingworth Lake Activity Centre provides kayaking courses, but unfortunately, they're closed until spring 2021. If you're kayaking on your own, you need a day or annual permit (which you can get from the Centre's reception), as well as third party insurance.
You should also bear in mind the kayaking can be challenging. The lake is exposed to prevailing winds and big waves can develop in the centre, so it's best suited to those with more experience.
While you're there:
Accommodation:
Please note: Lower Rivington Reservoir is not open to freely paddle. In order to kayak here, you must either book a session in advance or become a member of the Anderton Paddle Sports Club. Participants are limited to an area of the reservoir and only suitable activities such as paddle boarding and kayaking are allowed.
View this post on Instagram
Another great place for kayaking within an hour's drive of central Manchester is the tranquil and picturesque Lower Rivington Reservoir near Bolton.
On the western bank of Lower Rivington Reservoir, you can hire kayaks from the Anderton Centre, or launch your own here. The Anderton Paddle sports club also offers membership for £30 a year for an adult and £15 for a junior. It's possible to book lessons here too if you want to scrub up on the basics.
While paddling, you can enjoy the impressive views of Lever Park and Rivington Pike and keep a lookout for Liverpool Castle on the Eastern Shore.
While you're there:
At the Anderton Centre, you can take part in lots of other water activities, like paddle boarding and canoeing. If you fancy even more adventure, you can zip wire over the reservoir at Go Ape Rivington. That will get the adrenaline pumping!
Check out Rivington Terrace Gardens. Labelled Britain's lost gardens by Countryfile, the 45 acres at Rivington terrace are well worth exploring.
Head to Great House Barn café for some lunch, or try the Yew Tree Inn if you're after local Ales and a heartier meal.
Accommodation:
The Lake District
Let's be honest, the lakes in the Lake District are unrivalled when it comes to kayaking – and you're spoilt for choice. But, so not to outshine other places in the North West, we've just picked a few favourites:
The most popular and largest lake in England, this had to be on our list. It's renowned for having 18 islands and great wildlife such as otters, which you can appreciate from your kayak.
As you paddle, you'll see Wray Castle and Storrs Temple. You'll also share the lake with sailing boats, ferries, powered boats, and swimmers, so you need to stay alert. You can hire a kayak from Windermere Canoe and Kayak and Brockhole.
While you're there:
Try your hand at other activities such as rock climbing and abseiling at Mountain Journeys

, which is

just a short ride from Windermere.
Walk to Orrest Head Summit (2.7 miles) or Townend (4 miles), a traditional farmhouse.
Dine at the highly recommended Cedar Manor.
Accommodation:
View this post on Instagram
Ullswater comes in at the second largest lake in the Lake District. It's 7.5 miles long, 0.75 miles wide, and 205ft maximum depth. Kayaking on Ullswater will be a paddle to remember.
Not only is it encircled by dramatic mountains, but at the centre of the lake (the middle reaches) there's a special area of conservation at Hallinghag Wood. It's full of wildlife so if you want to sit and appreciate it for a while, you can visit the Sandwick Bay beach.
In the South section of the lake (Glenridding) you can spot red deer or get out of your kayak to visit Aira Force Waterfall. To the North is Ullswater Yacht Club, where you might be able to catch a race. Hire a kayak from Glenridding Sailing Centre from £15.
While you're there:
Make the most of the lake and go fishing, swimming, or sailing. Visit Ullswater Outdoor Adventures to book a private kayaking tour and see what other exciting activities they offer.
If you don't walk around the lake while you're there, you're missing out. The 20-mile stroll around the lake, called the Ullswater Way, is a walk to remember. Alternatively, take a 1-mile walk to Aira Force Loop

,

the Lake District's most popular waterfall. Or, take a gruelling 8.5-mile steep hike to the third highest peak in England, Helvellyn. But be warned – it's not for the faint-hearted.
Enjoy dinner at the stunning Lake View Restaurant.
Accommodation:
Derwentwater is the third largest lake in Cumbria and one of the best places in which to paddle (which is why it's usually very crowded). This 3-mile long, 1-mile wide lake has views of the bordering fells that could be mistaken for a fake backdrop, they're that jaw-dropping. You can hire a kayak at Derwent Water Marina or Platty Plus and explore its four islands by kayak.
While you're there:
Head to the charming nearby town of Keswick and enjoy a scone at a quaint cafe, or visit the much loved Theatre By The Lake.
You can enjoy a leisurely walk on the gorgeous 10-mile circular path around the lake. If kayaking has stripped you of energy, you'll be glad to learn that you can hop on the boat or bus on the way back.
Kick back and have some food at the laid back The Round restaurant and bar in Keswick's Market Square.
Accommodation:
Here are other incredible kayaking hotspots in the Lake District:
Bassenthwaite Lake (permit required)
Coniston Water (no permit required)
Grasmere Lake (no permit required)
Ennerdale Water (permit required)
Crummock Water (permit required)
Thirlmere Reservoir (no permit required)
Westwater (no permit required but boats limited)
Rivers
Before kayaking on a river, you should always check the river gauge levels and the most recent river updates – you can find these on websites such as UK Whitewater Kayak Guides. On top of this, make sure you have the skillset and experience to paddle on specific rivers before you take to them.
View this post on Instagram
 Recognised as one of 'Europe's prettiest cities,' Chester in Cheshire doesn't just ooze beauty, but history. Originally a Roman fort, it is the top preserved walled city in England. Plus, it houses the UK's oldest racecourse and largest Roman Amphitheatre.
What better way is there to explore all of this than on the River Dee which runs from Wales to Chester? It starts in Snowdonia and meanders through the valleys to Liverpool Bay before reaching the Irish Sea. It has something for everyone, from a stretch near Llangollen for white water kayakers to a serene kayak in calm water past the Roman walls.
Launch at Sandy Lane in Chester, where you can also hire a kayak at Chester Kayak Hire. Dee River Kayaking provide various Chester kayak tours from here too.
While you're there:
We recommend staying in Chester for a few days because there are so many sights to see. For example, Chester Zoo, Chester Cathedral, Chester Castle, and Blue Planet Aquarium, to name a few.
Enjoy what the Cheshire countryside has to offer. There are plenty of walking routes, cycling routes, and horse riding trails.
You're spoilt for choice when it comes to places to eat and drink. Our top picks the Jaunty Goat Coffee Café, The Brewery Tap Pub, The Chefs Table restaurant, and Chester Bar Lounge.
Accommodation:
 The River Ribble is 75 miles long and flows through North Yorkshire and Lancashire. It starts in the Yorkshire Dales and moves through Clitheroe, Ribchester, and Preston, before ending in the Irish Sea at Lytham.
The river has kayaking for paddlers of different abilities, with grades ranging from 1 to 5. It's perfect if you want to work on your white water skills because it has flat stretches for a leisurely paddle and challenging sections that put your skills to the test.
The most popular kayaking route on the river is from Clitheroe to Ribchester, an 8-mile paddle that takes 3 to 4 hours. But low water can be a scrape, so check beforehand. Start downstream from the B6243 road bridge and pass the weir above Great Mitton, which can be dangerous. From the weir, it's mostly flat but you can look forward to some grade 1 and a few grade 2 rapids. Then, you get out at Ribchester Bridge.
Be aware though, some anglers and landowners are unhappy with people kayaking on the river. This is in part because it's a key breeding ground for the endangered Atlantic salmon.
While you're there:
It's worth paying a visit to Stydd Gardens in Preston. This contains beautifully landscaped gardens and a stunning restaurant in a greenhouse, as well as a cafe, bar, and several shops.
Walk up to the 557m elevated Pendle Hill. It boasts spectacular views and there are many walking trails to do. It's a popular spot for paragliding enthusiasts too, so if you're feeling brave, why not give it a go?
Visit Clitheroe Castle or play a round of golf at Clitheroe golf club. Its Par 3 – 5th Hole is alleged to be the best Par 3 in the North West of England.
Accommodation:
The Lake District
There are many different rivers in which to go kayaking in the Lake District, but these are our top picks:
View this post on Instagram
If you're a novice kayaker, the 5-mile route from Lazonby to Armathwaite is perfect for you. It's mostly long and flat, but don't relax the whole time as there are a few grade 2 and 3 rapids to keep you alert.
This 4-mile route from Grasmere to Ambleside is perfect for new paddlers. It's Grade 2+ and you'll experience a few grade 2 rapids around Rydal. But be aware, just after Rydal Water it can be rocky with tree hazards, so it's a good idea to review the route beforehand.
View this post on Instagram
 You can usually rely on this Grade 3 section of the River Lune from Beck Foot to Rawthey Confluence when other rivers are too low. For this reason, it's a great river to kayak on. It's also incredibly versatile – one minute you're cruising effortlessly through a wide section of the river, the next you're going through a tricky and gorge-like area. It keeps you on your toes – that's for sure.
If you're looking for a serene, stress-free voyage, look no further than the 4-mile stretch from Derwentwater to Bassenthwaite Lake. It's a fast-flowing grade 1 or 2 river. But be warned, you need a permit for Bassenthwaite.
Other
St Bees Head in Cumbria is a stunning kayaking location, and the North Head is the most Westerly point of Northern England. The mica in the stone gives the impressive red sandstone cliffs a sparkling effect, making it one of the North West's most breath-taking natural landscapes.
St Bees has an RSPB nature reserve which is the only breeding place in England for black guillemots. Other birds breed there such as the tawny owl and raven, so it's no wonder it's a Site of Special Scientific Interest. You will certainly feel their presence when you hear the loud squawking of birds like gannets and puffins from the cliffs.
You could paddle from St Bees beach, head around the North and South Heads to Whitehaven and then return. The trip is around 20km. Or you can take a one-way trip. Shingle beach at Fleswick Bay between North and South Head is a great place to stop off for some lunch. But swell and wind are common here, so make sure you're experienced in coastal paddling.
While you're there:
Take a stunning 9km walk along the clifftop path from St Bees. You'll experience views of the Isle of Man and Cumbrian Mountains, and you'll share the cliff with the seabirds.
Enjoy a cup of something warm in front of the fire at the 17th-century Queens Hotel pub. Maybe have a bite to eat, too.
Play a round of golf at the 9-hole St Bees golf club. It has hilly challenging fairways and stunning views of the Irish sea and Isle of Man.
Accommodation:
View this post on Instagram
 The Liverpool docks were re-opened in 1988 by the Prince of Wales after undergoing extensive refurbishment. Since then, the waterfront has revitalised Liverpool, once a hotbed of trade in the early 19th century.
The docks embody Liverpool's culture – you'll find Tate Liverpool, The Beatles Story, the Merseyside Maritime Museum, and the International Slavery Museum. It now has a vast array of shops, restaurants, and bars too. It's no surprise that the Albert Dock welcomes over 6 million visitors a year.
The best part is, you can kayak on this remarkable body of water. Liverpool Watersports Centre offers 1 or 2-hour kayaking sessions with an experienced coach. Or, you can go solo and hire a kayak with them for the day. You'll be sharing the water with rowers, sailors, and canoers, and kayaking in a dock makes for a relaxing, fun paddle with plenty of sights to see!
While you're there:
There are so many things to do at the Albert Dock itself, but if you want to explore more of Liverpool city centre, there are several points of interest you need to visit, such as Liverpool Cathedral, and the World Museum. A few miles outside of the city is Anfield, home to Liverpool Football Club, and the gorgeous Sefton Park.
Visit Rough Hand Made, a boutique bakery in the Albert Dock. It won a Tripadvisor Travellers' Choice award – and any stock it doesn't sell goes to charities the same day.
Experience cityscape panoramic views of Liverpool from the 34th floor of the city's highest fine dining restaurant. At Panoramic 34, you can enjoy afternoon tea, lunch or dinner while gazing out onto the magnificent skyline.
Accommodation:
View this post on Instagram
Opened in 1761, The Bridgewater Canal was the first canal in Britain. It runs from Runcorn to Leigh, a 39-mile journey. It's used by walkers, cyclists, boaters and kayakers – but be aware you need a license to paddle on the canal.
You can hire a kayak with Venture Out or take a guided trip with them from Sale, usually towards Castlefield in Manchester or Dunham Massey. Since social distancing and lockdown was introduced, more people have taken to the canal on a kayak. It could even become the post-lockdown way of getting to work.
On your leisurely cruise, you might see grey herons, kingfishers, mute swans, along with beautiful plants and butterflies.
While you're there:
Accommodation:
Our specialist kayak insurance protects your kayak against theft, accidental damage, malicious damage and salvage charges. Create your own policy in just a few minutes by getting an instant online quote.