The Top 13 Caravan Holidays In Cornwall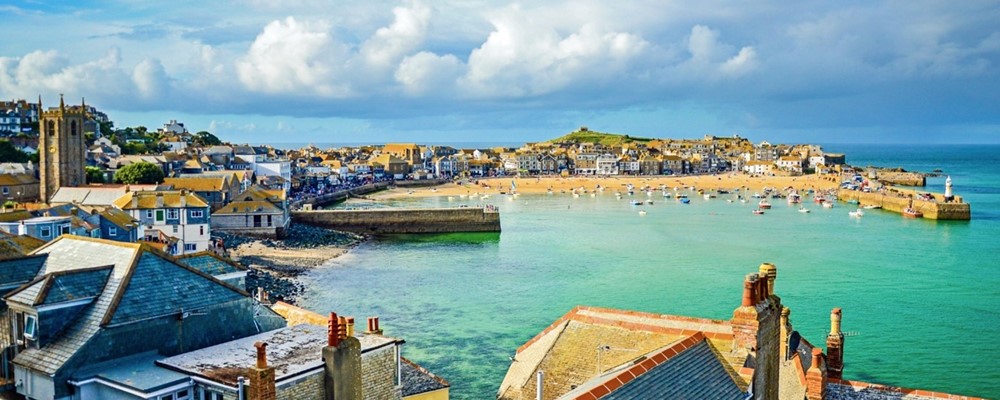 Summer will be here before we know it, so why not start planning your summer around one of the UK's most beautiful caravanning destinations, Cornwall? Here are the top 13 caravan holidays in Cornwall.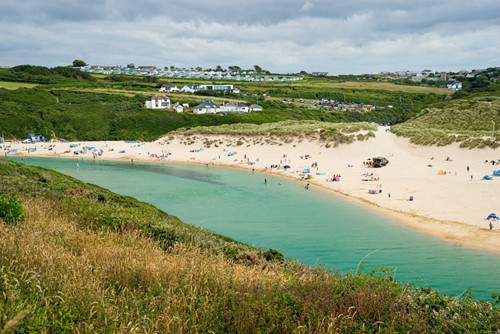 Contact number: 01637 830338
Email address: info@quarryfield.co.uk
Quarryfield Caravan Park is situated on the headland overlooking Crantock Beach and the Gannel Estuary, which separates it from popular Newquay on the other side. It's a 10-minute walk from the caravan site down to the beach, where you can go for a stroll, swim, or surf.
Set on the West Pentire Headland, this park is perfectly placed for coastal walks promising dramatic scenery and beautiful landscapes. But if you prefer more hustle and bustle, Newquay is only a 10-minute drive away.
If you don't fancy the drive, you might prefer to visit the Ferry Boathouse and take a boat across the estuary to Newquay instead. This is no ordinary ferry, though – it's a small rowing boat, and the crossing is only 200 yards. It operates during low tide in the summer seasons, and it's well worth the experience. Here's a bit of local trivia – the boathouse was the setting for numerous photos that were used to promote The Who's 1973 album Quadrophenia.
Quarryfield Caravan Park boasts 150 pitches, 150 hook-up points, and 42 static caravans. So, whatever type of caravanner you are, you'll feel at home. There's also a play area for children, an amusement arcade with a pool table, and an outdoor swimming pool for sunny days. The on-site Inn provides pub grub and entertainment, or there's always the shop if you'd prefer to self-cater.
Nearby points of interest
Contact number: 01726 843485
Email address: info@pentewan.co.uk
Pantewan Sands is a five-star holiday park in South West Cornwall that boasts more than 150 pitches.
These pitches are only a three-minute walk from the park's privately owned beach. They're generously spaced to give you room to breathe and enjoy the view, with the option of electric hook-up.
The site even plays host to a few special events throughout the year, such as the Riviera Run and a touring rally if you fancy getting into the caravanning culture.
On the beach, you can enjoy a whole range of water sports like jet skiing, kayaking, paddleboarding, and boat rental. And that's on top of the two swimming pools already on site!
If staying on terra firma is more your thing, there are tennis courts and a soft play area for kids, plus you can hire bikes to enjoy the coastline at your own pace.
The site also features extensive modern facilities, including toilets, dishwashing areas, free heated showers and wash basins, a launderette, and WiFi.
Pantewan doesn't just leave you to your own devices as far as entertainment is concerned, either. It has a full programme of entertainment from Easter through to the October Half Term holidays, usually culminating in fireworks. The programme comprises live music, bingo, kids' activities, parties, and more.
Nearby points of interest
View this post on Instagram
Contact number: 01209 831503
Email address: bookings@parbola.co.uk
Parbola Holiday Park is situated in West Cornwall, slightly inland from St. Ives. As such, it's the perfect spot from which to explore the deeper North West coast of Cornwall and some of the South West coast if you don't mind a short drive.
Parbola is a cosy, family-run business set across 16 acres of green, open land punctuated by palms and lush shrubbery, but with more private corners of woodland, too.
This park is perfect if you want to gain easy access to some of Cornwall's most beautiful sights but return to somewhere quieter and more secluded at night.
If you're visiting with family, you can hire one of the park's static caravans, which are spacious and located next to picnic tables. Alternatively, you can stay in your own touring caravan, for which there is electric hook-up.
The site features an array of handy amenities, including free hot water, a toilet and shower block, and laundry facilities. There's also a wet suit rinsing area if you're returning from the beach and a herb garden if you want to give your barbecues a bit more flavour. For the kids, there's a play area and an on-site swimming pool.
Nearby points of interest
Contact number: 0330 200 2550
Email address: enquiries@lovatparks.com
Padstow Holiday Village is part of the Lovat family of holiday parks. Based on brand prestige alone, you know that, when you visit this park, you can expect all the luxuries and modern amenities a caravan park can offer.
Set under uninterrupted sky and amongst verdant meadows, Padstow Holiday Village is a five-star, award-winning family park. It's won the Cornwall Tourism Award 2018/19, Visit England Gold Award 2019/20, and the greatest honour of all – Loo of the Year Platinum Award 2019. You can even have a virtual tour of the village before you book – check it out!
Padstow Holiday Village is just a short stroll from the town of Padstow itself. A quintessential Cornish harbour town, Padstow nonetheless features an incredible range of Michelin Star restaurants. You can thank a friendly local rivalry between TV chefs Paul Ainsworth and Rick Stein for that.
The park itself is charming, too. It has an on-site hair salon, a snack bar for dogs offering treats and doggy ice creams, and, over summer, it hosts various pop-up kitchens serving gourmet food. Beyond that, there's a children's play area – the 'Padstow Lifeboat Station' – as well as a book exchange, and a dog exercise area.
Nearby points of interest
Contact number: 07799 691112
Email address: streamvalleycamping@aol.com
Stream Valley Holiday Park is a peaceful, dog-friendly, family-run camping and caravanning park in South West Cornwall.
The site is well-maintained, with clear gravel paths between areas, and also has great transport links to surrounding attractions, whether you travel by car, bus, or train.
You're also practically on the doorstep of Penzance, which opens up your sightseeing options considerably. You can wander about the old harbour town and soak up the culture, get a ferry to the Isles of Scilly, or even walk across the causeway to the historic castle on St. Michael's Mount when the tide is out. When the tide is in, you can take a boat out to the castle.
Going back to Stream Valley Holiday Park, it features drainage and water hook-up points for tourers, fully-serviced pitches, and hard standings so that your caravan is on even terrain. Its amenities include a launderette and drying room, toilet and shower block, and a washing-up area.
The park characterises itself as a walker's paradise, and this is certainly the case. The spectacular coastline of South Cornwall is less than a 15 minutes' drive away, and, from here, you can hop on the South West Coast Path that circles the whole of Cornwall.
Nearby points of interest
Contact number: 0344 335 6796
Newquay Holiday Park is a Parkdean resort that's won a whole glut of awards over the years. These include the Best UK Family Holiday Company 2020, Best UK Holiday Parks and Lodges Company 2020, and Best Camping and Mobile Holiday Company 2019. It's therefore a safe bet for your Cornwall caravan getaway.
The site goes above and beyond to give you plenty to do.  It features a 9-hole pitch and putt, games arcade, and three outdoor heated swimming pools – one of which includes a 200ft water slide. Furthermore, there's a Costa Coffee on-site, plus an entertainment venue, bar and grill, and poolside drinks and ice cream hut.
Although the site is tempting, you may want to go further afield at some point. Luckily, 11 of Newquay's beaches are just a few minutes away by car. These include Newquay's most famous beach, Fistral Beach, where you can try out paddleboarding, surfing, jet skiing, and all kinds of other watersports.
Nearby points of interest
Contact number: 01872 863724
Cosawes Park is nestled in a valley and surrounded by 100 acres of natural landscape.
There's woodland and meadow after meadow as far as the eye can see – you're deep in the heart of Cornwall here. If you visit the Cosawes Park website, you can even get a 360-degree aerial view of the site and the surrounding area.
The park has been operating since the 1960s, but history buffs might be interested to know it operated as a tin mine as far back as 1442. The park owners consider themselves custodians of the original features that nod to Cosawes' past, such as waterwheels, mill stones, and gunpowder works buildings. In fact, a park resident even wrote a book collating the local history of the last 1,000 years, titled Tinners, Sinners and Winners.
As for facilities, the park offers several pitch types for tourers – grass, electric and grass, and premium/hardstanding pitches. It also has an award-winning disabled access toilet block, plus showers and laundry rooms.
Cosawes Park is pretty much right in the middle of Falmouth and Truro. This means you're spoilt for choice in terms of beaches, heritage attractions, bars, and restaurants.
Nearby points of interest
Contact number: 01326 280260
Email address: holidays@litteltrevothan.co.uk
Little Trevothan Camping & Caravan Park sits just outside Coverack, near the South Eastern reaches of Cornwall.
It gives you a good base from which to explore Lizard and the dramatic coastline this area of Cornwall has to offer. Coverack itself is picturesque, with a harbour built into a natural cove of its own.
The site is pet-friendly for camping and tourers, and some static caravans have even been set aside to accommodate pets. There's also a half-acre on-site field, so you can give your dogs a good run.
It's also worth bearing in mind that all Coverack beaches are dog-friendly, so both you and your pooch will be welcome wherever you go. But if you're in doubt, there's a Dog Friendly Cornwall brochure available at reception.
Site amenities include a newly-renovated toilet and shower block, pitches with or without electric hook-up, and level pitches. There's also an on-site launderette, dishwashing facilities, and a gas sale area.
Finally, here's a fun fact for you – this site was the first in Cornwall to install fibre optic broadband. So, if you need Netflix on a rainy night, you couldn't ask for more.
Nearby points of interest
Contact number: 01736 871588
Sennen Cove Camping and Caravan Site is set on the Atlantic coast of Cornwall, within a stone's throw of the ocean itself. It's only a few miles from Land's End and Sennen Cove, and a mere 25-minute walk from Gywnver Beach.
The site has 72 pitches with all the necessary facilities like electric hook-up, hardstanding or grass pitches, showers, and toilets. In addition, it has a motorhome service point, WiFi, and disabled bathrooms.
Away from the park, there are walks through old mining sites at Botallack and Geevor Mine, and the section of the South West Coast Path around the South West Peninsula offers stunning scenery.
If you'd like to experience some more of Cornwall's towns and culture, Penzance is only a 16-minute drive away, too.
Nearby points of interest
Contact number: 01209 890256
Email address: porthwantouristpark@gmail.com
Porthtowan Tourist Park is just 3 miles off the A30 – the road that runs directly through Cornwall to London and provides easy access to the whole region.
Better still, it's located in the countryside only a mile from Porthtowan beach, so it strikes a balance between solitude and accessibility.
Porthtowan offers a range of pitch types, including non-electric grass, electric grass, and premium gravel. These pitches are for tents, tourers, motorhomes, or campervans – so you're guaranteed to be catered for.
Amenities include a laundry room, dishwashing area and bathroom block. There's also on-site WiFi, a games room with a pool table, and a wet suit rinse area.
Porthtowan beach is renowned for its surfing school, so if you've ever fancied giving it a go, you couldn't visit a better location. The beach is also ideal for days out exploring caves and rockpools. Chapel Porth Beach, just a 25-minute walk away, is also another option if you want a change of scenery.
For ramblers, walkers, and hikers, the South West Coastal Path and Mineral Tramways Trail are within easy access.
Nearby points of interest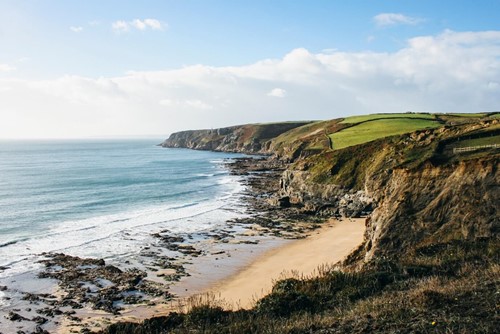 Contact number: 07706 832152
Email address: droppedanchor1@gmail.com
Sea View Camping at Dropped Anchor is located within one of Cornwall's 12 designated Areas of Outstanding Natural Beauty.
Sitting on the Southernmost coastline between Land's End and Lizard, this minimalistic site has very few distractions. You can therefore sample the area's stunning landscape uninterrupted.
To add to the rustic vibe, you can even purchase logs and kindling from the campsite for barbecues or campfires on the beach. As the Sea View Camping site says: 'a glass of wine or hot chocolate while looking up at the stars or boat lights across the sea is such a lovely way to spend an evening.' We couldn't agree more.
Minimalistic need not mean primitive, though. Sea View Camping still offers expected facilities like hot showers, toilets, and a dishwashing area, plus recycling bins and a wet suit rinsing area.
The one catch, however, is that the site is totally off the grid, and doesn't offer electric hook-up. This is a conscious decision by the site to minimise light pollution, meaning the spectacular night skies are preserved for visitors. The trade-off is well worth it.
Nearby points of interest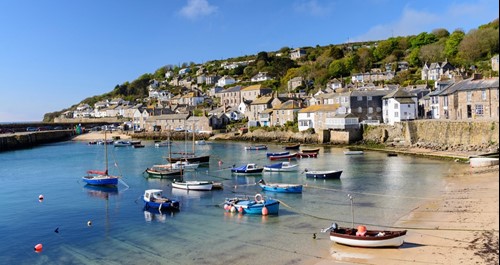 Contact number: 01736 810286
Email address: enquiries@towerparkcamping.co.uk
Tower Park Caravans and Camping site offers a quaint caravanning experience under the stars in open Cornish pastures.
The site offers 10m sheltered and non-serviced pitches, electric hook-up, and is split into seven fields.
Its location is one of its biggest virtues, as it's situated slap bang in the middle of South West Cornwall. Therefore, you couldn't be better placed to explore the entire region without having to travel far.
The site is dog-friendly – and doesn't charge extra for dog tents. There's even a private field to walk them in. Besides this, site features include the usual shower and toilet block, laundry room, and dishwashing area. Perhaps less typically, there's also free WiFi and a takeaway for breakfast and evening meals.
Nearby points of interest
Contact number: 0330 123 4850
Lizard Point Holiday Park is yet another Cornwall-based Parkdean resort, but this time there's something new in store. Parkdean has recently invested £1.8 million in Lizard Point Holiday Park to provide the best family holiday experience yet.
No Parkdean resort is complete without a swimming pool, but just a few of the more unique activities include a high ropes course, pirate-themed crazy golf, and a virtual reality experience. For fitness buffs, there's an outdoor gym and sports dome but, if you'd rather relax, there's an outdoor canopy and dog park. The entertainment, dining, and activities are practically endless, and that's before you've even left the site.
Nearby, you'll find Kynance Cove, one of Cornwall's most famous bays, which features boulders protruding from aquamarine water, white sand, and numerous winding caves. The entire Lizard Peninsula (within which Lizard Point Holiday Park is located) is an Area of Outstanding Natural Beauty, so you can basically walk in any direction and are bound to discover something awe-inspiring.
Nearby points of interest:
Now you've got the caravan site covered, it's time to cover your caravan.
We offer specialist touring caravan insurance to protect it from theft, damage, and loss. And best of all, you only pay for what you need – the cover is entirely customisable.
We cover your caravan and contents up to the value of £85k, and we will replace your tourer on a new for old basis, provided it's under 15 years old.
Click the link above to find out more or get an instant online quote with us today.