The Top 10 Sailing Watches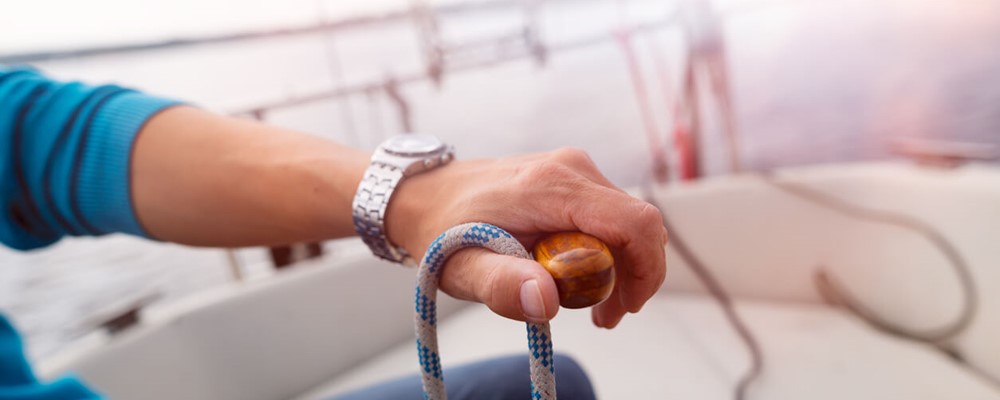 As a sailor, you know that precision is vital when you're out on the water. Timing is everything. There's a lot to consider, from countdown timers to battery life. That's why choosing a sailing watch is an important decision.
We're here to help you get that decision right by picking our top 10 sailing watches. We've included a variety of brands and types to suit different budgets, so there's bound to be something in here that you'll love.
Let's set sail…
1. Ronstan Clear Start Sailing Watch (£62.95)
 Reliable and practical – what you want backing you in a race.
Available at: Ronstan, Sailboats, Force4
The Ronstan Clear Start Sailing Watch is known among sailors to be trusty and functional. It was created with sailing front of mind, as evidenced by its simple and practical design.
This watch is great for competitive sailing – it couldn't be easier to use while sailing. The textured buttons on the 44mm and 50mm sizes are easy to locate and the numbers are big enough to see without taking your eye off the water. The multi-line display enables you to see the time and timer together and there's an electroluminescence backlight option, making the display easy to read in bad lighting.
You know how difficult it is to start your watch bang on time at the start of a race – and so do Ronstan. You can choose a Start Sequence option such as Match Racing, resynchronise your watch to the exact race time with the SYNC function and use race sound signals. Plus, you'll be grateful it's both shock and water resistant to 50m if it's a rough day at sea.
Discover more Ronstan Clear Start Sailing Watch features.
2. Garmin Quatix 6 (£574)
Everything you need on the water – and it doesn't stop there.
Available at: Garmin, Amazon, Jura
This is a watch for every sport and for those who love adventure. It means business. Garmin have taken every smartwatch feature they can think of and packed it together to create the 2020 Garmin Quatix 6, a watch that can do everything.
It ticks all the boxes when it comes to sailing. The Garmin SailAssist feature enables you to generate a virtual starting line. This means your timing's spot on and you can tell whether you're headed or lifted. You can also view data such as wind and water depth straight from your wrist and connect this watch with other devices using its comprehensive connectivity.
It also boasts other excellent marine features. You can control the onboard entertainment system with a Fusion-Link audio app and control the boat away from the wheel with autopilot control. Plus, it's water resistant to 100 metres, which is essential for sailors.
This watch rivals other smart watches for all sports. It has the same functionality as Garmin's Fenix 6, which includes preloaded sport apps to track sports such as golf, running, hiking and yoga.  It also includes a wrist-based heart rate monitor (which also works underwater), topographical maps and ski runs, and GPS navigation.
Furthermore, it has smart features you'll use every day. Connect to your phone to read emails and texts from your wrist, pay from your watch using contactless payments and sync your music from Spotify and Apple Music. This modern watch has a long battery life and lasts 14 days in smartwatch mode. But if you plan on enjoying more time on the water, you might want the Quantix 6 Solar, released by Garmin in May. It uses solar energy to extend the battery life, but it's more expensive at £999.99. 
Discover more Garmin Quantix 6 features.
3. Gill Regatta Master Watch (£97.50)
A simple but cool watch packed full of features.
Available at: Gill, Sailboats, Force4, Tridentuk
The Gill Regatta Master Watch had a makeover in 2018 and it now gives you a lot of bang for your buck.
It's practical for sailing thanks to its host of amazing features. These include a countdown timer, stopwatch, dual-time function, alert sounds, audible alarm and key-lock function. The large display, prominent stainless-steel buttons and luminescent backlight make it easy to use on the water. It has a long-lasting battery, but if you wear it all the time (because it looks so good) you can put it in battery saving mode.
It's robust. Unlike many watches in this price range, this watch is reliable. It's made from a stainless steel reinforced ABS plastic, so it's shock and impact resistant. It's also water resistant to 50 metres.
Lastly, it looks the part. There's something chic about a simple and understated design, isn't there? The all-black version of this watch is our favourite.
Discover more Gill Regatta Master Watch features.
4. Optimum Time Series 3 Sailing Watch (£54.46)
A straightforward and essential timer for any sailor
Available at: Wetsuit outlet, Amazon, Sailboats
The Optimum Time Series 3 is one of our cheapest options, but undoubtedly one of the most popular.
It's easy to use – that's arguably its biggest advantage. With its 38mm x 20mm, single row display, it'll give you what you need without bombarding you with unwanted information. The watch has various programmes, including a 5, 4, 1, 0 sequence, as well as the option to count down. It even has a 'sync button', which allows immediate synchronisation. The convenient USB charging port is an added bonus.
It's durable. It's shock resistant and water resistant to 40m with Hydrolock and dual-seal-technology. This also means you can attach it to the boom or mast (thanks to its elasticated strap) with peace of mind.
It has a minimalist design. This isn't the most stylish watch on the market, but you can customise the colour around the display screen to give it an individual touch. But as far as budgets go, the Optimum Time S3 is a great option.
Discover more Optimum Time Series 3 Sailing Watch features.
5. Omega Speedmaster X-33 Regatta (£4,260)
Distinctive and precise – and made for regatta racing.
Available at: Omega, THBaker, Ernest Jones
There's no doubt that this watch guarantees style and substance. An Emirates Team New Zealand (ETNZ) limited edition (limited to 2,017 pieces) watch, it comes with a multitude of extra functions, precision and longevity.
It's a great right-hand man on race day, thanks to the Professional Regatta Function.  Pressing the Race button at 10 o'clock switches the watch to countdown mode, in which a countdown measure of up to one hour will track the start of the race. Once the race has started, it'll automatically switch to race mode!
You can store up to two races with 10 buoys recordings in the logbook. This ensures that, even when the race is over, the memory of your big wins will live on! There are also a host of digital functions: the watch can display three different time zones, calendar indication, two alarms and a perpetual calendar. Bear in mind, though, the watch is only water resistant up to 30m, which is often considered the minimum depth for a sailing watch.
It's comfortable. Despite its thickness, it has a nice feel thanks to its lightweight titanium case and coated nylon strap. And it has a 24-month battery life, so you won't need to charge often!
Discover more Omega Speedmaster X-33 Regatta features.
6. Rolex Oyster Perpetual Yacht Master II (£14,950)
Luxurious and unique.
Available at: Rolex, Watches of Switzerland, DavidMRobinson
If you can afford to spend £14,950 on a watch, you need to buy this Rolex. This regatta watch is luxury at its finest. After all, it's designed to 'embody the spirit of the sailor'.
It's a watch for life. The Yacht-Master II is created from Oystersteel, extremely resistant superalloys developed by Rolex. This makes it unrivalled when it comes to durability (which is a relief given the price tag). It's also water resistant to 100m and scratch-resistant, while its battery lasts for around 72 hours.
It has the look of a classic Rolex. It's a very different aesthetic to what you'd expect from a sailing watch.
It's been tailored specifically to yachtmen's needs, with the necessary features for a Regatta race. Renowned for being 'the only chronograph in the world with a mechanical memory', the Yacht Master II has a bezel that functions as a programmable countdown. Impressive. 
Discover more Rolex Oyster Perpetual Yacht Master II features.
7. Ulysse Nardin Marine Regatta (£13,600)
Smart, durable and suave.
Available at: Ulysse Nardin
Simply start sailing and the watch takes care of the rest. The Ulysse Nardin Marine Regatta will count down from the pre-set race time and then up automatically once the race begins. However, you can also use it as a typical chronograph, with a programmable countdown from one to 10 minutes.
It has sufficient protection for a rough day at sea. This watch is big (44mm) and thick, with a stainless steel case and screw down security crown.  On top of this, it's got a titanium clasp with a twin trigger release, so it'll fit your wrist perfectly and wont pop off at any point. And it's water resistant to 100m. Given the price, this is what you want.
If that's not enough to convince you, it looks awesome. In fact, we don't think this watch would look out of place on James Bond's wrist. It has a navy blue face, a ridged bezel with bits of navy, yellow numbers and large stylish white hands. It looks suave and sophisticated and the colours complement each other perfectly. But, you also have the choice of a white dial if you want something more simplistic.
Discover more Ulysse Nardin Marine Regatta features.
8. Casio SGW-100-1V (£45)
An affordable watch which provides the essential sailing features you need.
Available at: Casio, Amazon, Watches2U, Watchshop
This digital sport watch provides all the fundamentals. Whether you want athermometer, digital compass, temperature sensor or world time function, it has a bit of everything. You can see the time while the watch displays other functionalities such as the countdown timer. Other features include a stopwatch and an automatic LED illuminator so you can see the watch face.
It's robust. It has a stainless steel case, comes with a rubber strap and buckle and it's water resistant to 200 metres, making it incredibly durable. But if something does go wrong, at least you know it only cost you £45.
It does the job. Even though it doesn't look like a watch you'd want to show off when you're away from the water, coming in at £45 it's great value for money.
Discover more Casio SGW-100-1VEF features.
9. Timex Intelligent Quartz Yacht Racer Watch (£249)
The perfect combination of style and utility.
It boasts a yacht racer mode which provides everything you need, such as three different countdown timers (one, three and five minutes) and an alarm signalling the last five seconds of the regatta timer too. This mode also has a 'perfect date' feature which enables you see the current date by pressing the crown. And it's water resistant to 100 metres.
It's got a sporty feel, which many water sport enthusiasts want. It comes in a popular yellow and black style (our favourite), but it's probably not something you'd wear in the office or meetings. Different colours (blue and red) are used on the watch face, which makes the extra hand for the timer and chronograph and dials stand out. This leads us onto our next point…
It's super easy to use once you know how. It's a big chunky watch, but this makes accessing all the buttons straightforward and the display easy to read. At first, it can be tricky to use, thanks to the buttons having various sequences to serve multiple functions. But once you get the hang of it, your life will be much easier.
View Timex Intelligent Quartz Yacht Racer Watch features.
10. Tag Heuer Aquaracer 300M Chronograph (£2,400)
A stunning timepiece that can take a beating
Available at: Tag Heuer, Beaverbrooks, Amazon
This esteemed Swiss brand has created a watch that attracts both adventurers and professionals. The Aquaracer line has many different variations, though all have similar style, reliable water-resistance and Swiss-made exact movement. 
This watch has all the functions required to satisfy a boat owner. The standard functions (date, seconds dials, counters for split seconds, minutes and hours) work well without unnecessary bells and whistles.  
It's  a well-manufactured timepiece. It's both chunky and deep, but you can choose from a few different case sizes. Because it's a dive watch, it's water resistant up to 300m and scratch resistant, so it's unlikely to let you down in a crisis.
It's one of the most stylish sailing watches on the market. It'll look great on your wrist whether you're in the board room or sailing in the sun. And it comes in different dial colours.
View Tag Heuer Aquaracer 300M Chronograph features.
Sailing boat insurance from Ripe Boats
Whichever sailing watch takes your fancy, it's going to be your pride and joy, along with your boat. That's why you need to protect them with the right cover.  
Our specialist sailing boat insurance protects your sailing boat against theft, accidental damage, malicious damage and salvage charges. Get a quote and create your own policy in just a few minutes.
Plus, Ripe Valuables offers specialist watch insurance so you can protect your watch too. This includes worldwide cover 24/7 against loss, theft and accidental damage.