The 7 Best Wheel Clamps For Caravans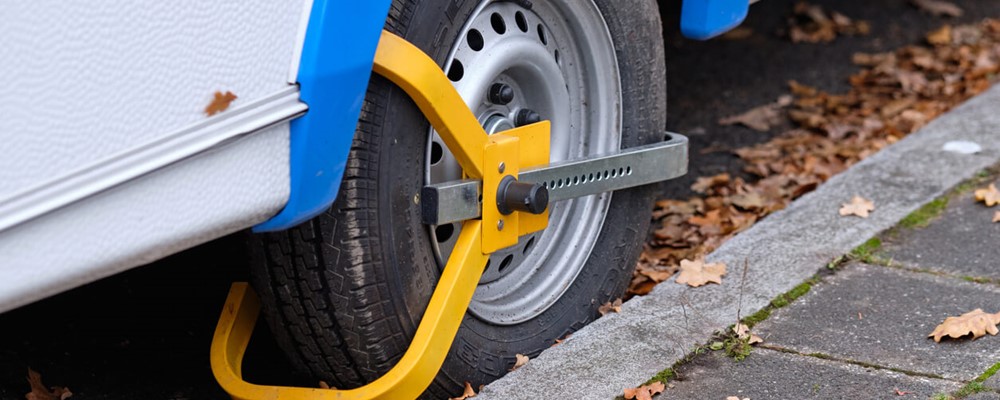 If you own a caravan, you'll know all too well how big a target they are for opportunist thieves.
With such a large expense comes a high risk of theft, but there are several steps you can take to keep your caravan safe and secure.
Accessories like hitch locks and wheel clamps are fantastic anti-theft devices, with the latter locking your caravan wheel in place. As a result, your caravan can't be driven away unwantedly, whether it's with you on holiday or parked on the driveway at home.
But with so many wheel clamps on the market, it can be difficult to decide which one is right for you.
That's why we've done the hard work for you. Here are the seven best wheel clamps for caravans.
Table of contents
1. AL-KO Compact Secure Wheel Clamp
2. Purple Line Nemesis Ultra Wheel Clamp
3. Maypole Stronghold Caravan Alloy Wheel Lock
4. Milenco Wraith Caravan Wheel Clamp
5. Fullstop Excalibur Receiver Wheel Lock
6. Bulldog Auto Clamp CAT
7. Milenco Compact Wheel Clamp
Typical price: £295 (full kit)
Weight: 3.55kg
To fit: 14" and 15" alloy wheels
Key attributes
Sold Secure 'Diamond' status
More than 30,000 security combinations
Drill-resistant lock
As the ONLY wheel clamp to hold Sold Secure 'Diamond' status at the time of writing, the AL-KO Compact Secure model continues to prove its quality.
This model is the product of years of research into the methods and practices often used by caravan thieves. Therefore, it's perfectly designed to make sure your caravan is protected against them.
The wheel lock attaches to the receiver, visible through the alloy spokes, which is permanently fixed to the wheel brake to prevent theft.
The AL-KO Compact is available as a standard fitment to most caravans. And with more than 30,000 possible security combinations permitted on the drill-resistant lock and anti-pick tumbler, your caravan couldn't be safer.
User review
"We just part exchanged our caravan, so we needed a new lock to fit the new wheel. However, buying this meant we didn't have to buy a whole new lock, which saved us more than £100."
Typical price: £150
Weight: 3.25kg
To fit: 13", 14", and 15" alloy wheels
Key attributes
Can be fitted in under 10 seconds
Anti-pick, 9-pin Lowe & Fletcher premier lock
Ultra-lightweight
In terms of value for money, the Nemesis Ultra is undoubtedly one of the best caravan wheel clamps on the market.
The lightweight model has been stringently tested and approved by Kiwa SCM MP03. Obtaining this certification involves assessments not normally included in other procedures, such as testing the clamp's resistance to freezing and corrosion.
Installation of the Nemesis Ultra involves replacing one of your caravan's wheel bolts with the Nemesis bolt receiver, which acts as a permanent replacement for your existing bolt.
The clamp then locks into the receiver, with the sturdy steel bar fitting through the wheel to halt any sudden attempt at wheel rotation.
Suitable for both alloy and steel wheels, it can be fitted and secured in less than ten seconds – and with just one hand!
You could say that securing your caravan has never been easier – but we'll let you be the judge of that.
User review
"I bought this lock to comply with my insurance requirements. I've owned other types of wheel locks and clamps in the past, but this one is the best and easiest to use."
Typical price: £100
Weight: 3.4kg
To fit: Universal alloys
Key attributes
Sold Secure 'Gold' status
Made from robust, hardened steel
Protective cap protects lock from dirt and water
The Maypole Stronghold's versatility makes it stand out from the crowd.
Its universal fitting system means that, unlike many other clamps, it's not restricted by the size or width of your caravan's tyres.
Approved to Sold Secure 'Gold' status, this clamp prevents tow-away theft by minimising wheel rotation as the locking arm comes into contact with the suspension or bodywork. The lock also safeguards against complete wheel removal.
For ease of fitting, the locking arm can be passed through any convenient hole in the rim, allowing the lock body to be fitted on the replacement wheel bolt.
If you're looking for a caravan wheel clamp that's lightweight but robust, compact, and easy to use, this is the one for you.
User review
"I love how quick and easy this lock is to fit and remove."
Typical price: £130
Weight: 2.65kg
To fit: Steel and alloy caravan wheels
Key attributes
Sold Secure 'Gold' status
Fitted with low mass security bolt for security and wheel safety
Foam covering on the high-grade steel bar
Although a holder of 'Gold' status via Sold Secure, the Milenco Wraith has been designed and engineered to exceed this standard.
The clamp is made from quality steel and accompanied by a high-grade, high-visibility, and non-corrosive plastic cover for maximum longevity.
The Milenco Wraith fits by replacing one of the caravan's wheel bolts with the Wraith low mass security wheel bolt receiver. It contains a foam covering on the steel bar, which then splices through the wheel to stop rotation.
With the Milenco Wraith, you're guaranteed peace of mind, as additional security features include a built-in, pick-proof locking mechanism with extra steel to resist sawing and freezing. What more could you want from a caravan wheel clamp?
User review
"I'd highly recommend this to other caravan owners as a fuss-free wheel clamp. The device is sturdy, well-made, and comes with a case, so it doesn't clatter around in transit."
Typical price: £150
Weight: 3.9kg
To fit: Alloy wheels only
Key attributes
Cutting, drilling, and gas-freezing resistant
Super lightweight
Fitted with its own receiver backplate for fitting after caravan positioning
Despite its lightweight feel, the Fullstop Excalibur packs a punch and provides unrivalled security for your caravan.
Suitable for most caravans fitted with alloy wheels, the Excalibur can be used with a caravan's factory-fitted receiver points and on vehicles where there's no receiver or convenient receiver available.
Unique to the Excalibur is its own receiver backplate, which allows fitting to be done without the need to be in line with a fixed point on the caravan. This means you can fit the clamp AFTER positioning your caravan – on ramps, for example – for perfect levelling. As a caravan owner, you'll know that's a gamechanger.
Highly secure, this model holds the Sold Secure 'Gold' Status, with locking by means of a 9-pin, anti-pick, anti-drill barrel.
What's more, all the materials used in the Excalibur are also cutting, drilling, and gas freezing resistant.
User review
"This lock is great. When the alloy wheel lines up favourably with the receiver on the chassis, it just locks straight on – it's very easy to use. I'm thinking of getting a second one to put on another wheel."
Typical price: £160
Weight: 8.2kg
To fit: Steel wheels
Key attributes
Adjustable for varying tyre width
Drill and pick-resistant plunge lock
More than one million possible key combinations
With a name like Bulldog, this wheel clamp was hardly going to be a delicate device.
This high-security model comes with top arms fully adjustable for varying tyre width and diameter, alongside a 280mm-wide steel protection disk to prevent thieves from accessing the wheel nuts.
The craftsmanship on this clamp needs to be seen to be believed. In fact, the plunge lock technology used on the Bulldog Heavy Duty is so advanced that it can be locked without keys.
Ideal for caravans and trailers with steel wheels, the Bulldog also comes finished with a yellow powdered coating acting as a further theft deterrent.
User review
"A five-star wheel clamp for sure. I've used these for a long time now, and they're very good."
Typical price: £90
Weight: 3.8kg
To fit: Steel and alloy caravan wheels from 12-16"
Key attributes
Integrated locking mechanism with winding handle
Complete with adapter to fit
Suitable for old and newer caravan models and tyres
The perfect showcase of unique design and innovation, the Milenco Compact wheel clamp is easy to fit and has an integrated locking mechanism with a winding handle for maximum security.
To fit it to your caravan wheel, simply turn the winding handle to clamp onto the wheel and then push the handle in to lock the clamp.
Although suitable for both steel and alloy caravan wheels, the clamp has an added foam back to protect your alloys.
It's equipped with a solid lock and secure key system, and is made from drill and chisel-resistant material. So, it's safe to say that the Milenco Compact is a robust and durable model.
User review
"This wheel clamp is very quick and easy to fit. Although very sturdy, it's reasonably light – it fully meets my expectations, and I thoroughly recommend it."
Even if you choose a solid wheel clamp to protect your caravan, it still needs to be insured in case a thief manages to steal it.
At Ripe Caravans, our specialist touring caravan insurance provides cover for your caravan up to the value of £75,000, and you can choose to include additional cover to protect your contents and awnings.
We also offer public liability and free accidental death cover up to £10,000. What's more, with our Ripe Guarantee, you won't find a better price for your cover anywhere else on the market.
Find out more about our touring caravan insurance, and get an instant online quote today.
Related
The 7 Best Hitch Locks For Caravans
The 13 Best Caravan Holidays In Wales