What to Do When Your Bike Is Stolen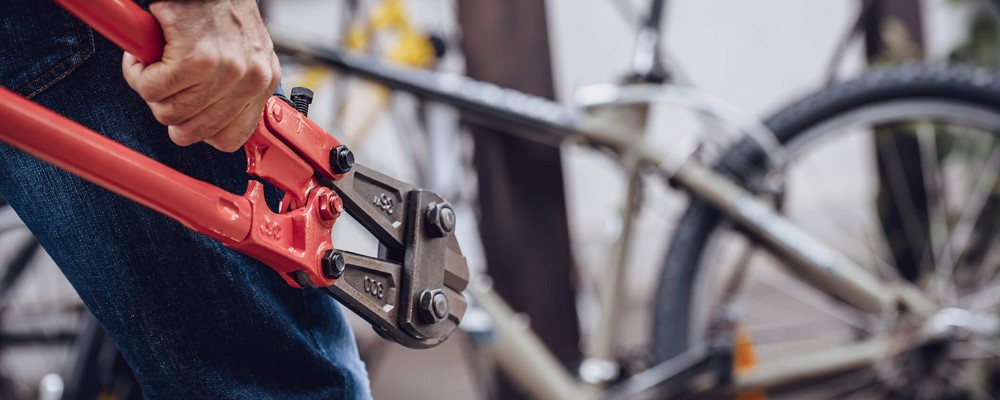 Once you've had your bike stolen, the next steps are crucial to your chances of getting it back.
Most stolen bikes are sold on within a few hours, so you need to act immediately once you realise yours is missing. Before attempting to track it down, here's what to do when your bike is stolen.
Record the details of the theft
Our memory is often vague, particularly in stressful situations. Therefore, the first thing you should do after realising your bike's been stolen is write everything down.
Record the dates and times you last saw your bike and when you realised it was missing.

This provides a timeframe for the theft, which will help police.

Note the exact location of the theft.

What's the address? Was it outside or inside? Was your bike in an outbuilding or in your home? Was it locked to a lamppost?

Note the exact circumstances of the theft.

Are there signs of forced entry? Were you going to work? Was your bike locked? Was the lock broken? How does it look like the thief took your bike?

Take pictures of the site of the theft.

These pictures could be used to help police, verify a claim with your insurer, or as evidence of a failed lock with your lock manufacturer.

Make a list of all the items that were stolen.

Your cycling or home insurance may cover these as well.
The earlier you record these details, the more accurate your recollection of events will be. In turn, the more detailed the subsequent police report and insurance claim will be.
Report the theft to the police
Once you've noted down every detail that comes to mind, report the theft of your bike to the police immediately and relay these details to them.
You should also provide as much detail about your bike as possible (and pictures if you have them). If you don't and it's a stock model, let the police know this and find an image online to give them as a reference. Other information to include is:
Frame number
Manufacturer, model and size
Any unique identifiers like stickers or scratches or a custom paintjob
Any component changes like a replacement saddle, tyres or handlebars
Even if you think you stand no chance of getting your bike back, it's important you still report the crime to the police.
Firstly, your insurance company will ask for a crime reference number if you attempt to claim. Secondly, if the crime goes unreported, the police won't have an accurate record of crime levels. Underreported bike theft could make bike theft seem like a smaller problem than it is.
File an insurance claim
Once you've reported the crime to the police, you should contact your insurance company, preferably within 24 hours. Here's what you need to provide:
Your insurance policy number
The date of the theft
The crime reference number
Evidence of ownership of the bike, for example a receipt or bank statement
Photographs of the bike
Any damaged items or locks
John Woosey, founder and managing director of Cycleplan, adds:
"Here at Cycleplan, we understand the risks and costs faced by cyclists on a daily basis. Theft, loss, damage and accidents unfortunately can and do happen. That's why it's essential to have specialist cycle insurance – to cover yourself and your equipment. Our specialist cycle insurance will bring complete peace of mind, so you can focus on the joy of the ride."
While your bike may be covered on your home insurance policy, there's a good chance it won't be. Despite what you may think, many household policies only protect possessions when they're inside the home.
Furthermore, single article limits are often insufficient to cover a bike's total value. That's why specialist cycling insurance is imperative – so you're covered for the whole bike whenever you're on it.
Report the theft to your lock-maker
Presuming you lock your bike when you leave it unattended (which you should at all times), you might have registered your lock with the manufacturer at the time of purchase.
Brands like Kryptonite and OnGuard offer an anti-theft protection scheme, which means they'll reimburse the value of your stolen bike to you if your bike was stolen as a result of your lock being broken or failing.
There are some drawbacks to these schemes though. You have to register your lock within 15 days of purchasing it, report the theft to the police within 72 hours and report it to the manufacturer within 7 days.
Both Kryptonite and OnGuard require the broken lock as proof of its failure, as well as the original receipt. There are also restrictions based on where you live.
That said, it's better than nothing, so if you had the presence of mind to register your lock when you first bought it, an early course of action should be to notify the manufacturer and get the ball rolling on a potential reimbursement. This is the next best course of action, after retrieving your stolen bike.
For more information on anti-theft schemes, check out this helpful article from Best Bike Lock.
Report the theft on property registration platforms
If you registered your bike on a property registration site like Immobilise or Bike Register when you bought it, you need to update its status to 'stolen' as soon as possible.
If you're not already registered on these sites and you have your bike stolen, you can still sign up to log the theft. Stolen Bikes UK was created for this specific purpose.
Police often recover bikes but lack enough information in reports to successfully reunite them with their owners. Property registration platforms help in this respect, because they keep a record of property ownership in detail. This means the police can look for bikes registered as stolen and establish whether or not they match the one in their possession.
However, these websites do more than just assist police. They also allow the public to cross-reference the legitimacy of second-hand sales and bring attention to a theft themselves. This function leaves finding your bike less to chance and exponentially increases the coverage of your search.
Specialist cycling insurance from Ripe Cycling
Hopefully you never suffer the terrible fate of having your bike stolen. However, you can't be sure it won't happen to you. That's why specialist cycling insurance is essential.
At Ripe Cycling, we offer fully customisable cover for cyclists, from bicycles and accessories to Personal Accident cover. We even have a lowest price guarantee.
Get an instant online quote with us today and discover the value of peace of mind.
For more advice on how to get your stolen bike back, click here.