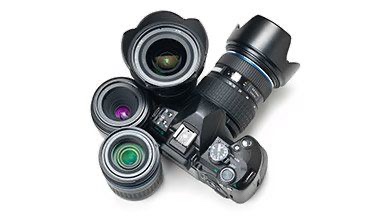 Protect your camera and photography equipment
Whether you own the latest DSLR or a classic analogue camera, your passion for photography likely costs a sizeable amount of money. Your kit is also probably worth a lot to you on a sentimental level. That's why you need to ensure it's protected with specialist camera insurance.
You've got to consider what would happen if you didn't have specialist camera insurance. What if you accidentally damaged your camera or photography accessories and you had to pay for repairs yourself? What if your equipment was stolen and you had to source replacements out of your own pocket? What if something happened to your equipment while you were abroad?
For these reasons and more, you need specialist camera insurance. Here's a complete lowdown on what camera insurance covers.

Theft
You'll know your camera and equipment don't come cheap, let alone the laptop or tablet you use to edit your photos.
Sadly, this often makes photography equipment a prime target for theft, and the last thing you want to be worrying about on a shoot is whether your equipment is safe. Even taking your eyes off your camera for just a second is enough of a window for thieves to strike.
Imagine being commissioned to take photographs at a wedding. You park your car at the venue and leave some equipment in the boot, but while you're away from your car, someone breaks in and steals the equipment. Specialist camera insurance is designed for these unfortunate and unforeseen circumstances, which is why it's so vital. It gives you peace of mind that if your camera or equipment is stolen, it's suitably covered.
With our camera insurance, you can cover up to £60,000 of equipment and we'll even replace it new-for-old provided it's under three years old. If it's over three years old we'll reimburse you for its value at the time it was stolen.

Accidental damage
Accidental damage is by far the most common type of claim we receive, and it's easy to see why. If you think back, you've probably had plenty of near misses. Maybe you knocked your camera off your desk but managed to save it before it hit the ground. There's nothing quite like that sinking feeling when you imagine the worst happening.
Have you ever set up your camera on your tripod and accidentally knocked it over? It's easily done, and this actually happened to one of our policyholders. His £9,000 lens was damaged almost beyond repair. Had it not been for his Ripe Photography policy, he could have ended up forking out serious money to get it repaired. Thankfully, because he was insured, he could restore his prized possession to its original condition. 
It isn't just when using tripods, though – there are plenty of opportunities to damage your camera. It could slip out of your hands while switching lenses, you could accidentally nudge it off a table while reaching for something or fail to screw a lens on properly and have it fall off.
That's what camera insurance cover is for. With this insurance, you know that if your camera is accidentally damaged, it wouldn't cost you a penny. At Ripe Photography, we will cover up to £60,000 of equipment against accidental damage.

Worldwide cover
Tourists are often targeted abroad, so travelling with your camera and photography equipment carries a greater risk of theft. Cameras and electronics are often the main attraction to thieves as well.
One of our policyholders had their camera stolen from under their table while at a restaurant in Malaysia. This highlights why Worldwide cover is essential.
Besides that, there's a more significant chance of accidental damage when you're travelling, whether it's caused by careless baggage handlers or the simple fact that transporting delicate equipment opens it up to more bumps and knocks.
However, we understand that photography can take you anywhere. So, with our EU or Worldwide cover, you'll be covered against theft and accidental damage wherever you go.
Other Cover

In-Vehicle Cover
Our in-vehicle cover means you can leave up to £20,000 worth of equipment unattended in your vehicle and still be covered for theft or accidental damage (providing your equipment is hidden from view and the vehicle is locked). This is essential if you have to drive from shoot to shoot.

Equipment Hire
We want to keep you shooting, so we even offer insurance to cover the cost of hiring equipment if you're waiting on a claim going through following damage to your own equipment. Sometimes you need to hire a specialist piece of equipment for a shoot, so we also provide cover against damage and theft for hired in equipment too.

Public Liability Insurance
Our Public Liability insurance covers you for potential legal costs of up to £10 million if you're held responsible for injuring someone or damaging third-party property. Some venues require you to have Public Liability cover before allowing you to set up a shoot there.

Employers' Liability Insurance
We also offer Employers' Liability, which will provide up to £10 million in case one of your employees is injured while at work and claims against you for their injuries.

Professional Indemnity
Our Professional Indemnity provides protection against legal costs arising from negligent acts, errors and omissions while working as a photographer. For example, a client may be dissatisfied with your photography service and seek compensation. If this happened, you'd be covered for the associated legal costs, up to either £75,000 or £150,000.

Additional Cover
Additional cover available includes protection from theft and accidental damage for mobile phones and tablets if they're used in conjunction with your photography. Cover can be extended to your portfolio as well, meaning in the event of damage or theft, you'll be covered for the costs of reproducing, laminating and reprinting the shots.
Here's just some of the camera equipment we insure...

Cameras

Lenses

Stands and tripods

Portable lighting equipment & accessories

Laptops, desktop computers and printers
We're committed to giving you the best camera insurance at the best prices, which is why we offer our Ripe Guarantee. See how much you can save and get a quote today.