The Ripe Guarantee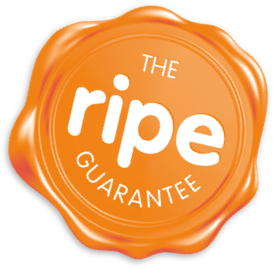 Insurance that
takes good care of you
We've lived and breathed specialist insurance for over 20 years and with our in-depth knowledge of different markets, we've got a real grasp of what our 320,000+ policyholders want from an insurance provider. And it's quite simple really, you want a company who knows their stuff and who will take good care of you every step of the way. Here at Ripe, that's what we're all about. Our ethos is all about making insurance easy-to-buy, simple-to-understand, jargon-free and excellent value. The Ripe Guarantee incorporates everything that's great about Ripe. Every time you see the Ripe Guarantee, you'll know what to expect – great cover and exceptional service at our best price.
The Ripe Guarantee
explained:
We offer some of the
best cover

on the market because:
We won the Personal Lines Broker of the Year at the prestigious Insurance Times Awards for two years running, in both 2019 and 2020.
We only work with the UK's leading insurers, Aviva and Travelers.
We have a super slick quote and buy process – our aim is to get you a quote by asking as few questions as possible.
We have in-depth knowledge of the specialist markets we work in so we can provide tailored support, whatever your sport, hobby or business.
We provide
exceptional service

because:
We have 30,806 Trustpilot reviews which rate us on average as 'Excellent'.
We won Best Specialist Insurance Provider at the Insurance Choice Awards in 2020 – voted for by our policyholders.
We have over 320,000 policyholders who have chosen us to protect their passions.
Over 75% of policyholders renew their cover with us each year.
98% of our policyholders are satisfied with the level of cover offered by their insurance policy.*
Our policyholders associate Ripe with "value for money", "making insurance simple" being "trustworthy" and "jargon free"., We pride ourselves on providing insurance that ticks all of these boxes.*
We're there when you need us. Our UK-based customer service team are here to help – whatever your sport, hobby or business.
90% of our customers are satisfied with how we handle their claim.*
We provide
great value

because:
You can build your own policy so you only ever pay for the cover you need.
We won't be beaten on price – if you take out a policy and within 14 days find the same levels of cover and terms elsewhere for less, we'll refund the difference**.
Our "excellent" Net Promoter Score (NPS) of 55 is a clear indication of how positively our customers feel about Ripe and are willing to recommend us to their friends and family.***
We offer a 14 Day Money Back Guarantee as we want you to be completely satisfied with your policy.****
*Results from a survey to Ripe Policyholders conducted in October 2022, based on 8,877 responses.
**Our Best Price Guarantee is based on like-for-like cover. A written quotation from the comparable provider must be provided, as well as their Policy Terms. We are not able to offer this Guarantee to Ripe Caravans or Ripe Park Homes policyholders in their first year or Insure4Boats policyholders who live aboard their boat. This Guarantee is also not applicable on any boat with a value in excess of £50,000 and/or where the Insure4Boats annual premium is in excess £2,500. Ripe will endeavour to respond to any quote request within 14 days from receipt of all relevant documentation.
***Net Promoter Score is a management tool used globally to gauge customer loyalty. NPS score as at October 2022.
****A cancellation fee may apply
The best in specialist insurance cover.
All ready to go.