The 10 Best Shotguns for Clay Pigeon Shooting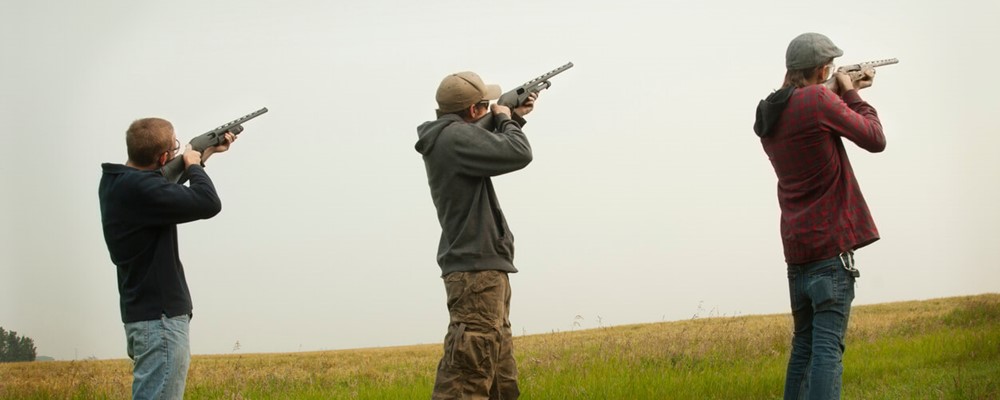 It's hard enough hitting clay pigeon targets as it is, so it's crucial that you're using the best possible shotgun for pinpoint accuracy. Whether you're new to clay pigeon shooting or you shoot competitively, choosing the right shotgun can be a tough task. However, we've tried to make it simple.
To help you decide, we've put together a list of the 10 best shotguns for clay pigeon shooting.
From the well-priced Browning B525 Sporter to the more expensive Krieghoff K-80, there's something in here to suit every individual need and budget. 
*The stated prices are the cheapest we've found, but will be influenced by a number of factors*
1. Beretta 686 Silver Pigeon 1 Sporter
£1,600
Beretta makes some of the most popular competition guns in the world and has sold at least 30% of the UK's over and under shotguns in the last 30 years. Part of Beretta's extensive range is the Silver Pigeon 1 Sporter, which incorporates exceptional engineering and design features compared to others with a similar price tag.
This entry-level gun is ideal for rookies and the occasional shooter. Among its key features is the Optima-bore system with flush-fitting chokes, a feature previously only used on the higher-grade models. Other features include different barrels, a tapered rib that helps the gun point accurately and a stock with two choices of drop at comb that suits most shooters' needs. With natural pointability and excellent trigger-pulls, it's a delight to handle and you'll feel confident of hitting the target.
That said, there are a couple of potential sticking points to highlight. Although it handles beautifully, the wood has a relatively plain matt oil finish and the engravings don't ooze beauty and charm (albeit the Beratta trident program logo is etched on both sides). But you have to remember, it's only £1,600 – so it's worth weighing up if either of these points are dealbreakers?
Overall, this is a strong and reliable shotgun. It's well put together, great to handle and won't break the bank. It gets a thumbs up from us. For another opinion, why not check out some more reviews on YouTube? Take a look at the below review from the gun shop…
2. Beretta 692
£3,000
Built exclusively for clay pigeon shooters, the Beretta 692 is well-designed and functional. Through its unique features, it can adapt and grow into an extension of your body. These features include an adjustable single selective trigger, adjustable ejection-extraction, adjustable balance and optional adjustable comb.
Sporting a wider and heavier construction than the 680 series, the Beretta 692 provides better stability and easier handling. If you want to improve the balance even more, you can add weight of up to 100 grams to the buttstock. The barrels also come with extended choke tubes, meaning you can tune the gun to your particular needs.
The Beretta 692 is unique for a sporting gun because it has an over moulded rubber part on the top lever. This helps to give you more positive feedback if it's cold or wet outside. As well as being functional, this shotgun looks the part – fine checkering is engraved on both sides of the grip and it boasts a shiny-polished finish, so it's certainly easy on the eye.
Although it's slightly on the pricier side at £3,000, this high-quality, robust gun is worth the extra investment.
3. Perazzi MX8
£4,500
First introduced in 1968, the Perazzi MX8 has become the standout competition gun ever since handing Elio Matarelli a gold medal at that year's Olympics. Perazzi guns have won 53 Olympic medals since – the most in the history of clay shooting. If any more proof was needed, in the 2008 Olympics, 15 of the 16 placed Trap shooters used a Perazzi.
The Perazzi MX8 provides some of the finest handling in the world. A detachable single trigger and V springs provides quality trigger pulls and a fast lock time. The internal and external barrel quality is superb, as it's made of high-quality steel and chrome lined chambers. What's more, you have an array of distinct barrel lengths at your disposal, including fixed and multichokes.
One limitation of the Perazzi MX8 is the basic woodwork. If you think it's a tad ordinary, you have the option to order a wood upgrade.
Having said that, this is generally a brilliant gun and worth a gold medal for build quality and handling. It might be the second most expensive shotgun in our article, but it's got the credentials to back up its price tag. There are plenty of new and secondhand Perazzi shotguns available on Guntrader if you want to take a look.
4. Browning B525 Sporter
£1,300
Browning is one of the most recognisable shotgun brands on the globe – and with good reason. The Browning B525 Sporter gun ticks all the boxes if you want to hit some clays, which is why it's one of the bestselling guns in the UK. If you're looking for a gateway gun into shooting sports, this is the shotgun for you.
The B525 handles effortlessly; it comes to the shoulder well and is a snug fit. Despite being lighter than other sporting guns, it feels very secure and is enjoyable to shoot. The reduced barrel weight makes the gun handling responsive and intuitive without being jumpy.
Combined with a longer forcing cone, it's lively but just the right amount. The reduced felt recoil makes controlling the shot much easier. With a good grip, back-bored barrels and a simple but good, ventilated sighting rib, it functions well.
In terms of its aesthetics, the B525 looks traditional but has a delicately polished design. The elegant floral scroll pattern and fantastic metal to wood finish make it attractive, yet modest.
There's no denying the supreme quality of this gun. It's incredibly strong, built to last and offers outstanding reliability. Quite simply, it's the perfect gateway gun.
5. Browning B725 Pro Sport
£3,000
The Browning B725 gives the more expensive, high-end competition guns a run for their money – and at a more affordable price. In fact, it's arguably the finest clay gun Browning have ever made. It comes with a full set of eight chokes, 2 recoil reducing pads, 3 triggers and many more features to suit you.
The B725 Pro Sport shoots like a dream. It's a good weight and has a massive grip, which makes it easy to handle. The palm swell is in a good position to allow your hands to place nicely and the relatively slim neck lets you bring your hand up if you need to.
The appearance of the gun is quite plain, but the checkering around the grip is exquisite and the stand-out gold lettering catches your eye. Make sure you opt for the matte black finish if you want less glare on the barrel when the suns out – and it looks incredible.  
Overall, the B725 Pro Sport provides the perfect gun fit, which makes it very satisfying to shoot. Priced at around £3,000, it's a high-end gun with a competitive price tag. For more information about the B725 sport models, take a look here.  
6. Miroku MK38 Sporter Grade 5
£2,600
Miroku, alongside Browning and Beretta, is a popular brand for new clay pigeon shooters. In fact, Miroku is built alongside Browning, although it has recently scaled down and the options for these guns are now slim.
The MK38 Teague Sporter Grade 5 is perfect for shooters of all abilities and is the gun of choice for experienced shooters who don't want to spend an absolute fortune. The action is almost identical to the aforementioned Browning 525 Sporter action, but it's a lot more noisy than other guns. However, it handles much like guns that are double or even triple the price. On top of this, it balances well and the trigger pulls are spot on.
One thing to point out is that the Teague Sporter Grade 5 doesn't suit smaller hands very well – it's very deep and has a large grip. Nevertheless, this contributes to its big selling point – its reliability. It's virtually bulletproof.
And at a price of £2,600, you won't get a better-looking gun. It has a classic, beautiful design with deep cut scrolling. Plus, the fact it's hand checkered gives it a personal feel.
A good quality, reliable gun that performs what you ask of it. If you're looking for stylish aesthetics, it's worth spending the extra money on the Teague Sporter Grade 5.
7. Guerini Summit Impact
£2,400
The Guerini Summit Impact is unique in that you can build it however you like. You can customise the weight, trigger system, stock fit, recoil, balance and point of impact (which can be adjusted from shooting flat to up to 300% high).
It provides you with an upright shooting stance, which reduces the impact of recoil and puts less strain on your neck and shoulders. This way, it's more comfortable for you to hold and you're more likely to hit the target. It also has most of its predecessor's features, such as eight chokes as standard and a gloss wood finish.
It's a well thought-out, effective gun and it can do the lot. But you have to wonder, is it too much? After all, it's not uncommon to have different guns for different purposes. It could be too fiddly, but this is clearly a matter of personal preference.
8. Blaser F16 Sporter
£2,500
Blaser is a German manufacturer and the Blaser F16 is essentially their budget gun, although it will still set you back £2,500. The Blaser F16 is constructed to a high standard and is available in a 12-bore and with multi-chokes.
The trigger is adjustable and very well engineered, as you'd expect from Blaser. The ejector system is powerful and the balance is easily adjusted, which is especially useful for competitive shooting.
Bear in mind that the handling is very different to other guns and will split people on opinions. However, it still has a light feel and the unique handling doesn't prevent it from shooting well, so don't be put off.
Design-wise, the F16 doesn't have the same flair or slick feel as the Italian guns that are highly desired in the UK. The uninspiring wood might not be to your taste, but you can always upgrade to something more exciting. Despite the obscure lines and angles, and pristine laser-cut checking, it wouldn't win in a beauty contest.
This is a relatively plain looking shotgun with great engineering, unique handling and that shoots beautifully. For a second opinion, check out some YouTube review videos like this one.
9. Breda 930i
£1,250
Breda is an Italian company dedicated to making clay semi-automatics, so it had to be included on our list. The 930i is a fully competition ready shotgun and one of Breda's most popular and photogenic. What's more, it's incredibly well-engineered and handles comfortably. It boasts 29-inch barrels, extended multichokes and adjustable trigger, among other features. What's more, like the Guerini Summit Impact, you can choose to customise it.
As an inertia driven semi-auto, you won't get the internal workings of the gun dirty and it's easy to maintain. One of the 930i's most fascinating features is its removable top, which sets it apart from most semi-autos. This means you can get into the guts of the gun and give it a thorough clean. 
Breda shotguns also look very different to other makes, which is one of their big selling points. They have a more modern and sportier look; the 930i has standout colour coded features and is the Porsche of the shotgun world. With beautiful and varied checkering, a unique sandpaper effect on the bottom and quality walnut wood, it still maintains elements of a classic shotgun style.
If there is a drawback, it's a relatively long gun due to the length of the action. Also,  it's pretty expensive for a semi-auto shotgun.
However, on the whole, the Breda 930i is a piece of top-quality engineering and manufacturing. The finishing touches show the attention to detail that's gone into the gun, it fits well and shoots great. What more can you ask for?
10. Krieghoff K-80
£11,500
Krieghoff shotguns are best described as strong, heavy trap guns that suit the more wallet-busting budgets. The Krieghoff K-80 is another piece of precise German engineering and best known for its robustness and reliability. It's unique compared to other makes of shotgun because it shoots very mechanically, as opposed to an easy Perazzi feel.
Having said that, the K80 balances comfortably between the hands, so it still feels relatively lively. The gun fit is great, thanks to the class-leading adjustable stock that's incredibly adaptable and easy to use. Along with the adjustable high rib design that helps improve target acquisition and shooting stance, the Krieghoff K-80 really is top of the range. To ensure it's to your taste, you can choose the wood, engraving, choke types and trigger types. Essentially, you're buying your own bespoke gun. With prices starting at a whopping £11,500, it's a big investment, but then we have explained why.  
Put frankly, the Krieghoff K-80 is a gun that most people aspire to own – but make sure you get your money's worth. Want to know more about how it shoots? Check out a field test of the K80 here.
Once you have chosen the shotgun you wanted, it's well worth checking out the best hotels with clay pigeon shooting. Then you can combine your hobby with a well earned, relaxing break.
Specialist shooting
 

insurance from Ripe Shooting

Choosing which clay pigeon shotgun you need can be a difficult decision, but choosing the right insurance shouldn't be.

Ripe Shooting provide specialist shooting insurance, which includes up to £10 million of Personal Liability cover and up to £50,000 Equipment cover.

Find out more about our clay pigeon shooting insurance here and make sure your new shotgun is protected so you can continue shooting clays.