The Best Caravan Cleaning Products On The Market In 2021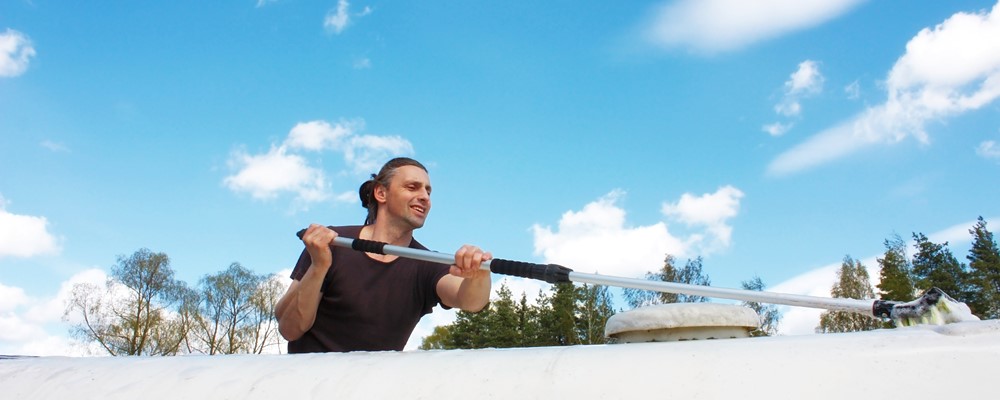 When it comes to cleaning your caravan, a bucket of soapy water and sponge just won't cut it. After all, your caravan is your pride and joy, and there are some fantastic pieces of kit which will keep it looking fresh. Let's look at them in more detail – here's our selection of the best caravan cleaning products on the market.
Silky has produced cleaning products for leisure vehicles for more than 40 years and has a great reputation among caravanners. So, when you buy from Silky, you know you're buying from a tried and tested brand.
The Silky Caravan Cleaner is testament to the company's expertise. This product is considered an industry leader in removing black streaks, scuff, mould, algae and mud. It's also non-scratching and non-abrasive, meaning you can clean your caravan as often as you like with this product without worrying about potential damage. And at £8.99, it's a steal considering its quality.
Check out the video above to find out more about this product and others within Silky's caravan cleaning range.
Fenwicks is another hugely popular brand and is considered a close rival to Silky in many ways. Like Silky, Fenwicks has been around for several decades, and its caravan cleaner is one of the most respected on the market.
A result of years of testing, this product works by attracting dirt, surrounding it, and stopping it from sticking. Removing dirt and algae from your caravan is therefore quick and simple.
What's more, the Fenwicks Caravan Cleaner is safe to use on all kinds of surfaces, including acrylic windows, rubber, aluminium, and fibreglass. It's long-lasting, too – you can clean up to forty 18-foot caravans from a single 1-litre bottle. That means you won't have to stock up again any time soon!
If you're looking for a specialist window cleaning product, look no further. Autoglym is synonymous with car care, but it provides a wide range of recognisable and reputable solutions for caravans.
One of these is the Fast Glass cleaner. This offers a crystal clear, smear-free finish for your caravan windows and can be used on plastic, acrylic, and glass surfaces.
It's free of abrasives, silicones, and waxes and cuts through dirt with ease, leaving no residue. You can use it to clean both the inside and outside of your caravan, and it's ideal for removing insect remains, tree, sap, oil, and grease.
In summary, it can do a bit of everything. To see this versatile product in action, check out the video above.
Most of the marketing around this product focuses on its ability to clean cars. But don't let that fool you – it can also be used on caravans. And it does a very good job of cleaning them.
Engineered for coated, waxed and sealed finishes, the Meguiar Ultimate Snow Foam Xtreme Cling lives up to its name. It sticks to dirt and then some, gently loosening road grime which allows for a quick and touchless pressure rinse.
Even if your caravan is very grimy, this product lubricates the surface on dirtier vehicles, which ensures safer cleaning all round. However, you may need to use a mitt to scrub off the dirt in this case.
There are a few steps you'll need to follow before applying the Meguiar Ultimate Snow Foam Xtreme Cling. Watch the full video from caravan YouTuber Paul Robson above, as he takes you through each step of using it.
When you search for caravan cleaning products, you're bound to come across Mellerud. The German brand has been around for more than 35 years and is renowned for its high-quality cleaning and maintenance products.
There are plenty to choose from, but one of the most popular is its Motorhome & Caravan Heavy-Duty Cleaner.
This highly concentrated, biodegradable cleaner produces a streak-free radiant shine, offers improved water repellence and can be used on both lacquered and plastic surfaces. Whatever you need to clean, this can clean it – it's able to remove traffic film and environmental dirt, oil, diesel, grease, and insects. It also protects against re-soiling. You get the idea – it serves all kinds of purposes.
As mentioned above, this product is one of many under the Mellerud umbrella that'll work wonders on your caravan. Watch the video above to see it in action.
Widely regarded as the best brush for cleaning caravans, the Deluxe Caravan Car Cleaning Telescopic Brush from Charles Bentley is sturdy, reliable, and guarantees a large amount of coverage.
The broom head is 10" wide, and the handle extends from 110cm up to 175cm. This makes it perfect for accessing those hard-to-reach areas such as your caravan's roof (as you'll see from checking out the above video from our friends and experts in caravan cleaning, The Trudgians).
The broom head contains soft PVC bristles which won't damage your vehicle's paintwork, and the broom itself is water fed with an on/off switch and hose connection. Easy grip is also assured, thanks to the two foam handle grips on the top and bottom.
All things considered, this an efficient, simple-to-use caravan cleaning product.
While it's important to make your caravan look spick and span, it's just as important you protect it with specialist insurance. That's where we come in.
We cover touring and static caravans in the event of theft and damage, and you can add up to £10,000 or £30,000 of contents cover respectively to your policy.
We also provide up to £5 million of Public Liability, to cover your legal fees if a claim is made against you for injury to another person or third-party property damage.
Whatever you're looking for, our insurance can give you peace of mind. Find out more by clicking the link above, or get an instant online quote in minutes and see how we can help you.