The 25 Greatest Classical Composers Of All Time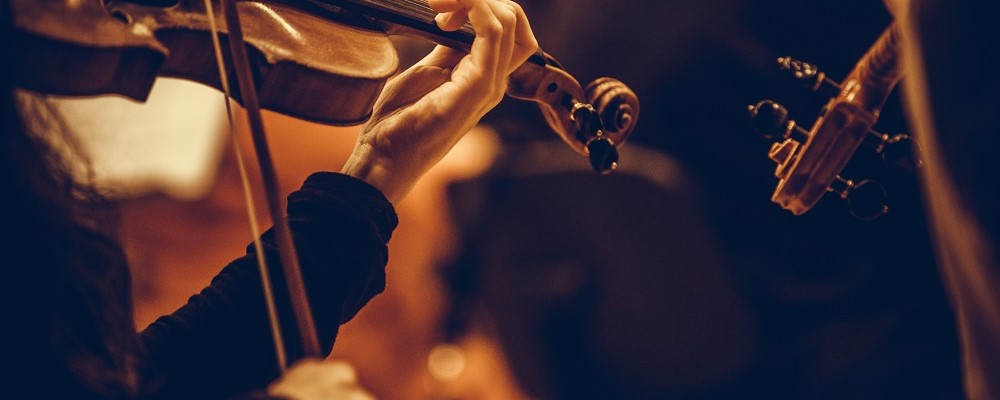 There's a famous saying – "writing about music is like dancing about architecture". However, we think we can rise to the challenge. In no particular order, here's our list of the 25 greatest classical composers of all time.
Sergei Rachmaninov (1873 – 1943)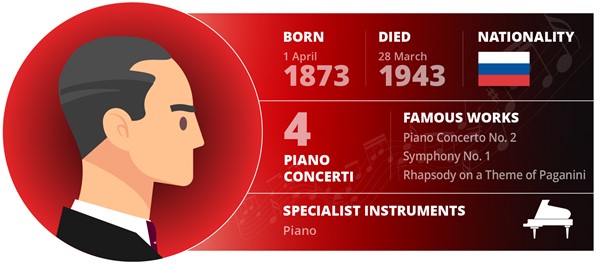 Sergei Rachmaninov is considered one of Russia's greatest classical composers. A study conducted by a team of theoretical physicists calculated that he was the most innovative composer in classical music history.
A virtuoso pianist, composer, and conductor, he is best known for his Piano Concerto No. 2. This has been voted Britain's favourite piece of classical music eight times in Classic FM's annual poll, the Classic FM Hall of Fame. It's one of the most popular concertos in the classical repertoire – and there's an interesting backstory behind it.
Rachmaninov composed it after suffering from depression for four years, following the negative critical reaction to his Symphony No. 1. Only after receiving therapy did he create one of the greatest classical works of all time – which he dedicated to his therapist.
In the years that followed, Rachmaninov toured the United States and wrote a series of other reputable compositions such as Rhapsody on a Theme of Paganini.
Rachmaninov owes much of his success to his compatriot Pyotr Ilyich Tchaikovsky, who mentored him in his early years. There are clear parallels in the music of these composers, both of whom feature in this article.
Frédéric Chopin (1810 – 1849)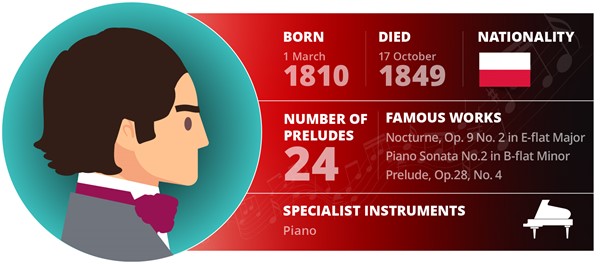 A Polish composer and virtuoso pianist, Frédéric Chopin is not only one of the Romantic period's greatest composers but one of the few musicians of the time to devote themselves to a single instrument.
Unlike other composers, he didn't compose operas or symphonies. He wrote primarily for the solo piano because he knew this was where his strength lay. As such, he is considered the greatest piano virtuoso of his generation and is often labelled The Poet of the Piano.
He radically expanded the piano's capabilities and was a true visionary, continuously experimenting with fingering and pedalling. The results were a series of captivating, elegant, and timeless works including Piano Sonata No.2 in B-flat minor, Heroic Polonaise and Nocturne, Op. 9 No. 2 in E-flat Major. You can listen to the latter (his best-known nocturne) above.
Like several composers included in this article, Chopin died a young man, aged 39. His health began to decline in his early 30s and rapidly deteriorated in the final few years of his life.
He left behind a host of admirers and paved the way for several soon-to-be-greats. Dvořák, Rachmaninov, and Tchaikovsky would emulate Chopin's use of national modes and idioms, which is a testament to his craft and innovation.
He is yet another example of a composer who wasn't around for long, but whose music will last forever.
Giuseppe Verdi (1813 – 1901)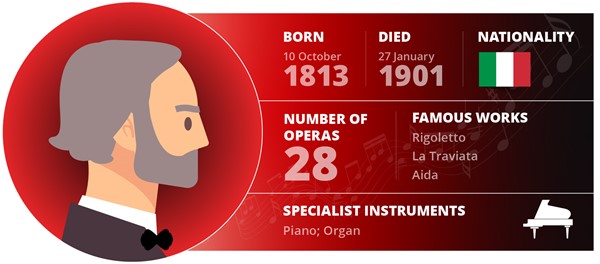 The greatest Italian operatic composer of the 19th century, Giuseppe Verdi was progressive, individualistic, and anti-conventional.
He transformed the traditional Italian operatic framework – based largely on melody – by adding more harmonic and orchestral sophistication, earning him widespread acclaim.
Verdi's music is intense, dramatic, and at times dark, reflecting the struggles he faced in early life. Born into a family of innkeepers in northern Italy, he was regarded as a 'common man'. Furthermore, his wife and two children died between 1838 and 1840, when he was still in his mid-20s and a relative unknown.
Whatever grief or sadness he may have felt, he expressed them through his music to resounding effect, creating such masterpieces as Rigoletto.
He also used his compositions as vehicles for his political views. Verdi, a fervent supporter of Italian unification, brought the country together with his music. One of his most renowned works, the chorus "Va, pensiero" from his opera Nabucco, was a powerful symbol of the unification movement. You can listen to this by watching the video above.
Johannes Brahms (1833 – 1897)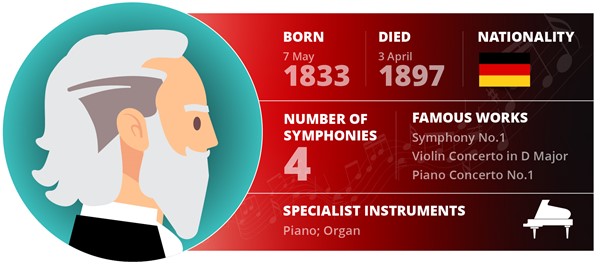 Johannes Brahms was one of the Romantic period's leading composers. Ironically, though, he was an advocate of the Classical traditions which dominated music a generation earlier.
His music was inspired by the likes of Ludwig van Beethoven and Brahms was considered his successor. Such is his standing within classical music that he's part of The Three Bs cohort, which also comprises Beethoven and Bach.
Brahms specialised in piano works, choral compositions, chamber music, and symphonies. However, he was initially reluctant to compose the latter. Due to Beethoven's influence in this area, Brahms was afraid his music would be deemed far less accomplished.
However, these fears proved wide of the mark. His symphonies took the world by storm, including Symphony No.1 – which took Brahms 21 years to compose. This shows that good things come to those who wait.
Maurice Ravel (1875 – 1937)
Maurice Ravel and compatriot Claude Debussy are often mentioned in the same conversation. Both Frenchmen were the early 20th century's leading impressionist composers, despite their rejection of this label.
But, although they shared a lot of similarities, Ravel was a brilliant composer in his own right. He was deemed to be France's greatest living composer in the 1920s and '30s.
During this period, in 1928, he composed his best-known work, Bolero. A one-movement orchestral piece, it was used by ice dancers Torvill and Dean as the musical accompaniment to their gold medal-winning ice dance at the 1984 Olympic Games. Although this confirms Bolero's widespread and lasting appeal, Ravel himself was surprised by its success, saying 'I have written a masterpiece - unfortunately, there is no music in it.'
Although he hailed from France, Ravel's compositions drew upon the melodic phrases, rhythms, and modal inflexions within Spanish music. Two of his operas, L'heure espagnole and L'enfant et les sortilèges, embody this approach.
Joseph Haydn (1732 – 1809)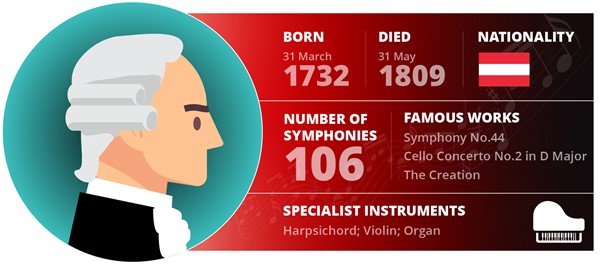 Arguably the Classical period's most influential composer, Joseph Haydn holds two titles – 'Father of the Symphony' and 'Father of the String Quartet'.
The Austrian composer almost single-handedly created the modern form of chamber music, a genre that is still enjoyed in concert halls around the world today. He also played a key role in the development of the concerto, piano sonata, and piano trio.
But his reputation is not based solely on these accomplishments, or the fact that he wrote 106 symphonies. His influence on other musicians is equally commendable – in the 1790s, he taught a young Ludwig van Beethoven some counterpoint in his hometown of Eisenstadt. This would prove to be an invaluable exercise.
Given the sheer number of pieces Haydn wrote, choosing his best work is a mammoth task. However, Symphony No. 44 ('Trauer'), Symphony No. 88, and Symphony No. 49 ('La Passione') are among his most acclaimed symphonies. 
Felix Mendelssohn (1809 – 1847)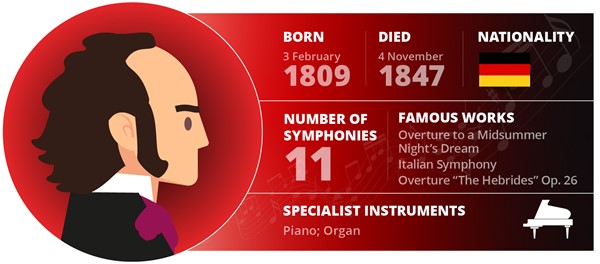 When one of your peers refers to you as 'the Mozart of the 19th century', you know you've made a lasting impression.
This is how Robert Schumann, another composer in this list, described his close friend Felix Mendelssohn.
A German composer, pianist, organist, and conductor, Mendelssohn rose to prominence during the early Romantic period. However, he is seen as very much a Classic-Romantic composer, in that his music combined Romantic subjectivity and fantasy with Classical balance and proportion.
His best-known compositions include the Scottish and Italian Symphonies and the overture for A Midsummer Night's Dream. He even composed a melody which is associated with a certain Christmas carol. The melody of 'Hark! The Herald Angels Sing' was adapted from his choral cantata Festgesang.
Mendelssohn died at the age of 38 following a series of strokes. But, whilst his life was short-lived, he made a huge impact during his lifetime.
Sergei Prokofiev (1891 – 1953)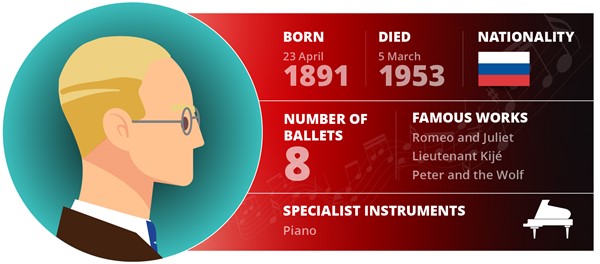 If you're unfamiliar with the Russian-Soviet composer Sergei Prokofiev, you'll almost certainly be familiar with his work.
Dance of the Knights, from the ballet Romeo and Juliet, is considered among his greatest compositions. Today, it's commonly associated with walk-on music for bands and football teams, such is its enduring and widespread popularity. It captures Prokofiev's catchy, fresh melodies as well as the energetic, intense feel to his music.
This intensity is reflected in many other of his iconic pieces, including the operas The Love for Three Oranges and The Fiery Angel, the suite Lieutenant Kijé, and Peter and the Wolf.
A key composer of the early to mid-20th century, Prokofiev suffered the same conflict as many musicians around that time. As Classic FM put it: "One minute he was rethinking 18th-century Classical ideals or 19th-century Romanticism, the next he was railing against those very same traditions."
Whatever his persuasion, though, Prokofiev managed to produce captivating and thought-provoking music throughout the 20th century.
Robert Schumann (1810 – 1856)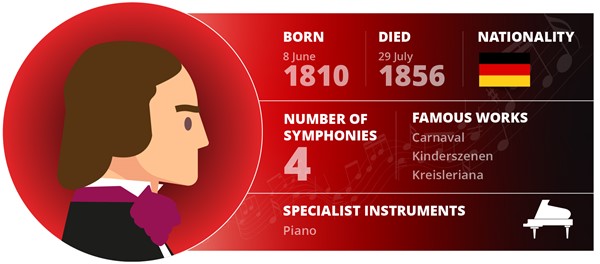 We mentioned Schumann above and, like Mendelssohn, he is regarded as one of the Romantic era's greatest composers.
He wrote dozens of solo piano works, hundreds of choral works, an opera, four symphonies, and countless other compositions. He had a keen interest in literature and the storytelling – and sometimes autobiographical – nature of his music reflected this. 
Schumann once said: "To send light into the darkness of men's hearts - such is the duty of the artist." His duty was duly fulfilled – Johannes Brahms, Franz Liszt, and Richard Wagner were all inspired by his compositions.
However, his life was shrouded in tragedy as well as triumph. Schumann died a relatively young man, aged just 46. He is believed to have suffered from schizophrenia or bipolar disorder – and the circumstances leading up to his death were deeply unpleasant.
In 1854, he threw himself into the river Rhine but was rescued and sent to a private psychiatric institution. He died at the institution two years later and the cause of death has never fully been established, although it is believed to have been pneumonia.
But, as with Mendelssohn – although he wasn't alive for long, his repertoire has more than stood the test of time. Listen to one of his masterpieces, Träumerei, by watching the video above.
Claudio Monteverdi (1567 – 1643)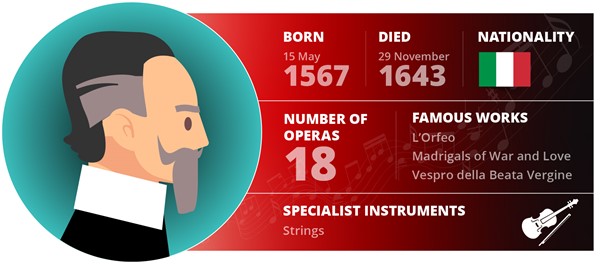 We now turn to the start of the Baroque period and one of its formative figures, Claudio Monteverdi.
The Italian helped bridge the Renaissance and Baroque periods almost effortlessly by abandoning traditional concepts in favour of groundbreaking styles.
For example, in the Renaissance period composers generally didn't specify which instruments they wanted to play certain parts in their scores. Monteverdi, however, assigned specific instruments to parts when composing scores for operas.
He was also one of the chief protagonists of basso continuo, a system that consists of a continuous bassline and chordal accompaniment. The bassline is typically played by a cello or double bass while an organ or harpsichord plays the chords. This technique can be heard in his opera L'Orfeo, the earliest surviving opera and one of the greatest operas of all time.
Monteverdi's music was somewhat neglected during the 18th and 19th centuries when contemporary music was the order of the day. But, ironically, the music which marked the end of the Renaissance period was reborn at the start of the 20th century.
His works are still regularly performed and recorded today and, in December 2019, he was voted one of the top 10 composers of all time by BBC Music Magazine.
Franz Schubert (1797 – 1828)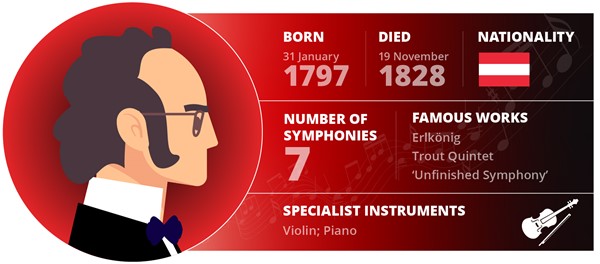 A naturally gifted and prolific composer, Franz Schubert was regarded as the last Classical writer and one of the first Romantic ones.
His music was the perfect exploration of melody and harmony and he excelled in multiple genres, writing symphonies, chamber music, string quartets, and operas.
Another composer who lived a tragically short life, Schubert died aged 31, with his cause of death officially listed as typhoid fever.
However, during his short lifetime, Schubert wrote over 600 secular vocal works, including Gretchen am Spinnrade and Du bist die Ruh. In 1815 alone, he wrote more than 20,000 bars of music, including nine church works, a symphony, and some 150 songs – when he was still only 18.
Such was Schubert's clear talent from an early age, that he brought his teacher Michael Holzer to tears when Holzer described Schubert's playing ability to his father. Holzer said of Schubert: "Whenever I tried to tell him something new, he already knew it. In consequence, I never really gave him lessons, just spoke to him and silently marvelled at him."
We suspect that you, too, will silently marvel at Schubert's music when you give it a listen.
Richard Strauss (1864 – 1949)

It speaks volumes of the talent required to become a great composer when you consider that Richard Strauss wrote his first work aged just six. Over the next 80 years, he became a leading composer of the late Romantic and early Modern eras.
Strauss was perceived to be a cold and aloof man, but the warmth of his music disproved such notions. His vivid orchestrations, intense melodies, and sophisticated use of harmony propelled him to near-celebrity status by the late 19th century, as he composed such masterpieces as Till Eulenspiegel and Don Quixote.  
Oh, and let's not forget about Also Sprach Zarathustra. You will have heard the fanfare from this work before, especially if you've watched 2001: A Space Odyssey.
Best known for his richly scored tone poems and operas, Strauss was one of the chief innovators in his field.
Accordingly, Strauss held several positions of power. He was the principal conductor of the Bavarian State Opera in Munich from 1894 to 1898, the Berlin State Opera from 1898 to 1913, and the Vienna State Opera from 1919 to 1924.
He had a love affair with the soprano voice, and soprano singers the world over will tell you what a joy it is to sing his compositions. You can listen to American soprano Renée Fleming perform the incredible climax of his opera Capriccio above.
Antonio Vivaldi (1678 – 1741)
Where do we begin to explain the impact Antonio Vivaldi had on Baroque music? Nicknamed Il Prete Rosso ('The Red Priest') because of his red hair (and the fact he was briefly a priest), the Italian's music was as distinctive as his appearance.
He effectively pioneered the concerto genre, in which virtuoso solo performers alternate with or alongside an entire orchestra. His concertos became the benchmark for classical composers – the most famous of these concertos is, of course, The Four Seasons, a group of four violin concerti.
This is one of 500 concertos composed by Vivaldi during his illustrious career. He wrote concertos for mandolin, cello, flute, viola d'amore, recorder, and lute. 
In total, Vivaldi wrote 800 pieces of music, creating works for operas, solo instruments, and small ensembles. His other major compositions include Nisi Dominus, Gloria, and L'Estro Armonico.
However, despite his talents, Vivaldi's music was rarely played after his death in 1741. He was deemed to be out of favour among classical music listeners and his manuscripts were locked away or even attributed to other composers.
In recent years, though, his music has enjoyed a complete revival – and aren't we thankful for it?
Franz Liszt (1811 –
 

1886)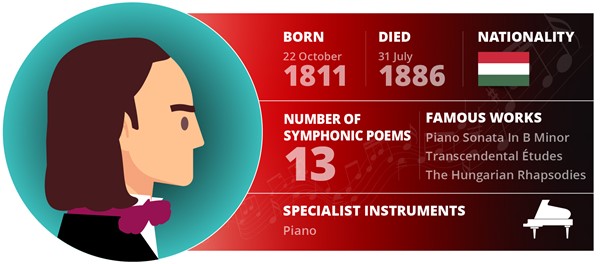 Franz Liszt was one of the Romantic period's most important composers and arguably the most distinguished pianist of his generation.
Another child prodigy, the Hungarian had, incredibly, mastered Ferdinand Ries's Piano Concerto No. 2 in E Flat Major by the age of nine.
In the decades that followed, Liszt made several groundbreaking contributions to music. He invented the symphonic poem and was the first composer to play entirely from memory – something no musician had done before.
He was also the first musician to place their piano at a right angle to the stage, a deliberate ploy to project his sound and make him more visible to his audiences.
This provoked a hysterical reaction among his audiences, with women screaming during his performances, throwing their clothes at him, and trying to cut off locks of his hair. These events became part of a phenomenon dubbed 'Lisztomania' and have led to Liszt being labelled 'the world's first rock star'.
During his career, Liszt composed over 700 works, with Piano Sonata In B Minor considered his masterpiece. Unlike most traditional piano sonatas, this consists of one giant arch of a single movement, lasting almost half an hour – something unheard of during the Romantic era.
If there were boundaries to be pushed, Liszt pushed them – to resounding effect.
Antonín Dvořák (1841 – 1904)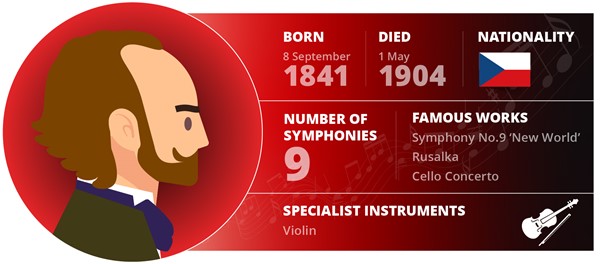 The first Czech composer to gain worldwide recognition, Antonín Dvořák was one of the Romantic period's most seminal musical figures.
He is best known for his symphonies, which are revered for their lyrical warmth, and his works were based on folk material from his homeland.
Although he demonstrated early promise, Dvořák didn't become a household name until he was in his 30s. He destroyed most of his early pieces, stating "I always have enough paper to make a fire." Thankfully, several compositions were spared and were key to his eventual breakthrough.
In 1874, Dvořák submitted his work to the Austrian State Prize for Composition – and Johannes Brahms was on the jury.
Blown away by Dvořák's ability, Brahms recommended the Czech composer's work to his publisher, Fritz Simrock. This led to the publication of The Slavonic Dances, a series of 16 orchestral pieces composed by Dvořák in 1878 which propelled him to stardom.
By 1893, he had moved to America and composed arguably his best work – Symphony No. 9, 'New World'. Dvořák's global reputation made a giant leap… and Neil Armstrong even took a tape recording of it with him on his Apollo 11 mission in 1969.
Claude Debussy (1862
 

– 1918)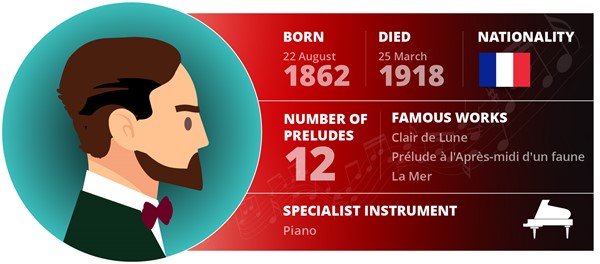 Claude Debussy's back story is as remarkable as his compositions. Hailing from a poverty-stricken suburb of Paris, he was admitted to the Conservatoire de Paris aged just 10. The rest, as they say, is history.
Debussy is regarded as the world's first impressionist composer. However, it would have taken a brave person to say this to him, as he called the term impressionism 'imbecilic'.
Whatever his opinion, his music reflected the ideas of impressionist painters of the time, like Claude Monet. Just like Monet's paintings, Debussy's music blurs the edges and creates new harmonies in ways that give a dream-like, colour, and atmospheric feel to his music.
It was distinctly French and a reaction to the Germanic music, characterised by form and development, which had defined the Romantic era.
This is epitomised in his iconic composition Clair de Lune, the third movement from Suite bergamasque, which is a favourite among listeners the world over. Its title means 'moonlight' in French and is taken from the poem of the same name by French poet Paul Verlaine.
This is one of Debussy's many defining works, the others including Prélude à l'Après-midi d'un faune, La Mer, and Images. These give you a flavour of the great man's capabilities.
Jean Sibelius (1865 – 1957)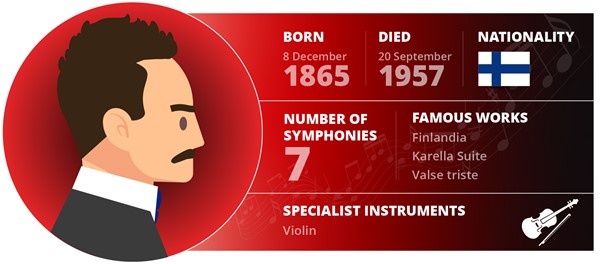 Believe it or not, Finland has produced a whole host of legendary composers. However, Jean Sibelius is by far its most famous.
When Sibelius first became a prominent composer, Finland was part of the Russian Empire. By 1917, when he was at the peak of his fame, the country finally became independent. His music is credited with having played a key role in helping Finland overcome Russian rule, by providing his homeland with a strong sense of national identity during a period of intense struggle.
Many of Sibelius' compositions gleaned inspiration from the Kalevala, a collection of Finnish folklore, poetry, and mythology. He also composed such works as Finlandia (above), a tone poem that was a protest against censorship from the Russian Empire. This piece, alongside such works as the Karelia Suite and Valse triste, put Sibelius (and Finland) on the map.
He wasn't liked by everyone - the New York Herald Tribune called his Symphony No. 2 "vulgar, self-indulgent, and provincial beyond all description." But as the great man once said: "Pay no attention to what the critics say; no statue has ever been put up to a critic."
Richard Wagner (1813 – 1883)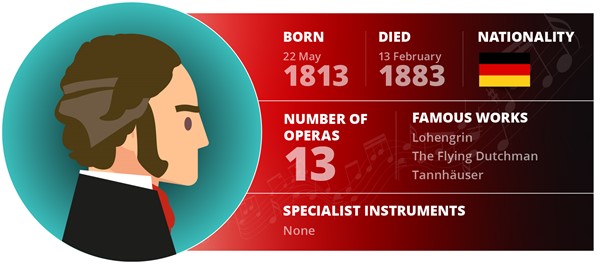 You don't need to be a classical music devotee to have heard Richard Wagner. If you've ever hummed 'Here Comes the Bride' (from Wagner's Lohengrin) or watched the helicopter assault scene from Apocalypse Now featuring Ride of the Valkyries, you've passively engaged with his work.
These are just two examples of the seismic influence Wagner had on Western music. He took the operatic genre to another level, exploring rich harmonic structures and orchestration and composing epic, large-scale works such as The Flying Dutchman.
He even championed the concept of Gesamtkunstwerk, meaning "total work of art". This sought to integrate music and drama and was a reaction to what Wagner considered the restrictive nature of Italian opera.
Although he's from Germany, Wagner's work can be described as pan-European, such is its global appeal. This is evidenced by the Bayreuth Festival, an annual festival in his honour, which is exclusively dedicated to his works and attracts visitors from all over the world.
However, it's safe to say that not everybody was a 'Wagnerian' during his career. Debussy called him an 'old poisoner', while he also had a long-standing rivalry with his compatriot Brahms as part of 'The War of the Romantics'.
But, whatever indifference some of his peers felt towards him, nobody could deny Wagner's impact in the mid to late 18th century and beyond.
Gustav Mahler (1860 – 1911)

The story of Gustav Mahler is fascinating. Although he wrote some of the best symphonies since Beethoven and is considered one of the most influential late Romantic composers, he was better known as a conductor during his lifetime.
Mahler's work only received widespread recognition after being rediscovered in the mid-20th century. His music was banned from performances in much of Europe during the Nazi era, due to his Jewish heritage. It was deemed to be 'degenerate' and could only be played in Europe by Jewish musicians for Jewish audiences.
Only after intervention from American composer Leonard Bernstein could the world finally appreciate Mahler's mercurial talent.
He was a keen philosopher who had a deep interest in the writings of Friedrich Nietzsche. As such, his compositions explored death, horror, life, and joy in equal measure. Whilst this approach dissuaded some audience members back in the late 19th century, today it epitomises his appeal.
In 2016, a BBC Music Magazine survey of 151 conductors ranked three of his symphonies in the top 10 symphonies of all time.
Igor Stravinsky (1882 – 1971)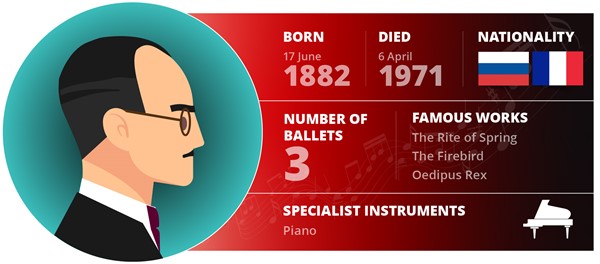 Igor Stravinsky is the most contemporary composer from this list, having passed away less than 50 years ago.
Widely regarded as the 20th century's most important composer, Stravinsky was a revolutionary who pushed boundaries and adapted his style throughout his career. His music can be split into three styles according to different periods – Russian (1907 – 1919), neoclassical (1920 – 1954), and serial (1954 – 1968).
A further testament to his versatility was the fact that he could write for just about any genre. However, he's best known for his ballets, the most famous of which is The Rite of Spring. When this premiered in Paris in 1913, it is believed to have caused a riot due to its radical technical innovation and provocative choreography.
However, its longer-term impact was more positive. Its crunching harmonies, irregular meter, and strong rhythmic emphasis transformed how subsequent composers thought about music – Karlheinz Stockhausen and Steve Reich being two examples.
The Rite of Spring was one of three ballets that made Stravinsky a household name, the other two being The Firebird and Petrushka.
Although his style changed in the years that followed, he continued to produce masterpieces such as Oedipus Rex, The Rake's Progress, and towards the end of his career, Agon.
Over more than half a century, his compositions changed the course of music forever. Put simply, they lit up the world.
Johann Sebastian Bach (1685 – 1750)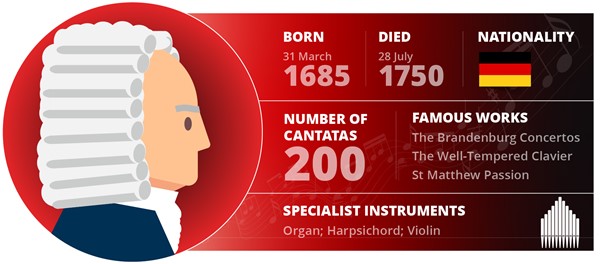 In the eyes of many, Johann Sebastian Bach is the most accomplished composer who ever lived. Nearly 200 of the world's leading composers voted him the Greatest Composer of All Time for BBC Music Magazine.
Whilst such opinions are subjective, what is indisputable is that the German changed music forever. Explaining how in just a couple of hundred words is nigh-on impossible, but we'll try…
Firstly, Bach was meticulous. His music is often perceived as a science, which is almost mathematical in its precision. There's the clear synchronicity between counterpoint and harmony, the mastery of dissonant sounds, the seamless integration of melodic structures. Nobody at the time had perfected these elements quite like Bach.
Secondly, he was efficient. During his lifetime (65 years), he composed an incredible 1,128 pieces of music, including 200 cantatas.
He was an innovator, too. He enriched existing German styles by adapting rhythms, forms, and textures from abroad, particularly Italy and France. Beethoven called him the "original father of harmony", while he was a huge influence on Mozart, Chopin, and Brahms.
As broadcaster Andrew Marr once said: "There's a bigness, an optimistic complexity and relish about Bach that makes me return to him in all moods, without ever getting bored. That's about all I can say."
Yet, to consider what might have been. Bach was better known as an organist during his lifetime and only a handful of his compositions were published in the 50 years after his death. Only from around the early 19th century onwards was his work revived and fully appreciated.
His most-celebrated compositions include keyboard works such as The Well-Tempered Clavier, the Brandenburg Concertos, and vocal music like St Matthew Passion. Listen to the final chorus from this piece above and you'll understand what makes Bach so special.
Pyotr Ilyich Tchaikovsky (1840 – 1893)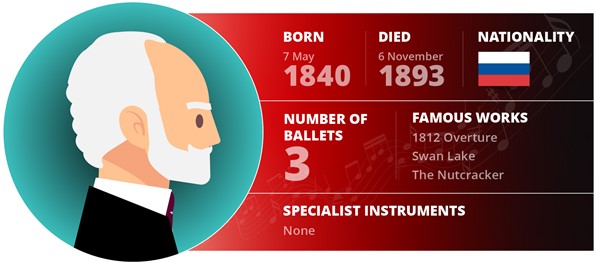 Speaking of Pyotr Ilyich Tchaikovsky, it's only fair we explore his musical contributions in detail, having referenced him several times throughout.
We mentioned the impact of Rachmaninov and Prokofiev above, but Tchaikovsky was the first Russian composer to receive international acclaim. However, his route to recognition was far from straightforward.
He began his working life as a civil servant in case his musical career failed to take off. Thankfully, he didn't need this contingency plan for long. When he was 21, a new school called the St. Petersburg Conservatory opened. Tchaikovsky enrolled there, graduated in 1865, and never looked back.
The teaching he received focused on Western traditions and this was integral to his compositions, which combined elements of Russian folk music with German, Italian and French traditions. This approach set Tchaikovsky apart from his fellow countrymen, such as 'The Five'.
His works comprised of symphonies, concertos, operas, ballet, and chamber music. The 1812 Overture is among his best-known works, as is The Nutcracker, one of the last ballets he composed. Then there's Swan Lake, The Sleeping Beauty – the list goes on.
Whichever Tchaikovsky piece you listen to, you'll hear plenty of colourful, warm, and majestic overtones.
George Frederic Handel (1685 – 1759)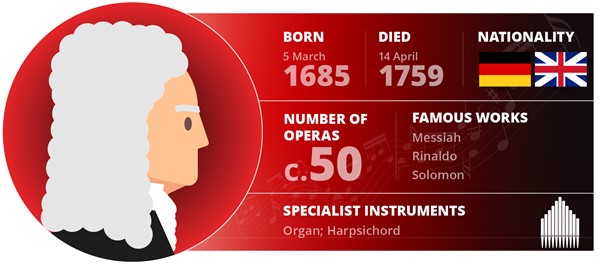 Alongside Bach, Vivaldi, and Monteverdi, George Frederic Handel is considered one of the Baroque period's greatest composers.
Famous for his operas, oratorios, and organ concertos, Handel was born and grew up in Germany, but only lived there until his early 20s. He moved to Rome for a few years, before moving to England in 1710 and living here for over 50 years until his death.
These moves would shape Handel's music. Early in his career, he composed mostly Italian operas, starting with his breakthrough work Rinaldo in 1710. However, as tastes changed and Italian opera became less fashionable, Handel moved towards oratorios, inspired by the choral works of English composer Henry Purcell.
You can hear this in Messiah, an English-language oratorio composed in 1741 which tells the story of Jesus Christ. If you're unfamiliar with this, you'll recognise it the moment you hear it. This is Handel's most revered work and one of the most frequently performed classical pieces in Western music. 
His other notable pieces include Alexander's Feast, which prompted Handel's transition away from Italian opera, and Zadok the Priest, which he composed for George II's coronation. At one point, Handel was a 'Kapellmeister' (or person in charge of music-making) for the King.
On top of this, his music was a big influence on the likes of Mozart and Beethoven. As legacies go, one could certainly do worse.
Wolfgang Amadeus Mozart (1756 – 1791)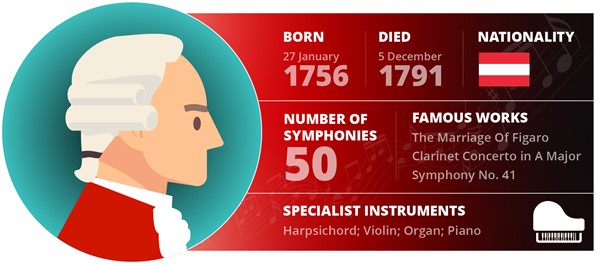 The term 'genius' is overused when describing musicians, but it barely does Wolfgang Amadeus Mozart justice.
The Austrian is widely recognised as the Classical period's greatest composer and one of the finest composers of Western music.
He's one of the few composers in history to create works in every genre of his time, one of the top two most-performed composers of all time and he wrote 626 pieces of music in his short life.
Incredibly, he wrote his first piece when he was just five years old, a Minuet and Trio in G Major. By the age of 14, he could transcribe Italian composer Gregorio Allegri's Miserere, a 15-minute piece, entirely from memory.
These early signs of promise were an indication of what was to come. Mozart went on to take the world by storm, penning such masterpieces as:
But while much of Mozart's life was defined by success, it ended in dubious circumstances. He died aged 35 and the cause of his death is the subject of great speculation. Some believe it was caused by rheumatic fever, others believe he was poisoned by his colleague Antonio Salieri.
Unfortunately, much of Mozart's music was unpublished at the time of his death, but it's more than stood the test of time. As recently as 2016, Mozart outsold Beyonce, Adele, and Drake. And that's not all – last year, one of his early manuscripts recently sold for a cool £318,400 at auction. This tells you all you need to know about his legacy.
Ludwig van Beethoven (1770 – 1827)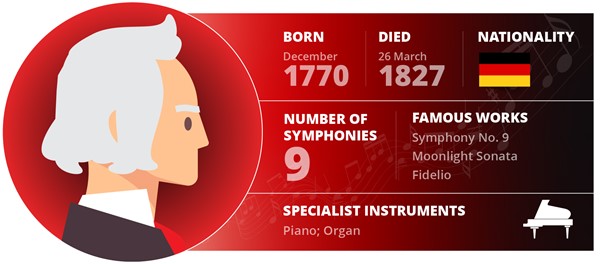 Ludwig van Beethoven is seen as the most important and influential composer of his day.
His music was ahead of its time and distinguished him from his predecessors. He created larger structures, explored more themes, and composed louder, longer, and more exciting symphonies than had ever existed before. He also took harmonic experimentation to new levels, going against the simplistic harmony of the Classical period.
As such, he was integral to the transition between the Classical and Romantic musical eras. Quite simply, he expanded music's emotional language.
Beethoven is considered to have reached his peak between 1802 and 1812, his middle, or 'heroic'  period. During this period, he composed his Fifth Symphony, Violin Concerto, Moonlight Sonata (above), and the opera Fidelio – his only opera.
From 1813 onwards, his hearing rapidly declined and by the age of 44, he was completely deaf. Miraculously, this didn't stop him from composing and, in the last few years of his life, he completed the famous Symphony 9. This features Ode to Joy, a tune adopted as the 'anthem of Europe' by the European Union in 1985.
As with many great composers, Beethoven was a complex and troubled man. In addition to being deaf, he had a turbulent childhood. His father was abusive and his mother died of tuberculosis when he was only 16. Later in life, he contemplated suicide and never married.
There's no question the adversity Beethoven faced is key to his compositions. At different junctures, they tell stories of turmoil, struggle, hope, and elation – emotions we can all relate to.
If you're part of an orchestra, you're likely to have performed at least one of these geniuses' compositions. It's no doubt an electrifying feeling – and one which you don't want to be taken away because you didn't have the right insurance.
But, if your equipment is stolen, lost, or damaged and you're not suitably covered, you face not being able to perform for a long period.
This is where our specialist insurance comes in. This not only covers repairing or replacing your instrument, it includes Public Liability insurance – something most public venues require before allowing you to perform.
Find out more about our orchestra insurance by clicking the link above or get an online quote in minutes and see what we can do for you.