Engagement ring insurance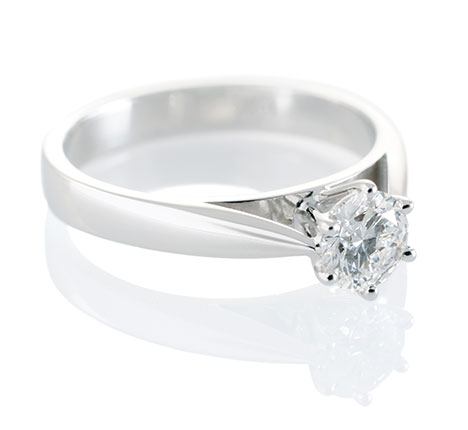 Engagement ring insurance. For your peace of mind.
Every ring is unique and carries with it memories that are irreplaceable. They are the most symbolic of rings and carry with them the promise of a lifetime of dedication and care. Our bespoke engagement ring insurance gives you the protection and peace of mind you need.
What does our engagement ring insurance cover?
Our engagement ring insurance provides protection for single rings valued between £1,000 and £20,000, or add your ring to a collection of jewellery worth up to a maximum of £30,000 in total. We build our policies to fit around you, each policy is unique and covers theft, loss* and accidental damage to your engagement ring, wherever you are in the world.
Why might you need engagement ring insurance rather than home insurance?
Home insurance protects your valuables up to a point, but our specialist policies go the extra mile and protect your engagement ring against theft, loss* and accidental damage both inside and outside your home. And as we cover worldwide as standard, you can relax both at home and abroad.
How much does it cost to insure an engagement ring?
It depends on the value of the ring, but it might cost less than you think. If your engagement ring is currently insured under your home insurance policy, you could find that our stand-alone cover will make you some welcome savings. We offer a 10% discount on multiple items and our Lowest Price Guarantee means we're confident that you won't find the same cover elsewhere for a lower price. Get a quote now and see how much you could save.
Where do I get my engagement ring valued?
Not everybody buys a new engagement ring, some use a family heirloom which means you might not know the current value. If you are not sure about your ring's value, check out our guide to getting your jewellery valued. Once you have that valuation, make sure you keep any documents, receipts, certificates and photographs safe in case you ever need to claim, as that will make the process easier.
Do you have other valuables you'd like to insure?
Combine them under one policy and save 10%
*If the item you are wanting to insure was purchased/gifted more than 60 days ago, and you have not had it insured in the last 60 days, then loss cover will be excluded. Your policy will still provide cover for theft and accidental damage for all items you have chosen to insure with us.