Golf insurance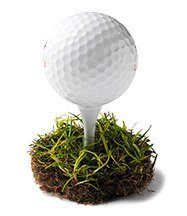 Specialist insurance for golfers.
Tee off with us.
Did you know the average golfer drives a golf ball off the tee at speeds of approximately 150mph? Incredible hey? Unfortunately, it only takes one of those power drives to be mis-hit, and instead of it landing sweetly on the fairway it could stray toward a building, a car or worse still another golfer or passer-by. If it did, you could be deemed liable and sued for damages. The biggest pay out on record in the UK is nearly £400,000 – that's an expensive round of golf. And with 99% of golfers in the UK admitting to having shouted 'fore' on the course, the risk is a very real one.

5-star
insurance

for golfers

We have 3 different golf insurance products for golfers to choose between:
Basic cover at a great price

Insure4Sport Golf offers great value, no frills cover. Simple and fast to set up, it's a no-brainer for golfers who want reassurance for a low price.
Insure4Sport Golf, rated 'Excellent' on Trustpilot

The UK's largest golf insurer

Endorsed by Ryder Cup Captain, Bernard Gallacher, Golf Care is the UK's biggest golf insurer and all new policyholders can qualify for a range of fantastic free gifts.
Golf Care, rated 'Excellent' on Trustpilot

Exclusive member benefits

The Golfers Club is one of the UK's premier golf insurers, providing customers with golf insurance they can count on, and a host of member only benefits.
The Golfers Club, rated 'Excellent' on Trustpilot

Golf insurance explained...
Here at Ripe we like to keep things simple. We pride ourselves on making insurance easy to understand so our customers know exactly what they're paying for and why. Here are some of the questions we're asked by customers and you might be thinking too.
Why do I need Public Liability cover on the golf course?

Unless you're a complete beginner, most of time you'll strike the ball pretty sweetly off the tee. However, every golfer, no matter how good you are, has a bad day or a bad shot in them. The repercussions of which are often no more than a hard time from your four-ball, however what if that mis-hit shot cost you more than that? What if it hit an expensive car in the car park? What if it smashed a window of a nearby building? What if it hit another golfer or passer-by? Ok, we'll stop there. But you get our point. The main reason golfers need Public Liability cover is to guard themselves against these 'what ifs'. It will cover your legal position and pay out if you were ever deemed liable for these kinds of incidents. Depending on the incident, this pay out can range from having to pay out £300 to fix a car window, to hundreds of thousands in medical bills, compensation and legal fees if you seriously injured a golfer on the course. Many golfers tell us that for a small annual price it is worth taking out this cover so that the sport you love doesn't hit you in the pocket if the worst was to happen.
Aren't my clubs covered under my home insurance?

Many golfers wrongly assume their clubs are insured under their home insurance, but that often isn't the case. They may only be covered if you've specifically requested that they are added to your policy, and therefore paid an increased premium. Plus, even if they are, they might not be covered when they're taken out of the house, which is of course the whole point of your shiny set of irons. With a specialist golf insurance policy your golf clubs, your golf gadgets and equipment can be covered against theft, loss and damage at home, and on the course. Even better if you bought your clubs new they will be replaced 'new-for-old' up to 3 years as standard, which means if your 2-year old Ping driver is stolen, you'll be reimbursed with a brand new one.