Camera Insurance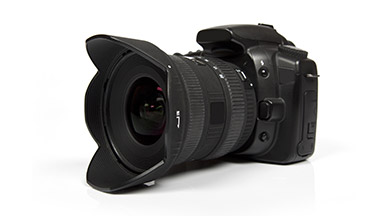 Protect your camera and photography equipment
Why do you need specialist camera insurance?
Whether you have the latest DSLR or an analogue camera, your passion doesn't come cheap. From the camera itself to equipment like lenses and tripods, your kit is invaluable to you. That's why you need camera insurance to protect it in case it's damaged or stolen.
Here's a common example of damage – you could be using a tripod to take a picture and the tripod could fall over. This recently happened to one of our policyholders and his £9,000 lens was damaged almost beyond repair. Had it not been for his Ripe Photography policy, he could have ended up forking out serious sums of money to get it replaced.
It's not just when using a tripod that your lens could be damaged. It could also be damaged when you're switching lenses, or if you drop your camera.
Then there's theft to consider. For example, you could be commissioned to take photographs at a wedding. You park your car at the venue and leave some equipment in the boot. While you're away from your car, someone breaks in and steals the equipment.
You could also be eating at a restaurant. You leave your camera bag under the table and someone steals it while your back's turned. This is a real claim we received from someone who took their camera abroad, which highlights why not only Equipment cover but also Worldwide cover is essential.
Worldwide cover
The perfect picture can take you anywhere. With our Worldwide cover, you'll be covered wherever you go.
Theft
If your camera and equipment are stolen in or out of your home, we'll cover you.
Accidental damage
If your camera or photography equipment are accidentally damaged, we'll cover the cost.
In-vehicle cover
Taking your photography equipment on the road? Add extra cover to insure up to £20,000 of equipment in an unattended vehicle.
Here's just some of the camera equipment we insure…
Cameras
Lenses
Stands and tripods
Portable lighting equipment and accessories
Laptops, desktop computers and printers
What does our camera insurance cover?
Camera and photography equipment cover up to £60k
This covers theft and accidental damage to your camera and accessories. We'll repair or replace your damaged and broken equipment.
Theft from an unattended vehicle cover up to £20k
You can add this to your policy at a small cost. Photography items stolen from a vehicle will be replaced new-for-old if they're less than three years old and were purchased new (less than 18 months for laptops and tablets).
Cover outside of the UK
This covers you and your photography gear? outside of the UK. You can choose to extend your cover to protect you in the EU or worldwide.
Damage to hired-in equipment
If you're a semi-professional or professional photographer and hire equipment under a signed agreement, this cover protects it against theft and accidental damage.
What other cover is available?
Public Liability up to £10m
This provides protection if you accidentally injure another person or damage third party property whilst taking photographs. What's more, private venues often require proof of Public Liability before allowing you to shoot there, so it's essential if you're commissioned to conduct a photoshoot. We offer Public Liability from £10.80 a year if added to Equipment Cover, or £41 a year as a standalone policy.
Employers' Liability up to £10m
This covers you if any of your employees fall ill or suffer an injury whilst working for you and hold you responsible. If you employ staff as part of your photography business, you're legally required to take this out.