Losing a camera or having it stolen is every photographer's worst nightmare. Luckily, there are plenty of ways to retrieve your equipment. Here's how you can find your lost or stolen camera.
Table of contents
1. Camera equipment registration services
2.  Check online second-hand marketplaces
3. Social media
5. Specialist camera insurance from Ripe Photography
Camera equipment registration services
Some websites enable you to register your camera, so it's much easier to track it down should you misplace it. The power of technology and the kindness of strangers are vital in searching for a lost or stolen camera. 
Stolen Camera Finder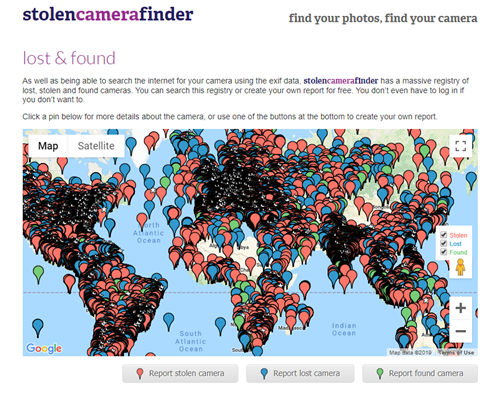 Stolen Camera Finder is the world's most popular online camera registration platform, and what's even better is that it's free. The site can locate a stolen or missing camera by searching for photos taken on a particular camera. 
Every photo taken on a digital camera contains information like the make and model of the camera and the date and time of the image, known as Exchangeable Image File Format (EXIF) data. This data normally includes your camera's serial number, too.
Stolen Camera Finder will scan their database to match EXIF data to reunite lost or stolen cameras with their owners. There's also a free Google Chrome extension to download, which scans the EXIF data of images on web pages that you visit. This feature expands their database and increases the likelihood of reuniting photographers with their cameras. 
The Stolen Camera Finder site also has a map view where users can list cameras that have been lost, stolen or found. 
You can include information about the camera, such as the model and manufacturer. This is also a good place to include the circumstances under which the camera was lost, stolen or found and any distinctive qualities about your camera. 
Stolen Camera Finder is free to use, but a pro version costs £4.99 a month. 
Cameratrace
Cameratrace is a camera registration and recovery service that boasts an enormous database of over 11 million users. 
Working in a similar way to Stolen Camera Finder, Cameratrace uses your camera's EXIF data and scans images found on the internet. 
If you register your camera on this site, it's much easier to find should it get lost or stolen. The Cameratrace service costs $10 per camera - although it's an American company, the membership is available worldwide. 
Cameratrace also offers durable lost and found stickers to put on your camera. This can be a huge help for someone trying to contact you if your lost camera is found. The sticker displays a web address with a unique code so that the finder can contact you directly. 
An integrated feature of the Cameratrace membership is the protection of the copyrights of your images. Cameratrace tracks your photos on various popular sharing sites, so you know exactly where your images are being used. 
What's more, Cameratrace offers assistance in the recovery of your camera, should it be found, by liaising with the police. You can use Cameratrace to file a police report with local departments. They'll even speak on your behalf if you wish. 
Lenstag
Like Stolen Camera Finder and Cameratrace, Lenstag is a camera registration service that also uses EXIF data to digitally track down a lost or stolen camera. 
As with Cameratrace, it's a good idea to register your camera with Lenstag. This way, you have a higher chance of locating a lost or stolen camera. Registering to both will mean you can access more data and increase the likelihood of finding your camera. 
Lenstag offers a free version where users can register their cameras and lenses and report any lost or stolen gear. You can also protect your images, so your work is only available on sites that you've authorised. Lenstag also offers the option to access new and used valuations of your equipment. A pro version of Lenstag offers more features, and subscriptions help to finance the project. 
The main difference between Lenstag and other registration services is that Lenstag is available as a mobile app on iOS and Android. 
Report My Loss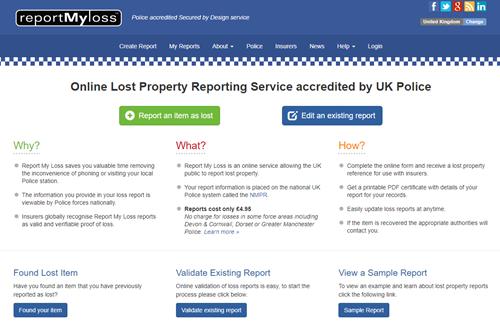 Report My Loss is an online alternative to phoning or visiting the police to report your stolen camera.
Using Report My Loss as valid and verifiable proof of loss is recognised by insurers. In addition, the information you provide is reported to the National Mobile Property Register (NMPR), which is accessible by police nationally.
You can make your loss report online with Report My Loss and update the report at any time. You'll then receive a printable certificate of your report for your records. If your camera is found, then the relevant authorities will be able to contact you directly.
Report My Loss is part of a family of possession registration and recovery services, including the NMPR, Immobilise, and CheckMEND. 
CheckMEND uses the NMPR to run history checks on second-hand sales of electronic devices, so stolen items like your camera can be identified. History checks are available from 99p.
Immobilise allows you to pre-emptively register any of your possessions with the NMPR and quickly update their status in the event of loss or theft. More than 34 million items are currently registered here. Camera equipment is included in this, but the service extends to practically all material possessions and is free.
Report My Loss costs £5.95 to use. However, there's no charge in some areas of the UK. These areas include Greater Manchester, Devon, Dorset, and Cornwall. 
Check online second-hand marketplaces 
If your camera has been stolen, it's unlikely that the thief has taken it to capture holiday snaps of their own. People looking to make some quick cash might have listed your camera on online marketplaces to sell.
The most popular online second-hand marketplaces are eBay, Craigslist, Facebook Marketplace and Gumtree. These websites are easy to use and don't require too many personal details for someone to sell a stolen camera. 
If you think your camera has been stolen, it's a good idea to set up automatic alerts from all of these sites for when a listing is posted that matches the make and model of your camera. This way, you don't need to keep checking the sites manually. 
Some things to look out for on eBay which might indicate a fraudulent listing include: 
● If the payment options do not include PayPal.
● Listings have a short duration to close deals quickly.
● If a seller has heavily discounted items - if a deal seems too good to be true, it probably is.
Have a look at eBay's tips for avoiding seller fraud here. 
If you have an idea of where your camera might have been stolen, Facebook Marketplace is a great site to check. You can filter the listings by location to narrow down your search.
Thieves will likely need to get rid of stolen items quickly, so check these marketplace sites as soon as possible after your suspected camera theft. 
If you suspect you've found your stolen camera on any of these sites, it's best not to confront the seller yourself. Instead, gather up your evidence - it's ideal to know the serial number of your camera, but unique markings will suffice. After that, you should contact the police, who will take the matter from there. With any luck, the police will be able to retrieve your stolen camera from an online second-hand marketplace. 
Post on social media 
Plenty of people are looking to do the right thing if they find lost items, and social media is a fast and accessible way for lots of users to see your post - and for you to see a post by another user who might have found your camera. It's so easy to share a post to your social media channels, and there have been numerous success stories of social media reuniting lost items with their owners. 
If you're a member of any local groups like residents pages on social media, consider making a shareable post about your lost or stolen camera. This can help to spread the word about your camera locally and hopefully increase your chances of being reunited with any equipment. 
There's a huge reach across social media channels, and you can spread information rapidly. It's definitely worth taking a few minutes to post about your lost or stolen camera on sites like Facebook and Twitter or even creating an Instagram story for others to share. 
Preventative methods
Of course, in an ideal world, you wouldn't need to think about what might happen if your camera is lost or stolen. While it won't help if your camera is already gone, it's worth remembering to take some pre-emptive precautions to avoid losing a camera again. 
Some ideas to prevent the loss of your camera/make it easier to retrieve include:
● Register your gear on the websites above as soon as you get it - this way, it should be easier to track down, and you'll have all the information you need ready. You could also check out Immobilise, another property registration service. They provide marking kits and key tags, too. 
● Make a distinctive mark on your camera when you purchase it to ensure your camera is identifiable to the police. You could mark your camera by using an indelible marker, a dab of nail polish, or get it engraved. 
● Add a 'reward if found' label to your camera with a contact number. Or consider using the lost and found tags available from Cameratrace. 
● Keep a photograph of your contact details on your camera at all times. You can lock the image as the first one on the SD card, so people will see it immediately if they flick through your snaps. 
● Keep a GPS tracker in your camera bag. 
● Put a proximity alarm on your equipment. This alarm will notify you if you leave something behind or if it's stolen from you. 
It's important to remember that these methods can't guarantee your camera won't be lost or stolen or even that you'll retrieve it. 
The only pre-emptive action with any tangible guarantee of a positive outcome is to take out specialist camera insurance.
Protect your camera against theft, loss and damage with specialist insurance from Ripe.
Our cover is fully customisable and starts from just £2.77 a month. Get an instant online quote with us today.