Every photographer dreads the thought of reaching for their camera only to realise it's missing. Don't panic though – here's how you can find your lost or stolen camera.
Camera equipment registration services
Thanks to the power of technology and kindness of strangers, nowadays there are inventive solutions to track and thwart camera theft. These include –
Stolen Camera Finder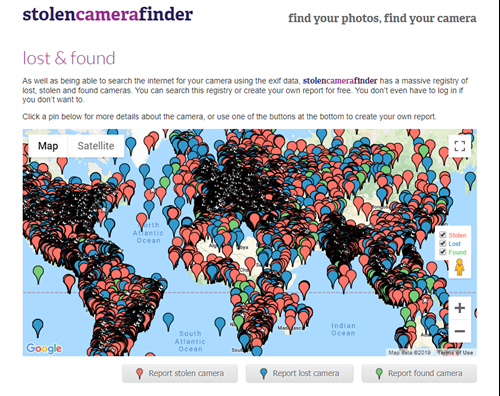 Stolen Camera Finder (SCF) is the world's most popular online camera registration platform. A quick look at its website shows a world map tightly packed with location pins illustrating reports of stolen, lost and found cameras. The platform is free to use, but there's also a Pro version costing £4.99 a month.
To use SCF, upload an image taken with the camera you've had stolen (or input the camera's serial number) and SCF will scan their database for matching EXIF data and crawl the internet to identify photos taken with your camera.
If you're not already aware, EXIF stands for Exchangeable Image File Format. This is basically the name given to the additional information stored in every image file your camera captures. This includes date and time taken, camera model and manufacturer, amongst other data.
Ingeniously, SCF now offers a Google Chrome extension that scans the EXIF data of images on webpages you visit. This not only expands the database, it increases the likelihood of reuniting photographers with their cameras.
Lenstag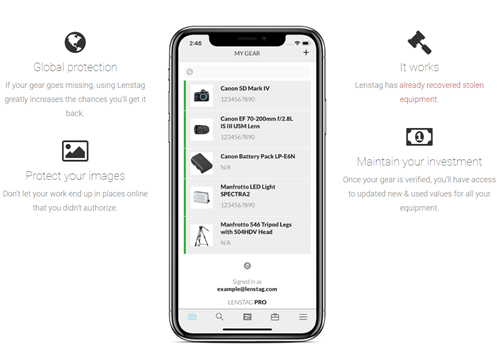 Lenstag, as with SCF, is a camera registration service that uses EXIF data to digitally locate your lost camera. The service offers two versions – free and premium – with the premium version unlocking further features and helping to finance the project. Unlike SCF, Lenstag is available on both iOS and Android.
Although Lenstag is similar to SCF it can't hurt to register on both. This way, you'll have access to each database and maximise the chances of finding your camera.
Interestingly, Lenstag has recently expanded its service beyond the lost and found system, applying the same EXIF data-based method to identify online copyright infringement.
Cameratrace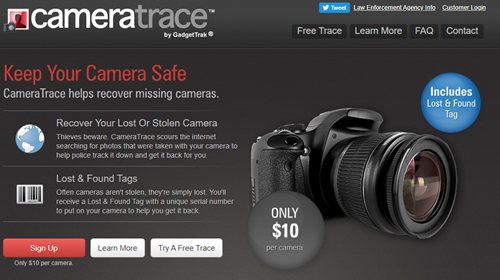 Cameratrace boasts a database of over 11 million cameras and uses the same EXIF data-led strategy as SCF and Lenstag. The service costs $10 per camera and although it's an American company, it's available worldwide.
Once more, to cast a wider net in search of your lost camera, it's worth considering using it in tandem with one or more of the other camera registration services mentioned in this article.
Similar to Lenstag, Cameratrace strives to protect the copyright of your photography by offering online tracking of your photos as an integrated feature.
A feature unique to Cameratrace, however, is that it assists in the recovery of your camera should it be found, by liaising with police. It also provides lost and found tags for you to stick on your camera, meaning anybody who finds your camera can contact you anonymously.
Report My Loss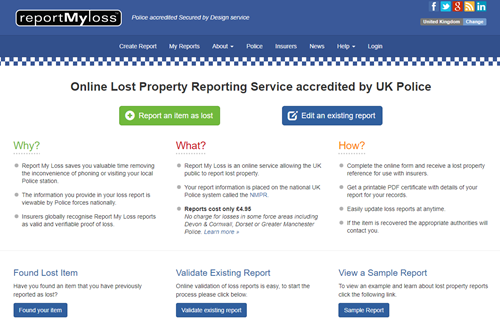 Report My Loss is an alternative to phoning or visiting the police to report your camera equipment as stolen. Insurers recognise Report My Loss as proof of loss and the information you provide is fed into the National Mobile Property Register (NMPR), which is accessible by police. The service costs £4.95, although there's no charge for certain locations including Greater Manchester, Dorset, Devon and Cornwall.
Report My Loss is part of a family of possession registration and recovery services, including the NMPR, Immobilise, and CheckMEND:
CheckMEND uses the NMPR to run history checks on second-hand sales of electronic devices, so stolen items like your camera can be identified. History checks are available from 99p.


Immobilise allows you to pre-emptively register any of your possessions with the NMPR, and quickly update their status in the event of loss or theft. More than 34 million items are currently registered here. Camera equipment is included in this, but the service extends to practically all material possessions and is free.
Although Immobilise depends on having taken pre-emptive action, it's worth knowing about for future reference.
Look on online second-hand marketplaces
If your camera was stolen, it's likely the thief didn't swipe it to capture their own holiday snaps. They're looking to sell it.
The most popular online second-hand marketplaces are Craigslist, eBay, Facebook Marketplace, and Gumtree. Regularly checking these websites is difficult to stay on top of, so it's a good idea to set up automatic alerts for any listings matching your make and model of camera.
If you suspect you've found a product listing for your camera on any of these sites, don't confront the seller yourself. First, collate your evidence – if you know the serial number that's ideal, though unique markings will suffice. After that, contact the police. They'll take it from there and, with any luck, will retrieve what turns out to be your camera.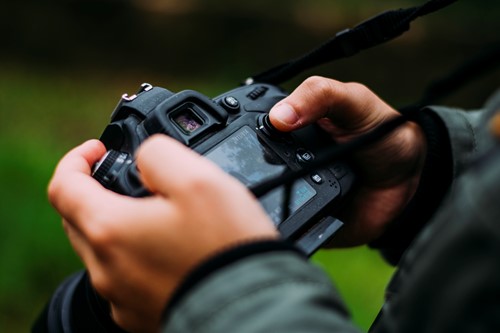 Pre-emptive methods
Even if you follow the above tips, the odds of you retrieving your camera or lens are pretty slim. We get it, nobody likes Captain Hindsight, but these precautionary methods will increase the chances of getting your equipment back in future:
Secretly marking your camera or equipment so it can be identified by the police. This could be by using an indelible marker, a dab of nail polish, or by engraving it.
Keeping a photograph of your contact details on the camera at all times, so if anybody flicks through the SD card, they'll see it and be able to get in touch with you.
Labelling your camera equipment with your contact details.
Putting a GPS tracker in your camera bag.
Putting a proximity alarm on your equipment, so you'll be notified if you leave it behind, or it's stolen from you.
These methods aren't failproof, however. The only pre-emptive action with any tangible guarantee of a positive outcome is getting specialist camera insurance.
At Ripe Photography, cover starts from just £2.77 a month, which is a drop in the ocean compared to having to buy a new camera or lens and more than worth it to avoid the stress alone.
Our cover is fully customisable and there's even a 20% introductory discount. Get an instant online quote with us today and you'll never have to worry again.