Instagram has traditionally been dominated by photographs taken on mobile phones.
However, the sheer scale and opportunity for exposure has seen droves of analogue and DSLR photographers using the platform to share their snaps.
If you've been marketing your photography via more traditional channels and are looking to take advantage of the platform, here are our top 5 Instagram tips for photographers.
Keep your bio tidy
Your bio should contain your username, avatar, page name, website link, and the facility to add a short profile description.
It sits at the very top of your feed and it's essentially a potential client's first impression of you. Therefore, it's important to make everything easily legible and succinct. Where your avatar is concerned, use something recognisable.
Too many profiles suffer from an overcrowded bio, and this can be quite off-putting to new visitors. Ideally, you want to keep your profile as tidy and minimalistic as possible. Tidiness is also worth bearing in mind when you create your username.
It'll follow you around Instagram, so it should be easily identifiable and provide a quickfire summary of your page. Take the below as an example...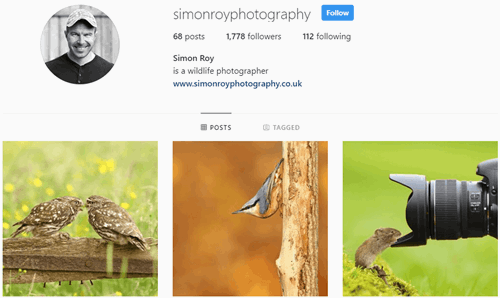 Convert to a business account
If you're a professional photographer, or an aspiring professional, once you've signed up for Instagram you can convert from a personal account to a business account.
This offers several distinct benefits, including access to analytics tools and insights into post engagement. You also have the facility to create advertisements, and the options to add extra information like business hours and location, as well as functions to call or email you straight from your page.
With these additional features, it's clear what service you're offering and how users might enquire about it, and you're given the tools to better understand how you might drive more users to your page in future.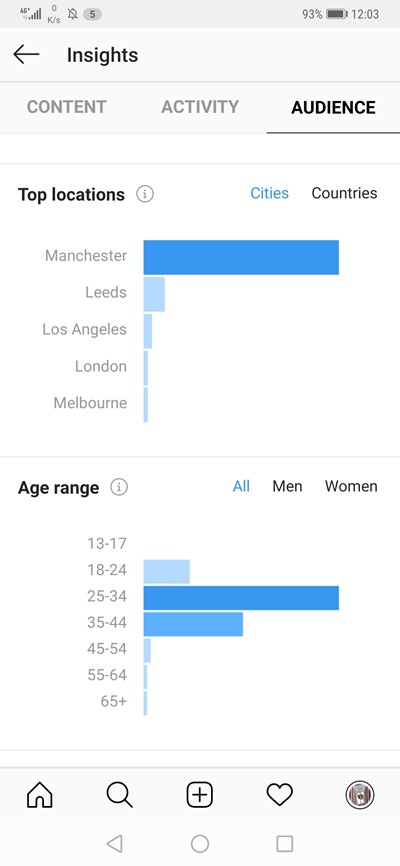 Theme your posts
Look and feel is everything on Instagram. Where a personal Instagram profile might function more as a scrapbook, a business profile should function more as a portfolio.
Having a consistent, curated look and feel is therefore essential in defining your style.
While you don't need to stick to only one kind of photography, particularly if you're advertising a range of services, you should still keep your audience's expectation front of mind.
You don't want to leave any potential client in doubt of your area of expertise, nor subvert your existing followers' idea of your feed. Keep your posts clearly themed!
Whether you shoot portraits, architecture, live music, weddings, nature, or a combination of all these, it gives your feed a much stronger identity if you have a consistent aesthetic throughout. Like so...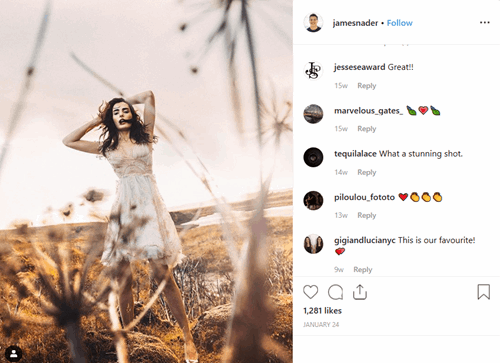 Interact with people
Unfortunately, you get spam and bots on every social media platform.
As such, a bit of human interaction goes a long way to reassuring your followers you're not just an algorithm spitting out pictures and hashtags.
Replying to comments and interacting with other users' posts is a great way to get your personality across and demonstrate your passion for photography.
Ironically, the algorithm which dictates what Instagram deems high or low-quality content factors in post engagement, so if one of your posts generates discussion, it'll increase your post's visibility in other people's feeds too. Win-win.