There's nothing purer than an expertly crafted street shot which carries a poignant message. To celebrate the ingenuity that goes into capturing the everyday and turning it into something beautiful, we've chosen 9 UK street photographers you need to know about.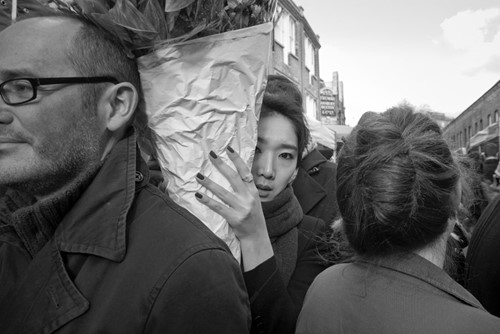 As London street photographers go, Linda Wisdom is up there with the best. Her credentials speak for themselves – she won the 'Best Street Life' category at the 2016 British Life Photography Awards and was commended again in 2018 when her image was exhibited at the Royal Albert Hall for two months.
Linda also works with Airbnb as a London photography tour host and tutor. In fact, she was the first ever street photographer asked by Airbnb to become an 'Experience Host'. Her other clients include Panasonic, Jessops, Amateur Photographer and Huffington Post UK. Find out for yourself why she's so highly thought of.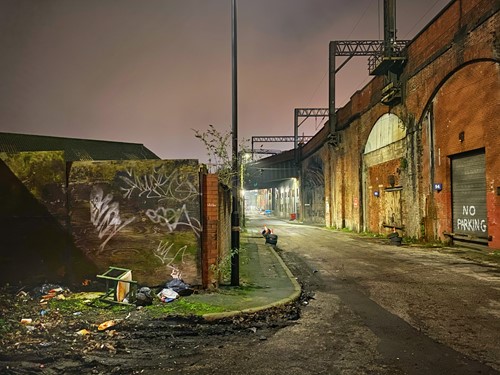 The name Simon Buckley might ring a bell, especially if you're from Manchester. Simon's stunning photograph of Deansgate in the rain went viral late last year and the best part of the story is, he took this on an iPhone 6s. If ever there was an example of the skill involved in street photography, this is it.
Simon has photographed just about every corner of Manchester – as you'll see – and has a real talent for turning the everyday into something extraordinary.
His ongoing Not Quite Light project epitomises these talents. You can find out more about the venture by clicking on the 'Simon Buckley' hyperlink above.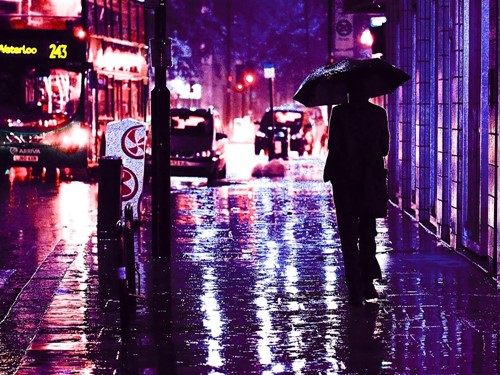 Nico Goodden specialises in a wide range of photography, but street photography allows him to hone in on some of the weird and wonderful elements of London. As he puts it: "Street photography is my visual diary of daily life in London. I observe the city, Londoners and tourists around me and capture what others may just dismiss or not even notice."
Nico's ability to think outside the box has attracted adulation from far and wide. He has more than 90,000 followers on Twitter and Instagram alone and has worked with Adidas, Sony and Heineken. He can take a picture of just about anything and make it compelling, as you'll see from checking out his Instagram page.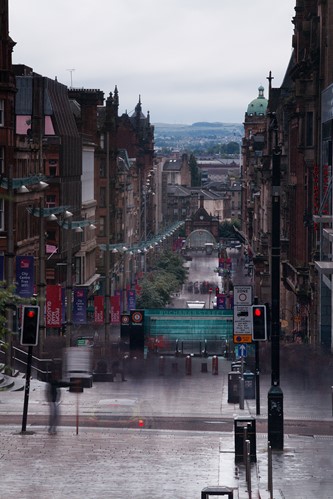 Based in Motherwell, Lanarkshire, Scotland, John lives within commutable distance of Glasgow. His affinity with the city is represented through his photographs, which chronicle an array of places and people. From cobbled streets and bridges to tenement blocks and boarded up homes, John has captured all facets of Glasgow and its surrounding areas.
As you'll see from visiting his website, John is a man of many talents and experiences. He has also lived in Bucharest and has an impressive portfolio of pictures from the Romanian capital, while he has also shot in Berlin and Venice.
In addition to his street photography endeavours, John specialises in landscape, wedding and portrait photography. You can explore more of his work by visiting his Instagram page.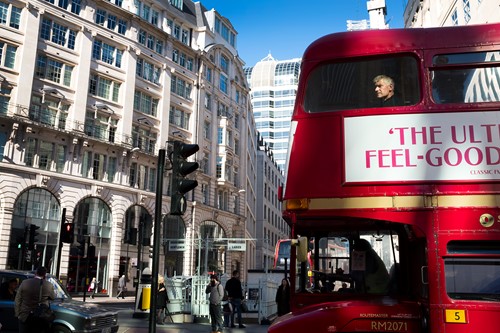 There's something intrinsically raw and spontaneous about Nick Turpin's photography. His eye for the aesthetic, attention to detail and ability to react in a split second exemplify what great street photography is all about.
Whether it's two men in suits passing two men in high-vis jackets in perfect symmetry or a man sat at the top of a double decker bus who looks like he's having his portrait done, Nick has captured it.
Nick's refined photography is the result of more than 30 years' experience in the industry. His work has been exhibited at museums and festivals across the world and he has been featured on Sky Arts and BBC Radio 4 among others.
Nick has imparted his wealth of knowledge to other photographers by creating this handy guide to street photography.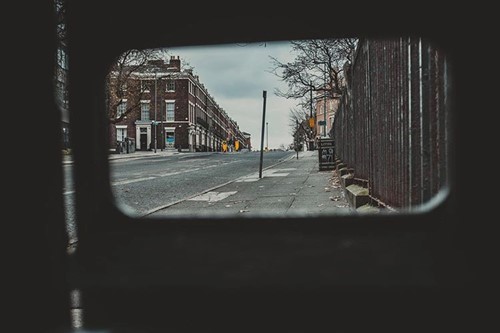 ©️Steve Coleman 
Steve Coleman hails from Kent but has made Liverpool his home, having lived and worked in the city for more than 20 years.
Steve, who is also a Breakfast Show Producer at BBC Radio Merseyside, specialises in different areas of photography. But, as he puts it, street photography is "the purest of all forms".
His litter bin shot of Liverpool offers a unique, unorthodox and thought-provoking perspective of not just the city itself, but street photography in general. It can best be explained by a quote from Steve himself: "Photography is photography, an image can be defined by its composition, beauty or style by the viewer, there's no need to be told what it is".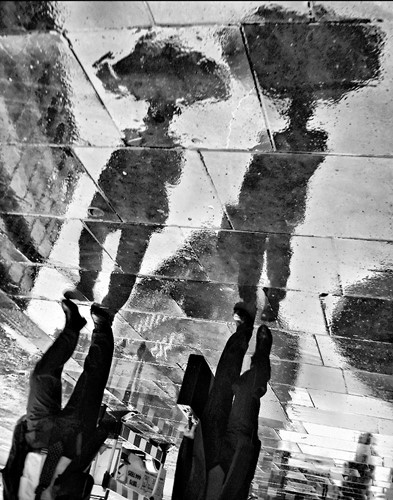 Ronya Galka moved to the UK from Germany and worked in marketing once upon a time. During this period, she took a photo that would change her life. It Must Be Monday Morning, a (literally) damp reflection of the morning commute in London, was submitted to the Sony World Photography Awards and as a result Ronya was nominated for Best Photographer.
From here, she took up street photography full-time and has been nominated as one of Britain's top 10 street photographers by the Interactive Design Institute.  You can read our urban photography tips interview with Ronya here.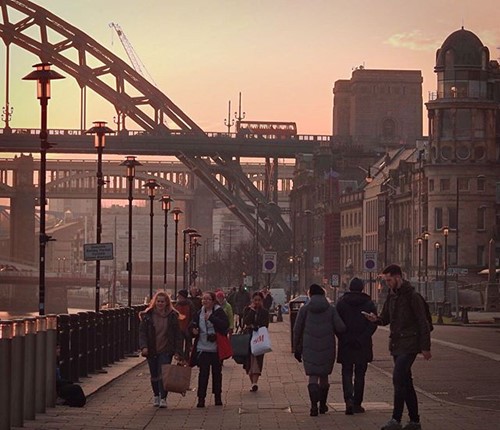 If you want a snapshot of everyday city life in Newcastle, John Robinson's Instagram will give you that and more.
Come rain or shine – in the most literal sense – John is there with his camera. The Tyne Bridge at sunset; a crowded bus queue in the rain; a puddle reflecting a local landmark; the iconic Knife Angel overlooking Gateshead. All of them become works of art thanks to John's creative eye and are compelling representations of what it's like to come from the North East.
As you'll see from visiting John's Instagram page above, he has taken street photographs around the world. But Newcastle will always be his home.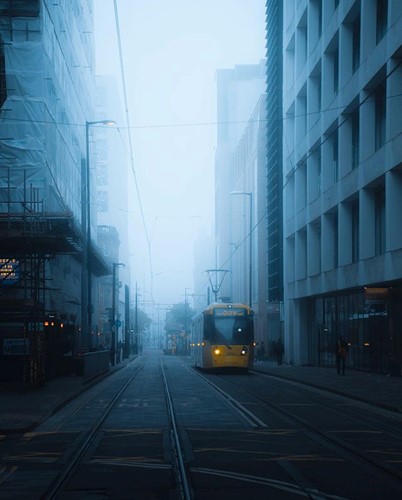 When you scroll through Callum Cole's Instagram, you struggle to comprehend that he's only 16 years old. His photographs demonstrate a maturity beyond his tender years, showcasing everything from the eerie to the serene.
The above shot of a tram gliding through an empty Manchester city centre during a foggy morning is a perfect combination of the two. Callum is clearly proud of his Mancunian roots and his pictures tell a thousand stories of the city. But he's also taken stunning photographs of London, New York and beyond.
If his works to date are anything to go by, Callum has a promising future in photography ahead of him.