How To Cook Game Birds

It's about time people realised how delicious game birds other than chicken and duck can be. But this'll only happen if you can bring out their finest flavours. Whether you're learning to cook pheasant, quail, partridge or grouse, cooking game birds is a tricky skill to grasp. However, once you've mastered it, you'll never want chicken again. Let's look at how to cook game birds and explore some most mouth-watering game bird recipes.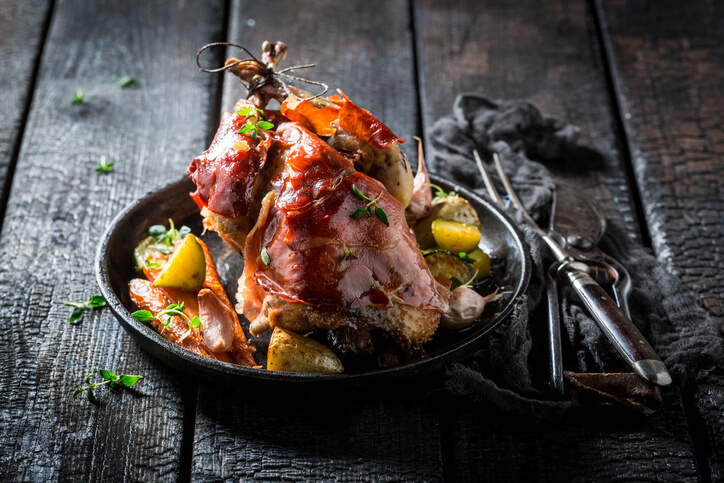 Pheasant
Pheasant is the most popular game bird. It's very low in fat, much leaner than chicken and arguably more flavoursome. The best way to cook pheasant depends on the age of the bird. A young pheasant can roast beautifully, particularly if you massage butter into the skin beforehand. But if you're cooking a coarse, mature bird, it's better cut into joints and cooked in a casserole.
The beauty of pheasant is its adaptable natural flavour and unlimited uses. Therefore, the accompanying ingredients are crucial. If you want mouth-watering gamey goodness, you should marinate the pheasant before cooking. This helps to maintain moisture, but make sure you evenly coat the marinade over the meat so the flavours are well distributed.
Fruits such as red currents and prunes go great with pheasant. For example, cranberry sauce makes an excellent accompaniment, as the sharp but balanced sweetness emphasises the pheasant's richness.
And don't overlook the herbs. The earthy flavour of thyme makes it a perfect seasoning with pheasant and rosemary is ideal for giving it a hint of lemon-pine freshness. Sage, too, goes great with pheasant thanks to its musty flavours of eucalyptus and lemon. Use it sparingly, though, as it can overpower a dish.
Pheasant also flourishes when cooked with alcohol. Madeira is particularly complimentary, as its complex flavours create a sweet Madeira sauce. If you want a substitute, port and cider are your best bet.
If you're cooking more than one pheasant, it's best to stick with the same type of bird – so a brace of cocks or hens. The hens are usually more tender than cocks, so need less cooking time. However, the general rule of thumb is to roast your bird at a low temperature for approximately 1 to 2 hours.
Remember to rest the pheasant after cooking so the juices sink in the meat. We recommend serving with fluffy mounds of mashed potato or a puree of potato and celeriac for a finer finish.
Recommended recipe
Delia Smith's pot-roasted pheasant in Madeira
This pot-roasted recipe from British television host and cookbook writer Delia Smith is bound to get your taste buds tickling. The sweetness of the Madeira brings out the richness of the pheasant, and the thyme and bay leaves add extra flavour. Add carrot, celery and mushrooms to this and you've got a warm, comforting dish. It's perfect for a cold evening.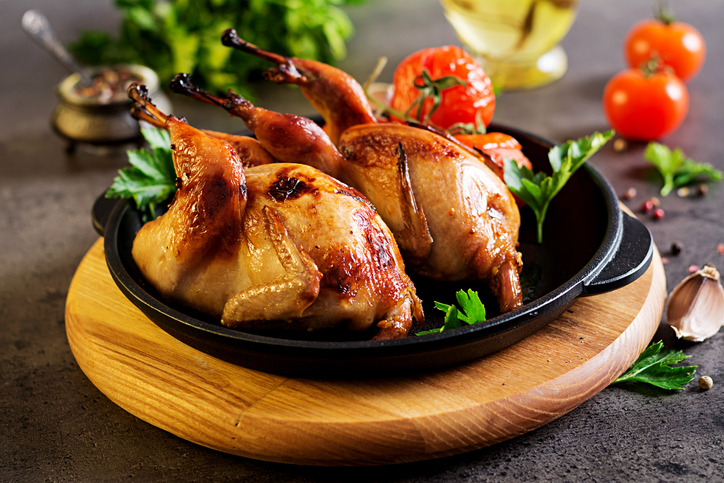 Quail
The delicately flavoured, tasty meat of this small game bird is available all year round. The secret to cooking quail is in the cooking time and when you get this right, it's simple and delicious.
Traditionally, quail should be oven-cooked whole and accompanied with thinly sliced, deep fried potatoes (also known as game chips). However, they can be pan-fried, grilled and are great cooked on the barbecue.
Quail is suitable for both quick and slow cooking, but roasting takes about 12- 20 minutes. The former gives you juicy, succulent, pale meat. The latter gives you a browner quail, but you risk it drying at the edge, so be careful.
If you're after a hearty meal, go for two quail per person. If you're looking for a lighter main or substantial starter, one quail should suffice.  
Quail has a delicate, gamey flavour which shouldn't be overpowered by strong flavours. As it's small and lean, it can become dry very easily when cooked – so it should be brushed with oil or butter beforehand to keep it succulent and moist. Another way to tenderise the quail (and retain its flavour) is to marinade it well using complementary flavours, such as lemon, peppercorns, red wine and juniper berries. A bitter but sweet plum sauce works perfectly. To heighten the flavour even more, you could stuff the quail with a fruit-based stuffing – plum and prune work best with roasted quail. You can also keep quail moist and transform your dish by covering it in ham, pancetta or bacon.
Bear in mind, quail is adaptable, so there are many recipes out there. You can cook them with some soy sauce, honey and garlic for a spicy, flavourful Asian dish.
To cook quail, either tie the legs together with string or spatchcock them before cooking (especially for grilling or barbecuing, as the quail will cook faster). When the quail is cooked, rest it for 5 to 10 minutes. It's lovely when served with a pomegranate salad or steamed waxy potatoes and vegetables.
Recommended recipe
Bruno Loubet's Stuffed Quail
This quail recipe by Bruno Loubet, an innovative chef on the London culinary scene, is a lip-smacking favourite. With a stuffing made up of pancetta, onion, garlic, lemon zest and fresh thyme, it packs a punch. The quail is immersed in chicken stock, butter and later white wine, so it's far from dry. The flavour is heightened with the explosion of flavour drizzled on the quail towards the end. The sweet sauce from simmered cranberries and grapes are drizzled on the quail towards the end, giving an explosion of flavour. To finish, it's served with rice. Bon appétit.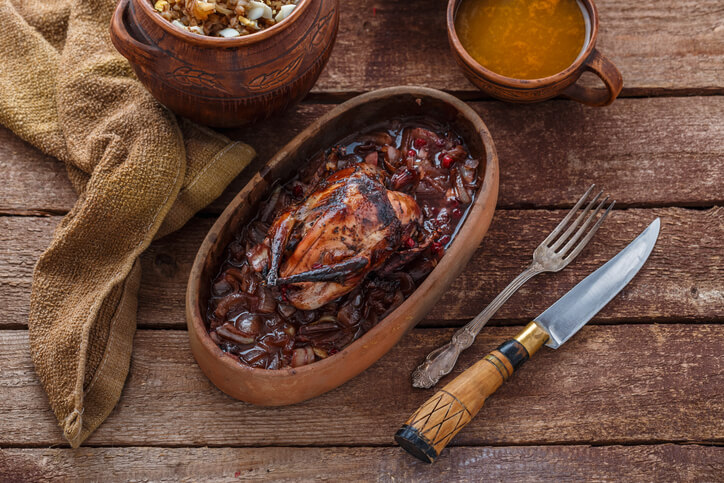 Grouse
The red grouse is in season from 12th August – the 'Glorious Twelfth' – until December. Grouse has a maroon colour and it's the darkest meat of the game birds, which explains its intense flavour. In fact, some people believe it's the best game bird, so it's one to try.
Older grouse can be tough, so they're great for a warming stew or pot roast. However, if you're looking to put a dish together promptly, the younger bird is best as you can pan-fry it relatively quickly.
Grouse, like other game birds, is lean. Therefore, it needs to be cooked carefully to prevent it from drying out too much. It's best served pink – that way, you know it's maintained the moisture in the flesh.
To cook a young grouse, sear the back and each side until the breast is golden brown. Then, return the grouse to its back and roast for around 12 minutes at approximately 220 degrees Celsius. Once cooked, rest for around 10 minutes before serving. The offal is not to be ignored either – pan-fry the liver and heart for extra taste.
If you're slow cooking an older grouse at a low temperature, a mix of stock and good quality red wine are perfect additions. Let it cook for around 45 minutes, then remember to keep the bird in the stock afterwards to let it cool and help lock in the moisture. It's up to you whether you want to keep the birds whole or joint them. Just don't throw away the carcass, because the bones make a delicious stock or broth.
As the grouse is more rotund than, say, a partridge, you should allow for one grouse per person (depending on how many you've bagged).
Traditionally, grouse is served up with a fruit jelly, gravy or jus, game chips, seasonal fruit and vegetables. It goes perfectly with blackberries and beetroot because its pungent gamey flavour needs to be balanced by sweet and sour trimmings, so don't hold back when choosing what to serve with this magnificent bird.
Recommended recipe
Gerard Baker's roast grouse with blackcurrant and beetroot sauce
This grouse recipe, created by Gerard Baker at BBC Good Food, is full of flavour. It's served with a "fresh, full-flavoured fruit sauce and a dash of whiskey to boot." It serves four people, takes 40 minutes to prepare, and 1 hour 40 minutes to cook - but the results are worth it.
To make the sauce, you need a shallot (which turns mild and sweet once cooked), bay leaf and thyme (for the floral taste), grouse legs and whiskey (to enhance the sweet flavours). Season the birds inside and out with thyme and wrap them in pancetta to get your taste buds going. After cooking the grouse, place it on buttered toast to absorb any juices and leave to rest for 10 minutes. Drizzle on the bursting flavours of redcurrant jelly, blackcurrants and beetroot. Finally, serve with some delicious buttered spinach.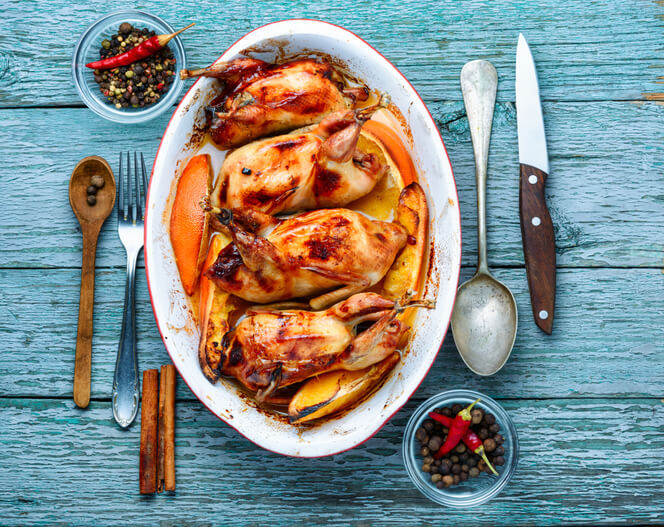 Partridge
With partridge shooting season running from early September through to the end of January, there's plenty of time to master how to cook it. The round-breasted, chubby young partridge is small, so one bird usually serves one person. The partridge also has a subtle flavour and, in the case of a young bird, is best served roasted, pan-fried or grilled.
Due to its subtle flavour, it should be covered in herbs. Notes of thyme, sage and juniper work beautifully, as do salt and pepper. Be sure to butter the partridge all over before cooking (particularly the breast), to ensure it stays moist.
As it's so versatile, it works well with many different flavours. Of course, combining partridge with fresh tangy pear is a crowd favourite. But this sweet meat also goes with salty bacon, earthy chestnuts and sweet juniper berries. There's an array of flavours to choose from.
Partridge usually takes about 20 minutes to roast in the oven at 220 degrees Celsius. Once cooked, a roasted partridge should be a gorgeous deep brown colour on the outside and if it looks slightly pink in the middle, you've done a good job.
Once it's cooked, leave time for it to rest. We recommend using a few layers of foil over the roasting pan to retain the heat. If you're cooking with many accompaniments, remember that roasted-on juices such as butter, sugar, juniper and bacon fat can make an impromptu gravy when added to a glass of wine.
Recommended recipe
Mark Lloyd's roast partridge and cinnamon pears with warm barley and roots salad
If you can't resist pairing partridge with pear, you'll love this recipe by chef Mark Lloyd from Olive Magazine, which is a nod to The Twelve Days of Christmas. It's easy yet sophisticated and produces mouth-watering results.
The pear wedges are cooked until beautifully caramelised, then sprinkled with ground cinnamon. Next, the partridge is drizzled in oil until golden and placed on top of the pears. Add more oil and season with parsley and thyme before popping it in the oven for 20 minutes, then allow it to rest for a further 7 minutes.
To make a root vegetable salad with barley, simply fry vegetables, garlic and bacon together with some bay leaf and thyme. Next, mix in some cooked barley, parsley, lemon zest and juice. Season well, then either cut each bird in half, or carve the breasts and legs. Serve on top of the warm hearty salad with the cinnamon pears.
The end result is an array of crisp but juicy birds, delicate, sweet and spicy cinnamon pears and soft yet chewy barley. This is what cooking game is all about.
5 Game Birds
Multiple game bird dishes are ideal for those who are up for a challenge and looking to show off their culinary skills. These types of dishes typically date back to Roman times – and one 17-bird dish known as the Rôti Sans Pareil goes back to an eccentric chef from 1807.
However, the recipes have changed with the times. From pigeon and crow, to quail and pheasant, multiple bird dishes are the perfect choice if you've got an assortment of game bird scraps that you don't want to go to waste. After all, when you've worked hard to bag it, you don't want to waste it.
Jamie Oliver's roasted game bird pie
This hearty and filling pie is made up of duck, pheasant, grouse, partridge and quail, but you can make substitutes or omissions. It serves 12 people and takes over 5 hours to make, so if you're willing to put in the time and effort, it makes for a perfect dinner party dish.
The 5 delicious birds are oven cooked side by side and the juices combine exquisitely with the thyme, rosemary, bay, juniper berries, salt and pepper. Vegetables such as onions, carrots, celery and leek are stir-fried together with bacon to give a distinctive taste. Potatoes are added for more substance, texture and the classic British homemade pie taste.
The succulent meat is then shredded into the vegetables with plenty of seasoning and filled into traditional suet pastry. The pie goes in the oven for approximately an hour and should be golden once cooked.
The result is an intense, rich meatiness. As the birds in this recipe create a strong flavour, we recommend serving the pie with a simple gravy and seasonal greens.
Although lighter meats such as pheasant and partridge can be satisfying with a white wine, the obvious choice for this 5 game bird pie is a red wine, perhaps a New Zealand Pinot Noir or Sherry.
Fancy having a go at this show-stopper? Check it out here.