10 Caravan YouTube Channels You Need To Check Out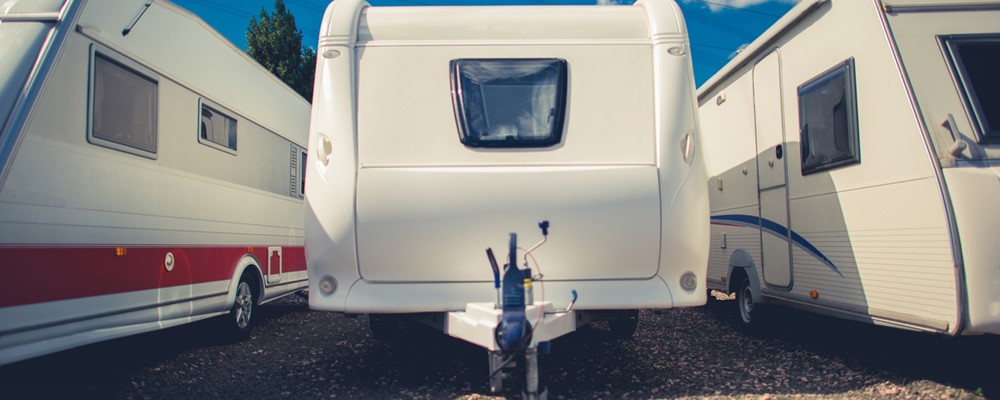 Looking to get top tips and insights about all things caravanning? Then look no further, as we've got the perfect list of YouTube channels for you.
These channels cover everything from installing WiFi to buying a caravan for under £10,000.
Let's check them out.
Table of contents
1. The Trudgians
2. Caravan Vlogger
3. Practical Caravan
4. The Caravan Nut
5. Caravan TV
6. Andrew Ditton
7. Carefree Caravanning
8. Here We Tow
9. Lost Weekends Caravan
10. The McNeills on Wheels
1. The Trudgians
Most watched video: How To Change ALKO Hitch Friction Pads
Active since: 2015
When Dan Trudgian started his YouTube channel and left his job in IT, he couldn't have imagined what might happen next.
As it's turned out, his channel is integral to the caravanning community, boasting more than 42,000 subscribers at the time of writing.
With his videos regularly gaining tens (if not hundreds) of thousands of views, Dan's throng of loyal viewers clearly values his clear and informative content — as do we.
So, what kind of content does this channel put out? Well, since it first began posting videos back in early 2015, this family-based channel provides 'how to' and DIY-focused content that aims to help viewers navigate their way through the trials and tribulations of owning a caravan.
If light-hearted, humorous content is more your thing, you can watch one of the six Caravans, Coffee and Cake podcasts Dan has published. There's also a bit of lifestyle content if you'd prefer that.
To put it simply, this channel has a bit of everything. Whilst Dan's primary objective is to offer practical advice to caravanners, he's also documenting a genuine family experience that is a joy to be a part of.
2. Caravan Vlogger
Most watched video: Caravan Tips and Tricks: How to Fill a Caravan Water Tank and Grey Waste
Active since: 2018

The Caravan Vlogger was created by couple Graham and Mandy Bell. The couple knows a thing or two about caravans, having owned one since 2006. The couple has even travelled abroad to France with their caravan in tow.
Although they've only created YouTube content since 2018, Graham and Mandy's channel has gained under five thousand subscribers in that time, thanks to their honest approach and beaming personalities.
Some of the most popular videos feature the couple exploring places they've been to and the caravan parks they settle in – pre-pandemic, of course.
Now, two caravans later, they continue to post content such as fitting various caravan accessories, how to clean a caravan awning, and even towing a caravan with an electric car. And with things starting to get back to normal, we'll get to watch many more of their adventures again soon!
3. Practical Caravan
Most watched video: The Practical Caravan: Barefoot Review
Active since: 2010
Anyone who's a keen caravanner knows the name Practical Caravan. It's considered the go-to source of news, reviews, and advice for caravanners in the UK.  
In that case, you'll understand that the magazine offers specialist knowledge on caravanning backed up by years of industry expertise.
Its YouTube channel is further confirmation of its high-standing reputation within the caravan community. The channel boasts 27,000 subscribers – one of the highest subscriber counts on this list – and has been in operation since 2010. In the past year, the channel has posted a singular video, but the content on this channel is interesting and valuable nonetheless.
On this channel, you'll find videos such as tips, expert advice, tow car reviews, and caravan reviews.
Practical Caravan even has a TV episode playlist featuring exclusive TV shows that are dedicated to all types of caravanning enthusiasts.
4. The Caravan Nut
Most watched video: Changing From 7N & 7S To 13 Pin Euro Plug
Active since: 2018
On this channel, we meet Martin, Angela and Molly, a family from Lancashire.
They're making their way through the caravanning world one step at a time and want to share their adventures, hints, tips, and reviews with others.
The Caravan Nut was created in just 2018, but with more people planning to take staycations post-pandemic, this channel will be a source of enlightenment to guide those looking for a getaway.
Some of its most-watched videos are the best towing apparatus, fitting a WiFi antenna onto a caravan, and the best meals to make in a small space. The latter example shows that this channel has a light-hearted, autobiographical nature and is hilariously relatable.
In short, this channel is anything but boring and will keep any caravan enthusiast entertained for hours.
Its overall video views have almost doubled compared to March last year, demonstrating its rapid recent growth in popularity.
 5. CaravanTV
Most watched video: Hitching A Caravan To A Car
Active since: 2012
Caravan Magazine's YouTube channel is the perfect extension of its editorial counterpart.
CaravanTV covers caravan reviews and showcases some of the best luxury caravans on the market. It's incredibly varied – take one of its most popular videos, for example, which features the world's smallest caravan. All of these videos are perfectly sectioned into playlists, making the page easy to navigate.
Two segments on the channel are worth noting.
The first is Basecamp Adventures. This series follows Will Hawkins, Digital Editor at Caravan Magazine and his son, Toby, while they visit various caravan and camping sites and explore their surrounding towns.
Secondly, we have Cooking in a Caravan with the Rivrons. In case you're not aware, the Rivron family, as seen on BBC's Masterchef, has been cooking their caravan for nearly a decade. In the process, Monica, a trained chef, and her husband Rowland have become experts in creating all manner of gourmet delights in a caravan kitchen.

 6. Andrew Ditton
 Most watched video: One Hour Van Conversions With Wayfarer Vans Kit
Active since: 2010
Andrew Ditton's channel offers a view into a minimalist's caravan life. His channel now has more than 60,000 subscribers – making it the channel with the most subscribers in this article.
These subscribers can enjoy watching Andrew and his dog, Dougal, conquer the caravanning world.
His channel features caravan conventions, reviews, and adventures, with some astonishing shots that are perfect enough to give anybody a little wanderlust.
Although Andrew is no longer a full-time caravanner, he often discusses living simply and how to become a minimalist. He's openly admitted that his approach isn't for everybody, but his videos are informative for those who want to see how 'living simply' can be done.
There are hundreds of videos on his channel, including previous live broadcasts in which he engages with viewers and allows them to ask any burning questions.
Andrew's camping and caravan videos are some of the best around and give the perfect insight into owning a caravan.
Therefore, it's little wonder that the channel has surpassed 10 million views, and has achieved nearly 14 million at the time of writing.
 7. Carefree Caravanning


Most watched video: 5 Simple Caravan Tips
Active since: 2019
This channel has only existed since early 2019 but has amassed over 10,000 subscribers since then.
Creators Keith and Michele Lewis are incredibly likeable and easy to watch. Although their caravan was stolen in 2018, the dynamic duo y bought another caravan and began their adventure once again.
Keith and Michelle's content includes site tours, top tips, and video diaries about their experiences. Their most-watched video is 5 Simple Caravan Tips, as shown above, which has gained 225,000 views at the time of writing.
In addition to this, the channel's subscriber count has doubled since March 2020 last year, confirming them as valued members of the caravan community.
8. Here We Tow


Most watched video: New Adria Adora Isonzo 2018 Walk Around
Active since: 2017
Here We Tow is owned by enthusiasts Karina and Jules Ingham.
They created the channel in December 2017 after ordering their Adria Isonzo at the Caravan and Motorhome Show in October of the same year – and we've been able to follow their progress ever since.
The couple loves testing caravan products, reviewing accessories and equipment (new and old) and sharing what they've discovered. The channel also features regular cooking videos.
This channel is the perfect place to look if you're after tips, advice and reviews based on the experiences of real people who have used the products themselves.
They have more than 10,500 subscribers at the time of writing, and their down-to-earth personalities and honest insights make them a couple you can identify with.
They've recently streamed live broadcasts on their YouTube channel that involve playing Bingo and having a general chat with their subscribers. Occasionally, their pooch Fudge pops in for a quick 'hello' too.
Whichever of this channel's videos you watch, they're bound to help you make the most of your caravan and enjoy every minute – as Karina and Jules clearly do.
9. Lost Weekends Caravan


Most watched video: What To Look For When Buying A Used Caravan
Active since: 2017

If you're looking for reviews, this channel is your best bet. Its creators, Phil and Juliet Williams provide reviews on products, caravans, and caravan sites, to help you make the most informed choices. In addition to these reviews, they also post helpful 'how to make' and 'how to upgrade' videos, which will come in handy if you've owned a caravan for many years and want to spruce it up.
The channel's videos are always upbeat and interesting to watch. At the time of writing, the channel's total views stand at nearly 600,000, and it's one to watch out for this caravanning season.
10. The McNeills on Wheels
Most watched video: 10 Things We Wish We'd Known Before Full-Time Caravan Living
Active since: 2018
This channel has an incredibly interesting take on caravan life. Jamie and Stacey McNeill live in their caravan full-time and have explored the world together, with a camera to document their experiences.

In their own words, they 'escaped the rat race to live in a caravan' – which seems to be working out well for them, so far.

In their latest series, viewers followed them along their journey to become damp-free, a common challenge for caravan owners. Jamie and Stacey have also frequently documented their travels abroad, such as their trips to South Africa, Thailand, and Vietnam.

As well as their travel content, they post a wide range of informative advice videos such as 'Are You Towing Legally?' and 'How Not To Move A Caravan'.

Jamie and Stacey are upbeat yet honest about their experiences, and with just 34 uploads and 6,210 subscribers, the odds suggest that this channel will only continue to grow.
Specialist caravan insurance from Ripe Caravans
Now that you're clued-up on the latest caravan content, make sure you don't forget the basics – like insurance.
We cover touring and static caravans in the event of theft and damage, and you can add up to £10,000 or £30,000 of contents cover respectively to your policy.
Whatever you're looking for, our insurance can give you peace of mind. Find out more here, or get an instant online quote in minutes and see how we can help you.
Related
Q&A With Dan Trudgian Of The Trudgians
The Top 5 Most Useful Caravan Gadgets