15 Benefits of Playing the Guitar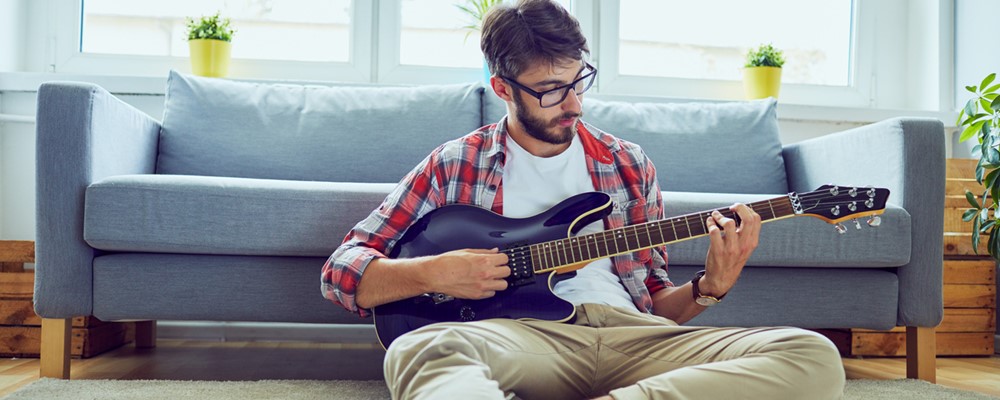 Playing the guitar is about so much more than the music. Of course, playing like Jimi Hendrix or Eric Clapton is what most of us strive for, but playing the guitar is beneficial to us in many ways. As Eric Clapton said: "In playing, I suppose my greatest gift was to express the way I felt or the willingness to express myself."
From improving your confidence to strengthening your wrists, there are loads of advantages associated with the guitar that we seem to overlook. Here are 15 benefits of playing the guitar.
Article summary
1. Enhances your concentration
3. Enriches your multi-tasking
7. Meet people
10. Allows your creativity to flourish
11. You can stay in touch with your emotions
12. It helps you play other instruments
13. Strengthens your hands and wrists
14. Improves your motor skills
1. Enhances your concentration
Learning to play an instrument isn't easy – it requires a high level of concentration. It's easy to slip up and play a chord wrong, especially when you focus on other things like reading the music or your finger position. By having lessons and playing regularly, your concentration will increase, and you'll reap the rewards in other parts of your life. According to the American Psychological Association, playing an instrument as a child keeps your mind sharper as you get older.
2. Improves your memory
Playing the guitar stimulates the parts of the brain responsible for cognitive and muscle memory, according to the University of Zurich. So, by practising the guitar, you're conducting some very useful brain training and improving your memory.
3. Enriches your multi-tasking
There are so many techniques to remember when playing the guitar, so guitarists are often good at multi-tasking. You need to read guitar music, move your fingers into position, play the right notes, read ahead, stay in time, and listen to the music. These elements re-wire a guitarist's brain to get better at multi-tasking, an ability that is useful in all parts of life. 
4. Builds your confidence
Smashing out a song you've been trying to perfect for ages or creating a masterpiece from scratch is bound to boost your confidence. Playing the guitar in your spare time will give you a sense of achievement and satisfaction outside of work and help your creative brain flourish. And ultimately, you'll feel more confident having gained this new skill.
5. Makes you more disciplined
Getting good at guitar playing requires persistence and determination. Many people start playing as a hobby and quit because that's the easy thing to do. Being strict with yourself and dedicating time to practise makes you more disciplined, and this can help you in many ways, besides playing the guitar.
6. Creates a fun atmosphere
Why is it people play the guitar around a campfire in films? There's something about the guitar that brings us together and creates a certain ambience. Sing-alongs to an acoustic guitar with friends is always good fun – but make sure you're familiar with popular requests beforehand!
7. Meet people
Not that we're biased, but – there's something attractive about guitarists. The passion they have for playing, the dedication they have, and, of course, the sound. Whether you want to impress someone in particular or make new friends, spontaneously playing the guitar is likely to attract attention. Plus, it allows you to meet people with similar interests – you can build some of your best relationships by playing the guitar.
8. Reduces stress
Playing the guitar is therapeutic and allows you to leave any stresses behind and focus on the music. If things are getting too much, you can use the guitar to feel more relaxed and unleash tension. Playing the guitar is a form of escapism, so next time life gets tough, pick it up.
9. Relieves anxiety
Playing the guitar is the perfect hobby if you're feeling anxious – it can be a form of therapy for many people. It's all too common to watch TV or go on your phone to get some down-time, but this still allows your brain to overthink and worry. Guitar playing commands all your attention, allowing you to switch off. Even just 10 minutes of playing the guitar can make help relieve your anxiety and lift your mood.
10. Allows your creativity to flourish
Life gets quite monotonous when you're working 9-5 and doing the same job with the same routine. That's why people are always trying to find ways to keep their creative juices flowing, whether it's cooking or drawing classes. Playing the guitar gives us that sense of freedom and creativity that we all crave.
11. You can stay in touch with your emotions
The music we listen to tends to reflect how we feel.  If we feel sad, we tend to listen to sad music. If we feel happy, we tend to listen to joyful music. Some of the most emotional songs come from personal experiences, and the lyrics reflect their feelings. For example, "How to Save a Life" by The Fray was written was influenced by Isaac Slade's experience while working as a mentor at a camp for troubled teenagers. "I'm Still Standing" by Elton John was written after a break-up and is all about overcoming difficulty.
Playing the guitar allows you to communicate and express yourself differently and release your emotions, which often helps us overcome adversity.
12. It helps you play other instruments
Once you've gained musical knowledge from playing the guitar, learning other instruments becomes a little easier. Here are 5 instruments for guitar players to learn.
13. Strengthens your hands and wrists
Learning how to play notes, chords, and riffs strengthens your hands and wrists over time, as well as stretching your tendons to improve flexibility.
14. Improves your motor skills
The difficult shapes your hands need to make to play chords, and the intricate plucking will improve your finger dexterity skills. Over time, your fingers will be able to move more smoothly and cooperate more. You'll improve your speed and accuracy and be playing some complex, impressive riffs in no time.
15. Lowers blood pressure
Research from the Netherlands discovered that playing 100 minutes of music a day can considerably lower blood pressure. This shows that playing the guitar is not only a therapeutic exercise but one which could improve your quality (and even length) of life.
We hope we've convinced you that playing the guitar is amazing in so many ways. But, before you start strumming your guitar, remember to insure it. If your guitar is lost, stolen or damaged, all these wonderful benefits could be stripped away from you.
At Ripe Music, we offer specialist music insurance to protect your prized instrument. Find out more about our music insurance and get an instant online quote with us