The 7 best bike sheds on the market in 2022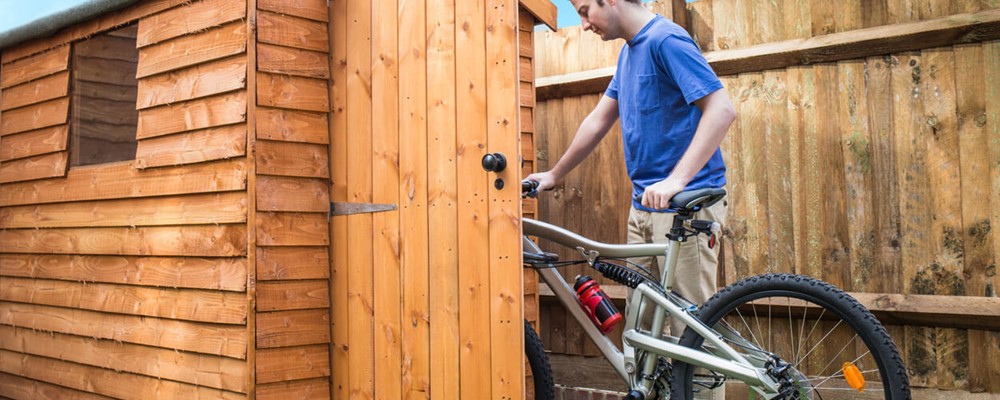 Choosing the best bike shed is important for protecting your bike and its accessories.
A poor-quality shed will only cause issues in the long run, whether it's weather damage to your bike or becoming a target for opportunists. But how do you know whether a product is sufficient or if it's worth investing in something tougher?
We've put together a list of only the best bicycle sheds available on the market, alongside all the information you need to decide.
You'll also find a guide on what to look for in a bike shed below, which will help if you're new to cycling.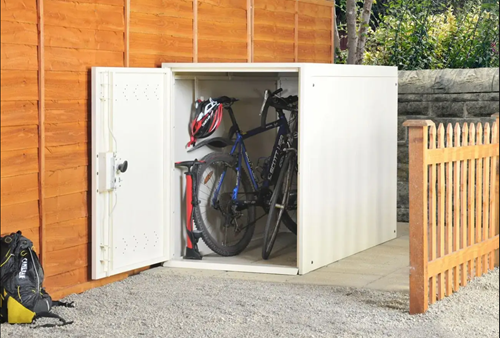 Security should be a top priority when investing in outdoor bike storage.
This product has been given the green light by North Yorkshire Police thanks to its ultra-tough three-point locking system and outstanding durability. Not only is it an all-metal bicycle storage shed, but it's pick and drill resistant too.
Available in three natural colours, it's one of the most discreet designs on the market and blends seamlessly into any environment. Gone are the days of bike sheds becoming eyesores against the backdrop of your garden.
Despite being the smallest unit in Asgard's product range, this shelter stores up to two bikes and your cycling accessories, thanks to the included kit hooks.
The overall design is space-saving and practical down to the last detail, including the miniature ramp at its base that makes wheeling your bike away easy.
Need a quality yet cost-effective product? This is one of the best bike sheds we've come across. We recommend looking at Asgard's other products if you require extra storage.
Related: The 10 best cycling accessories for all abilities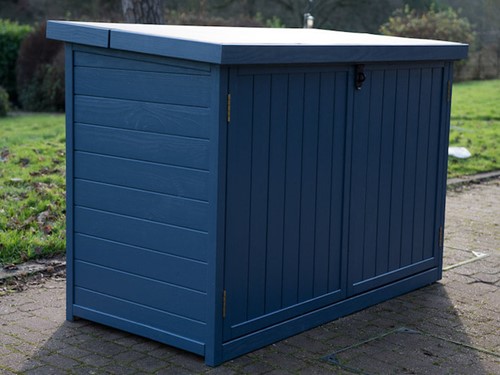 Hand-built and solidly constructed from Douglas Fir timber, this is truly one of the best bike sheds on the market.
Despite being the smallest product in the Pedalbase range, it can store up to three adult bikes, and it takes up minimal space. It's a favourite with customers looking for outdoor bike storage for their front garden.
Each purchase includes a Shackless Padlock and Internal Anchor Point, so you can rest assured it will fully protect your bikes.
Each shed is available in either a natural or painted finish with 11 different colour options, including:
mercury grey
peregrine blue
sedge green
wispy willow
The unique selling point of this product is the bespoke nature of your order. You can opt for a completely bespoke bike shed—but any order you complete with The Bike Shed Company has a personal touch since their products are handcrafted and finished to your taste.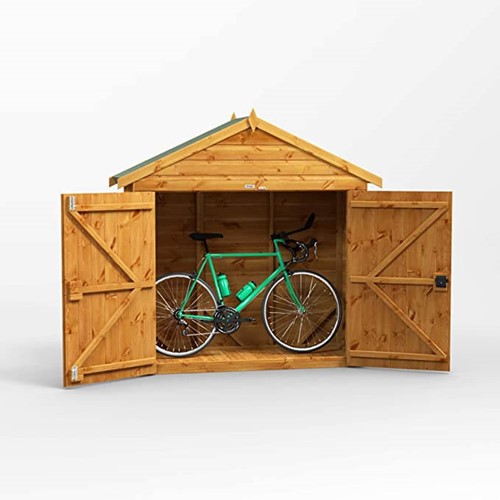 POWER Sheds may have the ideal solution if you're looking for quality on a budget.
Manufactured using High-Grade Scandinavian timber, they are completely water-resistant and built to last. Each shed comes with galvanised ironmongery to ensure long-lasting hinges and turn buttons and timber bracing for increased rigidity.
They're also reinforced with 12mm extra thick shiplap cladding and toughened safety glass, which offers 500% more protection than ordinary glass.
Power Sheds are a multi-award-winning company owing to the quality of its products. They won the 2020 eBay Award for Innovation, and the 2022 Home & Garden Award for 'Best Wooden Garden Sheds eTailer'—ranking them among the best bike shed manufacturers.
Not to mention, each order from PowerSheds.com is protected through a free 10-year guarantee. Your purchase will be covered if you experience any timer rot, decay, or insect infestation.  
Related: How to protect your e-bike from theft in 6 easy steps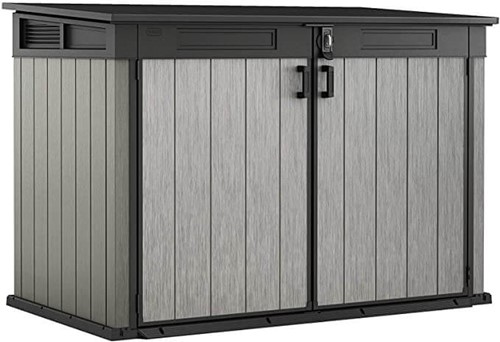 While metal bike sheds are typically the most secure, plastic sheds still hold up better than wooden models.
We can say this about the Keter Store-It-Out, which comes with double-wall panels and heavy-duty flooring thanks to its DuoTech plastic design.
Keter utilises steel reinforcement on the Store-It-Out Grande, which provides extra security and adds durability to the structure. DuoTech plastic is also highly weather resistant compared to materials used by competitors and requires little maintenance.
This model comes with strong hydraulic gas pistons attached to its roof to make your life easier. This means you can easily access your bikes at any time, and you should have zero issues opening the hatch.
The storage space you receive for the price you pay is incredible. You can pack away up to two full-sized adult bikes and two children's bikes, making it an ideal outdoor bicycle storage option for families.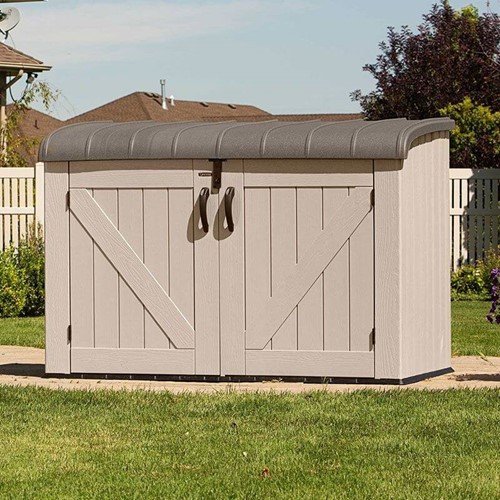 Another great example of a high-quality plastic bike shed is this product from Lifetime.
It is crafted from high-density polyethene, but it's also braced using a powder-coated steel frame to boost rigidity. Thanks to its weather-resistant steel hinges and UV-protected lid and panels, it will stand strong in all conditions. 
If you've previously experienced rotting or rust with wooden or metal bike sheds, you'll be glad to know that this product is unsusceptible to these effects. The five-year warranty speaks for itself.
Despite the unattractive stigma linked to plastic sheds, this model from Lifetime has a stylish wood effect finish that blends seamlessly into any environment. It also requires no maintenance and will never become an eyesore due to exposure to the elements.  
Related: How to clean a bike chain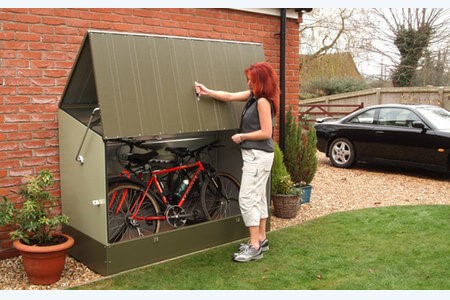 Moving back to metal bicycle sheds, the Protect-a-Cycle is one of the toughest of its kind. It's fire-resistant up to National Building Regulations standards, meaning it bypasses the typical weaknesses of metal bicycle storage.
It's been awarded the Security Rating 1 by the Loss Prevention Certification Board and is Secured By Design approved by the Police Preferred Specification. No one is getting into this bike shed!
Despite its rigid design, it still blends into any garden and comes with three colour options:
all cream
anthracite
plive and moorland green
A 25-year guarantee covers every purchase's PVC coated galvanised panels, so you know you're paying for top-quality materials. It's essentially maintenance-free and requires no painting.
You can store up to three adult bikes within the Protect-a-Cycle, perfect for families or avid cyclists with a larger bike collection.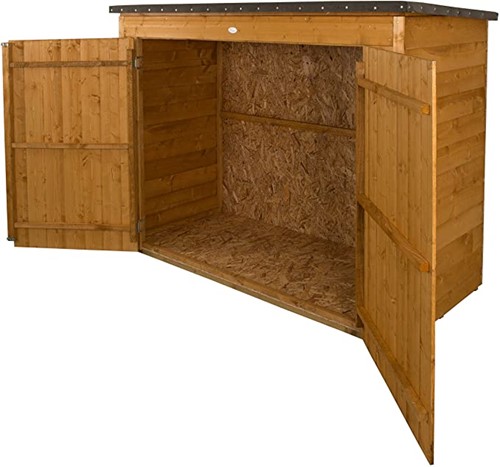 Those looking for a cheap bike shed will admire the quality of this product from Forest.  
Amazon customers have noted that it stores three large adult bikes. Capacity is a huge factor when choosing a bike shed, and this product provides ample storage space considering its low price.
Forest state most of the timber used to craft their bike sheds is sourced from managed UK forests in Scotland and Wales. Their range has been given the stamp of approval from the Forest Stewardship Council, so you know everything is ethically manufactured and of a high standard.
Are you concerned that purchasing a cheap bike shed will mean heavy maintenance and quick deterioration? Not with this product— it's both dip and pressure treated with an anti-fungal preservative to prevent rot and decay.
Thanks to the Interlocking Tongue & Groove boards used to construct it, it's also draught and rainproof. They are kiln dried and thicker than your average boards and less likely to bend and warp over time.
Related: How to lock your bike safely and securely
What to look for in a bike shed
#1 – Security 
This should be your priority when selecting an outdoor bike storage shed.
The best bike sheds have built-in internal locking systems, but they are typically more expensive than cheaper alternatives.
The phrase 'penny-wise but pound-foolish' comes in here—it's good to spend more upfront and ensure your bikes are fully protected. Going for a cheaper bike shed saves you less initially, but it could mean you lose the money invested in your bikes.
#2 – Accessibility 
This becomes increasingly important for those storing multiple bikes.
You should be able to access each of them instantly to grab your bike and go. But some bike sheds are designed without this in mind and mean pulling them all out to get to the one you need.
A front-opening bike shed may be fine for some, but others prefer a hatch-style door for easy access to their bikes. Keep this in mind if you have limited time!
#3 – Quality of build & materials 
Opting for a poor-quality bike shed will defeat the object of purchasing one in the first place.
This will reduce security, but it will also mean heavy maintenance and potential replacement after a few years.
Always research the materials used to construct the bike shed you're considering, as this affects its lifespan and how secure your bikes are when stored away.
#4 – Weatherproofing
Any form of outdoor bicycle storage should be weatherproof. Opting for a poor-quality shed or a flimsy plastic cover could leave your bike exposed to the elements and cause massive issues down the line.  
It's good to research the materials listed on the manufacturer's website and read customer reviews to check how well the bike shed holds up. If you spot any mention of condensation or bending/warping, re-consider your purchase.
#5 – Storage capacity 
You'd be surprised how many cyclists order a bicycle shed only to find that it's not large enough to store their collection.
No matter how much you love the design, it's best to make sure the storage capacity of your chosen bike shed caters to your needs. If you're so much as thinking about buying more bikes in the future, we'd suggest going for a shelter that stores at least two adult bikes.
Specialist bike insurance from Ripe Cycling 
No matter how strong your storage shed is, nothing can protect your bike like insurance. It's the best way to put your mind at ease and protect your investment. 
At Ripe Cycling, our specialist bike insurance covers your bike and cycling accessories against damage, theft, and loss up to the value of £30,000, both in and out of the home.
We also provide personal accident cover, public liability, and other additional policies to keep you covered when out on the road.
Click here to discover how our specialist cycling insurance can help you and get an instant online quote today.