Does Car Insurance Cover Towing A Caravan? (Quick Guide)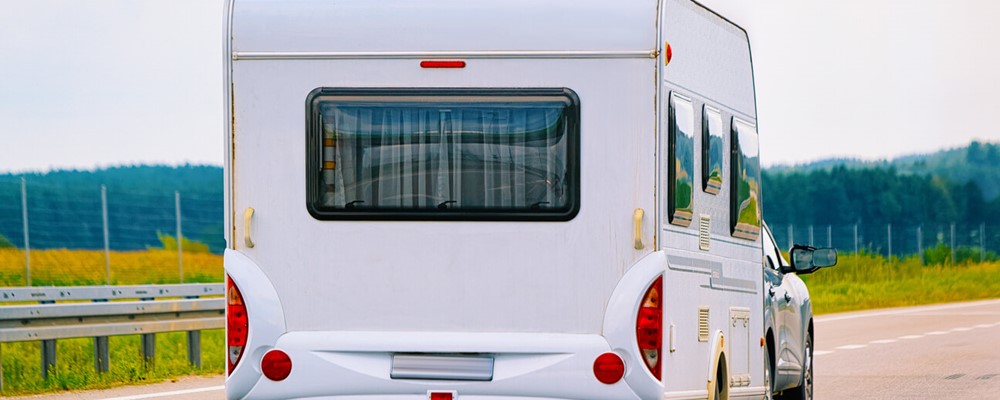 Navigating insurance policies can be a daunting task when you're new to towing a caravan. It's important to ensure you're covered against all outcomes, no matter how unlikely they seem. 
So, does car insurance cover towing a caravan? Or will you need to take out additional cover to ensure your second home is fully protected? 
Read on for a quick guide to these questions, along with some safety tips for towing your caravan. 
Table of contents:
What can you tow? 
The answer to this question depends on the driving licence you hold. 
You can check the category your licence falls within to quickly check if you can legally tow a caravan. 
Thanks to towing rules being relaxed on 16 December 2021, those who hold a standard category B license (issued on or after  1 January 1997) can:
Tow a trailer with a maximum authorised mass (MAM) of up to 3,500kg
Drive a minibus with a trailer over 750kg MAM
To clarify, MAM refers to the maximum authorised weight once it's loaded. 
Previously, the MAM towing allowance for category B license holders who had not passed their test before 1 January 1997 was a trailer over 750kg, provided the combined weight of the vehicle and trailer did not surpass 3,500kg. 
Those who received their licence before 1 January 1997 weren't affected by the rule changes. Their towing allowance has always been a vehicle and trailer combination up to 8,250kg MAM. 
While category B drivers can now tow trailers up to 3,500kg MAM, they must ensure that they stay within their vehicle's gross train weight (GTW). This is the total combined car and trailer weight they're legally allowed to tow. 
Touring caravans usually weigh from 800kg-1800kg depending on their size, and their load adds to this figure. If you have a large car, you may have to be selective on the size of the caravan you buy so that the overall combined weight stays below your vehicle's GTW.  
In short, there is no specific 'trailer licence' needed for towing, but you should hold a category B licence that authorises you to tow your preferred trailer or caravan. 
Want more information on what you can legally tow with your car? Check out this guide on the gov.uk website. 
Or you can check your licence online to see what yours allows you to tow. 
Related: How To Hitch Up A Caravan In 5 Easy Steps
How much can you tow? 
Locating the MAM of your vehicle is the best way to check whether your car can safely tow the trailer or caravan you have in mind. 
The MAM is included on the VIN plate (vehicle identification number)—usually found in your vehicle handbook, under the bonnet, at the bottom of the windscreen, or on the inside of the doors. 
The two following weights are always listed on the VIN plate:
The top figure (kg), which is the MAM
The middle figure (kg), which is the gross train weight
The MAM is the vehicle's maximum allowable mass or 'gross weight'. The gross train weight is the maximum allowable mass of your vehicle and the trailer/caravan you wish to tow combined. 
You can subtract the MAM from the gross train weight to determine exactly how much you're able to tow in your current vehicle. 
Related: How To Tow A Caravan
Does car insurance cover towing a caravan?
Most comprehensive car insurance policies cover your vehicle while towing a trailer or caravan, but only during instances of third-party liability. 
You'll be protected if your caravan injures someone else during a collision or causes damage to their vehicle, but insurance won't cover your caravan. Overlooking this can be costly, which is why many motorists opt to protect their caravan through specialist caravan insurance. 
Having caravan insurance isn't a legal requirement, but it's certainly wise to get covered if you want to protect the investment you've made in your new caravan. Without it, you could lose every penny. 
What cover should you have when towing?
If you want to ensure that your touring caravan and its contents are fully protected, you should seek cover from a specialist insurance provider. 
That way, you could receive help and compensation if your caravan or associated equipment is lost, stolen or damaged outside of towing, as this wouldn't be covered through a car insurance policy. 
At a minimum, you should opt for the following:
Touring caravan cover
Contents cover
Awning cover 
Public Liability 
Accidental Death 
Safety tips for towing
It's important to follow a safe practice when towing your caravan to protect yourself and others around you and avoid costly insurance claims.
#1 – Choose a tow bar that is type-approved 
Unless your current vehicle was first used before 1 August 1998, you must only use a tow bar that has been specifically designed for your car. It must also meet European type approval regulations. 
To ensure your tow bar is type approved, check whether it has:
A type-approval number 
Details of the vehicles it's approved for 
#2 – Ensure your mirrors meet legal requirements 
This step is straightforward but incredibly important. 
For your mirrors to meet legal requirements and provide you with a suitable view of the road behind you, they need to be adapted if your caravan is wider than the read of your car. 
You can get a pair of towing mirrors for £25, and all you have to do is attach them to the existing mirrors on your car. They provide you with a greater field of vision and ultimately help you feel more confident when towing. 
#3 – Test your brakes beforehand 
Before hitching up your caravan and hitting the motorway, you should check that its brakes are in good working order. 
After all, it's a legal requirement for your caravan to have a working braking system if its weight surpasses 750kg once loaded. It should also be secured with a breakaway cable to reduce the likelihood of an accident if it becomes detached from your car. 
#4 – Drive with extra caution 
The best way to stay safe on the roads when towing your caravan is to have patience and take things slow.  
You should also make sure you have a comprehensive car insurance policy in case you need to make a claim, as we explain above in our 'does car insurance cover towing a caravan?' section.
When you're setting out on the road, be sure to:
Give yourself and others extra time and space 
Take corners with extra room and care 
Never allow passengers in the caravan 
Ensure your number plate displays your car's registration and is lit up in the dark 
Ensure your lights panel has no faults before setting off 
Abide by the 30mph speed limit in built-up areas, the 50mph speed limit on single carriageways, and the 60mph speed limit on dual carriageways
If you find the process intimidating, you can take a caravan towing course to boost your confidence. 
Specialist caravan insurance from Ripe Caravans 
Now you know that car insurance doesn't cover your touring caravan, it's time to get properly insured. 
At Ripe Caravans, our specialist touring caravan insurance covers your caravan up to the value of £75,000. You can also choose additional cover options to protect your contents and awnings. 
Our cover also includes Public Liability and accidental death cover of up to £10,000 in case you accidentally injure someone or cause damage to third party property. Plus, thanks to the Ripe Guarantee, you won't find a better price for your cover elsewhere. 
Discover more about how we can help you here, and get an instant online quote now.