Kaaspeed: New electric golf scooter launches in the UK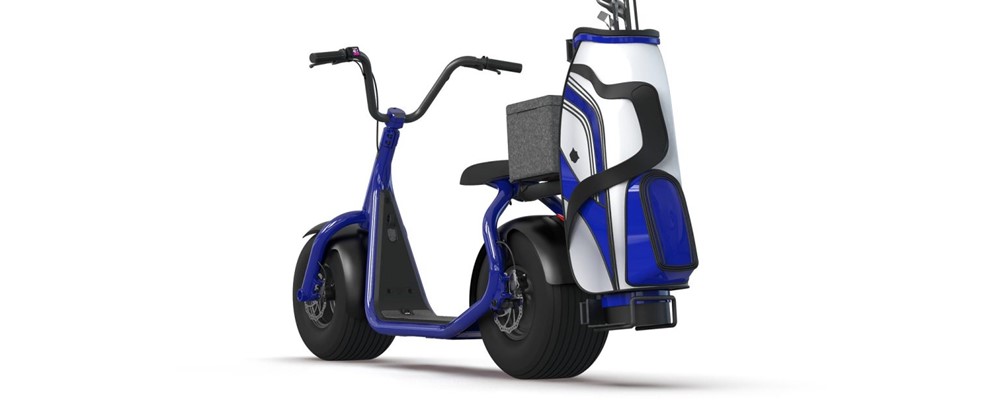 A new electric golf scooter has launched in the UK.
Though it's been said many times, it feels relevant to mention it again now.
We're a nation of increasing eco-consciousness; becoming more and more aware of our environmental impact and choices daily.
The use of electric vehicles is a big part of this. From e-scooters to e-bikes and even electric cars, the use of these innovative, environmentally-friendly modes of transport is on the rise.
Here in the UK, the e-scooter market value alone is predicted to reach an astonishing £20bn by 2025. And e-scooters themselves are now set to extend to UK golf courses, too.
Electric golf scooter: Kaaspeed
Kaaspeed, brought to the UK by Reesink e-Vehicles, has launched as a new and unique mode of transport for UK golfers needing to get about the course this summer and beyond.
The new, eye-catching model weighs in at a humble 45kg and boasts up to 31 miles of battery life from a single charge—more than enough to get you around the course.
Although a notably cheaper option than buying a brand new golf buggy (most of the time), travelling green on the green still won't come cheap. Priced at £2,500 (at the time of writing), the Kaaspeed electric golf scooter is a substantial investment for any golfer.
However, with top speeds of 28mph, you certainly won't be beaten on speed.
Kaaspeed: key features
The scooter's frame is currently the only one of its kind on the e-scooter market. It's made from aircraft-grade aluminium, while its motor, housed in the footrest area, is powered by a car-grade LG cell lithium-ion battery. The motor also provides automatic torque adjustment, ensuring maximum hill-climbing capacity.
The scooter also features a smart battery management system with temperature resistance.
UK golf clubs can order the new electric scooters pre-configured for members to either hire for a round or buy outright, with a radius front tyre and a solid tyre wall on the rear providing its unique self-balancing profile.
We asked Bernard Gallacher, three-time Ryder Cup captain and official ambassador for Ripe sister brand, Golf Care, for his take on the electric influence on golf.
Here's what he had to say:
"If we want to continue to attract future generations to golf, the sport needs to 'move with the times', as it were. Club bosses are becoming increasingly aware of their duty to ensure they are inclusive and tailoring their service accordingly.
"The merger of the golf and e-scooting worlds is an exciting one. There's been a growing demand for electric on golf courses for some time now, as there's the argument that it's somewhat self-destructive to drive clunky diesel buggies all over our beautiful playing spaces.
"Besides the environmental benefits, getting around the course in good time is also important for future golf participation, as we know that keeping younger players engaged is often a task. It'll be interesting to see how this one pans out, for sure."
As well as its golfing set-up, the Kaaspeed electric golf scooter also provides configurations for use either on or off-road, thanks to its choice of two tyre types:
Scorpion tyre: these provide solid traction for woodland or sandy surfaces
Standard plain-tread tyre: perfect for flat ground
Kaaspeed electric golf scooters come in four stock colours with a further 10 'special' colours also available. There are no less than 14 additional accessories, too, including a mobile phone holder and a general belongings basket.
Click here for more information.
Will you be seeking a test ride on a Kaaspeed electric golf scooter? Are you fortunate enough to be buying one?
Is 'green' travel the future for golf courses? What do you think?
Get in touch via our social media channels and let us know. We'd love to hear your plans.