The 7 best gas BBQs for static caravans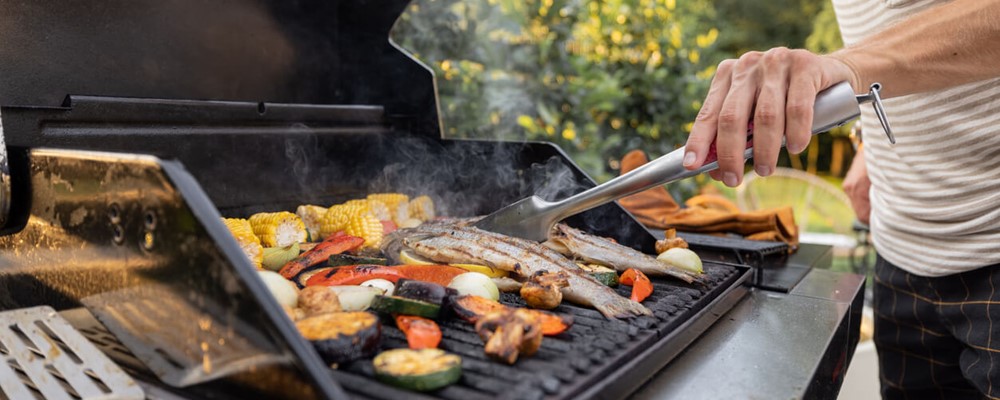 Are you inviting your family down to your holiday home this summer? We can't say we blame you, especially since this is our first restriction-free summer in a couple of years.
There's no better way to hold a family gathering than a BBQ but knowing which product to go with can be difficult when static caravans pose their own limits. You may have little space or be unwilling to invest in a BBQ that can't be stored away safely when your caravan is empty.
Here you'll find a range of the best gas BBQs for static caravans, including compact options that can be taken home when you're not present.
We've also included some quick-fire safety tips to protect you and your loved ones, so you can have peace of mind when you fire up the BBQ.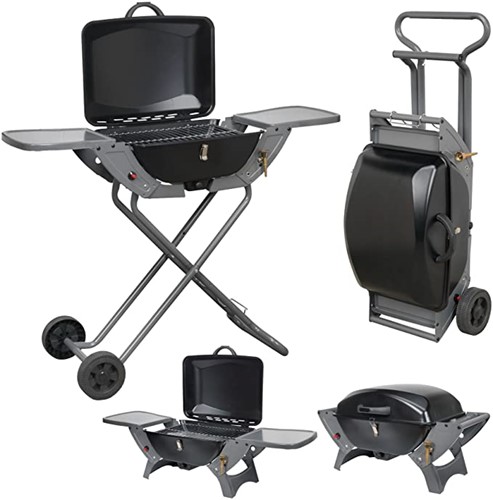 Key features: 
Three-in-one design
Two fold-out side tables
Fully portable
Crusader offers a unique product through its folding gas BBQ combo. The three-in-one design allows it to be transported easily via folding into a wheelable trolley or used as a tabletop unit if required.
The detachable trolley stand is incredibly useful since it makes wheeling the BBQ to your static caravan from your car a breeze. You needn't store it in your caravan to keep it safe from theft or damage.
Cooking for the family? The two fold-out side tables will make food preparation easier, as you can have your next batch of burgers or sausages ready to go as soon as the first lot is cooked. This prevents you from using the BBQ near your caravan, which should be avoided at all costs.
The heat output is 3.9KW, and you can use it with either Propane or Butane gas.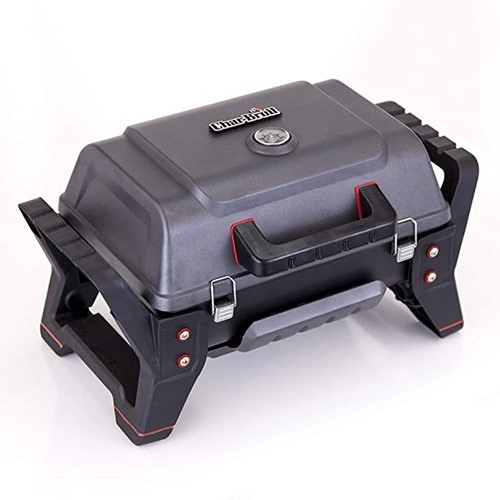 Key features: 
TRU-Infrared Cooking System  
Stainless steel burner
Electronic igniter
The Grill2Go from Char-Broil is one of the most innovative gas BBQs for static caravans. It introduces the revolutionary TRU-Infrared cooking system, which comes with a list of useful features to improve food quality:
100% even heat distribution
50% juicier food
up to 30% less gas consumption
flare-up prevention
easy to clean
Its piezoelectric igniter means no more matches, as it creates a spark at the push of a button. This is one of its most favourable features, especially since the UK provides notoriously difficult conditions for lighting a BBQ.
Two lid latches secure the BBQ lid in place, and it has two large handles, making it safe and easy to transport.
Stainless steel is used on the cooking grate and the burner, making the BBQ incredibly durable. It's truly built to last and will save you a lot of money in the long run when compared to the cost of disposable BBQs.
Up to 12 hamburgers will fit on the grate, which is a huge bonus for those bringing the entire family or lots of friends to their caravan this summer.
The Grill2Go is powered by propane gas and is economical thanks to the TRU-Infrared cooking system that uses up to 30% less gas than your average BBQ.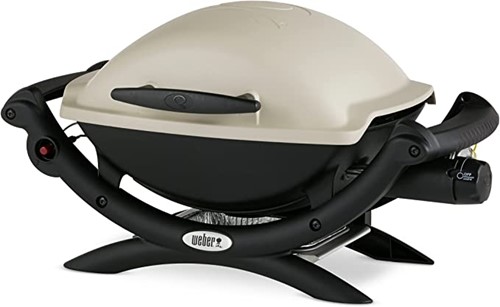 Key features: 
Cast iron and porcelain-enamelled cooking grates  
Push-button ignition
Removable catch pan
Founded in 1952, Weber is one of the world's leading BBQ manufacturers. The Q1000 certainly lives up to the Weber name with its range of unique features and glowing reviews on Amazon.
Let's start with the build quality. The cooking grates are cast iron and porcelain-enamelled, making them durable and incredibly easy to clean. The body and lid are cast aluminium which ensures the cooking is even, and the BBQ itself resists the elements.
To keep the BBQ and the surrounding area grease-free, a removable catch pan is located beneath the grate. This makes for a cleaner and hassle-free experience overall.
Are you looking for a versatile BBQ you can use at your static caravan and during your travels? If so, you'll be glad to know that the Q1000 is available to purchase with a stand.
This BBQ is compatible with liquid petroleum gas, and you can purchase Weber cartridges separately.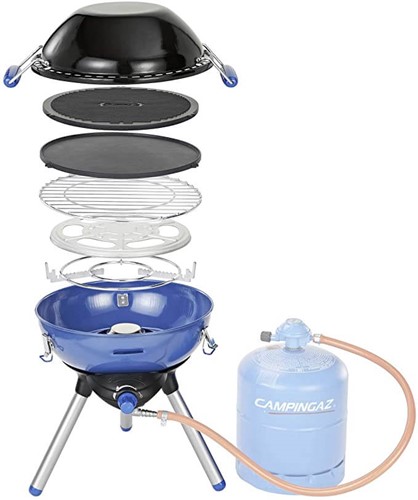 Key features: 
Clever cleaning system
Five different cooking options
Multi-functional lid
Despite its low price, the Campingaz Party Grill offers great versatility. There are five different cooking options, including:
fluted griddle
flat griddle
grill grate
pan supports
BBQ lid doubles as a wok pan
It has a clever cleaning system that involves filling the bowl with water before grilling, then tipping it out and wiping it down with a clean cloth afterwards. This ensures the BBQ stays grease-free without a huge cleaning effort.
A carrying bag is supplied with the BBQ, making it easy to transport and store away with the rest of your belongings. Thanks to its compact nature, you can use it at your static caravan or during your travels.
The Party Grill is incredibly easy to light due to the piezo ignition button, which replaces the need for matches or lighters. It's compatible with R904 and R907 gas cylinders available at most camping stores.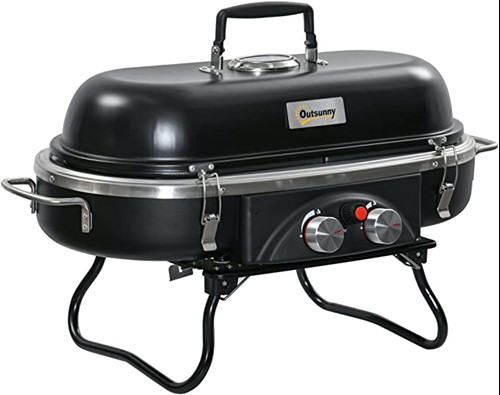 Key features: 
Portable design
Two gas burners  
Thermometer mounted on the lid
Looking for a small gas BBQ for your static caravan? This reasonably priced product from Outsunny is easily one of the best on our list. It even comes with a hose and regulator for a small camping cylinder.
Not only does it have an incredibly portable design, but there are two gas burners to make your cooking experience quick and convenient, as this makes controlling the heat of your food so much easier.
The lid can be closed to ensure even cooking, and this is made easier by the thermometer that displays the inside temperature. There's also a cool-touch handle for safety, so you can check on the food without fear of being burned.
Powder-coated metal is used for the shell, which is durable and provides great heat retention, using up less gas in the long run. Within it are an iron grill net and stainless-steel charcoal basin.
Despite its quality, this product is compact and easy to carry, making it one of the best portable BBQs for static caravan owners.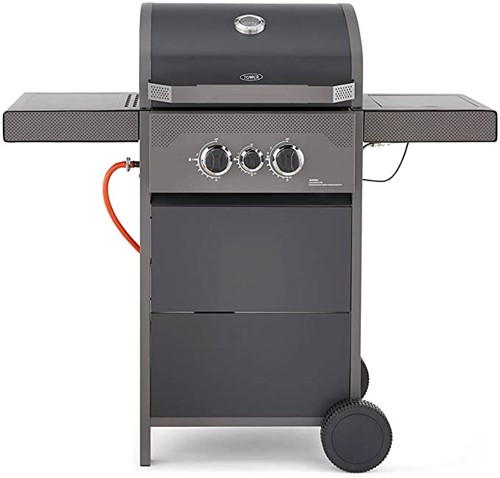 Key features: 
Side-burner
Large grilling capacity
Heavy gauged powdered steel body
Those looking for the best free-standing gas BBQ for their caravan will find the Tower Stealth 2000 difficult to overlook.
Worth £499.99, this product is a bargain considering its size and capacity. Cooking for up to ten people is no issue, and there is even a side burner for added preparation space. You can use this to sauté vegetables or tenderise meats as you cook.
Its body is incredibly durable, constructed from heavy gauged powdered steel to prevent rust, weather damage or general wear and tear. It's long-lasting by nature, and its sleek appearance will stand the test of time.
Two separate gas burners are included in your purchase, so even cooking is achieved through each use. The lid effectively retains heat to make it more economical, and you can control the intensity via the individual dials on the front of the BBQ.
While it's not the most portable product on our list and would potentially have to be kept at your static caravan, you can still transport this BBQ to different locations thanks to the integrated wheels.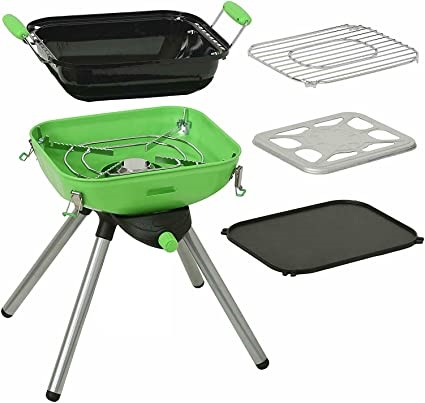 Key features: 
Budget-friendly
Multi-functional
Compact and easy to transport
Last but certainly not least, we have a budget-friendly gas BBQ for your caravan.
This product from Greenfields is pretty versatile despite its low price. It has a lid that can be used either to shield food or as a cooking pot and a double-sided grill to allow roasting and grilling.
This BBQ can withstand high temperatures without issue and is built to last, made from powdered steel. It's weather-resistant and will hold its design for many years to come.
If you're searching for a small gas BBQ for your caravan, you'll be glad to know that this option is lightweight, compact, and easy to store away. It's incredibly simple to use yet comes with all the features you need for a great cooking experience.
Compatible with both Butane and Propane gas, you can use it with most gas canisters available in your local camping store.
Safety tips for using a BBQ at your static caravan 
Before you fire up the BBQ and invite the family to your holiday home, it's important to have a few important guidelines in place.
This will protect you and your loved ones and ensure no damage is caused to your caravan or belongings.
To keep your BBQ experience safe and trouble-free, follow these simple rules:
avoid cooking with a gas BBQ inside your caravan
avoid cooking with a gas BBQ inside caravan awnings
cook as far away from your caravan as possible
keep a fire extinguisher or a fire blanket at your caravan
ensure the BBQ is completely cool before storing it away
Summer BBQs are meant to be stress-free, but fires are always possible. To keep your caravan safe when disaster strikes, you need to protect it with the right insurance.
At Ripe Caravans, our specialist static caravan insurance covers your caravan for up to £175,000, so you're always prepared for the worst-case scenarios.
Your caravan will be protected against damage caused by fire, lightning, storm, flooding, frost, and theft. Both accidental and malicious damage are covered too.
We also provide Public Liability cover and offer optional extras when you customise your quote online. Find out more here or get an instant online quote today.