How To Clean A Caravan Roof In 5 Easy Steps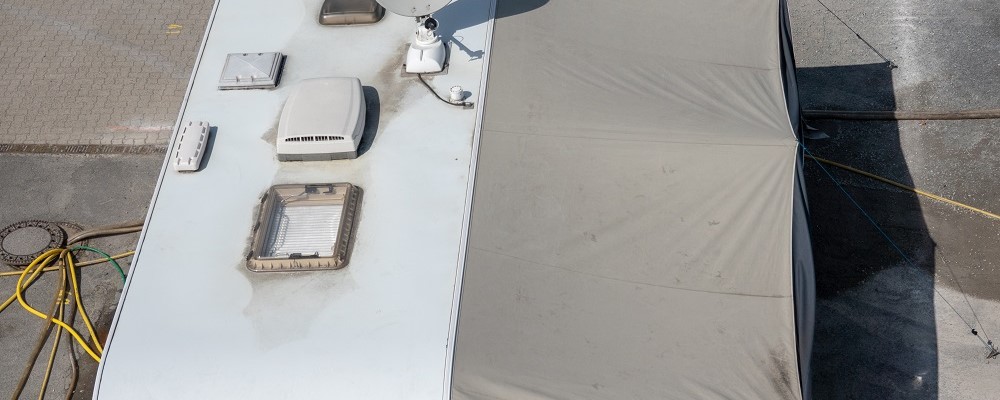 If you're cleaning your caravan's roof for the first time, you're probably wondering where to begin. Not only is the roof the hardest area to access, it's difficult to know what equipment you need to clean it.
As such, this task can seem like an almighty chore – but it isn't. With the help of caravan cleaning specialists Smart Valeting UK, we get to the bottom of how to clean a caravan roof.
1. Make sure you have a suitable ladder
Before you attempt to clean your caravan roof, you need to decide what kind of stepladder you'll use.
You want a ladder which not only gives you sufficient access to the centre of the roof, but also ensures your safety.
A telescopic ladder is your best bet. Telescopic ladders can be adjusted to the height of your caravan, therefore:
You have better access to the centre of the caravan roof than if you used a fixed height ladder.
You won't have to risk your safety by leaning forward or bending down to clean the roof.
They are also lightweight and compact, making them easy to carry and quick to set up.
Derek Millington, owner of Smart Valeting UK told us: "We would always advise caravan owners to use an adjustable telescopic ladder when inspecting and cleaning their roof. As a rule of thumb, you should check if the ladder you're using conforms to the EN131 certification. This certification ensures that your ladder is safe, stable and durable."
For your own safety, you should always keep two hands and one foot – or two feet and one hand – on your ladder at any one time.
2. Apply your cleaning solution
Once you're up the ladder and have surveyed the roof area, the next step is to apply a cleaning solution.
Put simply, there's no one-size-fits-all product for cleaning your caravan roof. What you use depends on numerous factors, such as how dirty the roof is and your personal preferences.
If your roof is in a 'sorry state', Smart Valeting UK recommends using a diluted, all-purpose cleaner. This is a versatile solution which is ideal for removing grime and debris.
If you're not sure how to dilute your cleaning product, check out the video below.
Derek Millington: "The state of your roof will determine how much you should dilute your cleaning solution.
If the roof appears to be in a relatively clean state, we recommend using a pH-balanced shampoo mixed with water. Then, use a trigger spray bottle containing the ready-made all-purpose cleaner. If it's very dirty, we'd suggest using an APC 5 litre solution.
We would advise caravan owners to apply the spray towards the skylights and satellite aerials. This will leave a nice even coverage across the whole roof."
The time of year is another factor which may influence the type of product you use to clean your caravan roof. Over winter, the damp conditions mean that algae and moss can build on your caravan. Therefore, you may want to invest in a winterlong protector.
3. Clean the dirt off with a brush
After you've sprayed the roof of your caravan, you need to use a brush to clean off the muck. You should divide your caravan roof into specific areas, cleaning one area of the roof at a time (as Derek Millington touches on below).
At ground level, you should have a bucket full of wash ready which you can dunk the brush into. Ideally, you want someone on hand to give you the brush or take it from you.
In terms of the type of brush you use, this again will vary from caravanner to caravanner. However, you want one which allows you to get at the stains in the hard to reach areas of your caravan, which can be up to 2 metres away from you.
Derek Millington: "We recommend using a telescopic wash brush and submerging it in a bucket as you clean your caravan roof.
Afterwards, we would take it back up to around one quarter of the roof. The brush and the soapy water will be used to agitate the dirt. Ideally, you should clean one quarter of your roof at a time.
We would also typically use a wash mitt and a 2-inch paint brush to clean the caravan's more fragile areas, including the satellite aerial and skylights.
Our top tip is to wrap electrical insulation tape around the metal areas of the paint brush. This will ensure that it doesn't scratch your caravan when you're cleaning it."
4. Check you've not missed anywhere
Even by using the recommended equipment, you might miss a spot or two the first time around when you clean your caravan roof.
What's more, the weather might have an impact. If you clean the roof in sunlight, the product you use might dry out quickly.
That's why it's worth double checking the roof to see if you need to re-apply your cleaning solution.
Derek Millington: "If you've brushed your roof and notice any excess dirt when you have another look at it, use a hosepipe and telescopic brush to repeat the agitation of dirt in any areas which have been missed. If you've not got a hosepipe, we recommend using a watering can.
We know how frustrating it can be having to transport lots of cleaning equipment around with you while you clean your caravan. That's why we'd advise using a brush to push your equipment from side of your caravan to the other. This saves you having to carry it around yourself."
5. Give your roof a bit of wax to finish
Once you're happy that your caravan roof is completely clean, you should apply some wax to it. The benefits of this are two-fold:
Wax adds another layer of protection to the paintwork and acts as a barrier against dirt.
Wax will give your caravan a shiny and polished look. What better reward is there after you've spent ages on a ladder scrubbing away?
Derek Millington: "When you're satisfied with the cleanliness of your caravan's roof, apply blue banana rinse wax and rinse once over again. This will cause the water to evaporate for easy drying and gives your caravan further protection from dirt build-up in future."
There you have it. Your caravan roof will be spick and span in no time after following these steps! Thank you to Derek for his insights.
Specialist caravan insurance from Ripe Caravans
As well as keeping your caravan in its best possible condition, you also need to protect it with specialist caravan insurance.
At Ripe Caravans, we can cover your van and its contents for theft, damage and much more. Find out more about our insurance by clicking the link above or get an instant online quote with us today.