How To Hitch Up A Caravan In 5 Easy Steps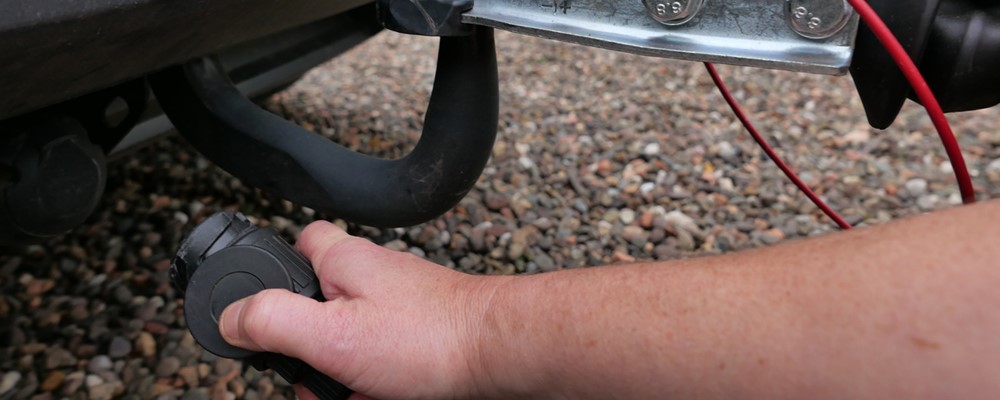 Knowing how to hitch and tow your caravan correctly is an essential part of ownership. However, it can be a daunting experience if you're still new to it.
Before you tow, you need to hitch up – in other words, attach it securely to your vehicle.
However, there's a lot of information and advice out there, so it can be difficult to know what's what.
That's why we've done the hard work and simplified things for you. Read on to learn how to hitch up a caravan in 5 easy steps.
Table of contents
1. Raise your caravan with the jockey wheel
2. Raise your tow vehicle towards the caravan
3. Lower the caravan onto the tow ball
4. Connect the breakaway and 13-pin power cables
5. Check the rear caravan lights and fit tow mirrors
6. Specialist caravan insurance from Ripe Caravans
The 5 points above are the essentials, but before you start, it's always wise to do a recce of your caravan first to make sure everything is in order.
The recce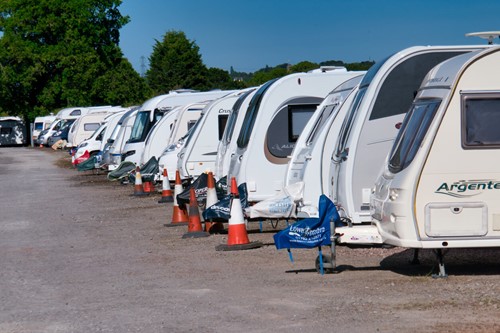 Start by focusing on the inside of your caravan. You need to make sure it's loaded correctly, with belongings stored in weight order from the ground up, with the heaviest items placed firmly on the ground.
You then need to make sure your caravan is not overweight. Every caravan has its own legal user payload weight limit, and you're responsible for ensuring your caravan doesn't exceed this.
Your vehicle is likely to have a maximum towing capacity, too, which you'll  normally find in the handbook.
Next, check that all the windows and roof lights are closed. If you have a TV, make sure the ariel is lowered. If there's food in the fridge, turn it to 12V to ensure it can remain powered by your towing vehicle for the journey.
Then, check the tyre pressure on both your caravan and towing vehicle, and remove any security devices such as hitch locks. These devices should also be stored away safely.
Last but not least, you also need to check the noseweight. This is the downward force of the caravan on your vehicle's tow ball – which is essentially the connection point between the two.
To check noseweight, you'll need either bathroom scales and a strong piece of string or a noseweight measuring device.
Once the recce is complete, it's time to begin the 5 steps to getting your caravan hitched up.
1. Raise your caravan with the jockey wheel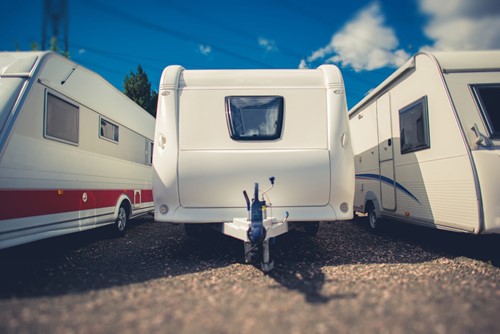 The first step in hitching your caravan is to use the jockey wheel to lift the bottom edge of the caravan hitch above the height of your vehicle's tow bar.
It's better to be safe than sorry when doing this and give yourself a good couple of inches. If you don't leave a big enough gap, you could cause a nasty bang when you come to reversing your car towards the caravan.
Related: How To Use A Jockey Wheel
2. Reverse your tow vehicle towards the caravan
If you have a caravanning partner who can get out of the car and guide you, the next step is to reverse your car slowly towards the caravan hitch.
This step might sound easy, but it requires maximum concentration to be done properly.
Make sure any distractions such as the radio or air conditioning in your car are switched off and the windows are down so that you can communicate clearly with your partner.
You want to creep backwards until the car's tow ball is positioned directly underneath the caravan hitch you've just raised.
You may need a couple of attempts to get it right. There's no shame in that, though – just take your time. You're bound to make a mistake if you rush it.
It's wise to have a bumper protector plate fitted above the towbar – especially if you're learning how to hitch a caravan for the first time.
If you're travelling solo and are wondering how you can do this without someone there to spot you – fear not. You can instead use a motor mover to nudge your car slowly and precisely over the tow ball.
3. Lower the caravan onto the tow ball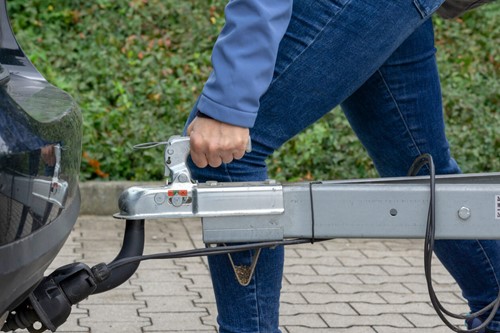 If you're learning how to hitch a caravan for the first time, and you've made it this far unscathed – give yourself a pat on the back. But the job's not quite done yet.
The next step is to lower the caravan onto your car's tow ball.
Lift the stabiliser and hitch handles on the caravan, then lower the jockey wheel until the hitch handle is back down into position.
Most modern caravans come fitted with an indicator device fitted, telling you when the tow ball is properly engaged with the hitch socket. However, even when you get the sign, it's best to give it another check yourself.
You can do this simply by slowly winding down the jockey wheel. If the car also starts to lift, that's a good sign, as it shows the tow ball and hitch are connected securely. Your jockey wheel can then be wound up ready for towing, the caravan hitch stabiliser handle pushed down, and the handbrake released.
4. Connect the breakaway and 13-pin power cables
The breakaway cables are designed to pull the caravan's handbrake on in the event of a detachment of the tow ball when you're on the move. Therefore, it's important they're connected properly, or you could end up having a nasty accident.
The ease of connecting your cables ultimately depends on where the connection points are positioned on the tow car.
If it's dark, you might want to use a torch to help complete this step, and if it's your first time hitching, it may take time to familiarise yourself with the correct connection points – but it should become clear.
Watch the video below for further instructions on what to do with your 13-pin power cable.
5. Check the rear caravan lights and fit tow mirrors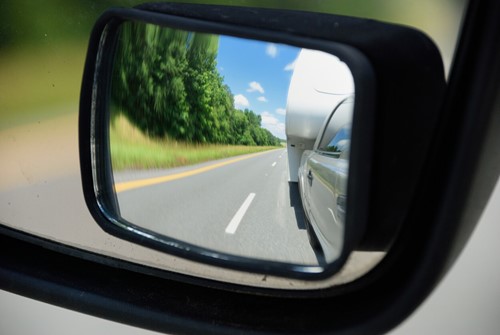 Once the cables are securely connected, you're nearly ready to start towing. But the fifth and final step in our guide is equally as important for ensuring a safe tow.
To check the rear caravan lights, again, you'll need assistance from a partner. You should ensure that the brake lights, indicators, hazard lights, sidelights, and fog lights correspond with the lights on your car.
A good tip when caravanning is to always carry a spare set of bulbs with you. The reason this tip is so important is that if any of your lights fail during this test, you'll need to replace them before setting off.
When you're happy with your lights, you then need to fit tow mirrors to the wing mirrors on your car to give you an extended view of the caravan and its surroundings while towing.
There are several types of tow mirrors on the market with various fixing mechanisms, such as clamps, straps, and suction features. It's important to do your research and find out which ones are best suited to your car and wing mirrors.
We have one final piece of advice – if your car's wing mirrors are set to automatically tilt when in reverse, this function needs to be switched off, as leaving it on could cause damage to both mirrors in transit.
Happy hitching!
Related: Best Caravan Towing Mirrors in 2021? Well, It Depends On Your Tow Car
Specialist touring caravan insurance from Ripe Caravans
So, now you know how to hitch a caravan. But before you can do so and take it anywhere, you need to make sure you have touring caravan insurance.
At Ripe Caravans, our specialist touring caravan insurance provides cover for your caravan up to the value of £75,000. You can also choose to include additional cover to protect contents and awnings too.
What's more – our insurance also includes public liability and free accidental death cover of up to £10,000.
Find out more about our touring caravan insurance here, or get an instant online quote today.
Related
A Beginner's Guide To Buying A Touring Caravan