The Ultimate Guide On How To Prepare Your Caravan For Winter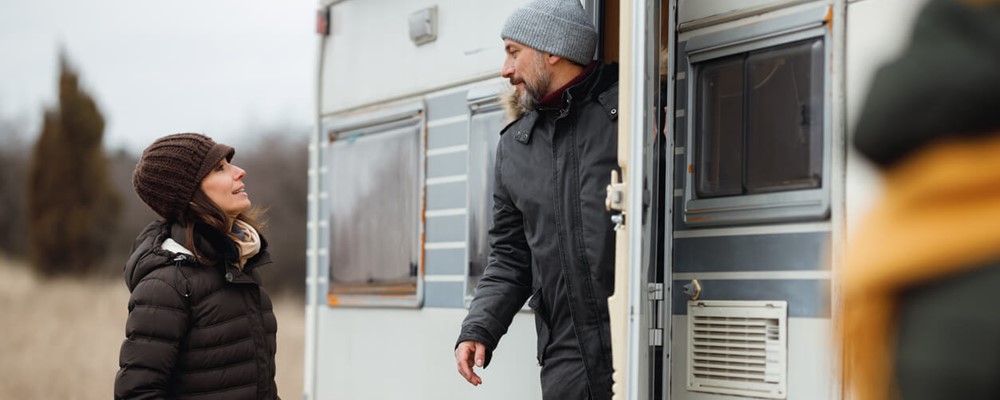 When the summer fades out and the typical caravan holiday season comes to an end for another year, deciding how best to store your touring caravan is an important consideration for owners.
While you may still choose to use your caravan in winter, the chances are, like most people, you'll lock up and wait for spring.
If your caravan is not lived in for long periods, the inside will likely go 'stale'. Add to that the fact that empty caravans left unattended are a huge target for opportunist thieves, and it's important to make sure your caravan is prepared.
So, if you're getting ready to put your caravan into hiding for the winter, you're in the right place.
Even if you own a static, you'll still need to make sure it's left in a suitable condition before you next use it.
Here's our ultimate guide on how to prepare your caravan for winter.
Clean the caravan inside and out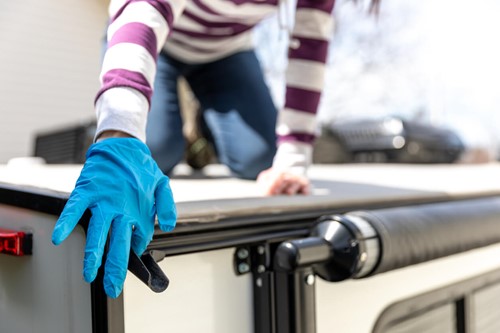 Before you even step foot in your caravan, your first focus should be giving the outside a thorough clean.
It's best to start with the roof and work your way down from there, as scrubbing the top of the caravan is likely to cause dirt and grime to trickle down the sides (which you can get rid of afterwards).
Another handy tip is to use an old paintbrush to get into the caravan's small nooks and crannies, particularly around the handles. Once you're happy with the cleanliness, you should also apply a product, such as Fenwick's Exterior Protector. This will give the outside of the caravan a protective coating for the winter months. You can then wash this away come spring.
You might also want to wax the outside of the caravan. Wax is a great water repellent, so it will help stop your caravan from attracting moisture.
When it's time to tackle the inside, wipe down the units and give everywhere a thorough hoover, making sure you remove all perishable food items too.
Related: Caravan Exterior Cleaning
Drain the water system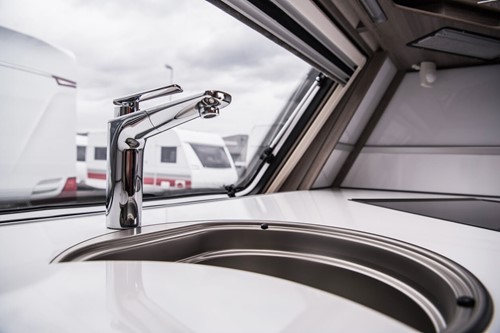 Draining your caravan's water system is one of the most important steps in winter preparation, but you'd be surprised how often it gets overlooked by caravan owners.
From frost damage to stagnant water problems, you leave yourself open to all sorts of potential risks and expensive repairs by not draining the water system before locking your caravan away for winter.
So, how do you drain the water system?
In a nutshell,  you need to switch off and disconnect your caravan's water supply, then run the taps, flush the toilet, and turn on the shower until the water eventually stops flowing.
Make sure this is done in good time, and leave your taps up even after the water has drained, as this will reduce lingering odour and maintain a steady airflow through the pipes.
Related: How To Perform A Caravan Drain Down
Clean and drain the toilet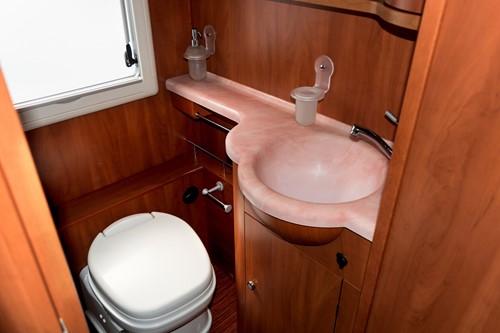 Following on closely from the previous point, you need to make sure your caravan's toilet is thoroughly cleaned and drained, too.
If you've already completed step two, the flush should already be taken care of. However, you also need to be mindful of what's known as the toilet cassette.
The cassette is the small, portable tank where toilet waste is deposited in the caravan. Though a rather unsavoury thought, we don't need to tell you why leaving this for a long period without a clean is a bad idea.
Empty the cassette, dispose of the waste, and clean it well before reinserting it into position.
Related: How To Clean A Cassette Toilet In 7 Easy Steps
Disconnect the gas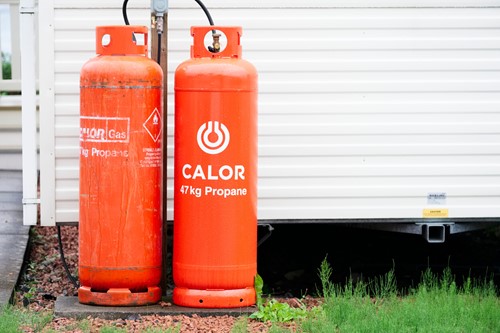 Wherever you're storing your caravan (on your driveway or a dedicated storage site), closing your gas cylinder valves and disconnecting them from appliances is essential.
If you're storing your caravan on your driveway, you don't need to necessarily remove the cylinders completely, but you do need to make sure you've disconnected the regulators. If your caravan is being kept on a storage site, you must check the site's gas cylinder policy in advance, as some sites won't allow you to leave them unattended over winter.
Related: Winter Touring In Caravans And Motorhomes
Check on the brakes and tyres
If your caravan's brakes are left on for a long period, there's a good chance they could 'stick on', which will make it difficult for you to get things moving again in spring.
However, one way of avoiding this is to 'chock' your tyres (providing the caravan is on a flat surface) and release the handbrake. A wheel chock is a wedge of sturdy material placed against the tyre to prevent accidental movement. This will take huge amounts of pressure off the caravan's brakes.
Tyre wear and tear is another important consideration when preparing your caravan for winter. If tyres are left completely stationary for long periods, they can deform, weaken, and even crack.
Even when not holidaying in your caravan, you should try to move it forwards or backwards every couple of weeks so that pressure on the tyres is evenly distributed to preserve their shelf-life (or road life, shall we say).
You might also want to consider jacking up your caravan. That way, the tyres won't touch the ground anyway.
Related: Top 10 Wheel Chocks
Remove upholstery and expensive gadgets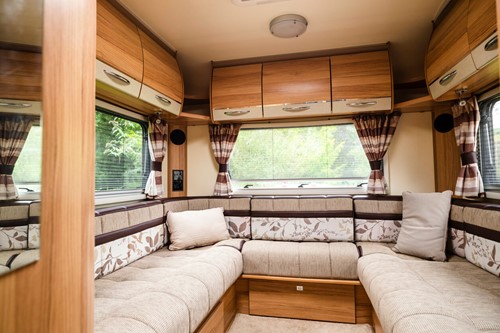 You should remove your caravan's upholstery and store it in your home during winter, providing you have the space allowing you to do so.
Storing upholstery in a heated home, instead of an unattended, cold caravan will ensure it stays free of damp, mould, and any other unwanted damage thanks to the elements. Not to mention – an upholstery-free caravan becomes less of a target for would-be thieves.
The same goes for expensive gadgets such as TVs. You probably wouldn't leave things like that in your car just for one night, so why would you risk it in a caravan for an entire season?
Related: How To Store Your Van Over Winter
Pull belongings into the middle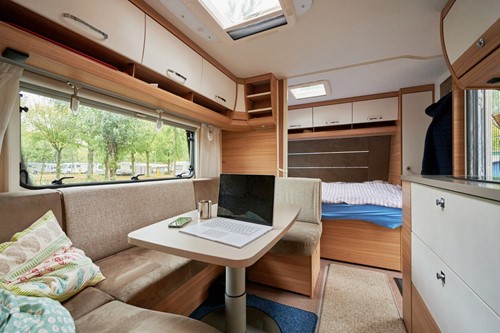 If you're unable to keep items like upholstery in your home during winter and have no choice but to leave them in your caravan – you shouldn't have anything leaning against the windows.
Pull belongings into the middle of the caravan, where they'll be less exposed to damp and condensation from the windows and hence less prone to damage.
Related: How To Pack Your Caravan For Safe Towing And Storage
Decide what to do with the leisure battery
Your caravan's leisure battery is what delivers 12v power through your appliances when the caravan is in use. However, when it's time to prepare your caravan for winter, several options are at hand.
These are:
Completely remove it and keep it charged in your home
Connect it to a trickle charger
Connect the electric hookup to the caravan and use the inbuilt charger
Use solar panels to supply a constant battery charge
Even when you're not using your caravan, you want to maintain some charge in your battery so that it's not completely flat when you look to get back on the road in spring.
However, which option you choose here is likely to depend on where your caravan is kept during winter. Again, if it's being kept on a storage site, you'll need to check the site's policy regarding leisure batteries.
It's a good idea to check the terms of your caravan insurance policy too.
Related: How To Take Care Of Leisure Batteries
Place some dehumidifiers around the inside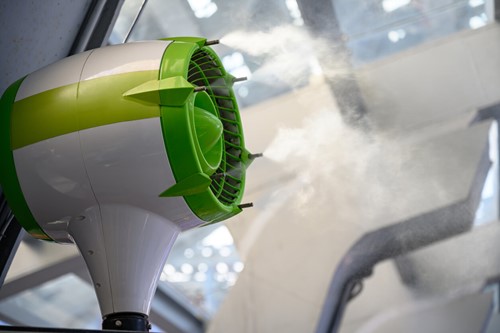 No matter what measures you put in place in advance, your caravan is most certainly going to be up against the elements during winter.Everything you do will make a difference – even if that thing sounds minor.
If you're particularly worried about moisture and damp problems in your caravan, you can buy interior dehumidifiers to keep in areas that are prone to moisture, such as the bathroom and windowsills.
There are two main types of dehumidifiers: a desiccant humidifier and a refrigerant/compressor-type humidifier. The former works better at lower temperatures, but the latter tend to be cheaper to run, so you may have to weigh up your priorities.
It's also important to consider how naturally insulated and heated your caravan will be during winter before deciding what type of humidifier is right for you.
Related: Best Dehumidifiers For Caravans And Motorhomes
Fit hitch locks, wheel clamps and alarms
As a caravan owner, you'll know all too well how big a target they are for thieves – so it's important to make sure yours is as secure as possible during winter.
The last thing you want during the festive period is a stolen caravan to deal with.
However, there are several steps you can take to keep your caravan safe and secure in winter. Accessories like hitch locks and wheel clamps are brilliant anti-theft devices. The latter locks your caravan wheel in place so that the caravan can't be driven away unwantedly, while hitch locks stop the hitch from being attached to another vehicle (i.e. a thief's).
Aside from being solid, physical theft-deterrents, devices like these can also act as visual deterrents, which, coupled with a caravan alarm, will ensure your caravan stays secure.
Related: The 7 Best Wheel Clamps For Caravans
Get a caravan cover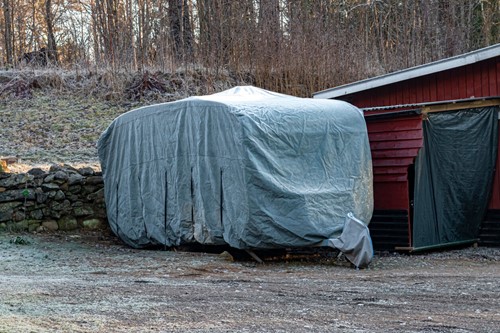 Caravan covers come in various types. Generally, a cover will either be made-to-measure or a universal fit.
Made-to-measure covers tend to be better since they avoid too much movement and flapping edges, which in itself could cause damage to your caravan in adverse weather.
When shopping for a caravan cover, you should also pay close attention to the material it's made from. Ideally, a cover should be made from strong but breathable material that allows moisture to escape and prevents condensation.
In other words – avoid tarpaulin because, despite being relatively cheap, it isn't breathable at all.
Before you fit your cover, you'll need to make sure the outside of your caravan is clean. So, revert to step one if you need a reminder.
However, if you chose the solar panels option in step eight, a caravan cover might prove counterproductive – so you should consider that, too!
Related: 6 Of The Best Caravan Covers
Regardless of how much you prepare your caravan for winter, you still need to protect it with insurance.
At Ripe Caravans, our specialist touring caravan insurance provides cover for your caravan up to the value of £75,000, and you can choose to include additional cover to protect your contents and awnings.
We also offer public liability and free accidental death cover up to £10,000. What's more, with our Ripe Guarantee, you won't find a better price for your cover anywhere else on the market.
Click here to learn more about our specialist touring caravan insurance, and get an instant online quote today.
Related
How To Hitch Up A Caravan In 5 Easy Steps
The 7 Best Hitch Locks For Caravans