How To Put Up A Caravan Awning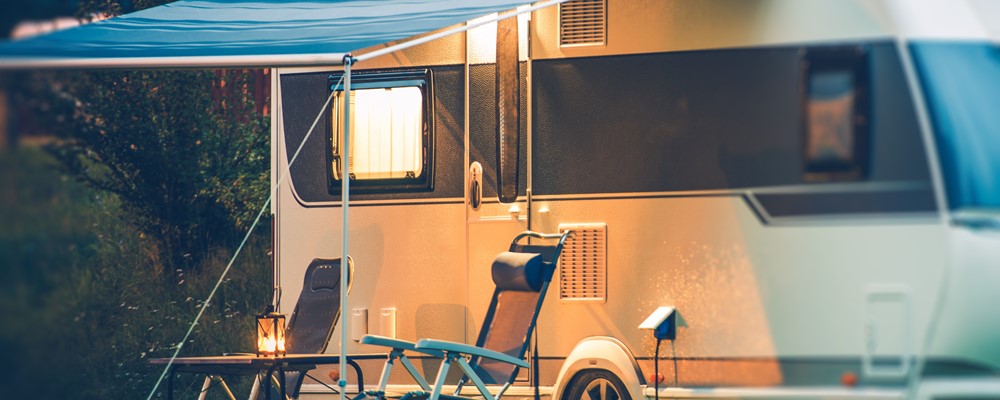 Putting up an awning is one of the easiest ways to add extra space to your caravan when you're pitching up. In fact, some awnings can give you more than double the indoor space. However, they can sometimes be tricky to put up if you've not done it before.
There are many factors to consider when putting up your caravan awning, such as the weather, time, and the size and weight of your awning.
We look at these factors in more detail and explain how you can overcome certain challenges when putting a caravan awning.
Let's get started.
Table of contents
1. Know your measurements
For the best outcome in using a caravan awning, it's imperative to know your caravan's measurements. Try to find an awning that is as close to the actual size as possible.
You'll need to know your caravan's A-Measurement. This measurement is the distance from the ground upwards, around the caravan's awning rail and back to the ground. Getting this measurement is easy if you've got your caravan's manual to hand. Many manufacturers now include the A-Measurement on their websites.
While it's a plus to find an awning that fits your caravan's exact measurements, it's not crucial to find one that's the exact size. Many manufacturers design their awnings and canopies to fit a range of caravans, so they may not measure up the same. Certain awning suppliers will have different measurements, so consider shopping around to ensure you get the best awning fit for your caravan.
2. Practice makes perfect
It's worth doing a few practice runs before your journey to perfect putting up your caravan awning. Setting aside some time to learn how it all comes together will be hugely beneficial in the long run.
If you've purchased a new awning, try setting it up at home before your trip. You'll save time – and probably some embarrassment and frustration – if you know how your awning works beforehand.
It might be useful to prepare your frame by numbering the poles and the fittings, too – this will speed up the process of putting up your awning.
3. Assemble the awning
To start, you'll need to assemble the awning by attaching the fabric to your caravan channel. Attaching an awning is easier when your caravan's awning channel is clean and smooth.
Feed the awning all the way around until it is central to the caravan. When that's done, attach bracket pads to the centre of your caravan and at either side to secure the awning.
You might find it's easier to start at the rear of your caravan, where there should be an opening just above eye level. A top tip is to lubricate the awning channel with furniture polish or silicone spray – doing this will make it much easier to feed the awning through the channel without forcing it.
It's a good idea to have someone helping you if possible. If there's one person to feed the awning through at the start of the channel and one person threading it through, you'll have it up in no time.
4. Getting the frame up
Once your awning has been successfully threaded through the awning channel, you'll need to work on putting up the frame.
Start with the centre roof pole, and remember to hold onto it if it's windy! Beginning in the middle and working outwards will help with stability.
Next, attach the centre leg. You should angle the leg towards the back of your caravan to avoid the frame collapsing as you continue. This will keep the frame sturdy while you're working on the rest of the awning. When you've secured the centre leg, move onto the side and front roof poles and legs, following the same process.
Adjust the leg heights as you need to so that the top of your awning's side panel is horizontal. Your poles should have a quick-release clamp – use this to lightly secure the roof poles.
If your awning comes with canopy tension poles, attach these to the frame next. Make sure their protective fabric goes between the pole and the canopy.

5. Zip in your front panels
Now that you've put up the roof and the sides of your awning, the structure should be secure and freestanding. Once this is done, zip in any remaining panels.
6. Tension
You'll likely need to adjust the tension on the front poles to ensure the centre leg is central to the awning. Doing this will keep your awning frame sturdy and strong.  
Next, check the tension on the roof poles again. You want the awning fabric to be taught so that it doesn't start to sag.
You might want to consider investing in an awning tensioner to make this part of the process easier.
7. Pegs
Now that you've erected your caravan awning and the structure is sound, it's time to peg it all in. Start by tucking the mudguard underneath the canopy, so the awning stays looking neat.
Begin pegging at a rear peg point. Slot in the tension peg, hammer it halfway in, check the tension again, then hammer all the way down.
Next, move onto the front corners of your awning. Pull the fabric taught and make sure the frame leg is properly down the seam. Follow the same hammering process to ensure your awning is as secure as possible.
Now you can peg down the rest of the peg points, and the job's done!
If you're going to be out in harsh weather, you can invest in a tie-down kit to provide extra security for your awning in more extreme weather conditions.

8. A little advice
Choosing an awning
As the saying goes, you get what you pay for. The higher the quality of your awning, the easier it is to use.
It's worth investing in a good quality awning that's made from durable materials, simple to use, and can last a long time. As one caravanner writes: 'If you want an awning to use for a few weeks a year in mainly normal UK weather, then £200 will be fine, and you can probably expect about five years' use out of it. If you want to use an awning every weekend of the year plus main holidays or leave as part of a permanent pitch or want an awning to last ten years plus, then spend £1200.'
Forum users recommend attending caravan shows and expos if you're choosing a suitable awning. This way, you can see a range of awnings up close and speak to the manufacturers about the benefits of each product to make an informed decision.
Maintenance
Over time, your awning will get a little dirty when you use it. When you're regularly setting it up and pegging it into the ground, it's naturally going to become worn over time.
Therefore, you should be doing everything you can to look after it. One of the most important things to do is store your awning in a well-aired spot to avoid developing mould. Only packing it away when it's completely dry will help to prevent this, too.
Another key tip is to give your awning a thorough clean after using it. Wash the fabric with a soft brush or a sponge regularly and use the correct awning cleaning products - you can find out what's best for your awning from the manufacturer. Make sure it's a dry day, and choose a clean surface to gently wash your awning, as you might damage the fabric and zips if you're too rough.
Check carefully for any grease or stains – you might need some soapy water for any stubborn marks, but be wary of damaging the waterproof coating. And, of course, give your awning time to dry out completely.
Check out the below videos for more information on how to put up a caravan awning:
Practical Caravan – How to pitch caravan awnings
How to set up your awning for maximum strength
Specialist caravan insurance from Ripe Caravans
Before you head out on a caravanning holiday, you'll need to obtain specialist insurance for your caravan.
With specialist caravan insurance from Ripe, you can protect your caravan and its contents against theft, loss, damage, and much more.
We provide bespoke, easy to buy cover at excellent value. Get an online quote within minutes so you can completely enjoy your caravan with peace of mind.