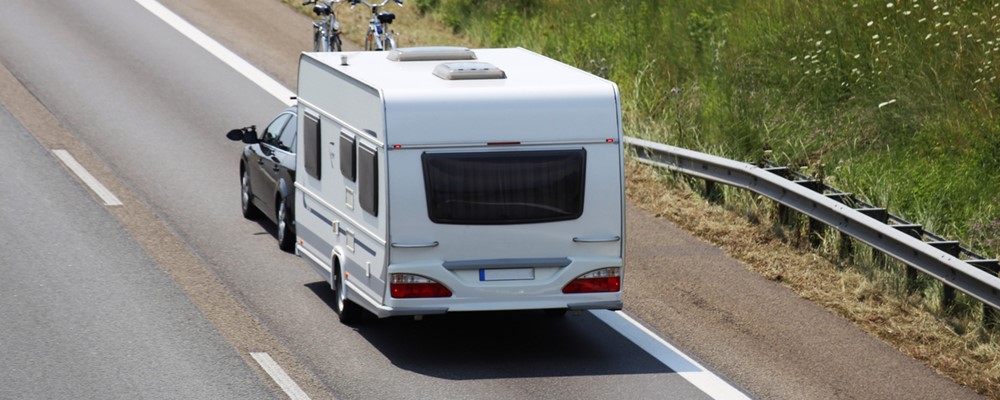 Towing your caravan is an essential aspect of owning a touring caravan. However, this process can be unnerving, especially if you've not towed a caravan before.
From snaking fears to the mythical 'trailer licences', it's a complicated subject to get your head around – but it doesn't have to be. Here's our quick and easy guide on how to tow a caravan like a seasoned pro.
Table of contents
Read up on the regulations
Despite what you may have read, there is no such thing as a 'trailer licence'. However, you may need to sit an additional category driving test, depending on the weight you plan to tow.
As of 19th January 2013, drivers who've passed a category B (car and small vehicle) test can tow:
Small trailers weighing no more than 750kg
A trailer over 750kg provided the combined weight of the trailer and towing vehicle is no more than 3500kg Maximum Authorised Mass (MAM)
If you passed your driving test after 1st January 1997 and have an ordinary category B (car) licence, you can:
Drive a vehicle up to 3.5 tonnes or 3,500kg MAM towing a trailer of up to 750kg MAM
Tow a trailer over 750kg MAM as long as the combined weight of the trailer and towing vehicle is no more than 3,500kg
For anything heavier, you need to take a category B+E driving test. While you are on the test, make sure that you give other vehicles plenty of space and allow yourself plenty of room for breaking. It is also worthwhile practising the reversing manoeuvre with your caravan as often as you can before the test.
If you passed your driving test before 1st January 1997, you're generally allowed to drive a vehicle and trailer combination up to 8.25 tonnes MAM, but you should check here what your licence allows you to tow.
You can get more details about what you can tow on the DVLA's website.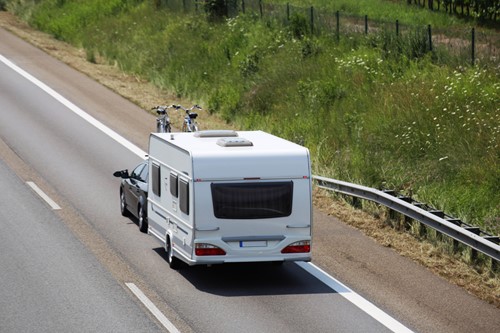 Find the right towbar
When it comes to finding the right towbar, power, and weight are the most important factors. It's essential that you consider both of these factors, otherwise you could struggle to control the caravan when you're on the road.
Ideally, your car will have 4-wheel drive as they have more stability and traction while you're towing. You also need to ensure that your car has sufficient torque, otherwise you could find yourself struggling to get up steep hills.
If you're struggling to find a towbar that you think is suitable, TowSafe is a great tool to use that can help you find the right towbar based on the make and model of your car and your caravan.
Make sure your tow bar is type-approved
If you get a tow bar for your car, it needs to be 'type-approved'. In other words, it must meet EU regulations and be designed for your car.
Type-approved tow bars have a label with:
An approval number
Details of the vehicles it's approved for
Get the right mirrors for your vehicle
Legally, you must have an adequate view of the road behind you. All you need to do is fit suitable towing mirrors if your caravan is wider than the rear of your car. Remember – if you don't have adequate mirrors for your vehicle, you could be fined up to three penalty points and £1,000.
Check your brakes are in working order
Your trailer must have a working brake system if it weighs over 750kg when it's loaded. What's more, any brakes must be in good working order.
You must also use a breakaway cable or secondary coupling in case the trailer becomes detached from your car.
Write a checklist before you set off
Before you hit the road, it is always worth checking that you have everything in place before you set off. Make yourself a handy safety checklist so you can quickly run through everything before you leave.
While it may seem a little laborious, there's always the chance you may have missed something important. Plus, it's always better to be safe than sorry.
Things to remember when on the road
When you've finally completed all of your checks and you're happy with the safety measures, it's time to hit the road. When you do, here are a few things to keep in mind while you're driving:
Give yourself more time and space
Get into the habit of breaking earlier than you normally would. It's also a good idea to accelerate more slowly.
Remember the speed limit
When you're towing a caravan, the speed limit is 50mph on single carriageways and 60mph on dual carriageways. Make sure you remember this while you're driving.
Allow more room when taking corners
Always take corners wider than you normally would do. Otherwise, you run the risk of the caravan's tyres clipping the curb as you make the turn.
Never have passengers in the caravan
It's important to remember that no one should be in the caravan while you're towing.
Avoiding pitching and snaking
Snaking and pitching can be quite terrifying experiences when you're towing a caravan. If you're not careful, you could lose control of your car in instances like this.
This is unlikely to happen if your car is classed as a suitable choice for your make and model of caravan. However, you may still notice the back of your car being pulled slightly whenever there is crosswind, or a large vehicle is driving past you.
If this happens, simply take both feet off the pedals in your car and keep steering in a straight line to avoid pitching and snaking. While it's tempting to brake, you need to resist this temptation. It's also vital to keep the car in a straight line. If you try and turn out of any swaying, it could make the situation worse.
Caravan towing courses
If you're a little unsure about your ability to tow a caravan, there are a range of courses available where you can learn everything you need to know and build your confidence behind the wheel.
Crash courses are available up and down the country from a range of providers. They'll help you become more comfortable with towing and go through everything you need to know about hitching your caravan.
If you haven't already, it's also worth getting touring caravan insurance. Our specialist touring caravan insurance includes Public Liability, in case you accidentally injure someone or damage third party property, and much more.
What's more, thanks to the Ripe Guarantee, we promise to provide great cover and exceptional service at the right price.
Find out how you can stay protected when you're on the road, or get an instant online quote with us today.
Related
Caravan Tyre Safety Advice From An Expert
What Does Touring Caravan Insurance Cover?
A Beginner's Guide To Buying A Touring Caravan