The 5 Best Cycle Routes In London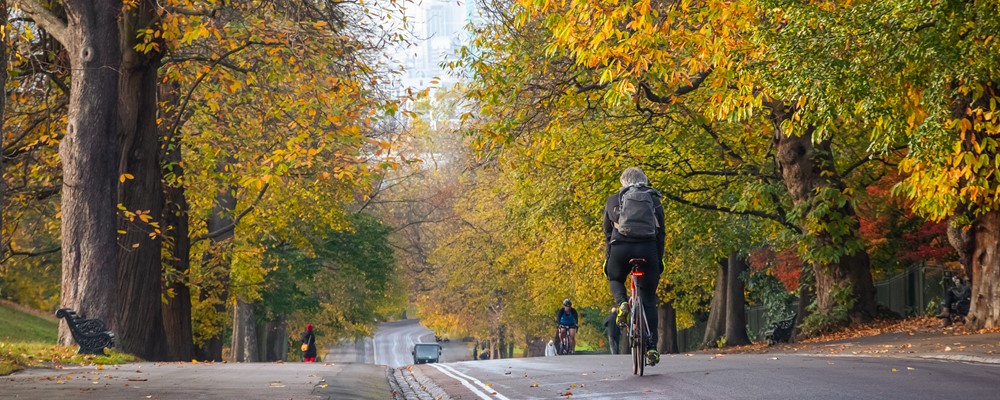 Think of London and you might picture its challenging traffic, which can be off-putting to cyclists. However, there are lots of stress-free ways to navigate your way around the city by bike. London is full of beautiful parks, waterways and landmarks which you can sample from safe and signed cycle routes. Better still, some of them are traffic-free. Here are the 5 best London cycle routes that make you appreciate another side to this fast-paced city. 
Waterlink Way
Distance: 6.2 miles
Total ascent: 66m
Map: Download here
On South East London's Waterlink Way route, you forget you're in London. The route starts in Cator Park in Beckenham and follows the Pool river north. You go through Catford, Ladywell and Lewisham, so there's plenty of opportunities to stop for a coffee.
It winds through beautiful parks like Ladywell Fields, where you feel immersed in the countryside. Yet, in true London style, this cycleway is still within walking distance of multiple train stations.
The path is flat and largely off-road, so it's ideal for families or cyclists wanting to take it easy. There's minimal chance you'll get lost thanks to the large number of road signs dotted along this shared cycle and pedestrian route.
This route ends at the Cutty Sark, the notorious sailing ship on the Thames. If you cycle four minutes inland you'll reach Greenwich Park, which has beautiful cycling trails.
Hampton Court to Putney
Distance: 12.6 miles
Total ascent: 116m
Map: Download here
The route starts at Hampton Court Palace– we recommend visiting the magnificent Great Hall, where Henry VIII once lived. After you've seen the palace (and not got lost on your way out of the gardens), follow the path along the Thames around Hampton Court Park to Kingston Bridge.
Continuing north, you turn inland at the stunning Teddington Lock. From here, you leave the riverside and cycle through Ham Common. Make sure you save your energy to climb the steep hill into Richmond Park, London's largest Site of Specific Scientific Interest.
Once there, it won't be long before you spot your first deer – they might even stop you in your tracks. Then, the route will take you back onto the Thames to Putney Bridge. Afterwards, head into Putney to soak up the relaxed rural atmosphere at a traditional gastropub.
The route follows both roads and riverside paths and is shared by cyclists and pedestrians alike. Cyclists commonly start the route at Putney, but you can choose whichever direction suits you best. 
Check out the ride in pictures here.
Thames Valley
Distance: 99 miles
Total ascent: 955m
Map: Download here
Thames Valley takes you out of central London's hustle and bustle, and into beautiful Oxford via Windsor and Reading.  
Set off from Putney Bridge and follow the Thames into the countryside, passing Richmond and Kingston. The route then takes you past Thorpe Park, so you might choose to finish your ride here if you're an adrenaline junkie. If not, continue onto Staines, where you have a bit of a climb up Coopers Hill. Be warned – this road can be slightly tricky to cycle on.
Once you've done the tough bit, head to Windsor. Here, you'll find great cafés for a pit stop, as well as famous tourist attractions such as Windsor Castle, where Prince Harry and Meghan got married. You'll also see Windsor Great Park, which boasts 1000 acres of unspoilt gardens and lakes. Right next to Windsor are the charming cobbled streets of Eton, where you'll find the prestigious Eton College.
The route then heads west through Reading and up over the Chilterns. These famous rolling hills are spectacular, as you'll see above. In fact, a large section of the hills is designated as an Area of Outstanding Natural Beauty. However, these hills are the most challenging part of this route. So, if you're a novice cyclist, we advise you to err on the side of caution.
Finally, head along quiet country roads into Oxford. Home to one of the oldest universities in the world, this esteemed city perfectly represents classic English architecture.
The route follows the Thames for most of the way, with riverside paths, rural roads and cycle paths taking you out of London. What's not to love?
Thamesmead to Greenwich 
Distance: 7.6 miles
Total ascent: 145m
Map: Download here
This route takes you along National Cycle Route 1 from Thamesmead to Greenwich. Start on the riverside path at Thamesmead and follow it to Woolwich, where you can stop at an eatery if you're feeling peckish.
Continue along the Thames until you're just past King Henry's Dock (see the map above), then you'll need to go inland for a short while. You return to the riverside at the Thames Barrier, one of East London's major attractions.
Later, you head onto the John Harrison Way where you'll see the other major attraction, the O2. After this, you have a rather unpleasant stint on the A203, but it's only a short while until you're back on the quiet roads and riverside taking you to your final destination, the Cutty Sark ship in Greenwich.
After your ride, you could explore Greenwich town centre. You have the choice of visiting the Old Royal Naval College, the Royal Observatory or the National Maritime Museum.
The route goes along the Thames riverside for most of the way, but it's usually quiet as you go past working docks and industrialised areas. Having said that, this makes for great cycling because you've still got a great view of the Thames and there are fewer cyclists and pedestrians to weave around.
London Docklands and Lea Valley 
Distance: 20.7 miles
Total ascent: 150m
Map: Download here
This mostly traffic-free route takes you north from Greenwich up to the town of Cheshunt.
Set off at Greenwich, by the Cutty Sark, and head over the Thames. Then, weave your way through skyscrapers in Canary Wharf, which is of course synonymous with London's status as a financial superpower.
The route then briefly follows the Regents Canal before heading through Victoria Park - where you can make the most of its 86.18 hectares of open space. Continue on the path and you'll see the Olympic Park to your right, where you can stop off for a coffee or simply look round where the 2012 London Olympics was held. Just to remind you, that's where Team GB won eight gold medals in cycling.
After, you'll join the River Lea and follow this for the duration of your ride. En route, you'll pass beautiful reservoirs and the occasional green space, including Hackney Marshes – the largest collection of football pitches in Europe. The route ends in Cheshunt, a small town in Hertfordshire where you can wander around or catch the train home.
Specialist cycling insurance from Ripe Cycling
Now you know London's cycling hot spots, make sure you're safe when you explore them. Our specialist cycling insurance covers you if you sustain a serious injury while cycling and your bike and accessories will be covered against damage, theft, or loss – whether you're out riding or at home. Get an instant online quote and see what we can do for you.