8 Extraordinary Newborn Baby Gifts Fit For Royalty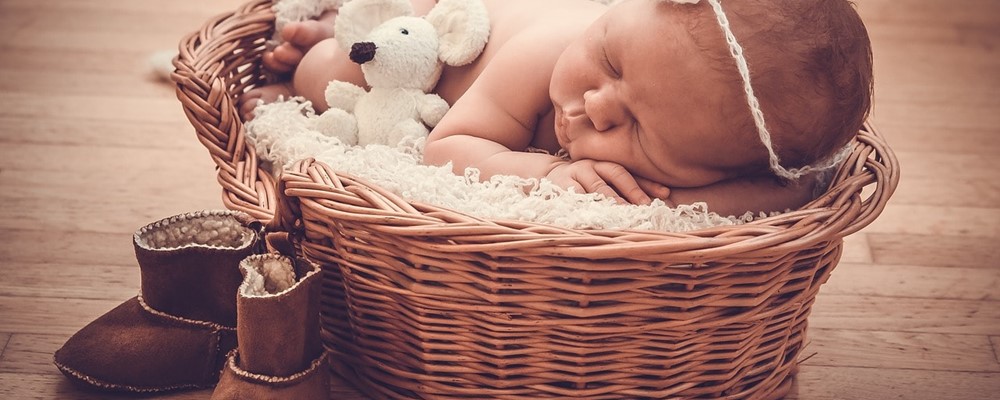 New babies get tons of gifts, and the cost of raising a baby in its first year is rising annually, to the point where the Money Advice Service even has a dedicated baby cost calculator. Nappies, bottles, bags, food, cribs, formula and other essentials aside, let's look at some of the most expensive gifts you can buy for your baby.
1- A Regal Pumpkin Carriage
Why not? Maybe you've called your little bundle of joy 'Cinderella'… the name is certainly due a revival! If so, a £6,134 pumpkin carriage is just the thing you need. Hand made with quality and safety in mind, the mattress is sold separately.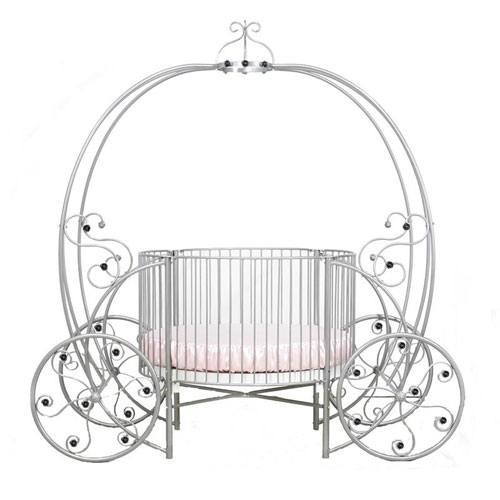 image courtesy of poshtots.com
2- Gold and Diamond Dummy
You read that right. Available in pure gold, rose gold, white gold and more, this £87,495 dummy from luxury retailer Suommo can make your newborn baby can look its mighty best.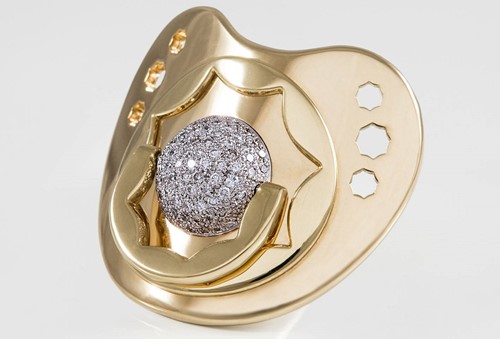 image courtesy of Suommo
3- Aston Martin Stroller
If you dream of your baby being the next James Bond, then this stroller is the natural starting point. Handmade with the most luxurious materials, it includes a cashmere baby blanket woven with traditional Jacquard looms to produce the softest, lightest and most luxurious cashmere available. The price? £3,000.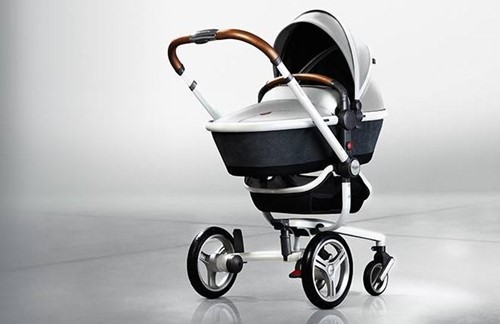 image courtesy of Harrods.com
4- Fork and Spoon
At this point we've covered baby comfort, now onto feeding time. What better than to start with a fork and spoon set … from Tiffany's. The Padova cutlery are set in sterling silver and engraving is available, not bad for £235!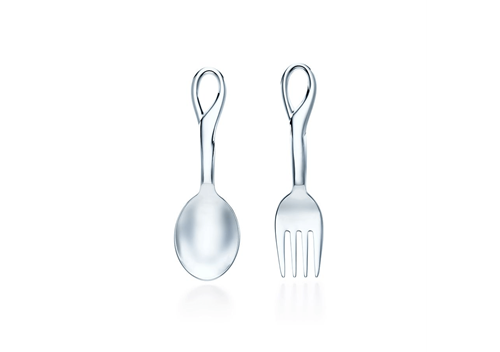 image courtesy of Tiffany.co.uk
5- Suommo's feeding bottle
Feeding time was complicated enough before these guys got involved. It turns out you really can stick a diamond on anything, and Suommo have done so in spectacular style with their feeding bottle. Caked in rose gold, this bottle costs a dizzying £97,383.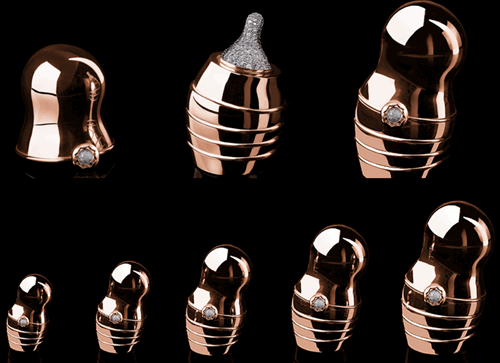 image courtesy of Suommo
6- Cashmere Three-Piece Outfit
Your baby needs clothing, and you want it looking sharp from day one. How about £295's worth of Burberry swagger?
image courtesy of Burberry
7- Gold-Plated Pram
The baby transport business is clearly where the money is, and this transport accessory costs a whopping £6,000. What do you get for that? £4,000 worth of gold, and a built-in sound system … your baby needs to listen to something while kicking back in these wheels, right?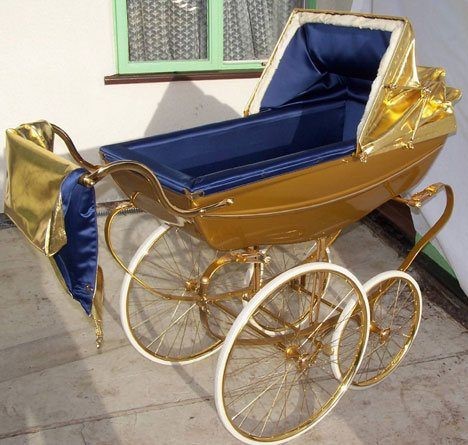 image courtesy of the Daily Mail
8- Steiff's Louis Vuitton Bear
A soft cuddly teddy bear is a must for any baby, but you probably want yours to stand out… What if it was dressed head to toe in Louis Vuitton gear? That's exactly what German-based plush toy company Steiff did when they made a teddy that sold for £130,190 back in 2000. Today it stands proudly in a South Korean museum for all to gawp at. If you're a tad budget-conscious then Steiff have made a Steiff Paddington Bear which retails for £1,790 (though they only made 350 of them!)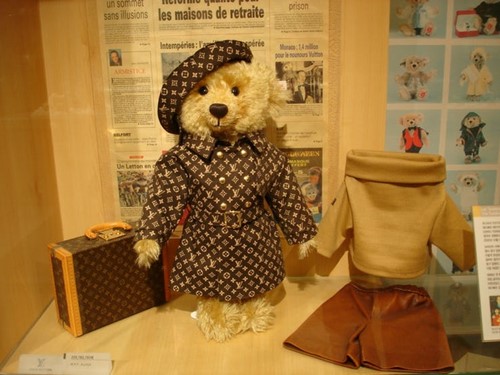 image courtesy of The Richest

If you want to go down the less flashy route and simply get your baby to look the business with an ankle bracelet or necklace, then you might want to check out our valuables insurance!