The Top 10 Space Saving Caravan Accessories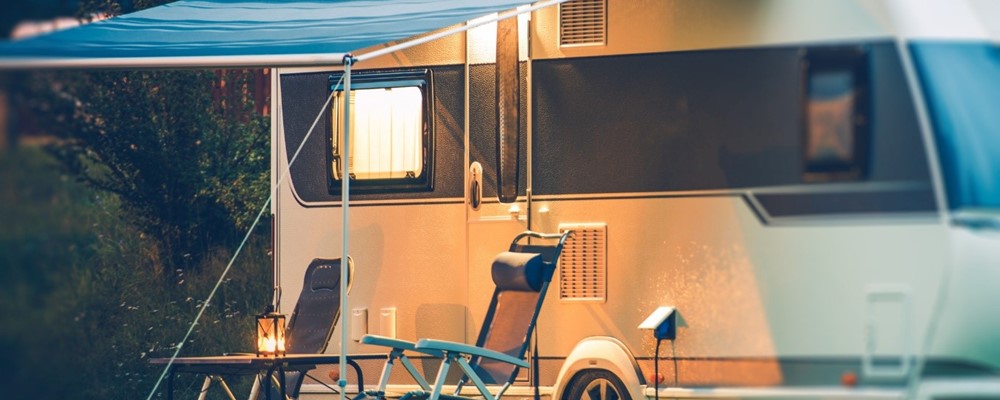 Let's be honest, caravans aren't renowned for their endless amounts of storage space. Fitting your whole family, a week's worth of clothes, food, plus that most essential piece of equipment – the barbecue – in your caravan is going to take some creativity. With this in mind, here are 10 space saving caravan accessories you need to get your hands on.
Price: £27.99
The Fiamma Storage Pack is simple and versatile. Just hook it over any door and voilà: you have instant zip-locked pockets for toiletries, charging cables, snacks, or whatever else you like.
Made of nylon and waterproof polyester, its contents will be safe from splashes or drizzle. These same properties make it easy to clean, too – just wipe it down with a damp cloth.
There are enough pockets for the entire family and when it's not in use it folds away into a snug, easily transportable pack. It's the perfect addition to quickly tidy up any bits and bobs lying around your tourer or static caravan.
Price: £199.99
It's one thing making the most of space you already have, it's another creating fresh space in your caravan. Enter the Bridgford Bluebell 260 Air.
This caravan awning boasts a further 240 x 260 x 250 cm of undercover, outdoor space – which you could even combine with some of the smaller storage solutions mentioned in this article.
The Bluebell 260 Air features multiple entryways that you can zip down or roll up and keep open for ventilation. Better yet, it bypasses the use of poles to assemble, so you'll have it up in no time.
Price: £7.99
Chances are, you're pretty short of space in your caravan. That's why you need to make the most of every nook and cranny.
The Metaltex Shelf Mug Holder helps you do just that. This product attaches to a shelf and suspends mugs beneath it, taking advantage of the space above those stacked dishes in your cupboards.
The Metaltex Shelf Mug Holder fits shelves up to 2.5cm thick, so try it around the caravan and see where it works best. It can hold up to 10 mugs, or any other combination of household items like utensils or kitchen towels.
Price: £39.99
The Outwell Furniture Cayon Cupboard is a collapsible aluminium table featuring a fabric cupboard underneath.
The door to the cupboard is sturdy and magnetically seals, so you don't need to fiddle around with zips or Velcro.
Inside, there are two shelves. The cupboard is also mesh ventilated and the door rolls up for open access.
Best of all, there is no assembly required. Once the table is opened, the cupboard unravels below. Once you're finished using it, it neatly folds away into a carry bag for easy storage.
Price: £7.99
While not exclusively designed for caravans, the HAKACC Storage Net will have plenty of uses for your van.
Its design is straightforward – it's a net that attaches via Velcro to fabric surfaces. There are endless uses for it and its adaptability means you can get storage exactly where you need it.
Whether you attach it near your bed to charge your phone overnight or on the side of the sofa to store the TV remotes, this is an essential space saving accessory for caravanners.
Price: £471.99 – £607.99
Don't let the price tag put you off.  This external luggage case provides the most amount of extra storage possible to a caravan owner.
The largest of the Ultra Box is 500 litres and at the steeper end of the price range listed above, but they also come in 360 and 320 litre variations. Each are made with the same ABS-PLUS material to withstand impacts and adverse weather conditions, as well as UV rays.
Bear in mind that the Fiamma Ultra Box attaches to your caravan via a Fiamma Bike Rack, so you'll need one of those too. It's a worthy investment of its own, though – it'll give you the option to bring your bikes on a trip, too.
Price: £13.49
According to its product description, Kraftex magnetic tape has been tested to hold 1lb per inch. This means it's strong enough to hold kitchen knives, tools, keys… you name it.
It also has the added advantage of being self-adhesive. That means you can stick these strips right where they're most useful, like over the kitchen work-surface, by the door or beside your bathroom cabinet.
With the Kraftex Magnetic Tape Strips, everything will be much tidier and more accessible. Far more so than if it was stuffed into a draw that's probably already very full!
Price: £18.50
Nesting bowls of all kinds are a caravanner's best friend. Like Russian dolls, they stack inside one another, each slightly smaller than the last, for optimal storage.
The Pyrex Nesting Bowl Set is amongst the most versatile, as the bowls are made of heat resistant glass. This means you can use them in the microwave, oven and fridge. As an added bonus, each bowl comes with its own lid, so you can also keep food fresh.
Once you're done using them, just stack them back inside one another for next time.
Price: £5.95
The Jill Hanger is a strip of canvas with eight hooks which is ideal for hanging items such as dish cloths, keys and clothes.
The hanger fastens with Velcro to any horizontal pole in your caravan, so it couldn't be simpler to put up. This could be a curtain pole, awning pole or wherever you like.
The Jill Hanger instantly makes use of any wasted vertical space and, at £5.95, you can't go wrong.
Price: £11.99
Forget the plastic bag dangling from the door handle, the Kampa Folding Eco Bin is a neat alternative that won't slide off and make a mess.
It's quick and easy to set up and fully collapsible when not in use. Simply open it up, fold a bin liner over the lip - and you're done!
When the bin is full, you can simply detach the bin-liner, take your rubbish to your site refuse area, then attach another liner in its place.
Specialist caravan insurance
Once you've safely stored all your belongings in your caravan, you need to protect them with specialist caravan insurance.
At Ripe Caravans, we can cover your van and its contents for theft, damage and much more. Find out more about our insurance by clicking the link above or get an instant online quote.