Q&A With Dan Trudgian Of The Trudgians

When Dan Trudgian became a YouTuber, he couldn't have imagined his channel would one day gain more than 30,000 subscribers. But it turns out, the caravan community very much values what he has to say.
Dan heads up The Trudgians YouTube channel, which offers advice to caravanners whilst documenting his family's experiences.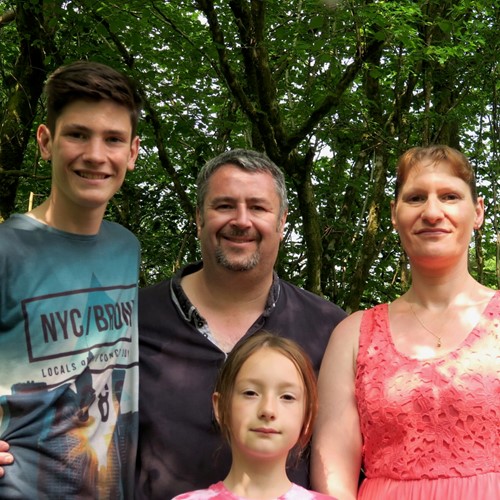 Quite simply, this channel has a bit of everything, from the practical to the light-hearted. We speak to Dan about his journey so far, what lockdown's been like and where he wants to take the channel next.
Thanks for speaking to us Dan. Can you start by giving us an overview of where the idea for the channel came from and how it's grown to what it is today?
When we first started caravanning back in 2014, I hadn't had a holiday in about five years. I'd been working solidly and we couldn't get away. Because I worked in IT and had a very specialist role, I was always being contacted to provide support.
It came to a head when the family and I were planning to go to Egypt. I got a phone call about an emergency job I needed to attend to, so we had to scrap our holiday.
I was sick of this happening again and again, so I suggested to my wife that we get a caravan. I'd had caravan holidays as a young boy and I liked the nostalgia aspect of it. My wife wasn't too sure at first, but we had a look at caravans and found one which we fell in love with.
We sat in it at the dealership and fantasised about reading books and drinking ginger ale with the kids running around. We could be more spontaneous and start getting away at the weekend instead of staying at home. All of this appealed to us and we became caravanning enthusiasts from there.
However, I quickly realised that the caravanning I remembered from the 80s had no correlation with the caravanning of today. For example, waking up with frost on my sleeping bag, feeling cold and cramped, eating with plastic knives and forks. Caravanning is nothing like that anymore. I bought loads of stuff for the caravan that we didn't even need or use!
I knew nothing about caravanning in the 21st century. I started searching online to find out how to do certain things, such as caravan repairs, and there was no information anywhere. My son asked me 'How do we clean the caravan?' and I genuinely didn't know.
We decided to clean the caravan using everyday cleaning products you can buy from a shop. My son Tom said to me 'Why don't we film this and share our knowledge with other people?' which I thought was a terrific idea. We filmed it and uploaded it on YouTube and that's where The Trudgians started.
It took me a year to get 21 subscribers. Over time, it slowly picked up, and then one January I uploaded a video inviting other caravanners to pick up their cameras and show me what they enjoyed about caravanning. Off the back of this, about 10 people did, and word of the channel started to spread.
We never thought we'd ever be where we are. I never thought we'd get more than 1,000 subscribers. Caravanning is such a niche area that I thought I'd made it when we hit 1,000. To get to more than 30,000 is something I couldn't have dreamt of.
What do you think has made the channel such a success so far?
The UK caravanning community is growing at a rapid rate and more channels like mine will start to appear. However, I'm about two or three years ahead of other caravanning YouTube channels. As a resource, The Trudgians is front of mind for lots of caravan owners when it comes to DIY or maintenance.
A large part of this success is down to my ability to make technical subjects simple to understand. I used to teach amateur radio and, through doing this, I'd work with everyone from eight-year-olds and 80-year-olds. This meant I had to find a happy medium between informing people and not losing them. I had to make the subject tangible and easy to follow. This is exactly what I do when I'm talking about caravan-related topics – that's the channel's unique selling point.
Some channels share more lifestyle-focused content than my channel does, while others feature more product reviews. That's all great, but these aren't the areas I specialise in – I've managed to carve out a niche through the content I put out. As a result, I've been lucky enough to garner a core audience of loyal viewers who not only like what we do but share what we do.
I get messages all the time from people thanking me and it never fails to blow me away. In 2018, we hosted an event called Trudgfest where we hired a campsite for the weekend and invited other caravanners to turn up.
Something like 45 or 46 families turned up and it was then that it hit me how successful the channel was. People were coming up to me saying how much the channel had changed their lives and one family with an autistic child came over to me crying their eyes out. They told me how much he looked up to me and how holidaying in a caravan had helped him feel comfortable. I just thought 'Wow' – I had to compose myself because it really did affect me.
Do you think the beauty of your channel is that it communicates both the major and lesser-known benefits of caravanning?
I think caravanning has a terrible image among certain people, i.e. those who don't know what it's about. It's only when they do their research that they realise that there are a lot of advantages of owning a caravan.
One of the benefits of having a caravan – and one which often goes under the radar - is that a caravan holiday can be the best option if you're disabled.
It can also be the perfect getaway for people who suffer from anxiety. I discovered this when I started filming a series of videos for people who suffer from mental health issues. These ranged from bi-polar to PTSD.
It never came to anything as it was too big a project for me to finish, but one thing I took from the project is how many of these people said that caravanning helped them overcome their struggles. It made me wonder – why aren't mental health charities exploring this and pushing it further?
If they did, more people would get a glimpse of the benefits of caravanning and realise that it's not so bad after all. As a family, we've had visitors to our caravan who have said 'This is quite nice isn't it' and we say 'Yes, it is, you should try it more often!'.
A caravan is a home from home. Going back to the example of the autistic boy, his parents could make their caravan look and feel like his house so that he felt familiar with everything. That sense of familiarity is invaluable to us – our bed is our bed, our sofa is our sofa. If we holidayed in a hotel, we'd have to be up at a certain time to have breakfast and we'd be out most of the day.
In a caravan, I can get out of bed and eat breakfast when I want. I have complete control over my routine and that's an underrated aspect of being a caravanner.
Your caravan has become even more of a home from home during lockdown! What's it been like from your perspective?
Bloody awful. There have been some positive aspects – I've been busy because a lot of people have turned to me for specific content. But in general, I've found it very frustrating.
Our storage yard was locked down so we couldn't even enter it. When I filmed the video for checking your caravan during lockdown in mid-May, that was the first time since March that I could go down and check everything was ok.
I've had that itchy feeling throughout lockdown of wanting to go and check my van and make sure my £25,000 investment is intact. I would normally check it at least once a week and not being able to do that has been very difficult.
Lockdown has been hard for people because it goes against our primal instincts. When you're told you can't do something, it's the one thing you want to do more than anything in the world. If you see a sign that says 'Wet paint – don't touch', what's the first thing you're going to do? It's the same with caravanning. When people tell you that you can't go on holiday, visit your van or stay on a campsite, I absolutely want to do that.
I've had waves of manic anxiety and wondered how we're going to get out of this, as a lot of people have. But then I get waves of calm and bliss when I think 'Well – it could be worse.' I feel that the pandemic and lockdown restrictions have been ill-reported, which has contributed to these fluctuations.
From speaking to other caravanners, they're of the same opinion as me in that they need to get away. As I've said, the benefits of caravanning are clear – it satisfies that feeling of wanting to roam and be somewhere. When you can't do that anymore, it bites away at you.
You mentioned that you've been busy – has that been one positive of this situation, the fact you've been able to put out content which receives a lot of engagement and resonates with other caravanners?
In recent months, I've been able to concentrate my efforts on what content I want to put out next. My viewership has gone up throughout lockdown and I've gained some valuable insights into what they're watching. The most popular content tends to be instructional and 'How to' videos and I get some great responses to those.
However, there is a downside to being a YouTuber during lockdown. Because no company is advertising currently, my income has dropped to around a fifth of what it was before the pandemic. So, I'm getting more views, but less ad revenue.
But if I'm going to do something, I'm going to do it well, regardless of how much I make from it. Damn the expense – I'll do it until it's right and for the right reasons, that being sharing knowledge and a passion for caravanning. 
What has lockdown been like for the Trudgians as a family?
Weirdly, being keen caravanners has helped our situation. We're used to being in each other's company in close confinement and when we're in the van, we never argue. Mainly because I'm always right (I can say that because I'm not within earshot of anybody). But generally, we get on well. We've had one falling out, which was over something benign and ridiculous. I felt like a muppet afterwards.
I've really enjoyed this period because it's allowed us to focus on things we wouldn't have been able to were it not for the coronavirus. When you get a caravan, you either have great holidays or a nice garden – you never have both at the same time. Since lockdown, we've worked hard on the garden and grown a lot of vegetables, which has been lovely.
Looking further ahead, what are your objectives for the channel and what do you see as your biggest challenges?
Getting accepted by the industry has been one of my biggest challenges thus far. When I first started, I went to The Caravan, Camping and Motorhome Show at the NEC and approached every manufacturer to introduce myself. I got laughed out of the NEC – people gave off the vibe that they had no time for me.
This is an industry which still pays people via cheques and still uses fax machines. It's like the automotive industry from the 1950s – it's so backwards it's hilarious. Only a couple of companies took me seriously and they commissioned me to do work for them. Other manufacturers then started to take notice and things have progressed from there. It is getting better, but there is still lots of work to do within the leisure industry.
Going forward, I'd like to connect with more everyday caravanners and continue sharing my experiences with the world. I pride myself on being the people's person and building relationships is a massive part of what I do. So, if you ever see us on a campsite, please do pop over and say hi, we love to meet new people.
As well as checking out their YouTube channel you can also follow the Trudgians' content via their blog and Instagram.