17 static caravan storage ideas to transform your space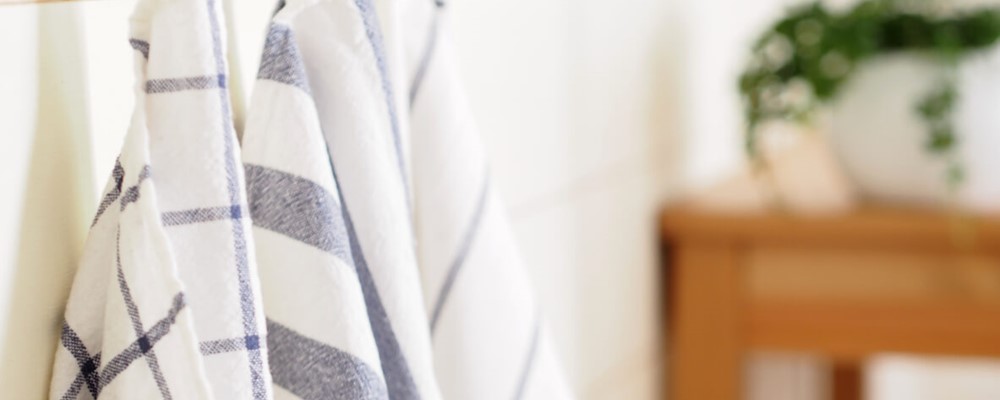 Picture this: you're in your beloved static caravan, surrounded by your cherished possessions, and suddenly it hits you: there's not enough space for everything. 
The clutter overwhelms you, and you wonder—'how can I make the most of the space in my caravan?'
You deserve a clutter-free, well-organised haven to unwind in. And that's why we're here to help you with 17 fantastic static caravan storage ideas to completely transform your space. 
1. Reach for the sky: use ceiling space
One often overlooked area is the ceiling space. Installing hooks or hanging racks can provide a great solution for keeping items like pots, pans, or even clothes out of the way. Plus, it's a great way to keep your floor space clear for a more spacious feel.
Suggested item: SODUKU pot and pan organiser 
2. Step on it: shoe organisers and racks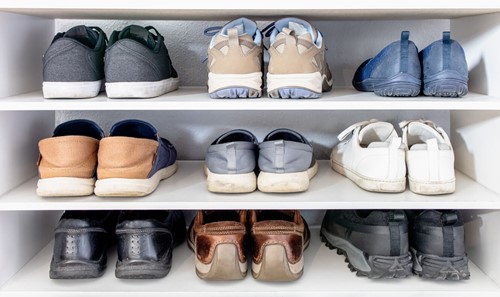 Shoes can be a nightmare regarding clutter, right? Shoe organisers or shoe racks make excellent storage solutions for keeping your collection in order. Slide them under the bed or hang them on the back of a door for easy access, and say goodbye to tripping over stray shoes.
Suggested items: 
3. Sleep on it: ottoman beds
Did you know that ottoman beds can be a game changer for static caravan owners? These beds lift to reveal a storage compartment underneath, providing additional storage for your belongings without taking up any extra space. Plus, they make your room look tidier instantly!
Suggested item: Home Treats Store double ottoman bed frame
4. Climb the walls: vertical space solutions
Don't let vertical space go to waste! Use wall-mounted shelves, hooks, or magnetic strips to create storage solutions for kitchen utensils, cleaning supplies, and toiletries. 
This is a good idea for making the most of your space and keeping your caravan looking clean and organised.
Suggested items:
5. Basket case: hanging baskets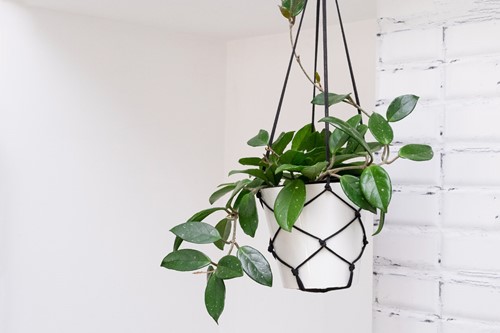 Hanging baskets can be a versatile addition to your static caravan storage arsenal. Use them in the kitchen for fruit and veg, in the bathroom for toiletries, or in the living room to display your plants. The possibilities are endless, and they're a stylish way to keep clutter at bay. 
Suggested item: Fox Run three-tier hanging fruit baskets
6. Box it up: storage boxes
Storage boxes are a classic space-saving solution and for good reason! You can stack or tuck them away easily or use them as additional seating. With so many sizes and styles available, you will surely find the perfect fit for your storage needs.
Suggested item: Sterilite four-pack storage bins
7. Double duty: multi-purpose furniture
Why not invest in furniture that does double duty? You can save a lot of space with cleverly designed pieces like a sofa bed, a coffee table with storage compartments, or even a fold-out dining table. It's all about making the most of the space you have. 
Suggested items:
8. Out of Sight: hidden storage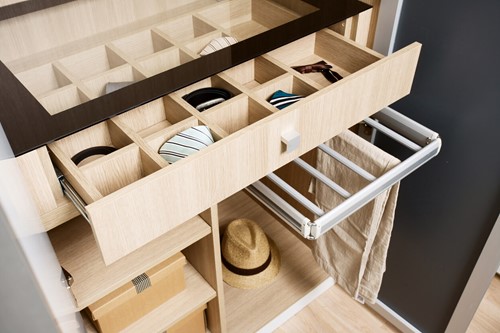 Hidden storage is another excellent option for static caravan owners looking to create a clutter-free environment. Think about using the space under your seats, installing drawers under your cabinets, or creating secret compartments in the walls or floor.
Suggested item: Mind Reader sliding metal baskets 
9. Hooked on you: use hooks and pegs
Sometimes, the simplest solutions are the most effective. Hanging coats, bags, and towels with hooks and pegs is an easy way to free up floor and cupboard space.
 Suggested item: Command large utility hook 
10. Raise the bar: tension rods
Tension rods can be a surprisingly versatile storage solution. Use them to create extra hanging space in wardrobes, divide cupboard space, or even as a makeshift shoe rack. The options are limited only by your imagination.  
Suggested item: AIZESI spring tension curtain pole
11. Don't forget the door: door storage solutions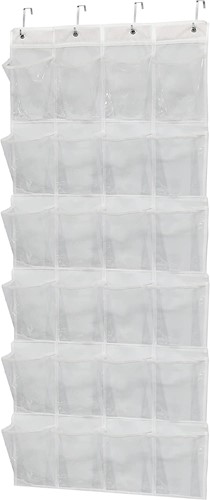 It's easy to overlook doors as potential storage spaces. Add organisers, hooks, or racks to the inside of cupboard doors to store cleaning supplies, spices, or small kitchen utensils. This way, you'll use every inch of available space in your static caravan. 
Suggested item: Simple Houseware over-the-door hanging organiser
12. Get creative with containers: storage jars and canisters
Reduce clutter by transferring your dry goods, such as pasta, rice, and cereal, into labelled storage jars or canisters. Not only will this make your kitchen look neat and tidy, but it also makes it easier to see what you have and keep track of your inventory.
Suggested item: Oggi airtight glass canister and spice jar set 
13. Go modular: modular storage units
Modular storage units can be a game-changer for your static caravan. These versatile units can be easily customised to fit your needs and space, and you can add or remove sections as required. They're perfect for creating bespoke storage solutions in your living room, kitchen, or bedroom.
Suggested item: FUNLAX stackable storage shelves 
14. Soft storage: fabric storage solutions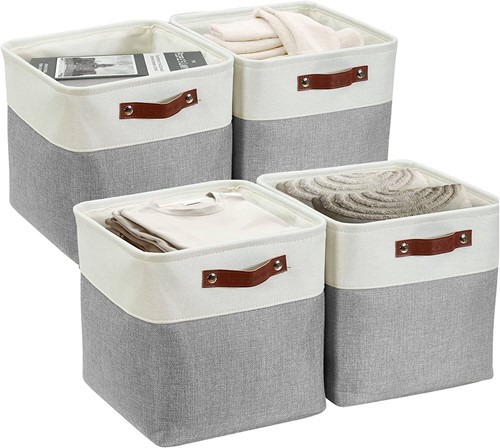 Fabric storage solutions like hanging pocket organisers, canvas bins, or fabric-covered boxes offer an attractive and lightweight alternative to traditional storage containers. They fold up when not in use and are good for storing clothes, linens, and other soft items.
Suggested items: 
15. Keep it rolling: wheeled storage
Wheeled storage units, like under-bed storage boxes or slim rolling carts, are a great way to add storage to your static caravan. They don't take up space, and you can easily move them around or tuck them away when not in use, making them an ideal space-saving solution.
Suggested items:
16. Rotate seasonal items: keep current essentials accessible
Maximise the available storage space by rotating seasonal items in and out of your caravan. For example, during the summer months, store away winter clothing and holiday decorations, and bring out beach gear and summer essentials. This rotation will ensure you always have easy access to what you need when you need it.
Suggested item: Rubbermaid clear stackable large storage containers
17. Create zones: divide your space
Dividing your static caravan into specific zones can help you maximise your space. Create defined areas for cooking, sleeping, relaxing, and storage. This tip will help you maintain a clutter-free and organised environment while making your caravan feel more spacious and inviting.
Suggested item: Multigot four-panel room divider
Incorporating these additional storage ideas and tips into your static caravan will help create a more organised, functional, and enjoyable living space. With a little creativity and planning, you can overcome the challenges of limited space, get extra storage and truly make your caravan feel like a home away from home.
So go ahead, try these ideas, and enjoy the incredible transformation that comes from a well-organised and clutter-free static caravan.
Creating your ideal holiday home is exciting, but it can be costly if anything goes wrong. You might want to consider specialist static caravan insurance to protect your investment.
At Ripe, you can select up to £175,000 of cover for your static caravan to safeguard it against loss or damage caused by fire, lightning, storm, flooding, frost, and falling trees.
You can also choose up to £2m Public Liability to cover the cost of claims and legal expenses if visitors to your caravan are injured, or their property is damaged.
Learn more about how we can help here, or get an instant online quote today.
Related
How long does a static caravan last?
7 static caravan tips for beginners
A guide to gas and electricity regulations for static caravans