How much are touring caravan site fees?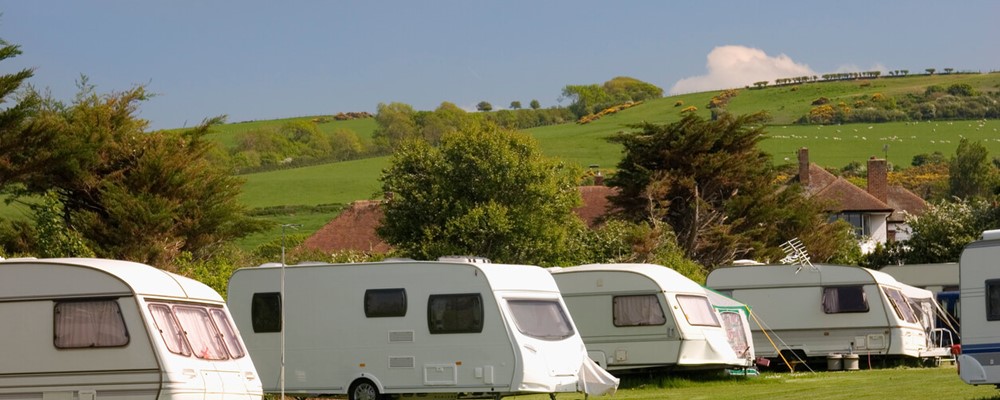 Are you looking to find out how much touring caravan site fees cost in the UK?
Hidden costs associated with touring caravans can affect your holiday budget, so it's important to be aware of them.
Realising the amount these expenses add up to will help you plan your getaway without going over budget. Here we cover what touring caravan site fees entail, how much they usually cost, and where to find more information about them.
What are touring caravan site fees?
Touring caravan site fees are charges that caravan owners must pay when they stay at a campsite. 
These sites provide accommodation for people who wish to travel around the UK in their caravans, visiting different caravan parks each time and have become increasingly popular over recent years.
A range of touring holiday parks exist, each with unique serviced pitches. The most common type is the basic campsite, which offers facilities such as toilets, showers, electricity hook-ups, and waste disposal points.
The cost of staying at a touring caravan site depends on the type of facility and how long you plan to stay there. Generally, prices range from £10 to £50 per night, depending on location and seasonality.
Some sites feature additional charges, like laundry facilities or access to leisure activities such as swimming pools, tennis courts and Wi-Fi. It's important to check what these extra costs might be before booking your stay so that you can budget accordingly.
Touring caravan site fees are important in the UK because they let you use safe and comfortable camping sites. Now let's examine the typical cost of these fees and what elements can influence their rate.
How much are touring caravan site fees?
The average cost of touring caravan site fees in the UK can vary depending on the location and facilities available. A basic pitch without electricity or other amenities can typically be around £15-£30 nightly.
Sites offering more features, such as showers, ‌electricity and laundry facilities, will usually charge around £20-£50 per night.
However, some sites may also offer discounts for longer stays or off-peak periods, which could significantly reduce your overall costs.
Regarding factors that affect the cost of touring caravan site fees, one key factor is location. For example, if you're looking for a coastal holiday spot, you'll likely have to pay more than if you were staying at an inland campsite.
Be aware that there might be extra site charges, like parking or entrance fees, which you should plan for when calculating your holiday costs.
The two main ways to save money on touring caravan site fees are:
● book early if possible—use offers or discounts during bank holidays or peak season
● check with individual sites or local councils for discounts
Before selecting a spot for accommodation, inspecting the numerous choices available is essential. Moving on from this topic, let's look at some resources providing information about touring UK caravan sites.
Where can I find information about touring caravan site fees?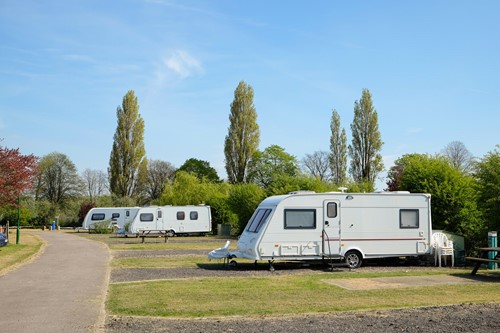 Many resources are available for finding information about touring caravan site fees in the UK. Online websites such as Campsite Finder and Pitchup offer comprehensive lists of sites across the country with detailed information on prices, facilities and more.
Sites such as Campsite Finder and Pitchup offer ratings from other campers who have stayed at certain locations. This way, you can learn what a stay may be like before booking.
Local councils are another great source of information about touring caravan site fees in the UK. Many local authorities will have a list of approved campsites they recommend or manage themselves. They can also advise on camping regulations and laws specific to your area.
Also, tourist boards often publish guides detailing nearby campsites and their associated costs.
Which type of touring caravan pitch is best?
When selecting a touring caravan site, you can usually choose between a grass or gravel pitch.
Grass pitches offer a natural setting and a softer surface and can be less expensive. However, they may become muddy or waterlogged in wet conditions.
Gravel pitches are durable, easy to maintain, and provide a stable surface for parking and setting up. They offer better drainage but may be more expensive and lack natural beauty.
Ultimately, the decision depends on personal preference, weather conditions, and site amenities.
Can you keep a touring caravan on site?
Keeping a touring caravan on site can be a way to have a holiday home on wheels, ready for use whenever you want to get away. However, the rules and regulations surrounding keeping a caravan on a site, also known as seasonal pitches, can vary depending on the location and the site owner's policies.
Before deciding to keep your caravan on a site, it's important to do your research and check the site's rules and regulations. Some sites may have restrictions on the age or size of the caravan that can be stored. Others may require you to have insurance or pay an additional storage fee.
Also, think about the site's facilities, such as if there are electrical or water hook-ups. Is the site secure and well-maintained?
If you plan on keeping your caravan on site for an extended period, it's also important to maintain it properly. This includes ensuring the caravan is clean and dry before storing it and regularly checking for any signs of damage or wear and tear.
It's also important to protect the caravan from the elements, such as covering it with a protective tarp or storing it in a covered area.
Overall, keeping a touring caravan on site can be a convenient and cost-effective way to have a holiday home on wheels. However, know the site's rules and regulations and take care of your caravan, keeping it in good condition for years to come.
Researching touring caravan site fees is essential before booking any trips or holidays. You might also want to consider protecting your holiday home through specialist touring caravan insurance.
At Ripe, the cover protects your tourer from theft, loss, or damage up to the value of £75,000. You can also choose to protect your contents and awnings for complete peace of mind.
Public Liability cover is included as standard and free Accidental Death cover up to the value of £10,000. 
Learn more about how we can help here, or get an instant online quote now.
Related
The best touring caravan heaters for your trips
How to fit a solar panel to a caravan
The 7 best touring caravan sites in Norfolk