How has lockdown affected UK travel habits?

Lockdown has caused chaos within the UK travel industry and meant that many thousands of holidays abroad have been cancelled this year. Plans have changed. Events have been postponed. It's undoubtedly been a challenging period for all of us.
However, there have also been some positive outcomes when it comes to consumer behaviour during this time.

We polled 1,000 UK consumers about the impact that lockdown has had on their immediate and long-term travel habits. The results revealed a number of silver linings.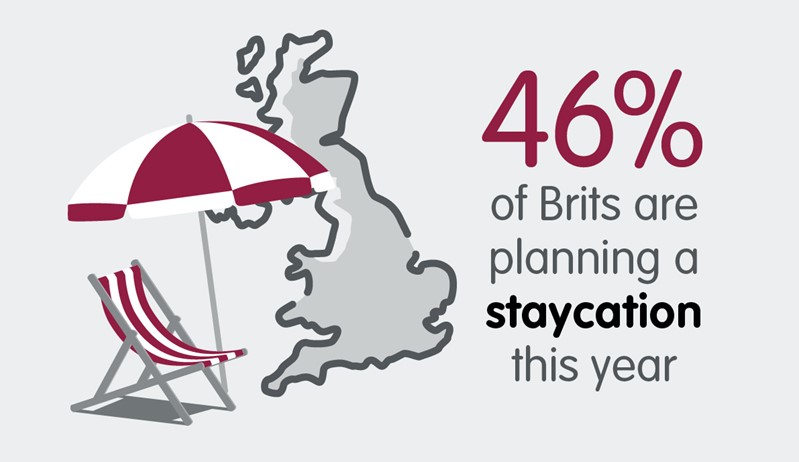 UK tourism boost
We found that 46% of Brits have booked a staycation for summer 2020. Only 10% told us they are planning a European holiday this year, despite borders being opened up in many countries.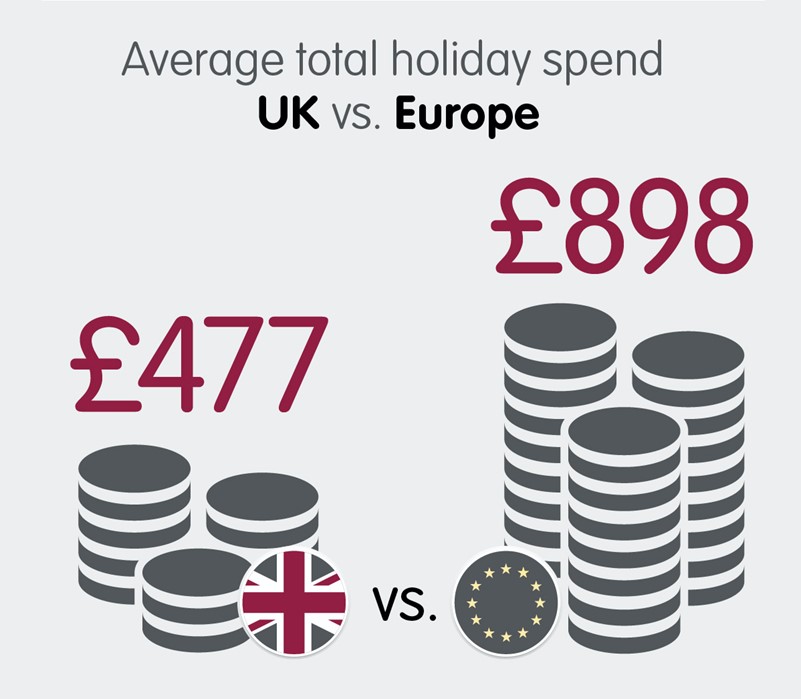 Money saved
The findings also showed the extent to which domestic travel will boost the UK economy, while also helping cash-strapped Brits make savings.
The average amount spent per person on a UK holiday – including accommodation, travel, food and drink – is £477, compared to £898 for a European trip. UK tourist hotspots are therefore set to benefit from a spend of nearly £15 billion* this summer. Meanwhile, the average consumer will save around £421 by not travelling abroad.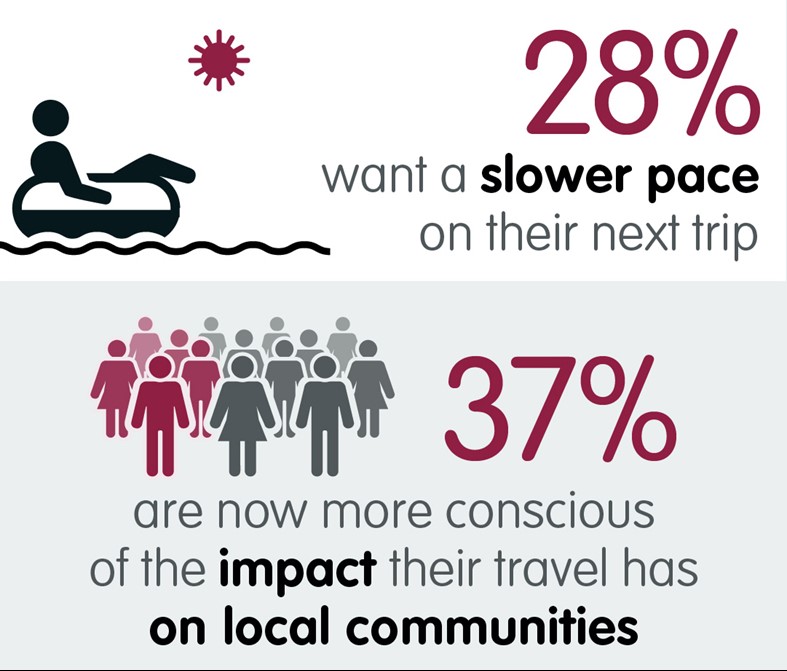 A greater sense of wellbeing
The past few months have also clearly made consumers reflect on the impact travel has on their mental wellbeing. One in three respondents said they have enjoyed the slower pace of life under lockdown and want their next holiday to reflect that. Furthermore, 37% of people said that they now feel more conscious of how their travel habits impact local communities.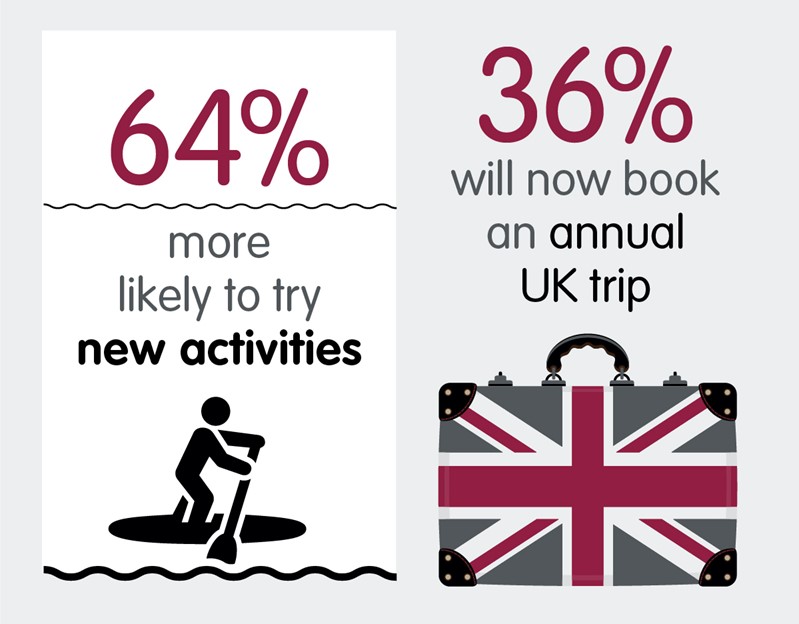 A spirit of adventure
A further 36% of staycation-sceptic respondents said they will now book an annual UK trip when they previously would only go abroad. And this is making us more adventurous: our survey showed that Brits who plan to holiday in the UK are keen to try a new activity this summer.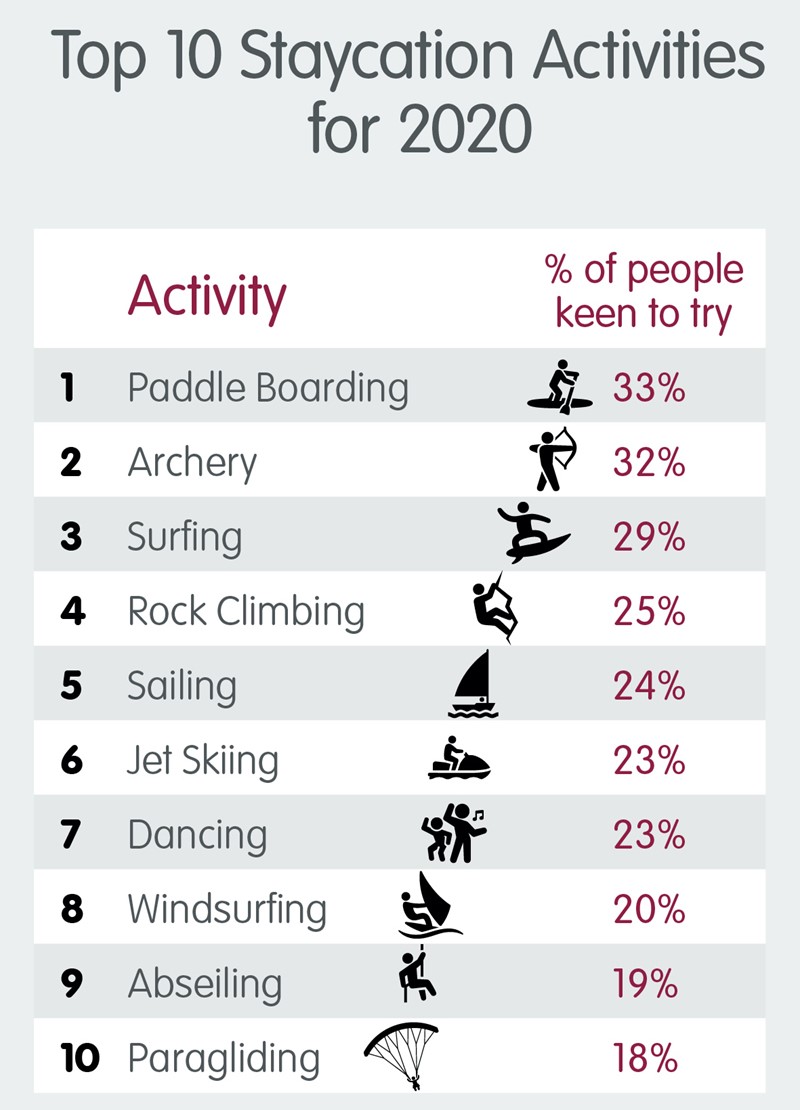 A greater awareness of our carbon footprint
Our research also found that over half of Brits say that Covid-19 related travel restrictions have made them more conscious of their environmental footprint. 
You can find out more about this here.
*Survey figures show that 46% of respondents (= 30.7 million UK consumers) will take a staycation this year with an average spend of £477 per person. £477 x 30.7 million = £14.6 billion).