How to find the right park home site for you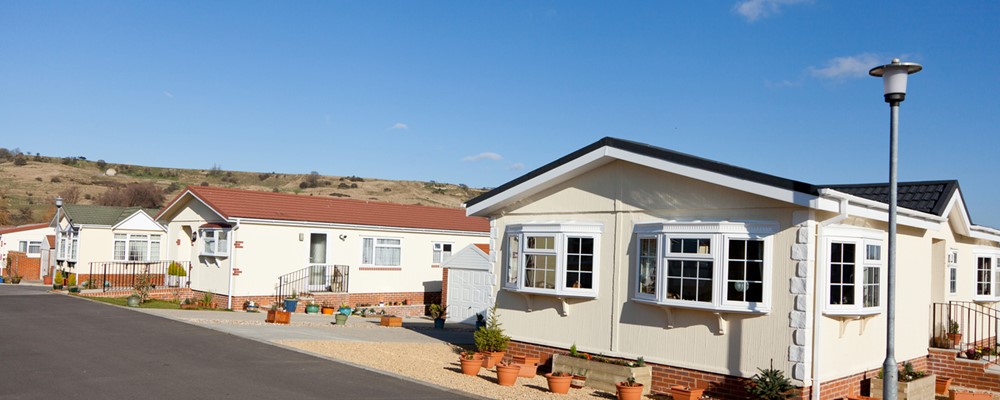 Moving into a park home is an exciting process, especially if you're looking for the slow lifestyle associated with residential sites.
But choosing a location isn't easy, especially since many great spots are available.
Not only this but there are many factors to consider, from site rules and limitations to how much you're willing to spend on relocating.
Here you'll find a full guide on how to find the right park home site. With our help, you can determine the criteria for your dream site and rule out any options that don't match up.
1. Create a list of prospective sites 
Online search tools are the best place to begin your search for a park home site.
You'll be able to collate a list of sites in your desired locations and gauge an idea of the price of park homes there, ruling out any that fall outside of your budget.
Here are a few search tools and directories to get you started:
Don't worry about looking into each site at this stage—you can narrow down your initial list by using our tips below.
Related: Top tips for park home refurbishments
2. Check out reviews for your chosen sites 
Before conducting in-depth research on your chosen sites, it's a good idea to check out their reviews.
This can save time and energy, as you can get a general sense of how well a site has kept promises to current or past residents.
If you cannot find many reviews, you could also research the park operator online, as they may own multiple parks across the country. This can give a clearer picture of how well a site manages its residents.
Here's an example of how to quickly check out a site and its operator.
 We used the Park Home Search website and found the following park home listed for sale at Leedons Holiday Park and agented by Allens Caravans Estates LTD (also the site operators).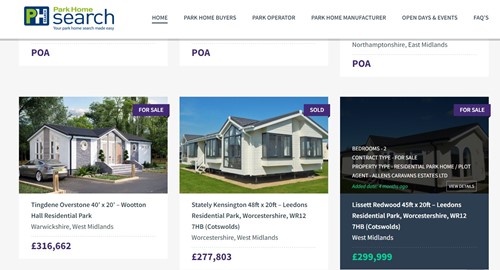 We looked up reviews for the site itself, and, as you can see, it scored a 4.5 on Google Reviews.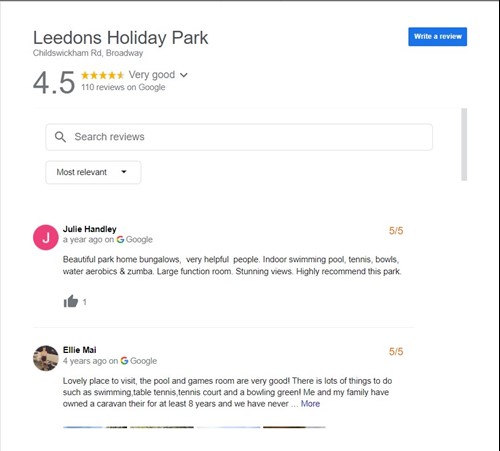 We then used Nicelocal.co.uk to look up reviews for the site operator, and they scored a 4.7. They also scored a 4 out of 5 on their Facebook page.
This is only one example, but it shows how quickly you can learn how well-received a site is amongst current residents and visitors (if they're allowed on-site).
Reviews are a great way to uncover things that site operators may not mention in their marketing collateral, whether good or bad.
They're ultimately the best method of getting to the truth behind your potential new home, and they shouldn't be overlooked.
3. Check you can live there year-round  
It's crucial to get this in writing before making a purchase.
If the site you buy your park home on isn't a permanent residential site, you could have to live somewhere else for a couple of months out of the year—which isn't ideal if this is intended to be your next home.
Plus, you can usually only get park home insurance if the property is situated on a residential site.
You should be able to access the site's licence and conditions online or view this information on-site—they're usually displayed in an obvious place, such as inside a reception area.
Failing that, you can get a copy from the local authority. 
Remember, a 12-month holiday licence isn't the same as a full residential licence. You should get this in writing from the site operator before purchasing a park home and seek the advice of a solicitor when signing any agreements. 
4. Establish your budget  
Although they're considerably cheaper than brick-and-mortar properties, park homes range massively in price—usually anywhere from £70,000 to £500,000.
That's why setting a budget early in your search is helpful. This will help you move closer to deciding on a site and moving into your new home.
Some sites have an average price for their park homes, while others display properties at various prices. It's helpful to rule out any that set a bar you can't afford to reach.
Your budget should also reflect how much you're willing to spend on pitch fees, as these can differ from site to site. They're typically around £130-190 per month.
Once you know what you can afford on top of the price of your park home, you can condense your list further.
Related: What are the monthly costs of living in a park home?
5. Check their site rules 
Every site has a unique set of rules, covering everything from age restrictions to the colour of your park home. It's important to read them thoroughly before planning your move.
For example, you may love the idea of a site, only to find that it's exclusive to those aged 55 and above, and you don't meet this requirement.
Or, you may have two dogs you're looking to take with you, and the site you're looking at might not allow pets.
It's a good idea to download a brochure for each site that makes your shortlist or at least check out their FAQs.
You can then rule out any that don't fit your requirements and arrange viewings with those that do.
6. Consider what kind of neighbours you want 
Leading on from our above point, this is an important point to consider when finding the right park home site for you.
The reason behind moving to a residential park home site is usually down to one thing—the lifestyle.
If a relaxed atmosphere amongst like-minded individuals is a priority for you, you may want to opt for a site that reflects this through its rules.
For example, if you're retired and want to avoid young couples or families, you may want to opt for a site that enforces an over 55s age restriction.
Or, if you're not fond of loud barking, you might want to move to a site that doesn't allow pets.
This is an easy way of shortening your list and being one step closer to that idyllic park home lifestyle. 
7. Check if the park is in a floodplain
This is an important step if you haven't thought to check this already.
Park home sites sitting within a flood plain can skyrocket your insurance premium and cause devastation at the loss of your personal belongings if they're damaged during a flood.
Not to mention, a park that floods regularly can become a bit of an eyesore, which isn't what you'd expect from your ideal park home site. No one wants to wake up to find their lawn underwater.
Gov.uk provides a reliable long-term flood risk checker, so you can determine the risk in your chosen location and decide whether you think it's worth it.
Related: The complete guide to park home security
8. Visit multiple parks before making a decision 
Ultimately, there's no better way of finding the right park home site than paying a visit yourself.
Places can look incredibly different in the flesh, and photographs often don't do them justice. On odd occasions, they can make a place appear nicer than it is in reality, and no one wants to be fooled.   
Nothing beats getting a first-hand feel for the atmosphere, especially if there are amenities like a fishing lake or community centre to check out.
It's also a good idea to scope out the wider area, including any nearby towns or villages that you're unfamiliar with, and how good the public transport links are if you need them.
We'd recommend spending some time at each site and speaking to current residents about the reality of living there. They'll be able to give you an honest and impartial viewpoint, which is invaluable when dealing with site operators and property agents.
Wherever your search takes you, your specialist park home insurance can be tailored to your requirements quickly and easily, so you'll never pay for cover you don't need.
At Ripe, we arrange bespoke park home insurance that covers your property, including fixtures and fittings up to the value of £500,000 and your contents up to the value of £75,000.
Click here to discover how we can help, or get an instant online quote today.