The inaugural Ripe Photography Place of Pride competition has drawn to a close – and we now have the pleasure of announcing our winner!
We asked photographers from across the UK to share an image and caption via Instagram that sums up their connection with a particular place. We were absolutely blown away by both the volume and quality of entries received.From fresh angles on city centre streets to expansive shots of recognisable landmarks, there were a huge range of styles and locations to choose from.After whittling the submissions down to just 12, our judge - leading street photographer Ronya Galka - deliberated over the shortlist before making a final decision on the podium spots.
Ronya has previously been nominated for Best Photographer at the Sony World Photography Awards and was selected as one of Britain's top 10 street photographers by the Interactive Design Institute.
Ronya said: "I have thoroughly enjoyed looking through the variety of competition images. It's wonderful to see how the participants have used photography as a means to creatively connect with their surroundings and been able to showcase the places that mean so much to them." 
Congratulations to our three winners, who take home cash prizes of £350, £150 and £50 respectively. And thank you so much to everyone who entered! Roll on Place of Pride 2021.
First place: Brian Egerton, Manchester @brian_egerton
"I moved to Horwich from Manchester nearly 14 years ago and though you may be able to take the Manc out of Manchester, you will never take the Manchester out of the Manc. Since I started in street photography, I have tried to visit Manchester at least once a week, or I did before COVID-19 changed the world. I'll be back though, without a doubt."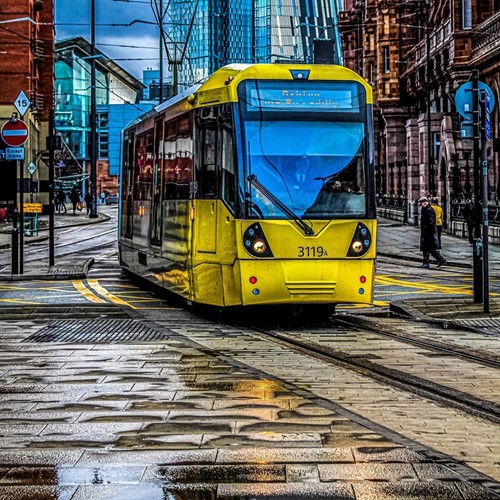 Brian said: "I really didn't think I was in with a chance - as they say, we are our own worst critics - but I'm overjoyed to have won. Manchester is definitely my place of pride but, for a long time, I was unable to travel into the city due to several health conditions. This also meant that photography wasn't high on my list of priorities, but I got back behind the lens a few years ago when I joined a street photography group on Facebook. I'm now an admin and come into Manchester at least once a week.
"Money is tight at home, but I'd been saving for a new camera as I've outgrown my current one. The prize win means that a new piece kit in now within my reach. I can't thank the judges enough for choosing my photo."
Ronya Galka said: "The photographer has captured the spirit of Manchester beautifully in this shot. Reflections and light coupled with the stereotypical English weather sum up life in urban Britain very nicely and the accompanying narrative clearly demonstrates just how much Manchester as a whole means to the photographer. He has done a fantastic job of distilling the city's vibe in one shot."
Second place – Jin Sun, Edinburgh @sunxjin
"This street is by far my most photographed location in Edinburgh. It captures the 100m between my old student flat and the university library; it represents all those late nights and early mornings, when the only time to sneak a photograph was on the two-minute commute. Photos always mean more when you have personal memories attached."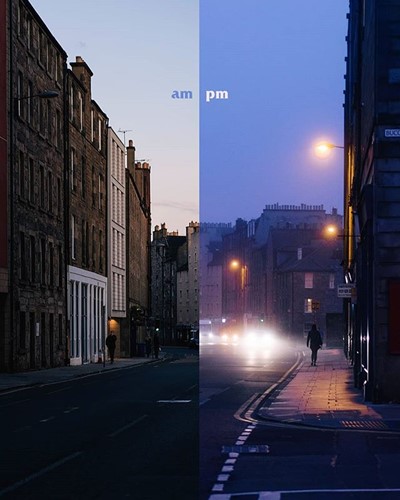 Ronya Galka said: "This creative montage of an Edinburgh street demonstrates that you don't have to travel for hundreds of miles to take stunning pictures, but beauty can be extracted from your day-to-day surroundings. The photographer's place of pride is literally outside their front door and has a totally different feel during day and night. This image serves as a beautiful reminder that we should not take our everyday surroundings for granted." 
Third place: Gary Kenyon, Blackpool @garykenyon
"Stunning reflections of North Pier in Blackpool at sunset one evening."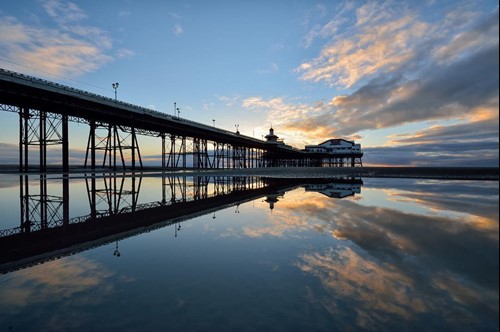 Ronya Galka said: "This is a beautiful and unique take on a well-known Blackpool landmark. The image is evocative, and it is obvious that the photographer has spent a lot of time (and multiple occasions) at this spot to capture the landmark in the perfect light."
---
Shortlisted entries
@duskyblueskies - Regan Thacker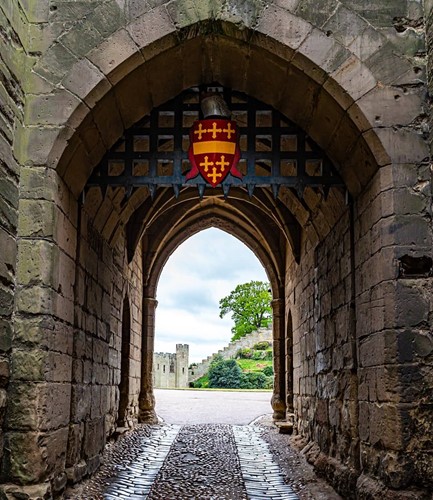 @littlebirdritchie - Robyn Ritchie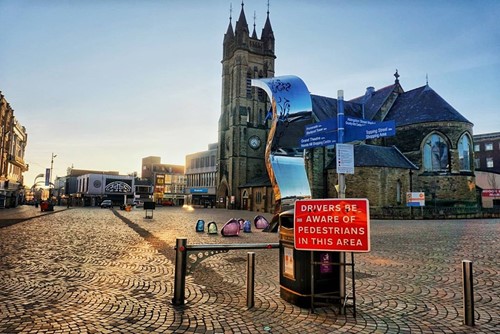 @jonathanmoorephotography - Jonathan Moore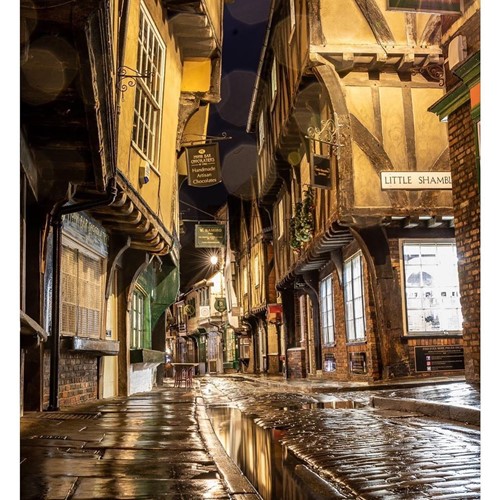 @kitbentleyphotography - Kit Bentley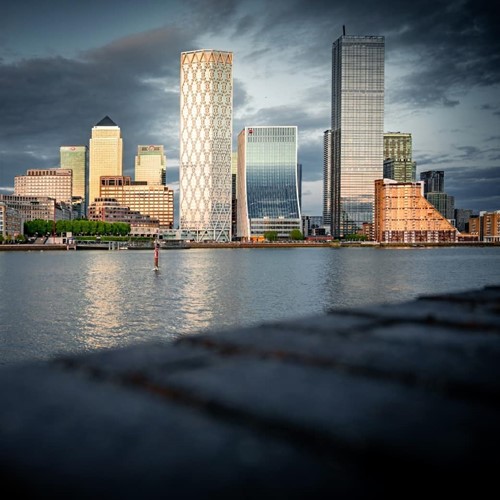 @mark.shuttleworth.311 - Mark Shuttleworth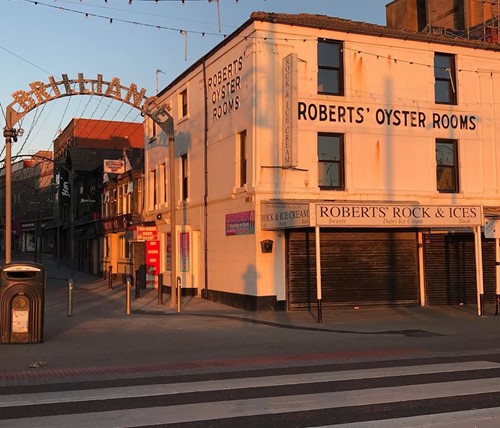 @ianmcgawley - Ian McGawley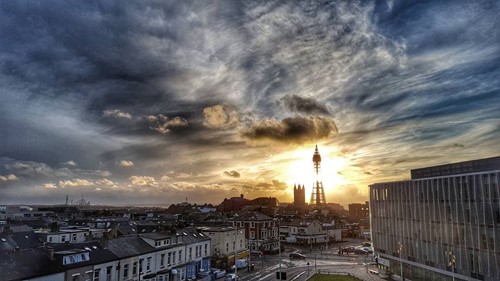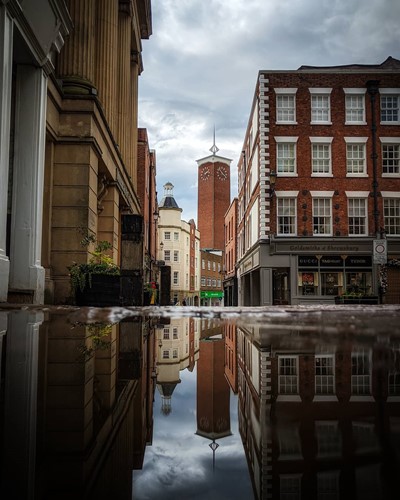 ---