Best Caravan Awnings On The Market 2022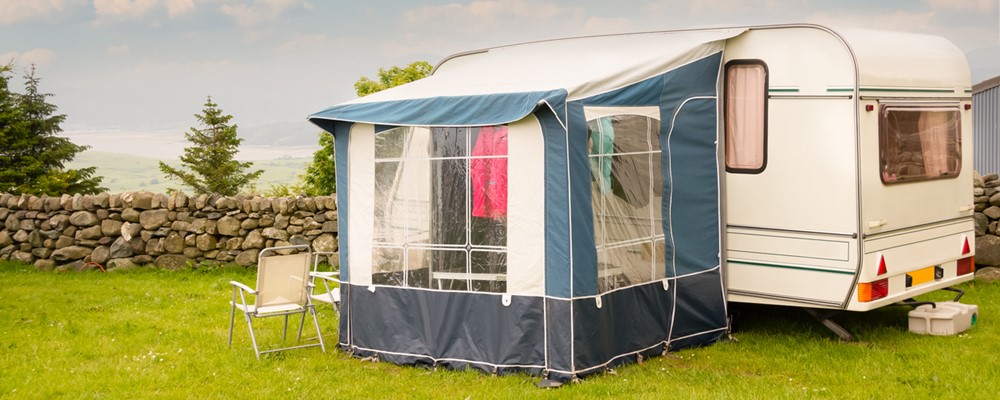 With spring on the horizon, it's the best time to utilise your extra outdoor space with a caravan awning. But with so many on the market, how do you narrow down the best caravan awnings to suit you?
Full-sized or small porch, air or pole, the varieties are endless—we've created a bespoke list of the best caravan awnings on the market in 2022, so you can really make use of that extra outdoor space.
What Type of Caravan Awning Do I need?
Before hopping into our list of the best caravan awnings, let's get down to basics.
There are many reasons for wanting a caravan awning, but for many, it's a desire to add extra space. Even with the roomiest of caravans, your space can easily become cluttered or overwhelmed if you have a larger family.
Great for the unpredictability of the UK weather, caravan awnings not only provide extra living or sleep space but can also give you the feeling of being outside—without being exposed to the elements.
As we've mentioned, there are a variety of different types of caravan awnings. If we were to categorise them by size, you have:
porch awnings—the key to these awnings is in the name; they act as a porch on the door of your caravan, giving you a small (but vital) section of extra space
combi awnings—middle of the range in size, these awnings attach to the caravan awning rail and come with or without sides
full awnings—as you've probably guessed, these awnings cover the full side of your caravan and can even wrap around for maximum usage of your outdoor space
If you're looking to learn more, read our article on 'How To Measure A Caravan Awning'.
You'll also need to consider whether you'd rather have an air, pole or roll-out caravan awning:
air—these awnings are inflatable, meaning they're easy to use, put up and deflate and with only one person
pole—more of a traditional caravan awning, these often use galvanised or steel poles, but newer models can also come with more durable and lightweight IXL fibreglass poles
roll-out—these awnings are super versatile as they fit into the awning rail and can be rolled back and enclosed in a zip bag when you're not using them
Related: How To Put Up A Caravan Awning
Now that we have the basics covered let's jump into our list of the best caravan awnings in 2022.
Contents Table
RRP: £525.00
Voted number one in Practice Caravan's Best caravan awning awards 2022, the Redux is a super lightweight (12.36kg) porch air awning.
This awning is so light one person can easily transport it. If that wasn't enough, it could be pitched within 6 minutes, so there's no need to have a team of you working on putting it up.
One of two in the Domestic Leggera's Air Redux range, this awning is super practical as it includes a dual keder to fit different types of awning rail—meaning no matter what you caravan, this will fit.
It also features a mesh window rather than PVC to increase airflow and be adjustable to the height of your caravan and have apex ventilation.
With a depth of 2.4m, the Redux is significantly roomy. The front door can double up as a canopy if you purchase some additional upright poles, giving you even more room and protection from the elements.
Dometic Leggera is keen on creating eco-friendly products, and the Redux is no exception. Created from a type of polyester made from recycled plastic bottles, it uses roughly ten bottles for each metre of fabric. As a single awning uses 22 metres of fabric, you're essentially recycling 220 plastic bottles when you make this purchase.
RRP: £279.00
Outdoor Revolution's Porchlite 200 Air may be one of our cheaper options on the best caravan awnings list, but that doesn't mean it scrimps on quality.
You have several options with the Porchlite range, whether you'd like a pole and sleeve or an air frame. The air frame that we've included in this list is much more user friendly than many others in this class.
Specifically made to be easily pitched, the Porchlite 200 Air is great for a family holiday; it's small, lightweight, airy, and comes in two sizes (200cm or 260cm) to suit your needs.
The Porchlite 200 Air has been created with 250 HDE high-density fabric which is not only lightweight but durable too. It also comes with a flysheet with a 3,000mm² hydrostatic head rating and fully taped seams making it extremely waterproof—great for the ever-unpredictable UK weather.
Designed to be practical, reliable and stylish on a budget, this caravan awning is great for all users from beginners to pros alike!
RRP: £1,875.00
Dometic features for a second time on our list with the All-Season 390 S. This model is at the pricier end of the market, but if you're looking for quality, this caravan awning is worth it.
With its deeper than the normal depth of 2.75m, the All-Season 390 S is big enough to be classed as an extra room to your caravan—enabling you to have everything from a night under the stars to extra room for your bikes and outdoor activity equipment.
The All-Season 390 S also boasts a unique Dual-Pitch roof apex, which is aesthetically pleasing and ensures masses of headroom.
Other key features of the All-Season 390 S include:
a single external inflation point—meaning pitching time is kept to a minimum, taking roughly 10 minutes to be fully constructed
adjustable height technology to ensure it can be fitted across multiple caravan models
apex ventilation to improve comfort and increase air circulation, helping to prevent condensation
a wet weather canopy with apex mesh ventilation to shield you from any downpours
tough UV material for touring in hot climates and year-round use—it is called the 'All-Season' after all
RRP: £1,595.00
If you're looking for a durable model created for prolonged usage and not going to fade in colour over time, then the Tuscany Air 500 caravan awning will be right up your street.
The Tuscany Air 500's ProShield fabric has been specifically created with investment and longevity in mind. Its 'ColourLok' technology aims to aid in colour retention over time, slowing down the UV degradation effects and is perfect for those spring or summertime trips.
With 5 meters of living space, the possibilities of usage for this awning are endless. It's great for socialising on those warm summer nights or cosying up while remaining in nature, during cooler ones.
The unique Draught Seal System ensures a tight seal between the awning and caravan, so there are no leaks which mean there's no fear of it blowing away without extra poles on a windy day.
If the weather isn't up to scratch, you can retreat inside but still enjoy the views through the large Diamond Pro windows—but if you'd like to shut out the world, there are also multi-zip privacy curtains.
Vango is well known for its AirBeam® S.I Pro single point inflation technology, and of course, it's been added to this model. As well as the AirBeam, it also includes multi-point deflation so that you can have this slightly bigger awning up and down within minutes.
If you're looking for a little extra space—as if the Tuscany Air 500 wasn't enough—you can also add an Annex with a two-berth sleeping compartment.
RRP: Kensington - £580.00, Westminster - £395.00
Quest Leisure offers a wide range of caravan awnings, but if we had to pick one, it would be the Kensington.
Built around the idea of luxury and with a premium feel, the Kensington blends modern performance with traditional style.
As a poled porch awning, it may take a couple of people to construct. However, it's a great time to start to bond with your loved ones while on your holiday.
The Kensington features nothing but the best with HydroTech Cotton Touch, premium, all-weather fabric that aims to last. Not only does the high-performance fabric coating make your awning extremely waterproof, but it also helps to protect it from harmful UV rays.
On its own, the Kensington caravan awning clearly has many benefits— however, when teamed with the Westminster Annex, you can't go wrong.
As in the title, the Westminster Annex adds on a whole extra room (or two) to your awning—which in our opinion, provides the ultimate use of your outdoor space.
Got muddy shoes or annoying extra bits and bobs? Pop them in the Annex, or if you're bringing pets along, it's also a great place for them to chill out away from the madness of what might be happening inside your caravan.
Specialist caravan insurance from Ripe Caravans
If you're deciding to invest in a new caravan awning, it means you'll need to make sure your caravan is fully protected from the elements on your trips.
Our Ripe Caravans specialist caravan insurance not only provides cover for your caravan up to the value of £75,000, but you can also choose to include additional cover that will protect your new awning and contents.
With our Ripe Guarantee, you won't find a better price for your cover anywhere else on the market.
Get an instant online quote today to learn more about our touring caravan insurance.