The Best Modern Composers Who You Need To Know About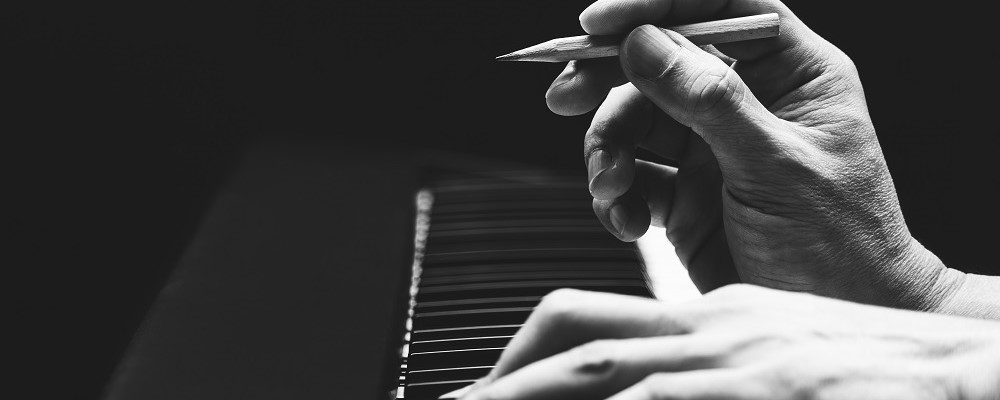 It's not just classical composers who deserve the utmost respect - today's composers are visionaries in their own right. We select the best modern composers.
Anna Clyne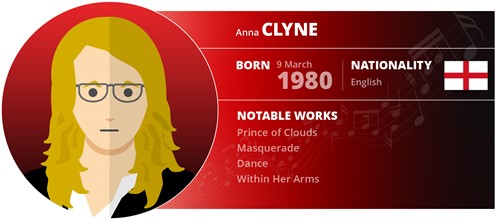 London-born composer Clyne is a Grammy Award nominee who's best known for her acoustic and electro-acoustic compositions.
After graduating from the University of Edinburgh with a first-class honours degree in Music, Clyne moved to the US to study her Masters at the Manhattan School of Music, graduating in 2005. From then, her career as a composer took off.
Clyne was signed by prestigious music publisher Boosey & Hawkes in 2008, at which time she also became director of the New York Youth Symphony's "Making Score" programme for young composers.
In 2011, she composed Night Ferry, her first full piece for orchestra, inspired by legendary Austrian composer Franz Schubert. This piece was one of two compositions by Clyne that were nominated for a 2015 Grammy Award, the other being Prince of Clouds – arguably her best-known piece of work. Clyne's first concerto, Prince of Clouds was co-commissioned by the Chicago Symphony Orchestra, the IRIS Orchestra, the Los Angeles Chamber Orchestra, and the Curtis Institute of Music.
It was nominated for Best Classical Contemporary Composition at the Grammys – and you can understand why by playing the video below.
Clyne continues to excel, having recently composed a trilogy of Beethoven-inspired works, which premiered in 2020 for his 250th birthday.
Furthermore, she is the Scottish Chamber Orchestra's Associate Composer for the 2021-2022 season at the time of writing.
All in all, Clyne has a terrific pedigree as a composer – and an English composer at that!
Did you know?
Steve Reich, John Adams, Bjork, and critic Alex Ross have either supported or programmed Clyne's music.

Sofia Gubaidulina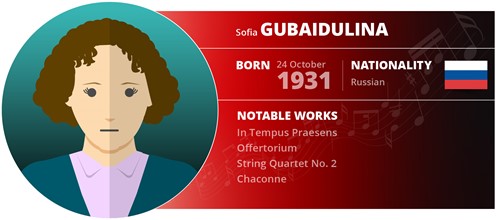 Sofia Gubaidulina is arguably the most influential and groundbreaking Russian composer of the late 20th century.
At a time when Western contemporary music was banned from study in Soviet Russia, Gubaidulina and her peers later managed to acquire scores from the likes of John Cage and Charles Ives during their studies. In Gubaidulina's words: "My desire is always to rebel, to swim against the stream."
Gubaidulina graduated from the Kazan Conservatory in 1954, having studied composition and piano there. She then transferred to the Moscow Conservatory, graduating in 1961 – here, she studied composition with, and was a post-graduate student of, fellow Soviet composers Nikolay Peyko and Vissarion Shebalin, respectively. She was also awarded Stalin fellowship.
After completing her studies, Gubaidulina composed various scores for documentary films in the last '60s and early '70s, drawing influence from her contemporaries such as Soviet-German composer Alfred Schnittke and Russian composer Edison Denisov.
However, it wasn't until the '80s when she gained international recognition – despite the attempts in Russia to suppress her work. One of her earliest compositions to be universally acknowledged was Offertorium, a violin concerto she wrote in 1980.
This was followed by such works as Seven Words (1982), Stimmen Verstummen (1986), String Quartet No.2 (1987), and In Tempus Praesens (2007).
Gubaidulina is currently a member of the musical academies in Frankfurt, Hamburg and the Royal Swedish Academy of Music.
Her award wins include the prestigious Praemium Imperiale in Japan (1998), the Polar Music Prize in Sweden (2002), and more recently, the Royal Philharmonic Society Gold Medal (2019) – classical music's highest honour.
It's safe to say that swimming against the stream has paid off for Gubaidulina, who overcame many obstacles to become a household name worldwide.
Did you know?
In the mid-70s, Gubaidulina co-founded Astreja, a folk-instrument improvisation group, alongside fellow composers Viktor Suslin and Vyacheslav Artyomov. This led to her being blacklisted in 1979 as one of the "Khrennikov's Seven" at the Sixth Congress of the Union of Soviet Composers due to unapproved participation in some festivals of Soviet music in the West.
Klaus Badelt
Klaus Badelt is one of the world's most famous film composers, with his scores featuring in Academy Award-winning motion pictures. You'll definitely be familiar with one or two as you read on.
As a younger man, Badelt composed music for movies and commercials in his native Germany. Then, in 1998, his big breakthrough came.
Hans Zimmer, a fellow German and world-famous modern composer (who we'll come on to talk about in more detail) approached Badelt and invited him to work at Media Ventures, his film score company based in Santa Monica, California.
Upon moving to America, Badelt began contributing music to Hollywood blockbusters, collaborating with Zimmer for films like The Thin Red Line (1998) and The Prince of Egypt (1998). The pair also worked together on Gladiator (2000), Mission Impossible II (2000), and Pearl Harbor (2001).
In the years that followed, Badelt began composing entire film scores himself. He wrote the music for The Time Machine (2002), which won him the World Soundtrack Award for Discovery of the Year. Badelt also created scores for K-19: The Widowmaker (2002) and the blockbuster that he's often most associated with – Pirates of the Caribbean: The Curse of the Black Pearl (2003).
You can listen to one of his captivating compositions from this Academy Award-nominated film by watching the video below.
https://www.youtube.com/watch?v=MufORSL68v0
Badelt's work wasn't done there, as he went on to create the music for the closing ceremony of the 2008 Beijing Olympics.
In more recent years, Badelt has written scores for Queen of the Desert (2015) and has even been commissioned to write an opera about China's First Emperor.
Whatever medium or audience he's turned his hand to, Badelt's music has demonstrated a distinctive intimacy, ingenuity, and flair.
Did you know?
In contributing music to Gladiator, Mission Impossible II, and X-Men, Badelt wrote scores for three of the top 10 highest-grossing films of 2000.

Alexandre Desplat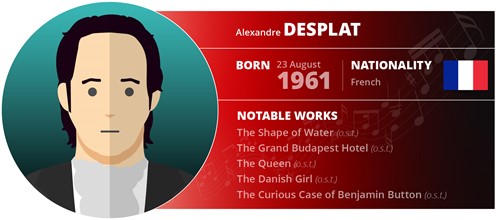 Two-time Academy Award winner. Eleven-time Academy Award nominee. These two examples alone highlight the calibre of French film composer Alexandre Desplat's work. We'll try to cite all of the major motion pictures for which he's written scores, but since there are so many, apologies in advance if we miss any.
Born to a Greek mother and French father, Desplat grew up on a wide range of musical styles. He listened extensively to French symphonists such as Maurice Ravel and Claude Debussy, but also to Greek and Middle Eastern music. As he revealed in an interview with Deadline, the latter genre would inspire the first film score he ever wrote.
As a boy, Desplat played the piano, trumpet, and flute. Fascinated by music and its role within films, particularly Hollywood blockbusters, Desplat decided to pursue a career as a film composer at the tender age of 15.
He studied at the Conservatoire de Paris, graduating aged 20. Early in his career, Desplat met his future wife and violinist Dominique Lemonnier, who became his favourite soloist and has been integral to many of his compositions.
Having written scores for French cinema throughout the '80s and '90s, Desplat rose to international prominence in 2003, when he composed the music for Girl with a Pearl Earring. This earned him BAFTA and Golden Globe nominations and kickstarted his rise in Hollywood.
In the subsequent years, Desplat has composed music for some of the 21st century's most successful films, including:
The Beat That My Heart Skipped (2005)
The Queen (2006)
The Grand Budapest Hotel (2014)
The Shape of Water (2017)
Desplat won the Academy Award for Best Original Score for the latter two films, with his wife Dominique performing on The Shape of Water.
In addition to the above, Desplat has won three BAFTAs, two Grammy Awards, and two Golden Globes. As CVs go, you won't find many better.
Did you know?
It was after hearing the score of John Williams for Star Wars: Episode IV - A New Hope (1977) that Desplat made the decision to compose exclusively for films.
Marco Beltrami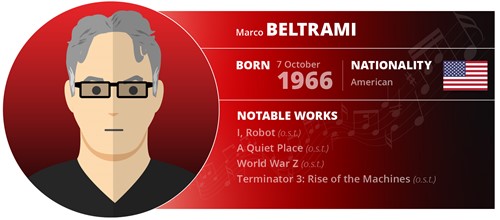 Academy Award nominee Marco Beltrami is another composer whose work you've almost certainly heard when watching some of your favourite films.
Beltrami, who hails from Long Island in New York, attended Brown University and then studied music at the Yale School of Music. He continued his studies in Italy before moving to Los Angeles to serve as an apprentice to the legendary Jerry Goldsmith (another composer we'll focus on later in the article).
You can't gain a much better grounding in musical composition, and Beltrami put his education into practice in the early '90s when he completed orchestral commissions for the Chicago Civic Orchestra and the Sao Paulo State Orchestra.
He also finished his first film score in 1994, before making his big breakthrough in 1996 when he composed the music for Wes Craven's horror slasher film Scream. This would be the first of seven collaborations with director Craven, who's labelled the 'Master of Horror' due to his impact on the genre.
Like Craven, Beltrami is synonymous with the horror genre, and with action and thriller films. This is evidenced by his subsequent compositions for Guillermo del Toro's Mimic (1997), The Faculty (1998), and Resident Evil (2002).
Beltrami's stock rose even higher in the early-to-mid-'00s as he composed the music for Terminator 3: Rise of the Machines (2003) and I, Robot (2004), cementing his place as the go-to composer for action films.
Beltrami then went on to receive two Academy Award nominations in three years for Best Original Score, for his iconic scores to 3:10 to Yuma (2008) and The Hurt Locker (2010).
https://www.youtube.com/watch?v=IU4eSjn7_YI
In the last ten years, he's composed the soundtracks to World War Z (2013), A Quiet Place (2017), and Free Solo (2019). Beltrami received a Primetime Emmy Award for Outstanding Music Composition for a Documentary Series or Special for his work on the latter.
This quote from the man himself best sums up what makes him special: 'I think of each movie as a puzzle. The fun is in solving the puzzle: finding a musical identity for the picture, however that can be summed up.'
Did you know?
Beltrami has worked alongside various famous contemporary musicians, composing the scores for Resident Evil alongside metal singer Marilyn Manson and the score for World War Z with alternative rock band Muse.

Jennifer Higdon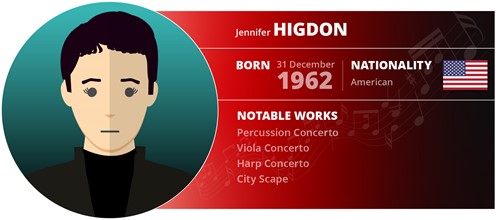 Grammy Award and Pulitzer Prize-winner Jennifer Higdon is among the most acclaimed living American composers. However, her path to success has been somewhat unconventional.
She didn't begin her formal studies until she was 18 and didn't compose her first piece (a two-minute piece for flute and piano) until she was 21. And even then, she only composed the piece after she was encouraged to do by her flute teacher.
Higdon made this first foray into composition whilst studying flute performance at Bowling Green State University in Ohio, and the rest is history. She went on to attain an Artist's Diploma from the Curtis Institute of Music and a Master of Arts and a PhD in composition from the University of Pennsylvania, working alongside composers Ned Rorem and George Crumb at the respective institutions.
Higdon then set about making a similar name for herself – and she did so by committing to traditional musical values, despite being a modern composer. Her music has been praised by Fanfare Magazine for being 'readily accessible emotionally', and she has previously spoken about the importance of distinction and consistency within her compositions.
In a 2011 interview at Drexel University, she said: 'I believe wholeheartedly in melody… I believe in a clear pulse and a clear rhythm. I like to be able to hear the harmonic movement. And I have a tendency to make musical events happen or turn over fast.' 
Higdon's approach has seen her win three Grammy Awards for Best Contemporary Classical Composition for her Percussion Concerto (2010), Viola Concerto (2018), and Harp Concerto (2020). She also won the Pulitzer Prize in Music for her Violin Concerto (2010).
Higdon's work is in such high demand that she's able to compose exclusively on commission. There can be no greater testament to her creative excellence.
Did you know?
Born in Brooklyn, New York, to a father who was a painter, Higdon grew up surrounded by art. However, she wasn't exposed much to classical music as a child and only took up musical performance at 15, when she taught herself to play the flute.

John Williams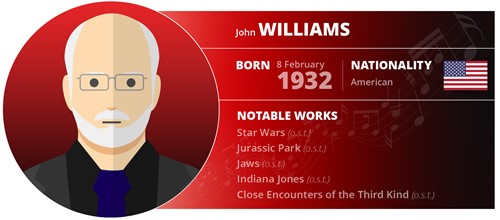 John Williams is one of the most famous, long-standing, critically acclaimed, and financially successful composers of all time.
Born in Queens, New York, Williams was the son of Johnny Williams, a percussionist who played the drums for jazz outfit the Raymond Scott Quintette. Williams Junior was quick to follow in his father's footsteps, as he started taking piano lessons from an early age.
In 1948, Williams and his family moved to Los Angeles. Here, he studied composition at the University of California, working alongside Italian composer Mario Castelnuovo-Tedesco.
Williams then served in the US Air Force from 1951 until 1954, and during this period, he conducted for the first time and arranged band music. Upon leaving the Air Force, he moved back to New York to study at Juilliard School, where he studied piano and performed at clubs as a jazz pianist.
Williams returned to California in the late '50s to work as a Hollywood studio pianist, performing on films like Some Like It Hot (1959), West Side Story (1961), and To Kill a Mockingbird (1962). He also began composing for television in the late '50s.
Around this time, he began composing for films, writing his first film score for Daddy-O (1958). His breakthrough as a film composer came in 1967 when he received his first Academy Award nomination for his score for Valley of the Dolls. Another nomination followed for his work on Goodbye, Mr. Chips (1969) before he won his first Academy Award for his score for Fiddler On The Roof (1971).
At this point, it's difficult to reference all the major motion pictures that Williams composed music for without writing thousands of words, so here's a selection:
Jaws (1975)
Close Encounters of the Third Kind (1977)
Star Wars (1977) – Williams' score was selected as the greatest American film score of all time by the American Film Institute in 2005.
T. the Extra-Terrestrial (1982)
The four Indiana Jones films
Jurassic Park (1993)
The first three Harry Potter films
https://www.youtube.com/watch?v=-NqaupGcCpw
Overall, Williams has won five Academy Awards and 25 Grammy Awards, is the world's second highest-grossing film composer and has composed the music for eight of the top 25 highest-grossing films at the US box office. What more needs to be said?

Ryuichi Sakamoto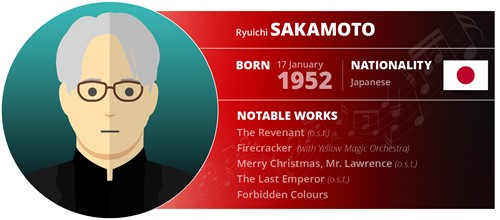 We now go from one Academy Award and Grammy Award-winning composer to another and turn out attention to Ryuchi Sakamoto – one of the most groundbreaking composers of the last 40 years.
Born in Tokyo, Sakamoto took up playing piano at the tender age of three, and he regularly performed in jazz bands when he was at high school.
Despite being from Japan, he was heavily influenced by Western music as a boy – Claude Debussy was his hero, and the first record he ever bought was 'Tell Me' by the Rolling Stones. Sakamoto also drew inspiration from the likes of The Beatles, Ludwig van Beethoven, and John Cage, as well as avant-garde films.
While studying music composition at the Tokyo National University of Fine Arts and Music in the early '70s, Sakamoto began experimenting with electronic music using synthesizers such as the Buchla, Moog, and AR.
After graduating, he worked as a session musician and met fellow musicians Haruomi Hosono and Yukihiro Takahashi, with whom he formed the electronic music band Yellow Magic Orchestra. As you'll hear if you click the link above, the group's music is an interesting fusion of traditional Japanese music and Western musical styles such as electronica and hip-hop.
Yellow Magic Orchestra enjoyed some chart success in the UK and Japan before disbanding in 1983, at which Sakamoto pursued a career as a solo composer. He had huge success early on, receiving universal acclaim and a BAFTA Award for his score for the film Merry Christmas, Mr. Lawrence (1983) starring David Bowie.
A few years later, his career reached new heights, as his score for The Last Emperor (1987) won both an Academy Award and Grammy Award. Around this time, he also collaborated with Iggy Pop on the song Risky.
The '90s proved equally fruitful for Sakamoto, as he composed the music for the opening ceremony of the 1992 Barcelona Olympics and the opera LIFE (1999), which premiered with seven sold-out performances in Tokyo and Osaka.
More recently, Sakamoto was diagnosed with throat cancer in 2014, but this didn't stop him from creating masterful compositions. His music for Hollywood blockbuster The Revenant (2015) earned him another Academy Award nomination, and in 2017 he released his 19th solo album, async, which received rave reviews.
All things considered, it's clear to see why Sakamoto is one of Japan's most illustrious musicians and greatest ever composers.