A Beginner's Guide To Buying A Touring Caravan

For many people, the sense of freedom and cosiness that comes with owning a caravan is too hard to resist. That said, buying a caravan for the first time can seem like a daunting task – but it doesn't need to be.
Provided you do your research and make sure you get the exact caravan you want for the right price, you'll be cruising around in it for decades to come.
We're here to help you make the right decision by detailing everything you need to know when buying a caravan for the first time.
Let's jump in.
Table of contents
 1. Towing your caravan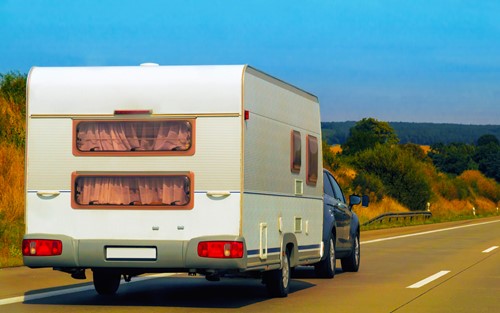 The first barrier to entry into the touring caravan world is your car's capacity to tow a caravan. With this in mind, you should find out the maximum authorised mass (MAM) of your car. It's also known as gross vehicle weight (GVW) or permissible maximum weight.
This figure is usually measured in kilograms and is typically found in the owner's manual for the car, or on the car manufacturer's website. In other cases, it'll be shown on a sticker or plate fitted to the vehicle. You can find more information about GVW/MAM from the government portal here, or use this handy tool to calculate an estimate.
It's also worth bearing in mind that if you passed your driving test after 1st January 1997, you need to take a test to tow a caravan (or trailer) weighing over 750kg. Fear not, though, as there are actually numerous caravan towing courses available up and down the country. Caravan towing courses are still a good idea even if you don't need to pass a test, as it can take some getting used to.
Once you know our car's towing capacity, you can start planning your next steps and narrow down the type of caravan you're looking for – at least in terms of size and weight.
 2. Setting your budget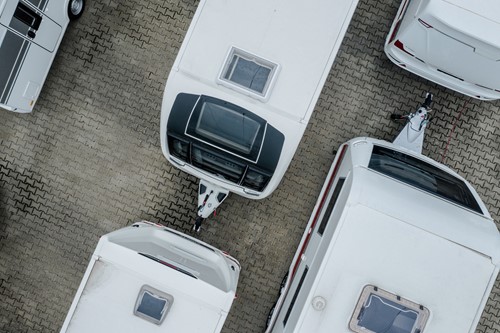 Setting a budget should narrow your scope a little further and give you a better idea of what you're looking for.
Even if you already have a rough estimate in mind of what you'd like to spend, it's worth taking some time to break it down. There's the cost of the caravan itself, but you might need some money to cover service or site fees or repairs.  Then there are the peripherals to consider, like a bike rack. You might want to redecorate the caravan or give it a deep clean. There's also insurance to take care of.
For help with budgeting for a caravan purchase, check out our blog How Much Does It Cost To Own A Caravan?
It's also worth considering whether you'd prefer to buy second-hand or new. This will strongly influence the types of caravans you're looking for and where you look for them.
As you might know from other big purchases like cars or a home, costs here and there can soon mount up and snowball. Amidst the excitement of embarking on a new lifestyle, it's easy to lose sight of the initial cost boundaries.
For this reason, it's worth considering how firm your budget is, and what wiggle room there might be. If it turns out there is none, you'll need to be disciplined and stick to it. You'll find the right caravan in the end.
 3. Viewing caravans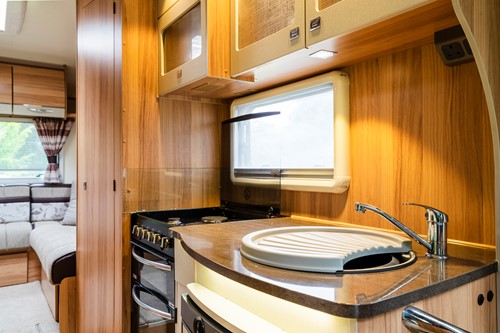 Once you've calculated your car's towing capacity and your budget, you can start getting into the interesting bit, which is looking at caravans. Most dealerships will sell new and second-hand caravans, so scour the web for ones in your area.
Browsing sites like Gumtree and Auto Trader are ideal if you're looking for a pre-loved caravan. Occasionally, caravan and motorhome shows will pass through your town, so keep a lookout for those.
After viewing a few caravans, you'll get a feel for their typical features and price ranges. So, this is the time to work out which features are must-haves for you and which are negotiable.
You might want a longer caravan with a dedicated bedroom, or a cosier one with a fold-out bed. You may want an integrated kitchen, or you might like the rustic outdoorsy vibe of an awning and pack-away barbecue.
Think about where you'll likely be taking your caravan, too – home or abroad – and what amenities are likely to be included at the sites. You also need to consider what you'd need in the caravan itself if you plan to go off the beaten track.
4. Doing your research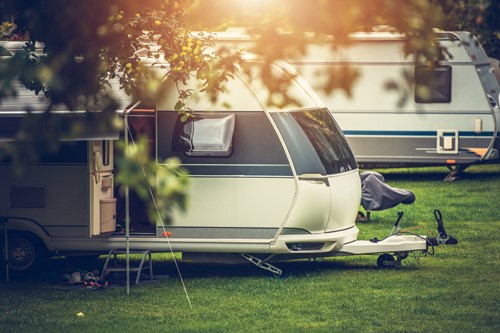 We know it's easy to get carried away with visions of unhitching your caravan by the seaside or in the mountains. But make sure you've done your due diligence before buying. In fact, this may even extend to hiring a caravan inspector prior to purchasing.
The above steps should give you a clear idea of the type of caravan you're looking for. In addition to the above, you should do some research to get a feel for fair valuations, what potential repairs might need to be taken care of, and what the customer aftercare of the dealership is like.
It's also prudent to inspect for damp when viewing a caravan, you're thinking about buying. Undetected damp can result in expensive repairs if it's found later. For more help with inspecting damp in caravans, have a read of our blog How To Get Rid Of Damp In A Caravan.
Though it might not seem like a dealbreaker at this stage, it's also worth thinking about the advantages of a single axel hitch vs a twin axel hitch, as they each give a different feel when towing the caravan. The video below explains more:
Once you have a caravan, you'll get to grips with finer details like these. But the more knowledge you can amass about the experience in the first place, the more prepared you'll be when you go through it yourself.
If you know any caravan owners already, pick their brains as part of your pre-purchase research. Or better yet, bring them with you when viewing caravans. If you don't know anybody who's familiar with caravans already, there are many forums and social media groups where people are happy to help a fellow caravanner make a sound purchase.
Whatever size, price range or level of luxury you go for in your caravan, in the end, you'll fall in love with one that's right for you. That's why it's important to make sure it's protected.
At Ripe Caravans, we offer specialist touring caravan insurance to protect your caravan against damage, theft, and loss. You can even customise your policy to suit your specific needs.
Our cover includes up to £85k for your caravan and contents, awning cover up to £2.5k, new for old up to 15 years, and Public Liability up to £2m, with more options besides. Best of all, our Ripe Guarantee ensures great cover at a great price.
You can click the link above to find out more and get an instant online quote today.