7 things to look for when buying a used caravan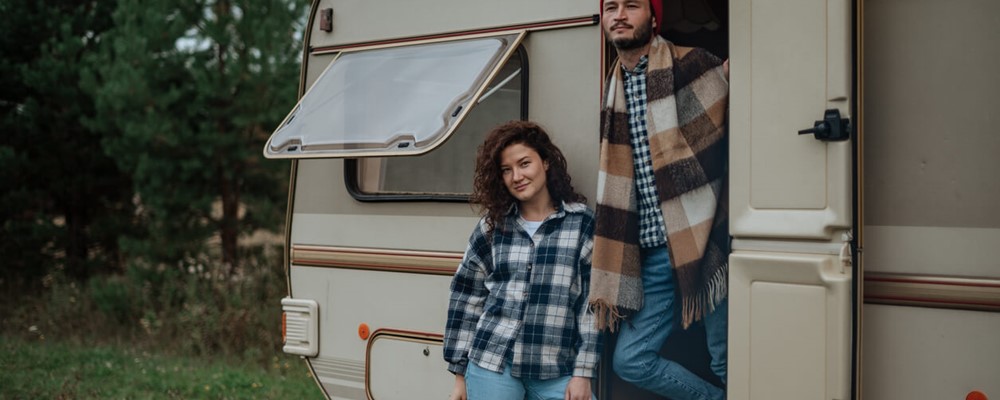 From faulty parts, damp walls and rogue sellers, it's not unusual to encounter certain obstacles on the used caravan market.
Buying a used caravan can be complicated—after all, caravans are pretty complex vehicles. It can be a tricky market to navigate, even if you're an experienced caravanner.
As with most things, buying a used caravan will always be cheaper than buying brand new, which makes it particularly appealing to first-time buyers. But second-hand shouldn't mean second-rate.
No two caravans are the same, so it's easy to get caught out if you're not necessarily clued up on what to look for. Of course, you'll want to check the caravan's general condition, look and feel, but some things are bound to go unnoticed.
We like to think we know a thing or two about caravans, but more importantly, what to look for when buying a used caravan, so fear not.
In no particular order, here are seven things to keep on your radar if you're currently in the market.
Table of contents
1. Check for signs of damp
2. Check for rust on the exterior
3. Inspect the tyres
4. Get a CRiS check
5. Assess all the parts
6. Ask the seller about its service history
7. Check the breakaway cable
1. Check for signs of damp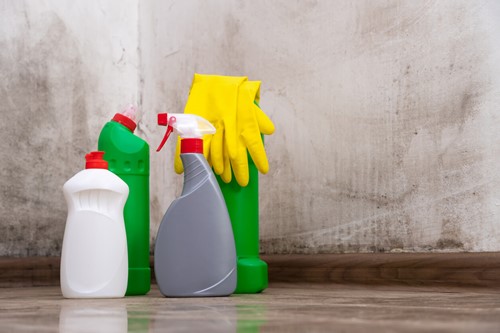 Damp is a nuisance and a sad reality for many caravan owners.
Damp occurs when there's excess moisture in a poorly-ventilated room, and if left unnoticed and untreated for too long, it can lead to extensive damage—to both your caravan and bank account!
When looking at a used caravan with a view to buying it, make sure you do a thorough damp inspection as a priority. Be wary that sellers may try to hide damp behind things like furniture, so don't be afraid to get your nose right in there either. The last thing you want is to agree to buy a damp-riddled caravan without realising.
Check the seals and sealant around the windows and doors to see if there's any noticeable damage such as cracks, patches or peeling.
Then, run your hands over the walls to make sure there are no unusual bumps, or 'pimpling' as it's often called. Though it sounds obvious, a caravan's walls should feel like any other wall. If they feel wet or spongy to touch, it's likely there's a damp problem lurking somewhere. You should also keep your eyes peeled for any discolouration on the walls, as this is another sign of damp.
You should also check the caravan's interior for untoward smells lingering in the cushions, curtains and any other bits of fabric. Think musty—this is the most common sign of damp.
Electric damp meters are also available if you want to be extra cautious.
Related: How to get rid of damp in a caravan
2. Check for rust on the exterior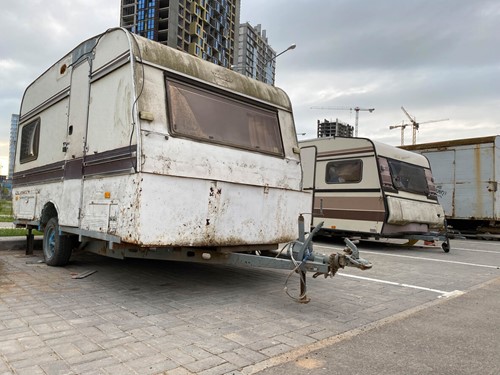 Rust can occur anywhere on a caravan's exterior—some obvious, some not so much.
Though you might have to get up close and personal to spot smaller rusted areas, you probably don't need us to go into too much detail here. After all, anyone who's ever owned a bicycle will know all about rust already—there's no mistaking it.
However, one area of a caravan particularly at risk of rusting which could go unnoticed by the untrained eye is the chassis.
Sitting underneath the caravan itself, the chassis is a sturdy metal frame which essentially acts as the 'skeletal backbone' of the entire structure. It's also where several important components such as the jockey wheel and stabiliser legs are attached.
There are three main types of caravan chassis:
painted
part-galvanised
fully-galvanised
Whatever chassis the caravan has, it must be looked after and checked upon regularly. When looking to buy a used caravan, you might want to ask the seller about the chassis and what, if any, maintenance has occurred historically.
Generally speaking, a caravan chassis should be thoroughly checked for significant signs of rust and corrosion around once a year. Rust can cause serious structural damage to caravans if left untreated.
However, depending on where the caravan has been or where you plan to take it, you might want to inspect the chassis more often than this. Sea air, in particular, can speed up the rate at which the parts corrode. So, if you're planning a coastal getaway, this is another thing you'll want to consider.
Related: How to look for rust on a used car, caravan or motorhome
3. Inspect the tyres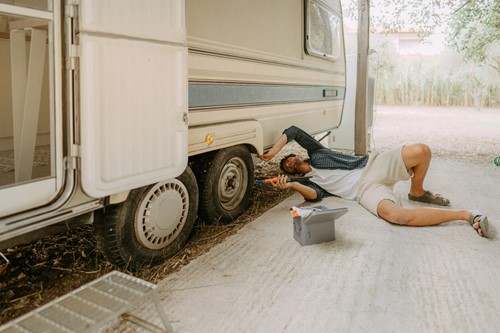 Touring caravan owners should regularly check their tyres for general signs of ageing, and the state of the tyres is another thing you need to look out for when buying a used caravan.
The tyres will likely be in different states depending on either how old the caravan is or when they were last replaced. The key things to consider are:
Pressure
A caravan's tyre pressure needs to be on point to ensure safety and longevity. Properly inflated tyres are easier to navigate and also lead to reduced CO₂ emissions.
You need to check tyre pressure against both the vehicle and the manufacturers' recommended levels—you'll normally find these in the vehicle handbook. It's best to check the tyre pressure in cool conditions, too.
Cracking
Cracking is another common sign of tyre ageing and can often be spotted easily on the tyre's outer rubber. Cracking is caused by various factors, such as overuse, so you need to have an honest conversation with the seller if you spot any.
General wear and damage
Like most things, caravan tyres are subject to general wear and tear. Perhaps the easiest to spot at first glance are:
Brake flatting: often caused by excessive braking, there may be visible scratches and cuts to the tyre rubber if brake flatting has occurred
Exposed cords: the tyre's inner cords may become exposed if other cuts and damage have become particularly severe. If the cords are visible, the tyre is not only unsafe but ILLEGAL, too. This, of course, would also need to be discussed and addressed with the seller.
Related: Caravan tyres—how to check the age and condition
4. Get a CRiS check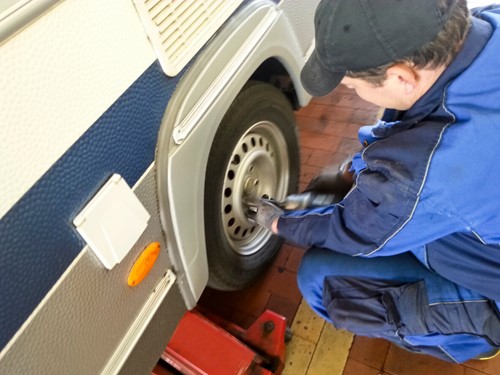 You need to get a CRiS check if you're buying a used caravan. A CRiS check will give you a comprehensive list of whether the caravan:
has ever been reported as stolen
has any outstanding finance
has ever been written off by an insurance provider
has a registered keeper
These are all things you'll need to know about if buying a used caravan, as you need to be aware of any potential risks or additional costs.
A smooth CRiS check will give you the peace of mind you need that the caravan you're buying is exactly what's being advertised—the seller may be unlikely to tell you such details unless you probe!
As we said just now, you're putting yourself at huge potential risks if you don't get a CRiS check.
For example, in some of the worst-case scenarios, you may find out further down the line that the caravan you've bought is, in fact, stolen, and therefore not rightfully yours to own, despite the fact you purchased it in good faith.
You might also find out the caravan has outstanding finance, which would render the process of selling it illegal, as the previous owner you bought it from wouldn't have technically owned it and therefore wouldn't have had the right to sell it in the first place.
You can start your CRiS check online for as little as £17.95 (at the time of writing). It's a small price to pay for a saved headache later!
Related: The importance of a CRiS check
5. Assess all the parts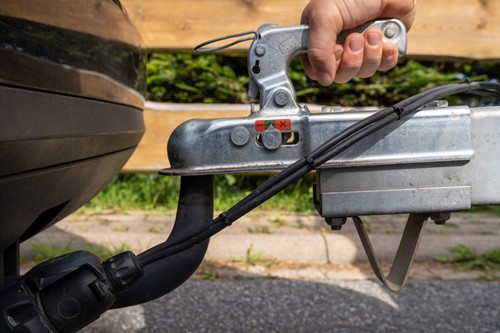 As a caravan owner, you'll need to get into the habit of regularly checking its various components and making sure everything's running smoothly, and it's a good idea to start doing this early on—even this early on.
When looking at the caravan with a view to buying, treat it as though you've already bought it, and thoroughly check all the parts.
Depending on the caravan's price, you can expect its parts and general condition to be at a certain standard, so now's your chance to check that's indeed the case, and you're getting what you're (potentially) paying for.
Every caravan owner will have different things in mind to check based on how they most intend to use the caravan. You'll be the same, but the main things you need to check are:
its security (including any locks or anti-theft devices which may be included)
the hitch
handbrake
road lights
gas and electrical connections
the water and drainage system (including the toilet and cassette)
This is why viewing the caravan first before buying it is so important. You wouldn't buy a car without having a test drive or a house without looking around, so why risk it with a caravan?
It's the only way to be sure you're getting a good deal.
Related: The 7 best hitch locks for caravans
6. Ask the seller about its service history
When buying a used caravan, you want to be sure you're dealing with a reputable seller and one that's looked after the caravan. One way of doing this is to check the caravan's service history.
Just like cars, it's recommended a caravan gets serviced once a year to make sure it's safe and functioning as it should (although this is not a legal requirement).
If the seller has indeed been doing this, that's a sign they're reputable and genuine, but you might want to seek an explanation if there are any gaps or uncertainties surrounding the service history.
It's also worth noting that regular servicing can help maintain and improve the caravan's value, too. So, it should've always been in the best interests of the previous owner.
A full caravan service will normally focus on the chassis, main bodywork, electric, gas, fire safety and water systems, ventilation, and damp issues.
Getting your caravan serviced regularly is a good way of catching small issues before they potentially escalate and become large, often expensive, repairs further down the line.
A full service normally takes between 3-4 hours, but it's worth it—trust us.
Related: Exactly what does a caravan service include?
7. Check the breakaway cable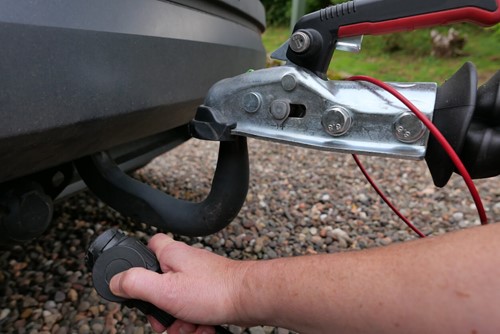 The breakaway cable is one of the smallest caravan components, but its importance simply can't be stressed enough.
Breakaway cables activate the caravan's brakes should it become detached from its towing vehicle in transit. This makes them an essential, potentially life-saving piece of equipment.
In fact, if your caravan has a maximum technically permissible laden mass (usually referred to simply as MTPLM) of between 750kg and 3,500kg, you're required by law to have a fully functional breakaway cable fitted.
There are two main types of breakaway cable: a standard spring-clip cable or a more heavy-duty carabiner. They're normally made from thin steel coated in sturdy plastic.
Whichever one is relevant here, the cable must be checked regularly to make sure it's working as it should be. You'll want to inspect the cable itself and the clip for any signs of damage or general wear and tear. If you suspect anything wrong or have any doubts at all, raise it with the seller straight away or get it checked properly by a third party.
Remember what we were saying earlier on about reputable sellers? Having a functioning breakaway is another encouraging sign.
Related: Correctly fitting a trailer or caravan breakaway cable
One more thing you mustn't forget when buying a used caravan (or brand new, for that matter) is your insurance. This will protect your caravan wherever you go.
At Ripe Caravans, our specialist caravan insurance provides cover for your caravan up to the value of £75,000, but you can also choose to include additional cover to protect your contents and awnings.
Our insurance is also underpinned by our very own 'Ripe Guarantee', which means you won't find a better price for your cover anywhere else.
Learn more about our caravan insurance and get a bespoke online quote today.
Related
6 essential steps to caravanning with pets—the complete guide
Best caravan awnings on the market 2022