How Have UK Caravan Owners Been Impacted By The Covid-19 Pandemic?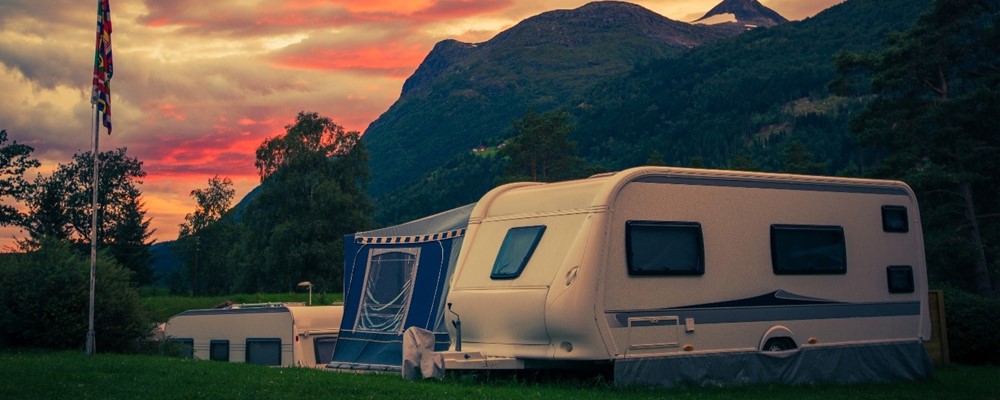 The last year has been tough on everyone – not least caravan owners.
Many of them have paid thousands of pounds on site fees without being able to make use of their caravan, while a large majority spent only a couple of weeks or less in their caravan in 2020.
These stats are from our survey of over 500 caravan owners across the UK and demonstrate just how bleak the last 12 months have been for caravanners. However, based on some of the other responses, there are reasons to be more optimistic going forward.
Let's look at what our respondents had to say in more detail.
Time spent in their caravans
It will come as no surprise that most of our survey respondents have spent significantly less time in their caravans than they usually would have.
On average, touring caravan owners said they spent 0 to 2 weeks in their caravan throughout the whole of 2020. Normally, they would have spent 5 to 6 weeks in their caravan.
Static caravan owners spent 3 to 4 weeks in their caravan in 2020, whereas they would usually spend 2 to 3 months there in a normal year.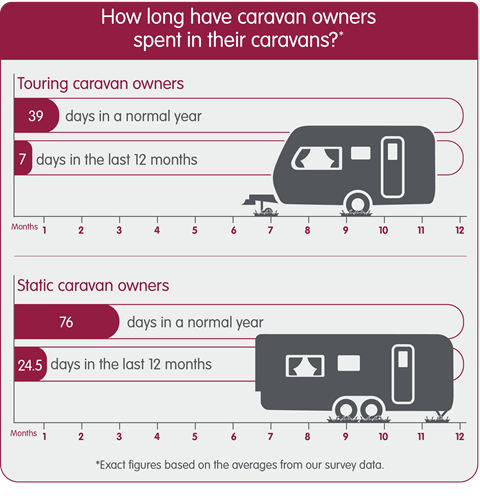 These statistics show just how much of a lifestyle change caravanners have experienced due to the pandemic, and how few of them have spent an ample amount of time in their second home.
Whilst everyone will be sensitive to the fact that this pandemic will result in certain restrictions, it's clear from our survey that caravan owners, by and large, feel disgruntled about the government's ban on travelling to second homes across the UK.
Nearly three-quarters (74%) of the touring caravan owners we surveyed think it's unfair that travelling to second homes such as caravans has been banned during periods of lockdown across the UK, while 50% of static caravan owners think it's unfair.
Site fees
The subject of site fees has been one of the hot topics of the caravan world in the last year. When we polled caravanners back in June, an overwhelming majority of respondents were continuing to pay a site fee during lockdown – despite most caravan sites lying empty.
Sadly, the results of our latest survey show that nothing has changed. If anything, things have got worse. Whereas 95% of our respondents were paying site fees last summer, the figure has since risen to 97% .
More than two-thirds of caravan owners (68%) paid between £2,000 and £4,000 in site fees in the last 12 months, with only 5% receiving a full reimbursement.
Meanwhile, over (53%) of caravan owners weren't reimbursed for any of their site fees in the last 12 months. Of this figure, 49% of those still paying a fee said they were either angry about it or think it's unfair. A further 60% of respondents said getting a fair refund on site fees is more important than site owner profits.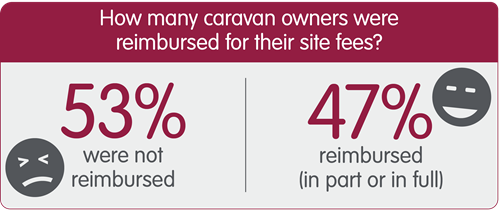 Time spent in caravan vs cost
If we take the amount of money that most static caravan owners spent on their caravan over the past year and compare it to the amount of time they actually spent there, the numbers are quite startling.
An average static caravan owner spent the equivalent of £714 per week – or £102 per day – on site fees based on the time they spent in their caravan in 2020.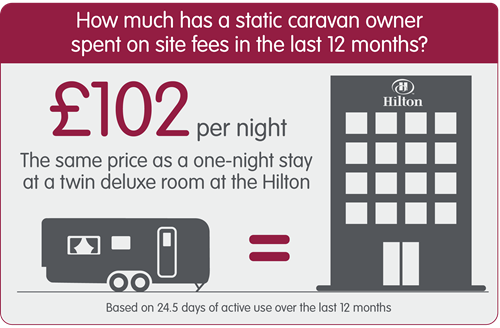 This price is the same as a 1-night stay at a twin deluxe room at the Hilton and more than the average cost of a one-night stay at a hotel in Edinburgh, Manchester, and Glasgow.
These statistics demonstrate how little value for money static caravan owners got out of their site fees last year.
Financial sacrifices
It's not just static caravan owners who have been financially impacted by the pandemic.
One in four touring caravan owners have had to make financial sacrifices to keep their caravan. These sacrifices have included spending less money on essentials, having to take a mortgage holiday – and even having to sell their caravan.
Among those to sell their caravan was Marilyn Robinson. Marilyn, 65, co-owned a caravan in the Peak District with her husband Trevor, 70. Here's what she had to say:
"Trevor and I were only in the caravan for 18 days in 2020. We could have had a few more, but with being in and out of lockdown, it just became more and more difficult. We were thinking about 2021, and we didn't have much hope of things improving, certainly not until the summer – by which point half of the season has gone. 
"We've not had a refund on our site fees, and our owner's not going to give us a refund. When we also factored in how much money we were spending on our caravan – £2,200 when we took all of the costs into consideration – we thought we'd cut our losses and call it a day."
How supported do caravan owners feel?
Judging by our survey, most caravan owners feel like they've been overlooked in the last year or so.
Of our respondents, 91% of static caravan owners and 75% of touring caravan owners feel they've had little to no support from the government. A further 93% of static caravan owners and 77% of touring caravan owners feel that they've had little to no support from the caravan industry. However, 86% of static caravan owners and 56% of touring caravan owners also said that the government could have done more to support the caravan industry in 2020.
Furthermore, 39% of static caravan owners either haven't received the 5% VAT reduction from their site owner or weren't aware of it.
Marilyn continued: "I think it's shocking the way caravan owners have been treated. I'm very disappointed with how the government has handled things.
"Why have people been banned from going to their second home and spending time there? It's no different to being in your own house. Trevor and I didn't have anybody else in our caravan – it was only us.
"If anything, we were safer in somewhere in the Peak District because it's so remote and at least there are lots of fields where you can get some fresh air. But because of government legislation, we weren't allowed to do that – and that was one of the reasons we sold our caravan.
"We feel like we've been hard done by."
Reasons to be optimistic
Amidst all the frustration and disappointment felt by our survey's respondents, many of them still feel positive about caravanning in 2021.
More than three quarters (80%) of touring caravan owners and 63% of static caravan owners said they're unlikely to sell their caravan in 2021 due to the ongoing situation.
Furthermore, 72% of touring caravan owners and 59% of static caravan owners feel confident about taking a caravan holiday within the next three to six months, with staycations once again set to boom. Airbnb's UK office reported that searches for summer staycations on its website more than doubled in the last week of January, compared to the same time last year.
The overall verdict
Caravanners have taken a real hit over the last 12 months. Most of them didn't get reimbursed for site fees and got little to no value for money for their fees. They didn't feel supported by the powers that be and, in some cases, had to make significant sacrifices to make ends meet.
However, it can be argued that the caravan industry could have received more financial backing from Westminster, which it could, in turn, have used to support caravan owners whose lives were turned upside down by the pandemic.
Despite all the ill-feeling from what happened last year, the picture this year is – for now at least – slightly more positive. The vast majority of our survey respondents aren't going to sell their caravan and have reason to believe they'll be enjoying a staycation in their caravan very soon.
And with cases and deaths falling all the time thanks to the surge in vaccinations, the future looks very bright for the caravan industry – even if the past 12 months have been unthinkably bleak.
Specialist caravan insurance from Ripe Caravans
Whether you own a static or touring caravan, we've got you covered. With our specialist caravan insurance, you can protect your caravan and its content against theft, loss, damage and much more. 
Get an instant online quote and see what we can do for you.
Related
What Does Touring Caravan Insurance Cover?
What Does Static Caravan Insurance Cover?