Kayaking Risk Assessment Tips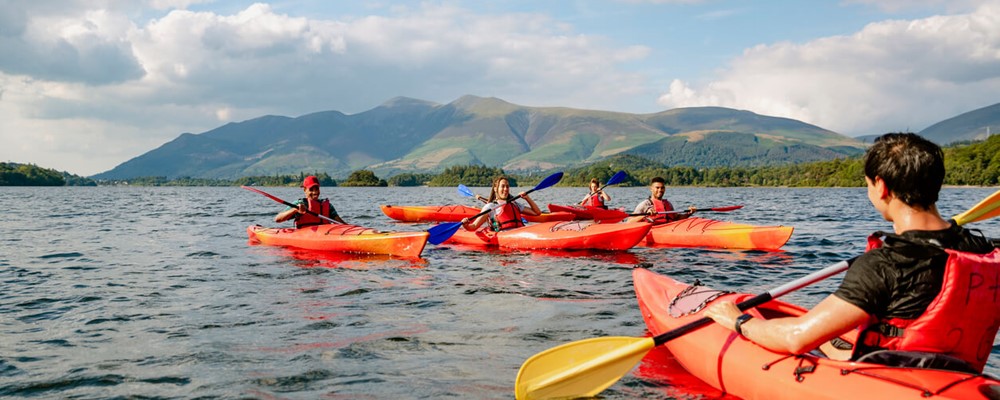 Kayaking is an enjoyable activity, but it's not without its risks. To avoid collisions, injury, or capsizing, you need to carry out a thorough risk assessment before heading out on the water. We've identified some of the dangers associated with kayaking and put together a series of kayaking risk assessment tips to help you stay safe.
1. Muscle and head injuries
You can sustain a variety of injuries whilst kayaking, ranging from minor to major.
Below, we outline what you need to be wary of and precautions to help reduce the risk.
Please note: If you're kayaking with an instructor, you should have provided a medical form beforehand and all instructors should be First Aid trained to a minimum EFAW standard.
When kayaking, you can sustain a head injury as a result of capsizing or falling rocks and tree branches. So, if there's a chance the activity could cause a head injury, you should wear a helmet. And keep the amount of time you spend under cliffs to a minimum.
When kayaking, you could sprain a muscle, sustain a soft tissue injury, or even break a bone. These injuries could be caused by tripping, falling, or paddling incorrectly.
There are a few things you can do to minimise the risk of injury:
Carry out a proper warm-up routine before you start paddling to get your muscles moving.
Make sure you paddle using the correct technique. You want to engage your entire upper body instead of just your arms, to avoid putting too much strain on them.
Wear a helmet.
Instructors should ensure the landing stages, riverbank and steps are all well maintained.
If using a kayak slide, instructors should ensure it's secure and only one kayak is on it at a time. There should also be one instructor at the bottom of the slide and one at the top.
2. Drowning
There's always the risk of drowning when you're paddling in deep waters (lakes, rivers, and seas), or a strong current. Even though you're in a kayak, you shouldn't take it lightly. Just this year, 34-year-old British tourist Thomas Warden sadly drowned while kayaking on a lake. Capsizing can happen quite often, so you need to reduce the risk of drowning. Here's how you or your kayaking leader can do this:
This might seem obvious, but on a hot day, you'll be surprised how many kayakers convince themselves they don't need one. You also need to make sure it's the right fit. If you're not sure, fit and alter it, then lift it from the shoulders. If the jacket comes up, try a smaller or tighter one. If you own a buoyancy aid, make sure you test it every year to check it fits properly and isn't torn or wearing away.
Be aware of capsizing procedures
Every kayaker should know what to do if they capsize. If you're a novice, you should have observed a capsize drill in controlled conditions beforehand.
Stay away from the riverbank
You should stay away from the riverbank when you can. If you do go near, always wear your buoyancy aid.
3. Extreme weather
An experienced kayaker might look forward to more challenging environmental conditions. But, things can soon turn south when you're battling the wind or waves. Here's what you or your instructor can do to make sure the weather doesn't put you in danger:
Check the weather forecast
You should look at the weather forecast coming up to your outing and continuously check it on the day. Always go with the worst-case scenario and predict that it will deteriorate – that way you won't get caught out.
If you're not familiar with the area in which you're kayaking, you should try and find out as much as you can about it so that you have an idea of the normal conditions. There might be an area known for causing problems for kayakers, for example. Likewise, if there's an area that's calmer like a sheltered bay, it's best to kayak there.  Make sure you also have an escape route in mind if the weather gets severe.
You might have been looking forward to kayaking, but it's not worth the risk if the weather's poor. You should assess the wind and sea conditions by looking at the shipping forecast and observing it on the day. If you're going to be up against strong gales and very choppy seas, don't kayak.
Wear appropriate clothing
You should dress for the conditions. If the waters are extremely cold, go for a drysuit instead of a wetsuit. If it's hot, be sure to wear sun cream and apply it throughout the day.
4. Hypothermia
Hypothermia occurs when your body temperature gets dangerously low (below 35C). It's caused by not wearing warm enough clothes in cold weather or falling into cold water. It's unlikely that you will suffer hypothermia when kayaking but it's possible. It can happen suddenly after you capsize or get soaked, or it can happen over a longer period from wearing insufficient clothing on a cold, wet day. Here are the steps you can take to avoid it:
You should be wearing appropriate clothing when you go out on your kayak, and leaders should ensure all kayakers are. For example, a wetsuit might be best for the weather conditions when you set off, but you should adjust as the day goes on. Leaders should also take spare clothing with them should someone need it.
As well as clothing, leaders should take high-calorie snacks and a hot thermos so they can have a drink to warm them up – something sweet like hot chocolate is ideal.
If you're out on your own, use your initiative. If it's a very cold day, cut the session short and be safe not sorry.
If you're kayaking with a company, all members need to have training that includes preventing, diagnosing, and dealing with hypothermia. We recommend this training for any kayaker.
5. Collisions with others or objects
Even the most experienced kayakers bump into other paddlers, water users, or objects such as rocks. Most of the time it's nothing to worry about, but sometimes it can result in a serious injury or damage the kayak. So, what can you do to lessen your chances of hitting things?
If you're paddling somewhere for the first time, be aware of who else is using the water. When kayaking in harbours and estuaries, you should be mindful of commercial, amateur, and deep draught shipping. Or perhaps a kayaking school uses a section of a river, or sailors use a section of the lake. If you're aware of it, you can steer clear of those areas.
You should not be putting other water users at risk. If you are, it's your responsibility to adapt your kayaking accordingly.
Skill and awareness training
Leaders should be trained to identify potential dangers. If you kayak alone, you should inform yourself of this too.
6. Poor water quality
When kayaking, there's a chance you could be paddling in polluted or contaminated water.  If it enters an open wound or you swallow it, you could fall ill with Leptospirosis (also known as Weil's disease). Symptoms of this disease include diarrhoea, headaches, muscle pain, vomiting, but it can be fatal if left untreated.
Luckily, there are a few measures you can take to avoid coming into contact with contaminated water:
Assess the water quality beforehand and if poor, do not kayak. You could also consider reporting the issue to the environmental health department of your local council.
Be aware that the risk of encountering contaminated water is higher in spate conditions (if a river has suddenly flooded).
Look out for debris in the water.
Cover all open wounds and grazes with waterproof plasters.
Wash your hands before you eat after you've been kayaking and bathe as soon as possible.
Rinse your kayaking equipment with clean water after each session.
7. Exhaustion
If you're kayaking in challenging conditions or planning a long adventure, don't overexert yourself. If you feel tired or fatigued, stop kayaking, as you're more likely to make mistake. Plus, you need strength to get out of a bad situation if something goes wrong.
If you're an instructor, make sure the session suits everyone's ability levels.
8. Qualifications
Instructors should be skilled and qualified in kayaking to safeguard their clients. At the least, they should have the minimum qualifications required to coach.
They must also have training in the site safety arrangements and know where to access equipment and first aid.
9. Manual handling
While loading and unloading your kayak, there's a chance you can hurt yourself. At least two people should carry each kayak and share the load when moving boats or equipment.
You should keep your back straight and bend your legs to avoid strain on your back. One person should carry it from the bow and another from the stern. If you're carrying it over a quite a distance, make sure you switch sides and take rests. Your instructor will give you a demonstration if you ask.
Also, make sure you receive training in rescue techniques when handling waterlogged and hefty kayaks in the water. 
If you are paddling alone and have no option but to carry it yourself, take a look at this YouTube video explaining how best to do it.
Specialist kayaking insurance from Ripe Boats
If you take the above measures, you'll give yourself the best chance of remaining safe on the water. Another way in which you can protect yourself is by having kayaking insurance, which is a must.
At Ripe Boats, our specialist kayaking insurance will protect you if you injure another person, damage another kayak, or have your kayak damaged or stolen. You can also add on optional extras including; European Cover, Personal Accident, and Winter cover.
Get an instant online quote with us and protect yourself against the risks that come with kayaking.