The world's most expensive watches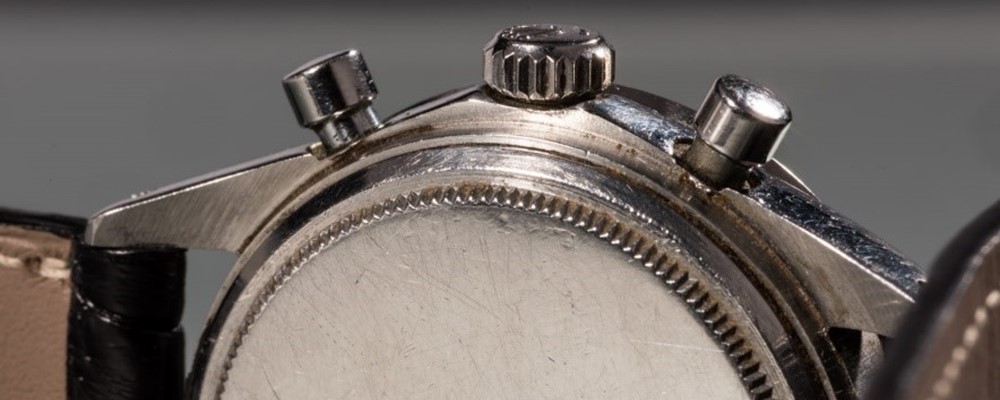 A watch is one of your most prized possessions, as anyone who owns one will know. But to the wealthier watch connoisseurs among us, there are timepieces that take it to another level entirely.
So, in no particular order, we've detailed some of the world's most expensive watches. We just hope their owners have taken out specialist valuables insurance! 
Paul Newman's Rolex Cosmograph Dayton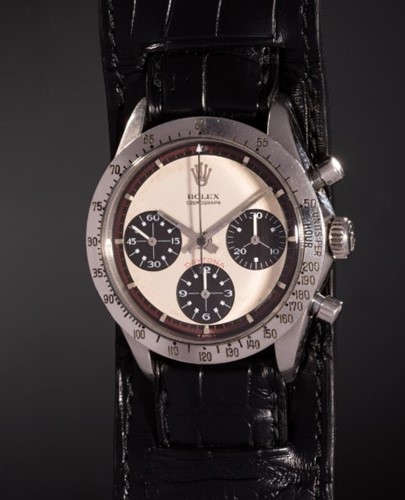 Credit: Phillips Watches
Worn every day for 15 years by the late movie star Paul Newman, it's no surprise the Rolex Cosmograph is now known as the 'Paul Newman watch'. It was purchased in a New York Tiffany store in 1968 by his wife and fellow movie star Joanne Woodward.
Since Newman had been seriously injured in a motorcycle accident just three years earlier and was an auto racing enthusiast, Woodward had the Rolex inscribed with the message 'Drive carefully me'.
Newman owned the watch until 1984, when he gave it to his daughter Nell's then-boyfriend, James Cox, as he didn't own one. Despite splitting up, the couple jointly put the Rolex up for auction.
In October 2017, it was sold to an unknown telephone bidder at auction for $17.8m (approx. £13.5m) - far surpassing the expected £1m reserve price. In the process, it became the world's most expensive wristwatch to sell at auction. 
The Henry Graves Supercomplication
Credit: Lux Expose
Although Newman's Rolex holds a world record, it still isn't technically the most expensive watch ever sold. That current accolade goes to the stainless steel pocket timepiece worn by the famous New York banker Henry Graves.
In 1925, Graves asked Swiss jewellery manufacturers Patek Philippe to make him the world's most complicated watch - and they duly obliged. This timepiece features a perpetual calendar, minute repeater with Westminster Chimes, sunrise and sunset times and a celestial chart based on the night sky above Graves' home in New York.
You'd think owning such a unique and timeless piece of jewellery would make most people feel lucky. However, not much luck went the way of Graves - as soon as he'd bought the watch, his best friend died and months later his son was killed in a car crash.
It's not all been doom and gloom since then, however, as the watch was sold at Sotheby's in Switzerland for $24.4m (approx. £18.5m) in 2014. This meant that it broke its own world record for the most expensive watch ever sold at auction, as it was sold to Sheikh Saud Bin Mohammed Bin Ali Al-Thani of the Qatari royal family, for $11 million (approx. £8m) back in 1999.
Graff Diamonds Hallucination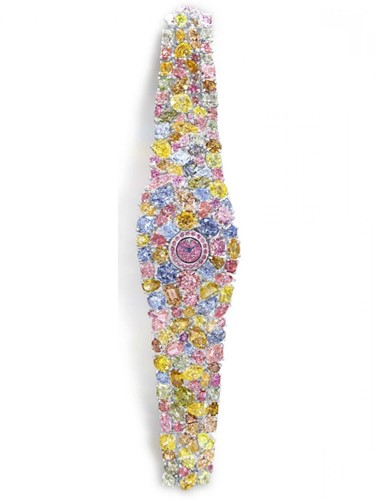 Credit: Caymancode
Love it or hate it, you're looking at the world's most expensive watch. It is estimated to be worth a heart-stopping $55m (approx. £40m), and you certainly couldn't accuse its makers of being too subtle!
Designed by London jewellers Graff Diamonds, the Hallucination has a stunning kaleidoscope of over 110 carats of extraordinarily rare coloured diamonds.
If this description doesn't do the Hallucination justice, see it in action for yourself and judge just how colourful and distinctive it is.
Graff Diamonds - The Fascination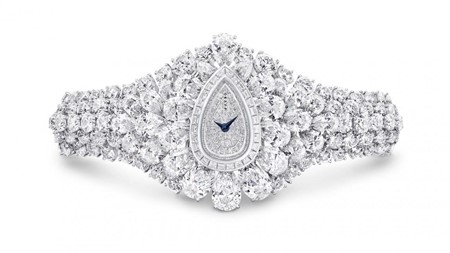 Credit: Forbes
Graff Diamonds seem to know a thing or two about creating extravagant, eye-catching watches. Not content with taking top spot, they also hold the record for the world's second most expensive watch. In at number two in the list of the world's most expensive watches is another of their creations, fittingly dubbed The Fascination.
It features a removable, pear-shaped carat diamond that that can be worn as a watch dial, or taken out and worn as a ring. To some, this might seem a little excessive. But then again, if you were wearing a watch that's worth around $40m (approx. £30m), you'd probably want it to do more than just tell the time. 
Breguet Marie-Antoinette Grande Complication pocket-watch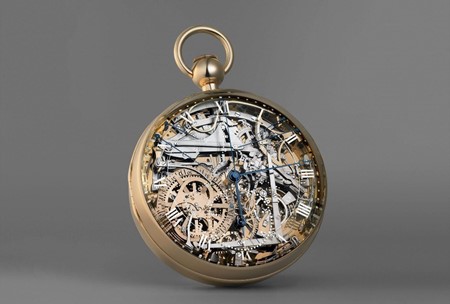 Credit: Breguet
Valued at just over £20m, this is supposedly the most expensive pocket watch in the world - and its hefty price tag is backed by three centuries of history... 
The watch is believed to have been commissioned back in 1782 by Count Hans Axel von Fersen, an admirer and alleged lover of the French Queen, Marie Antoinette. Swiss watchmaker Abraham-Louis Breguet started constructing the watch in 1783 and took more than 40 years to complete it, by which point Marie Antoinette had long since been executed.
In the years that followed, it changed hands several times before ending up at the L. A. Mayer Institute for Islamic Art in Jerusalem in 1974. Despite being stolen from the museum, it was miraculously recovered and returned there in 2007.
Naturally, we can't all spend millions of pounds on a watch, but many of us still spend a considerable amount - and want to make sure they are properly protected. With Ripe Insurance for Valuables, you can cover your jewellery against theft, loss and damage. Our Lowest Price Guarantee means we won't be beaten on value, so get an instant online quote with us today.