The 20 Most Influential DJs Of All Time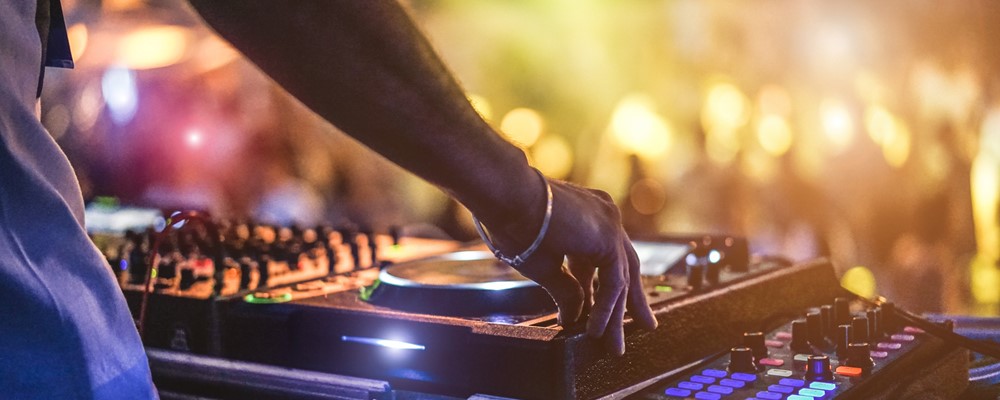 The art of DJ'ing has come a long way. While in the early 20th century, the term 'DJ' (or 'disc jockey') exclusively described a radio presenter, in the late '50s, sound system culture began to take hold.
These powerful, custom PA systems were pieced together by promoters, who referred to themselves as DJs and used to play music at huge parties. From the mid-'60s to the '70s, the popularity of nightclubs and discos began to boom worldwide, and DJ'ing was a bona fide industry.
From the New York apartments that first witnessed the birth of hip-hop to the jam-packed EDM arenas of today, this popularity has stood the test of time, with DJ'ing branching off in all directions.
Join us for a delve through history and the present day to look at some of the people who were instrumental in the seismic evolution of DJ culture. Here are the 20 most influential DJs of all time.
1. Frankie Knuckles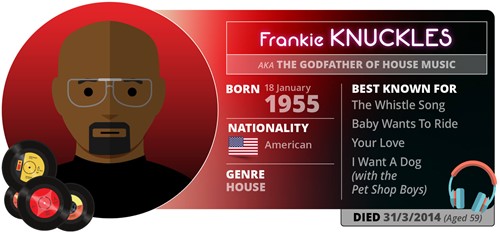 Frankie Knuckles, affectionately known as 'The Godfather of House Music', was a DJ, producer, and remixer from The Bronx, New York.
He initially plied his trade as a disco DJ in the '70s, playing predominantly soul, disco, and R&B. During this time, he moved from his native NYC and made a huge name for himself in Chicago.
By the mid-'80s, disco began to die off – but it was this bygone era that inspired much of Knuckles' material, which would eventually become known as house music.
Knuckles' mixes and production eventually gained him wider recognition, and by the peak of his career, he was commissioned to remix tracks by artists such as Michael Jackson, Luther Vandross, Depeche Mode, and Whitney Houston.
Subgenres like deep-house, drum and bass, and jungle were all born out of house – so it's truly impossible to imagine the modern dance music landscape without people like Frankie Knuckles.
He sadly passed away in 2014, aged 59.
RIP.
2. DJ Screw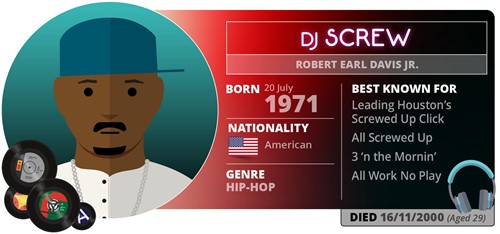 The late, great DJ Screw created the famous 'chopped and screwed' hip-hop sound of Houston, Texas – a technique characterised by slowing a track down to around 60-70 beats per minute to create a more mellow, measured, but heavy sound.
Despite producing more than 300 mixtapes during his lifetime, DJ Screw remained a local phenomenon.
It was only in around 2005 that his iconic sound, prolific output, and openness to collaboration helped shape Houston's hip-hop culture in the mainstream. He also paved the way for hip-hop outside of the East Coast/West Coast paradigm.
Nowadays, the sound has vastly outgrown its roots. There's a 'chopped and screwed' version of practically every song you can think of online.
The sound has even found its way into the productions of Drake, A$AP Rocky, and T-Pain. Thundercat also paid homage with a chopped and screwed version of his album Drunk, titled Drank.
Screw sadly died in 2000, aged 29.
RIP.
3. David Rodigan MBE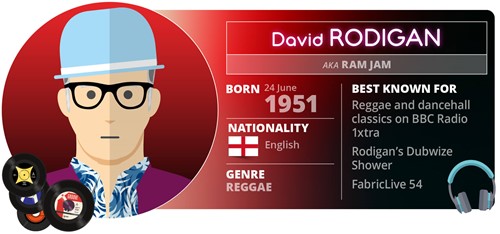 To some, David Rodigan might seem like an unlikely ambassador for Jamaica's primary musical exports such as reggae, dub, dancehall, ska, mento, and rocksteady. But for others, the landscape is unimaginable without him.
Showcasing Jamaican music has been a labour of love for Rodigan since he was just 15 years old, and his enthusiasm is as strong now as it was back then.
From BBC Radio 1Xtra to Gossips Nightclub in Soho, he's held numerous residencies at British radio stations and clubs throughout his career. He's been awarded an MBE for his cultural contributions and cementing his place as one of the UK's most influential DJs.
Rodigan has paved the way for many artists to make strides into the UK's Jamaican music scene, helping to bring about greater recognition and understanding of a family of genres that, before Rodigan's intervention, were often mistaken for one.
4. Grandmaster Flash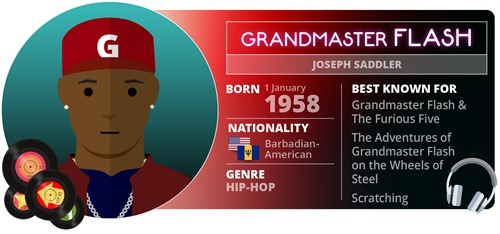 Although not the initial creator of hip-hop or the scratching technique (those titles belong to DJ Kool Herc and Grand Wizzard Theodore, respectively), Grandmaster Flash harnessed these principles and used them like nobody else had before.
It's one thing to innovate, but quite another to apply those innovations in a way that speaks to the zeitgeist. Therein lies the legacy of Grandmaster Flash.
'The Message', Grandmaster Flash, and the Furious Five's seminal album laid the blueprint for all hip-hop thereafter. Flash perfected Theodore's scratching technique, while mastering some unique DJ'ing techniques of his own. These included stabs/punch phrasing and backspin, which allowed him to produce one continuous breakbeat for an emcee to rap over.
Legend has it that a DJ mixer wouldn't have a cue button if it weren't for Grandmaster Flash. If you're unfamiliar, this allows a DJ to hear the record they're mixing in next through headphones before moving the crossfader and playing it live to the audience.
Can you imagine where DJ'ing would be without that?
5. Carl Cox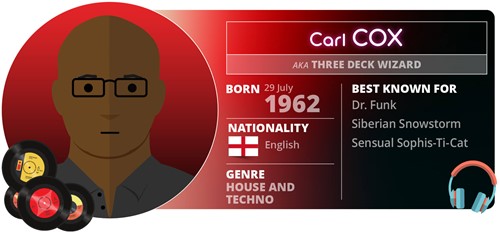 Such is the heavy influence of Carl Cox, he's probably your favourite DJ's favourite DJ.
He's universally revered within dance music, both for his musical vision and service to the culture. His achievements are too numerous to mention, but each has pushed the envelope and helped make dance music a British institution.
His career highlights include a 16-year residency at Ibiza's Space, playing Ultra Miami most years since 2004, and hosting his own radio show broadcast to 17 million weekly listeners worldwide.
Cox has been adorned with almost every DJ'ing accolade going, and played a crucial role in the emerging British rave scene during the '80s.
6. David Guetta
David Guetta has sold more than 9 million albums and 30 million singles worldwide – which, quite frankly, speaks for itself.
Although he was cutting his teeth around Europe when dance music was still something of an underground, niche subculture, he later made a significant contribution to introducing rave culture and dance music across the pond.
Guetta embodies the concept of the rockstar DJ. Nowadays, there are quite a few of those – Deadmau5, Skrillex, and Steve Aoki, to name just a few – but David Guetta paved the way for all of them.
Considered by many to be the godfather of EDM, he's since produced tracks for the Black Eyed Peas, Usher, and Nicki Minaj, solidifying EDM's place within the pop music ecosystem.
7. Annie Mac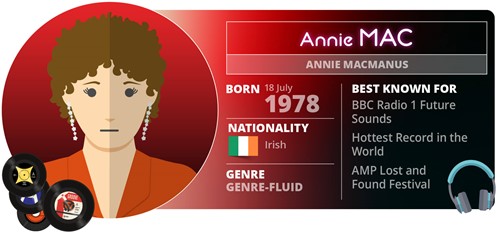 Like many artists on this list, Annie Mac has produced a far-reaching body of work. Her work encompasses radio, club, and festival DJ'ing, and community incentives and collaborations – she never stops or becomes complacent.
She's built an empire over the years, having created her own festival and headlined most others. As the first female DJ to secure a prime-time DJ slot on BBC Radio 1, she hasn't just contributed to dance music's status quo, but reshaped its direction.
Annie Mac is a tastemaker for listeners and a role model for aspiring DJs, having mentored and championed many over the years.
Her fearlessness, and high-quality output over many years, has cemented her place as one of the most influential DJs of all time.
You only need to look at the industry's reaction to her recent departure from Radio 1 to know what a colossal influence she has had.
8. Paul Oakenfold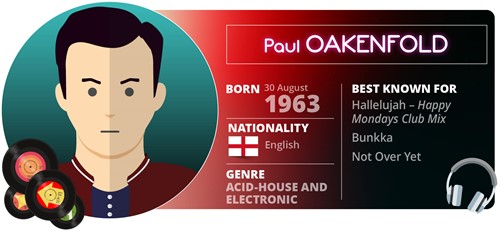 Three-time Grammy Award winner and two-time World Music Awards nominee Paul Oakenfold is a man that needs very little introduction – but we'll write one for him anyway.
Describing himself merely as a 'bedroom DJ' in the early days, Oakenfold grew up doing what many others at the time were doing – listening to The Beatles. It was here that his musical interest piqued.
In 1981, aged just 18, he moved to New York with a friend, where he became immersed in the growing hip-hop scene and used fake ID to gain entry into the city's famous nightclubs.
Today, Oakenfold has produced a body of work worthy of turning anyone green with envy, producing countless remixes for some of music's biggest household names, from Michael Jackson and The Rolling Stones to New Order and Madonna.
DJ Magazine ranked Oakenfold as the number 1 DJ in the world for two years in a row, in 1998 and 1999 – that's some accolade.
Fans of The Streets will also recognise Oakenfold's name from Weak Become Heroes – the 2002 hit in which Mike Skinner thanks him for the 'good times'. Iconic.
9. Tiësto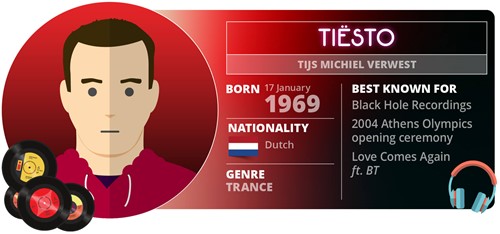 Hailed by many as the greatest DJ of all time (and awarded this official title in a poll by Mix Magazine in 2010), Tiesto has redefined trance music for the best part of three decades.
In 1997, he co-founded Dutch record label Black Hole Recordings with friend and fellow DJ Arny Bink. He released the trance mix-compilation series Magik through this labeland went on to form two other major sub-labels in SongBird and In Trance We Trust.
Just after releasing his second studio album, Just Be, Tiesto made history when he became the first-ever DJ to play live on stage at an Olympics. His performance at the 2004 opening ceremony in Athens was legendary – check it out if you haven't seen it!
Nowadays, Tiesto has seven studio albums (although number five, Kiss from the Past, was released under his alias, Allure) and is still capable of drawing in a huge crowd of adoring ravers all over Europe.
He was also DJ Magazine's number one DJ in the world in its annual top 100 list for three years in a row, from 2002 to 2004.
10. DJ Paulette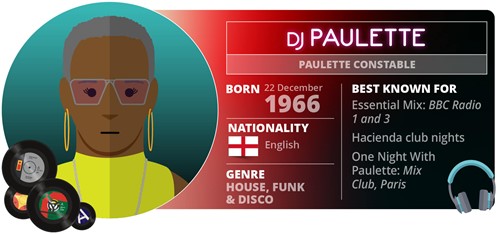 The hugely influential DJ Paulette has held legendary residencies at some of the world's most prestigious clubs.
She performed her very first set at the No1 Club in Manchester, and as a proud Mancunian, held her first official DJ residency at Flesh Nites, in the city's much-loved Hacienda nightclub from 1991 to 1995.
In the late '90s, Paulette secured her own Essential Mix show across BBC Radio 1 and 3, but more recently, she has performed sets at famous venues including Ibiza Rocks Hotel, Paris' Queen Club, and Cocoon in Frankfurt.
Race, gender, sexuality, identity, fashion, and art have all shaped Paulette's life and music. But, despite her worldwide view and star status, she remains a self-confessed 'homebird'.
She launched the Homebird exhibition at the Lowry Hotel in Salford in 2018 – a walk-in 'mood board' of her life and influences, accompanied by a self-produced bespoke playlist. Check out some of the pictures if you haven't already!
Paulette also picked up the 'best DJette' gong at the Burn FG MTV Dance Awards in 2007 and again in 2010, inspiring a new generation of female DJs and laying down a further precedent for women in the industry. She's a true one-off.
11. Don Letts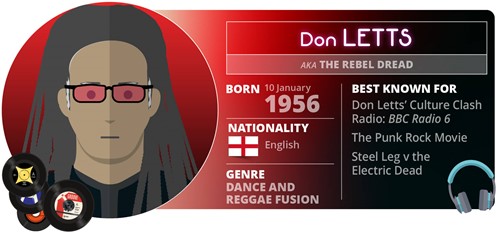 If any DJ's had an eclectic career, it's the legendary Don Letts.
Born in London, Letts became deeply inspired by music from his parents' native Jamaica – Bob Marley in particular. In fact, he even managed to sneak backstage to meet him after Marley performed at London's Hammersmith Odeon in 1976.
Letts first came to prominence as a videographer for The Clash, directing several music videos in their heyday. His keen eye for videography also saw him direct videos for artists such as Musical Youth, The Psychedelic Furs, The Pretenders, and Elvis Costello.
As a DJ, Letts became known for his many dub and reggae sets on the London club scene throughout the '70s and '80s.
He has also directed various films, including The Clash: Westway to the World, which won a Grammy in 2003. Not everyone can say they've won one of those!
12. Eric Prydz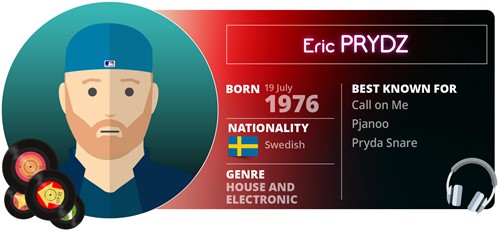 If you've never heard of Eric Prydz, then you've probably been living on Mars.
This Swedish mixing master was part of the initial DJ group informally known as the Swedish House Mafia in the early days. Although, interestingly, he decided not to join the group when things became more formal.
He is perhaps best known for his 2004 hit single Call on Me, which impressively topped the UK singles chart for more than a month (five weeks, to be precise).
Prydz is also widely acknowledged in the dance world as the inventor of the 'Pryda snare' – the now popular house and trance music technique first used by Prydz in 2009 on the hit Miami to Atlanta.
The Pryda snare consists of using a compressed and sustained snare sample at the end of a bar. It's widely used in electronic dance music across the globe and commonly marks progression within a song structure.
As well as being a legend on the decks himself, Prydz also runs the record labels Pryda, Pryda Friends, Pryda Presents, and Mouseville.
13. Nicky Siano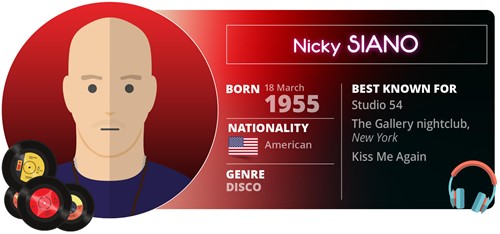 Nicky Siano was just 16 years old when he secured his first DJ'ing gig at New York's famous old haunt The Roundtable.
A few years later, in 1973, he opened The Gallery nightclub in Manhattan with his older brother, Joe.
Although the club had closed down by 1977, its cultural significance was – and still is – far felt. Fellow legendary DJs Larry Levan and the aforementioned Frankie Knuckles worked at The Gallery in the mid-'70s, with New York Magazine describing it as 'one of the most visually breath-taking nightspots of our time'.
Fans of US guitarist John Mayer may also recognise The Gallery from his song City Love, in which the iconic nightclub is mentioned.
Later in his career, Siano became a resident DJ at New York's Studio 54, although he was fired for his excessive drug use.
Now in his 60s, Siano is still highly influential in modern disco, and in 2011 he reappeared at Studio 54, where he performed for the club's one-night reopening gig.
14. Anita Sarko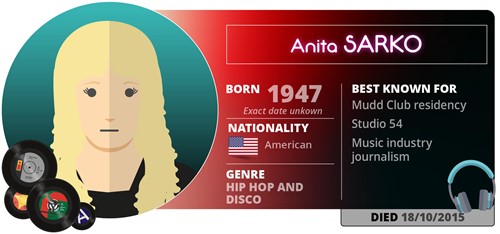 In the New York club scene of the '80s, it was virtually unheard of for a female DJ to make a big name for themselves unless they were solely touring gay clubs.
Only a handful managed to break into the mainstream – Anita Sarko was one of them.
A rock DJ by trade, Sarko was an important bridge between the city's often clashing punk and disco scenes.
She grew up in Detroit, where her love of music first blossomed. However, when she moved to New York in 1979, her music career began to take off and reach new heights.
Known for the eclectic array of music played on stage, Sarko was a DJ in the VIP room at the legendary Mudd Club. In the '80s, she began performing at Danceteria and the Palladium, firmly cementing her name among the best in the business.
Later in life, Sarko became a journalist, working for Paper, Interview, and Playboy.
She sadly took her own life in October 2015.
RIP.
15. John Digweed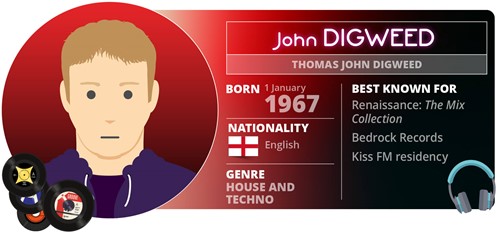 Voted the world's best DJ by DJ Magazine in 2001, John Digweed began on the decks at the humble age of 15, making quite the name for himself in his hometown of Hastings.
After putting on successful events and raves on Hastings Pier, headlined by the likes of Carl Cox and The Prodigy, Digweed's breakthrough came in the early '90s, when he struck up a long-term friendship with DJ Alexander Coe (AKA Sasha).
Alongside Sasha, Digweed became known for promoting progressive house music. In 1994, he released a compilation of mixes from Renaissance nightclub in Mansfield – the first compilation of its kind at the time.
A few years later, Digweed formed the record label Bedrock Records, producing music for film and TV as well as further artist records. Digweed's work can be heard on Danny Boyle's cult 1996 film Trainspotting, and the MTV adult cartoon superhero drama series, Spider-Man: The New Animated Series.
Not many DJs can say their work has featured in a Ewan McGregor classic!
16. Armin van Buuren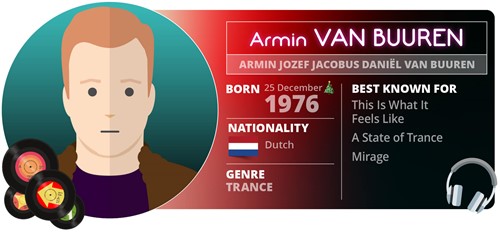 Inspired by the great Jean-Michel Jarre, Armin van Buuren began his career as a DJ in his native Netherlands while studying law at Leiden University – perhaps not the degree you'd associate with one of the most influential DJs of all time!
He became a resident at Club Nexus during this time, playing multiple sets every week – which often lasted for more than six hours.
As AvB's DJ'ing career began to take off, naturally, his law studies were put on hold. Since 2001, he's hosted a weekly radio show, A State of Trance, which attracts almost 40 million listeners across 84 countries and more than 100 stations.
Van Buuren has claimed many accolades throughout his DJ'ing career. He's been ranked DJ Magazine's world's number one DJ a record five times (four of which were in a row) and holds the record for most entries (21 to be precise) to the US dance and electronic albums chart.
He did also eventually return to university to complete his law degree in 2003, and in 2011, he was appointed Officer of the Order of Orange Nassau (a civil and military Dutch order of chivalry) for his services to music.
17. Mary Anne Hobbs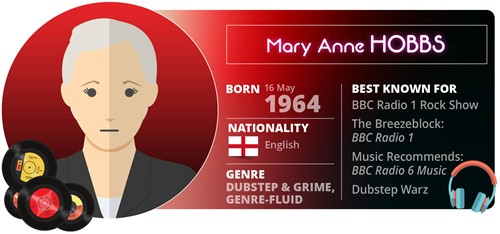 Mary Anne Hobbs started her career as a journalist when she was just 19, writing for Sounds Magazine and later the NME, before going on to work for Loaded.
She then ventured into radio, working for XFM before being headhunted by the BBC, joining Radio 1 in 1996.
A quarter of a century later, Hobbs now hosts the BBC Radio 6 Music weekday mid-morning show between 10.30 am and 1 pm from Monday to Friday. She's also the host of a separate, specialist show '6 Music Recommends' which goes out late on Wednesday nights, and is a curator of live events. She even compѐred Leeds Festival from 1999 to 2003.
Hobbs frequently tours the globe as a DJ. In 2007, she curated the UK Dubstep showcase at Sónar Festival, helping propel the genre from underground clubs to the international stage.
18. Andrew Weatherall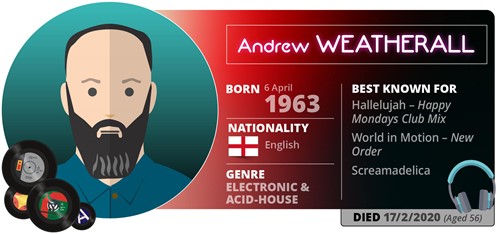 From being one of the key DJs in the '80s acid house movement to remixing tunes for some of Britain's biggest artists, Andrew Weatherall's career was never dull.
Originally from Berkshire, Weatherall first moved to nearby London in the late '80s and soon became a well-known face on the rave scene, playing regular sets at the Shoom club nights.
His first studio work was alongside Paul Oakenfold – a club remix of Hallelujah by the Happy Mondays, which, arguably, became more well-known than the original. Not bad for a studio debut!
Weatherall also helped produce Primal Scream's seminal album Screamadelica, helping it win the first-ever Mercury Music Prize in 1992 and become one of the most influential albums of the time.
Sadly, he died unexpectedly in February 2020, aged 56 – but his legacy and music will live on forever.
RIP.
19. Larry Levan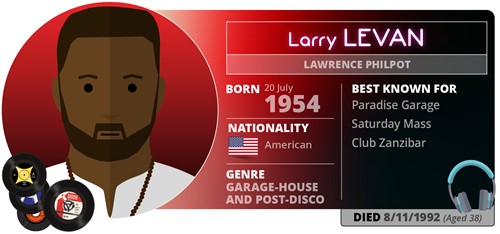 Although boasting an impressively long list of accolades, Larry Levan was perhaps best known for his decade-long residency at New York's Paradise Garage.
This venue has been described as the 'prototype of the modern dance club'. Levan's residency at the Garage – sometimes referred to as the 'Gay-rage' for its close connections to the LGBT scene – developed a cult-like following, who coined the phrase 'Saturday Mass' in reference to Levan's nights on stage.
Fascinated with music from the age of three, thanks to his mother's passion for jazz and blues, Levan became obsessed with the idea of one day creating music himself. His school teachers were also adamant he would grow up to be an 'inventor' of some sort.
He became known for his use of drum machines and synthesisers, phasing in the electronic, post-disco sound which later influenced the ascendance of house.
In 2004, Levan was inducted into the Dance Music Hall of Fame to recognise his outstanding achievements as a DJ.
However, he died in 1992, aged just 38.
RIP.
20. Calvin Harris
Born Adam Richard Wiles, Calvin Harris first developed his interest in dance and electronic music as a teenager. He began recording demos from his bedroom at his parents' house in Dumfries in the late '90s.
After releasing two songs, Da Bongos and Brighter Days, aged just 18, he made enough money to move from his native Scotland to the bright lights of London. But when things didn't work out initially, and job opportunities were scarce, he moved back to Scotland and posted solo demos online via Myspace – remember that?!
Harris kept at his craft, however, and has had an almighty career since. Today, he is undoubtedly one of dance music's biggest household names.
In 2014, he became the first artist in history to place three songs simultaneously on the top 10 of Billboard's dance and electronic songs chart. He's also the first-ever UK solo artist to reach more than a billion streams on Spotify.
If that's not enough, he's been nominated for 18 Brit Awards, winning both British Producer of the Year and Single of the Year for One Kiss with Dua Lipa in 2019.
Harris also topped Forbes' list of the world's highest-paid DJs for six consecutive years from 2013 to 2018. And to think, he couldn't afford to live in London in the early days!
If you're a DJ or thinking of becoming one, you need specialist insurance for your equipment. Your gear will be expensive and could be stolen after a gig or from your home, or someone could accidentally spill a drink over it while you're performing.
At Ripe Music, our specialist DJ insurance is designed to protect you against the above, and will compensate you if your equipment is damaged or lost.
Find out more about how we can help you and get an instant online quote today.
Related
The Best Modern Composers Who You Need To Know About