The 7 Most Influential DJs Of All Time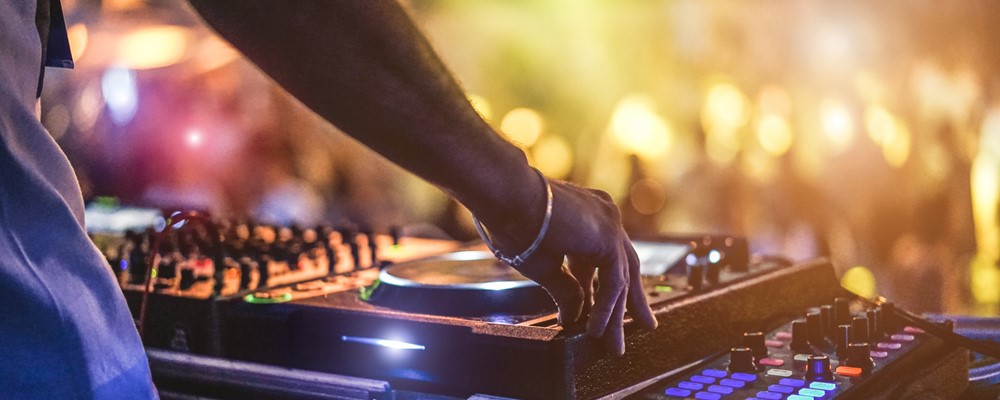 The art of DJ'ing has come a long way. While in the early 20th century the term 'DJ' exclusively described a radio presenter, in the late '50s sound system culture had taken hold in Jamaica. These powerful, custom PA systems were pieced together by promoters, who referred to themselves as DJs, and used to play music at huge parties. By the mid-'60s and '70s, nightclubs and discos were popular all over Europe, and specialist DJ equipment was a bona fide industry.
DJ'ing has remained popular since and branched out into all kinds of directions along the way, from the Bronx apartment where hip hop was born to the arenas EDM fills today.
Let's look at some of the people who were instrumental in this seismic evolution of DJ culture. Here are the 7 most influential DJs of all time.
Table of contents
1. Frankie Knuckles
2. DJ Screw
3. David Rodigan
4. Grandmaster Flash
5. Carl Cox 
6. David Guetta
7. Annie Mac 
1. Frankie Knuckles
Frankie Knuckles was a DJ, producer, and remixer from The Bronx, New York. He initially plied his trade as a disco DJ in the '70s, playing soul, disco and R&B music. During this time, he moved from his native NYC and made a name for himself in Chicago.
By the mid-'80s, disco began to die off – but it was this bygone era from which Knuckles mined his material for what eventually became house music.
Knuckles' mixes and production eventually gained him wider recognition. By the peak of his career, he was commissioned to remix tracks by Michael Jackson, Luther Vandross, Depeche Mode, and Whitney Houston.
It's impossible to imagine the modern dance music landscape without Frankie Knuckles, as so many subgenres – deep house, drum and bass, jungle – came from house. It's little wonder, therefore, that Knuckles is affectionately known as "The Godfather of House Music".
2. DJ Screw
The late DJ Screw created the chopped and screwed hip hop sound of Houston, Texas. The technique is characterised by slowing a track down to around 60-70bpm (beats per minute). This creates a more mellow, measured and heavy sound while rearranging and affecting the composition upon playback.
In his lifetime, he produced over 300 mixtapes though remained a local phenomenon. It was only in around 2005 that Screw's iconic sound, prolific output, and openness to collaboration helped bond the South and shape Houston's hip hop culture in the mainstream. In the process, it also made way for a sound in hip hop outside of the East Coast / West Coast paradigm.
Nowadays, the sound has outgrown its roots. There's a chopped and screwed version of practically every song you can think of online. The sound has even found its way into the productions of Drake, A$AP Rocky, and T-Pain. What's more, Thundercat paid homage with a chopped and screwed version of his album Drunk, titled Drank.
3. David Rodigan
To some, David Rodigan might seem like an unlikely ambassador for Jamaica's primary musical exports, such as reggae, dub, dancehall, ska, mento, and rocksteady. But for others, the landscape is unimaginable without him.
Showcasing Jamaican music has been a labour of love for Rodigan since he was 15 years old, and his enthusiasm is as strong aged 69 as it was back then. In the intervening years between, he's held numerous residencies at influential British radio stations and clubs. His contributions to culture have also been recognised in the form of a knighthood.
Indeed, Rodigan paved the way for many artists to make their way into Jamaican music in the UK. This brought greater recognition and understanding of this family of genres which, before Rodigan's intervention, were often unfairly mistaken for one.
4. Grandmaster Flash
Grandmaster Flash, though not the creator of hip hop or the inventor of the scratching technique (those titles belong to DJ Kool Herc and Grand Wizzard Theodore, respectively) harnessed these principles and used them like nobody had done before. It's one thing to innovate, but quite another to apply those innovations in a way that speaks to the zeitgeist. Therein lies the legacy of Grandmaster Flash.
The Message, Grandmaster Flash and the Furious Five's seminal album, laid the blueprint for all hip hop thereafter. Flash perfected Theodore's scratching technique, while innovating some DJ'ing techniques of his own. These included stabs/punch phrasing and backspin, which allowed him to produce one continuous breakbeat for an emcee to rap over.
Legend has it that if it wasn't for Grandmaster Flash, a DJ mixer wouldn't have a cue button. If you're unfamiliar, this allows a DJ to hear the record they're mixing in next through headphones, before moving the crossfader and playing it live to the audience. Can you imagine where DJ'ing would be without that?
5. Carl Cox
Carl Cox is your favourite DJ's favourite DJ. He is universally revered within dance music, both for his musical vision and service to the culture. His achievements are too numerous to mention, but each has pushed the envelope and helped make dance music a British institution.
His career highlights include a 16-year residency at Ibiza's Space, playing Ultra Miami most years since 2004, and hosting his own radio show broadcast to 17 million listeners worldwide each week.
Cox has been adorned with almost every DJ'ing accolade going and played a crucial role in the emerging British rave scene during the '80s.
6. David Guetta
David Guetta, who hails from France, has sold over 9 million albums and 30 million singles worldwide. Though Guetta cut his teeth around Europe when dance music was still something of an underground or niche subculture, he later made a significant contribution to breaking rave culture and dance music in the USA.
Guetta embodies the concept of the rockstar DJ. Nowadays, there are quite a few of those around – Deadmau5, Skrillex, Steve Aoki, and more – but David Guetta paved the way for these DJs.
Considered by many to be the godfather of EDM, he's since produced tracks for Black Eyed Peas, Usher, and Nicki Minaj, solidifying EDM's place within the pop music ecosystem.
7. Annie Mac
Like many artists on this list, Annie Mac has produced a far-reaching body of work. This includes radio, club, and festival DJing,  as well as community incentives and collaborations. She never stops or becomes complacent.
She's built an empire over the years, having created her own festival and headlined most others. As the first female DJ to secure a prime-time DJ slot on BBC Radio 1, she hasn't just contributed to dance music's status quo, but reinvented and shaped its direction.
Annie Mac is a tastemaker for listeners and a role model for aspiring DJs, having mentored and championed many over the years.
Her fearlessness, and high-quality output over many years, has cemented her place as one of the most influential DJs of all time.
If you're a DJ, you need specialist insurance for your equipment. Your gear could be stolen after a gig or from your home, or someone could accidentally spill a drink over your controller or mixer.
At Ripe Music, we cover the above, as well as your equipment if it's damaged, lost, or stolen.
Find out how our DJ insurance can protect you by clicking on the link above, or get an online quote in minutes and see what we can do for you.