The Top Tips For Single Handed Sailing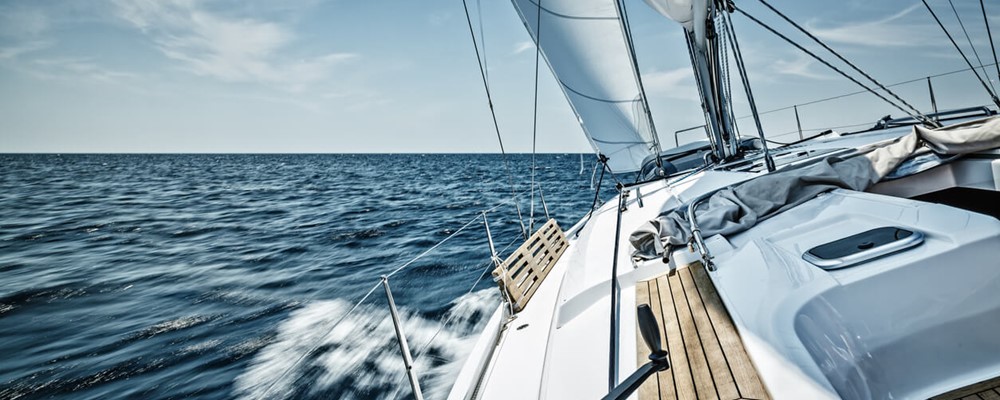 There's something exhilarating about piloting your own sailing boat and taking to the unpredictable waters without anyone in tow. Single-handed (or short-handed) sailing is a challenge that commands a certain mindset and behaviour. After all, it requires a lot of multi-tasking.
We've put together some single-handed sailing tips to help you master this unique and rewarding form of sailing.
1. Make the handling easier
You need to adopt so many roles when single-handed sailing, from skipper to navigator. So, it's essential you make the handling as easy for yourself as you can.
One of the best things you can do is get help setting your boat up for solo sailing using your local sail loft. In the meantime, here are our handling tips…
Hoisting the main sail can prove difficult, especially with a bolt rope mainsail. Switching a mainsail to sliders helps, as does having a lazy jack system. But, if you only have a bolt rope sail, make sure you've got a good pre-feeder. Another tip is to have your halyards at the mast so they're easier to sort out.
Most reefing systems are designed for a full crew, so you need to consider whether you can reef the mainsail on your own. In-mast furling and single-line reefing mains are the best options for single-handed sailing, but a slab reefing main is common too. To make things simpler and safer, aim to have your main halyard, reefing lines and luff downhauls all in the cockpit so you can reef from there. Or, if you'd prefer to be up on deck, why not move the halyards and reefing lines forward to the mast? This allows you to access everything.
A roller-furling headsail is by the far the best type of headsail for a short-handed sailor. It allows you to adapt to the wind quickly because you can reef and put it away with ease. It's still possible to sail single-handed with a non-roller headsail, but hoisting is going to be trickier. Again, having the halyards at the mast makes your sail easier. If not, get a good pre-feeder.
Single-handed sailors rarely fly a spinnaker because it can be a lot to handle on your own. Instead, you should pole out the jib, especially if it's windy. If you're feeling confident you can use a spinnaker, but there are a few ways to do it. This YouTube video explains how.
2. Get a reliable autopilot
A good autopilot is crucial, especially for racing as it allows you to focus on sail trim, which gives you speed.
There are plenty of state-of-the-art autopilot systems out there. Nowadays they're robust, reliable and steer the boat accurately, even when the weather's not on your side. But, make sure you set your autopilot system up properly so it's working at its best.
There's a system out there to suit your needs, but we've got a few favourites. Our top picks include the NKE Gyropilot, which allows you to add a remote control handset so you can control the boat from anywhere. It also detects if you go overboard and stops the boat, giving you a fighting chance of getting back aboard. There's also the Raymarine's Evolution range, which uses artificial intelligence to adapt to different sailing conditions.
Another option is a wind vane system. This presents a vane directly into the wind which modifies the boats course, allowing you to have a rest. Plus, unlike an electronic autopilot, it doesn't need power, so it won't drain the battery. Wind vane systems are available from the likes of Hydrovane, Aries and Monitor.
3. Take safety measures
There's always a higher risk of crashing or capsizing when there's fewer people on board to take navigational precautions and react to heavy weather. So, you need to take several safety measures to minimise this risk.
Safety equipment
- Always use jack lines, even if it looks like it's going to be plain sailing. It's the easiest and safest thing you can do.
- Wear a life jacket and make sure you have one which is suited to the situation and weather conditions. Our top picks are the Spinlock Deckvest 5D (£159.95), the Helly Hansen Sailsafe Coastal (£175) and the Crewsaver ErgoFit+ (£199.99). However, there are lots of life jackets out there with different qualities, so it's best to get help from an expert to ensure you get the right one.
Check the shipping forecast
The shipping forecast details the weather, visibility, sea state and wind speed. This table explains how the Beaufort wind force scale works if you're not already familiar with the relationship between force and speed.
When sailing alone, you should go out when the sea state is slight or smooth and the wind speeds are 14mph or less. So, 4 or below on the Beaufort wind force scale. Once you gain more experience, you can venture out in more challenging conditions.
Check for navigation hazards
When planning your route, make sure you check for any dangerous obstacles. It helps to look at Leisure Notices to Mariners or Navigational Warnings for NAVAREA1 and the UK Coast.
Create a plan and share it
Before you sat sail on your own, it's vital you let people know where you're going. Put together an outline of your sailing route with approximate timings along the way so that, if something goes wrong, someone on land has a good idea of where you are.  
You should include a check-in strategy and instructions on what to do if you don't check-in. Satellite phones and onboard Wi-Fi are useful if you're far out and have the money to spend. If not, use a mobile phone. You could use an AIS transponder too. 
You can download the free RYA SafeTrx app on your phone, which tracks your journey and notifies emergency contacts if you don't return to your designated area on time. There's also Navionics, an app which features a nautical chart, sonar chart and much more to help you stay safe.
Educate yourself
Sailing alone means that if you have an emergency at sea, you need to know how to keep yourself alive. You could take a sea survival course, which is a genuine lifesaver. It's a one-day course covering topics such as survival techniques and search and rescue procedures. You can find your nearest training centre to complete the course here.
4. Plan ahead
Everything takes more time when you're on your own, so always think two steps ahead. When entering and exiting the harbour, either on the mooring or underway, give yourself more time to arrange yourself and the boat.
When you're on the move, it's important that you anticipate the next manoeuvre, because even stowing fenders and hoisting sails can take twice as long. You also need to look out for any potential obstacles and reduce sail early if the wind gets up.
5. Make use of other sailors
Join a short-handed sailing club – other sailors will have tips to share with you and helpful advice. A simple Google search for 'short-handed sailing club near me' should pull up places near you. Or find single-handed sailing communities on Facebook and meet others online – there's a group called 'Single Handed Sailing' which has over 14,000 members.
Plus, it doesn't have to be a lonely experience. Once you've met like-minded single-handed sailors, why not set sail together and go in convoy?
6. Eat food and rest
You don't have a crew with you, so there's nobody to take the slack when you feel tired or exhausted. That's why it's important to drink plenty of water, eat enough food and – if you're on a longer sail – get enough rest.
Most short-handed sailors take a power nap for 15 to 20 minutes. It's best to do so after trimming the sail or a ship passing – this allows enough time to recuperate and spot an oncoming hazard. Even if you're not feeling tired, force yourself to rest because conditions might not allow for it later.
You should take food that's quick to prepare and quick to refuel your body, as well as plenty of snacks. You might also want to pack a thermos for tea, coffee and soup. Although, you might want to consider taking frozen dried expedition food if you're on a longer sail, so you can have a hot meal.
7. Be physically fit
You need to have the physical ability to complete various tasks at sea on your own, such as sail adjustments and changes. This is more important when racing because you need to react to every change in the wind by adjusting the sail, which can be frequent and exhausting. So, regular exercise and a healthy diet will make such tasks easier.
8. Check your insurance
Specialist sailing insurance from Ripe Boats
When single-handed sailing, there are many factors to consider. Worrying about an accident or breakage shouldn't have to be one of them. That's why sailing insurance is essential. However, some boat insurance policies don't even cover solo sailing.
At Ripe Boats, our specialist sailing boat insurance will cover your boat up to a maximum of 50ft in length and it covers you for local club racing too. You can also add on optional extras, including European Cover, Personal Accident and Winter cover. So, make sure you take out our specialist sailing insurance before you head out on the water.