Bracelet, bangle and armlet insurance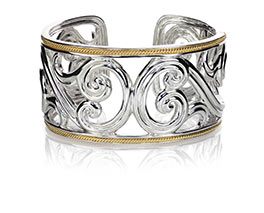 Bracelet, bangle and armlet insurance.
Made to measure.
Whether your bracelets, bangles or armlets are brand new, purchased as a gift for a special occasion such as an anniversary, birthday or wedding, or passed down to you from a relative, we know how much they mean to you. Our worldwide cover ensures that should the unthinkable occur, you'll be able to quickly and easily replace your treasured bracelets, bangles and armlets, giving you reassurance and peace of mind.
Why insure your bracelets, bangles and armlets?
Being amongst the most worn and therefore most visible jewellery items that people own, bracelets, bangles and armlets are beautiful, elegant pieces that can be easily damaged. Delicate diamond bracelets can slip off wrists without you noticing or left behind in hotel rooms whilst on holidays and trips. Whilst it's unpleasant to think about, thieves and pickpockets are known to target small items of jewellery such as gold bracelets, armlets and bangles, as they are easily hidden and sold on. Considering the risks, isn't it time to protect your precious jewellery?
What does our specialist jewellery insurance cover?
Our specialist jewellery policy provides cover up to £30,000 in value, with unlimited worldwide cover away from the home as standard, so you can enjoy wearing your bracelets, bangles and armlets worry-free, wherever you go.
Why specialist bracelet, bangle and armlet insurance is better than home insurance
Designed to offer security and protection wherever you are, our bespoke bracelet, bangle and armlet insurance cover provides you with benefits that might be missing from a home insurance policy. With household insurance, cover for your valuable items away from the home is often limited and expensive and if you make a claim, you may lose your no-claims discount adding yet more expense in the long run.
What type of bracelets, bangles and armlets can I insure?
We specialise in cover for Tiffany bracelets, diamond bracelets, gold bracelets, platinum bracelets, gold bangles, silver bangles, gold armlets, silver armlets, jewelled armlets and more. As our extensive cover protects any items up to a total value of £30,000, you can add as many items as you like under the same policy.
Do you have other valuables you'd like to insure?
Combine them under one policy and save 10%