Brooch, charm and locket insurance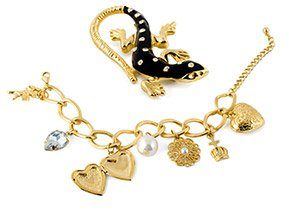 Brooch, charm and locket insurance.
The perfect keepsake.
If you have brooches, charms, lockets and other valuable jewellery keepsakes, you could save money and time by taking out a specialised jewellery insurance policy to cover them. Generally of substantial personal and sentimental value, they are as much at risk from theft, loss or accidental damage as rings, watches and bracelets and should be protected.
Why insure your brooches, charms and lockets?
Highly personal and often handed down through family generations, brooches, charms and lockets are often thought of as irreplaceable due to their sentimental value. Whilst you may not be able to directly replace your loved items, a specialist insurance policy will give you peace of mind and security, knowing that you won't be left out of pocket should the worst happen. With valuable jewellery items being prime targets for thieves, and loss and accidental damage also a big risk, our jewellery insurance is an invaluable precaution against losing your precious brooches, charms and lockets forever.
What does our specialist brooch, charm and locket insurance cover?
We know how important it is for your jewellery insurance to provide you with first-class cover whether you are at home or out and about. We designed our insurance with your lifestyle in mind to cover theft, loss* and accidental damage, in and around the home as well as further afield. The cover we provide extends worldwide so your items are covered abroad as well as at home. A cover limit of £30,000, gives you the assurance that even your most expensive brooches, charms and lockets are covered.
Why specialist insurance is better than home insurance
When it comes to insuring your brooches, charms and lockets, a specialist jewellery insurance policy can be far more beneficial than a home insurance policy. Ripe Insurance for Valuables covers high-value jewellery up to £30,000, which may be more than your home insurance policy will cover as standard. We also include worldwide cover for loss*, theft and additional damage away from the home as standard on all policies, whereas some household insurers may limit or charge you extra premium for the same option.
What type of brooches, charms and lockets can I insure?
Our made-to-measure jewellery policies include cover for all types of brooches, charms and lockets valued between £1,000 and £20,000, with a maximum total value on the policy of £30,000. We can insure diamond brooches, charms and lockets, emerald brooches, diamond charms, antique brooches and lockets, vintage lockets and precious metal jewellery such as gold, silver and platinum brooches, charms and lockets.
Do you have other valuables you'd like to insure?
Combine them under one policy and save 10%
*If the item you are wanting to insure was purchased/gifted more than 60 days ago, and you have not had it insured in the last 60 days, then loss cover will be excluded. Your policy will still provide cover for theft and accidental damage for all items you have chosen to insure with us.